As part of the easing of lockdown restrictions advised by Boris Johnson on Sunday, those living in England can get back out on the water from Wednesday 13th May. Below guidance from the Angling Trust on how to do so safely and responsibly. 
Our guidance for anglers on how to resume fishing safely during the COVID-19 health pandemic. These guidelines are designed to help you prepare for phase one of making angling compliant with current Covid-19 regulations.
FISHING LICENCE – All freshwater anglers must be in possession of the relevant Environment Agency Rod Fishing Licence. 
COARSE FISHING CLOSE SEASON
Please remember that the Coarse Fishing Close Season for rivers and some still waters remains until June 16th. 
GO FISHING ON YOUR OWN
You should travel to fishing venues on your own or with members of your household – abide by current guidelines on social distancing whilst fishing.
LOCAL FISHING ONLY
Only travel based on what is allowed under current Government guidelines.
CHECK BEFORE TRAVELLING
Many clubs & fisheries are using booking systems. Check you are permitted to fish before travelling. Fishing without permission is illegal.
MAINTAIN SOCIAL DISTANCINGMaintain a distance of 15 metres from other anglers whilst fishing.
READ CLUB / FISHERY NOTICES
Pay careful attention to club & fishery notices – if you are unsure speak to a venue for guidance. 
PRACTICE GOOD HYGIENE
Use hand sanitiser before & after touching locks, gates etc. Disposable gloves are recommended.
DO NOT LEAVE HOME IF YOU HAVE COVID-19 SYMPTOMS
Stay home if you have symptoms of Covid-19 and follow Government advice on self-isolation
NO KEEPNETS & COMPETITION FISHING
No keepnets or competition fishing are permitted – current advice still prohibits organised gatherings.
NO SHARING OF FISHING TACKLE
No sharing of fishing tackle or other items under current guidance. 
NO SHARING OF FISHING POSITIONS
No sharing of fishing positions / pegs except by members of the same household.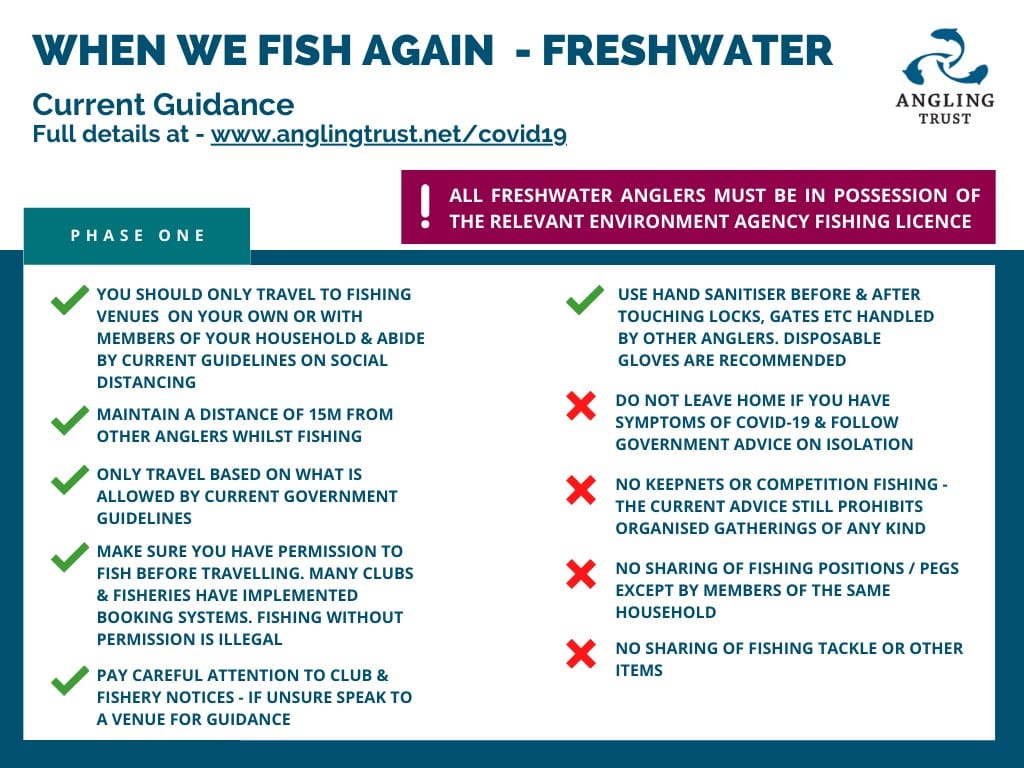 We have the lovely Westfair beat on the River Anton waiting for us and the river is looking fabulous and the mayfly are rising. Details on our Westfair beat and its fishing are available HERE.
If you are considering having a guide for the day, please consider the following carefully:
Every guide will need to make their own decision as to whether they are able to offer the level of service and experience their clients would expect under current guidelines – for those who decide to offer services we would advise the following points are adhered to:
Guides/ Ghillies/ Instructors must not make physical contact with clients and at all time maintain social distancing guidance.
A dummy rod or set up must be used to explain techniques from a safe distance, no direct contact with client or equipment.
No sharing of cars, equipment or physical contact of any sort.
Care should be taken to ensure that the same person throughout the day ties all knots, lands all fish and handles their own equipment only.
1 client to 1 guide ratio unless clients are members of the same household.
Weighing and photographing of fish should be carried out within social distancing guidelines.
All payments should be made electronically.