The Angling Trust has been lobbying Westminster on behalf of anglers in England as we while away the hours in lockdown. We are longing for our favourite rivers or lakes and are, hopefully, filling up our fly boxes. The aim of the Angling Trust's lobbying is to add angling to the list of permitted activities while lockdown restrictions are still in place.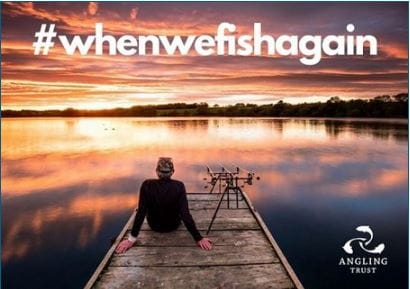 Links are below if you haven't seen the Angling Trust's submission to Westminster and if you aren't a member of the Angling Trust you can join via their website for £29 per year. They are working incredibly hard to get us back out fishing, citing the many benefits of being on or by the water. For many it is their only form of exercise and it is, on the whole (and most crucially), a self-isolating activity. You may not agree with all of the proposals or the arguments behind them but the onus is on us, the anglers, to support our national angling organisation in their efforts on our behalf.
The Angling Trust are suggesting a phased approach to the resumption of angling, in whatever form that may take. The first stage would involve allowing fishing as a permitted activity as long as social distancing and journey time requirements are met. In the submission, the Angling Trust have pointed out that fishing has been, and still is, permitted in several European countries with no linked increased effect on transmission. They have also gone to great lengths to cite the health benefits of being able to go fishing. Those countries still allowing fishing are also seeing an economic benefit with a noted rise in angling related income. If Westminster approve the recommendations, let us hope that the Welsh and Scottish Governments follow suit for their anglers.
The Prime Minister has indicated that there may be some easing of the lockdown restrictions and that details will be forthcoming. While I doubt that we will be allowed back out on the water before mid-May, I know that I am by no means alone in hoping that it won't be too much longer or that the Mayfly window is a little later than normal.
We have the lovely Westfair beat on the River Anton waiting for us and the river is looking fabulous. With Mayfly almost upon us, and summer fishing stretching ahead of us, don't wait too long to book your days on the river. Once released from confinement, I daresay that there will be a stampede for the rivers so don't run the risk of being able to fish but having nowhere to fish. Those normally eschewing local fishing for more exotic fishing overseas will also be looking for their fishing fix and while there will undoubtedly be space, why run the risk?
Details on our Westfair beat and its fishing are available HERE.
To read the full submission to Government by the Angling Trust follow this link to their website.
To watch the Angling Trust's video, follow this link.