Cayo Largo, one of our favorite destinations and most exclusive fisheries, is getting a serious upgrade! Starting in the 2020 season, we will be utilizing a 10 room mother boat, the new Jardines Avalon I, to accommodate our anglers for this amazing program.
Spending a week aboard a mothership yacht will create a luxurious and exclusive experience with the highest quality of food, lodging, and service. With a maximum of 6 skiffs booked in the entire area for the week, this will also prove to be Cuba's most exclusive and innovative fishing destination.
Cayo Largo is a premier saltwater flats fishery famous for grand slams and amazing permit fishing. Since 2004, they have landed over 500 grand slams in this destination making it one of the most sought after and exclusive fisheries on the planet. Up to this point Cayo Largo has always been a land based operation working in conjunction with the Melia Sol Club Resort.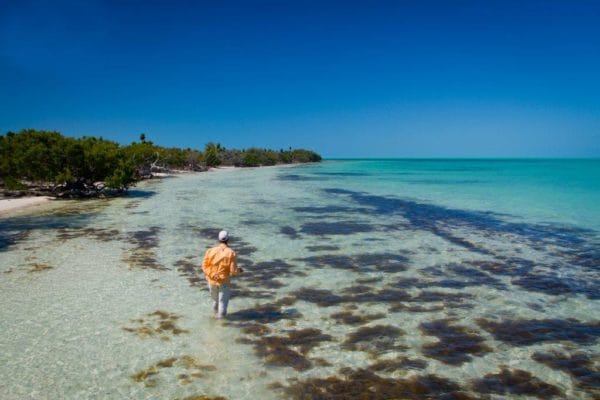 Life on the liveaboard is relaxed and completely customizable. You can fish much longer hours on the skiff every day if you wish. Whenever you're finished and ready to unwind, the yacht will be a close run away. You'll be greeted by a welcoming crew, a cold mojito, and then a lobster dinner.
Anglers will board the yacht in the Zapesca area 3 hours south of Havana on Saturday and navigate to Cayo Largo. Once there, you will fish full days Sunday through Friday. On the following Saturday the mothership will return to Zapesca where clients will disembark to make an afternoon flight out from the Havana airport. This program will require no additional nights in Havana and remove the early morning air transfers that have been characteristic of the Cayo Largo program in the past.
The Jardines Avalon I offers queen size beds, a hot tub and a lounge to make you feel at home with excellent visual/audio equipment. The amazing Cuban gastronomy will treat you throughout your entire stay, served with international wines and local liquors and desserts.
If you would like more information please contact Peter McLeod or call us on ++44 1980 847389. Alternatively click HERE if you would like us to contact you.