We have been fortunate over the last couple of weeks to have spent plenty of time fishing and guiding on some of our local chalkstreams. Recent unsettled  weather has made some day time hatches a little scarce but there have still been plenty of opportunities for sight fishing to single fish. Despite this, dry fly fishing has been steady during the day and has picked up as the light dips towards the evening.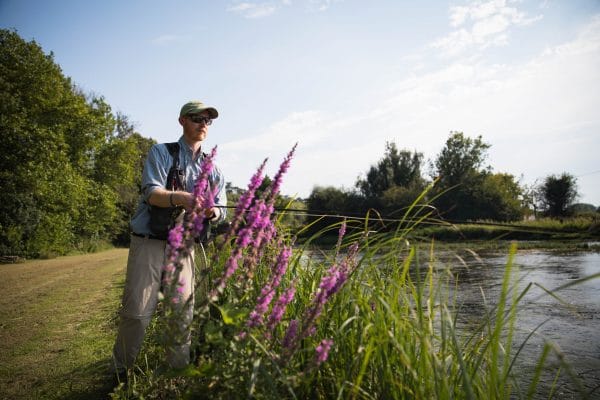 The rivers levels have generally held up very well over the summer months especially where there is some gradient and the ranunculas has continued to grow unmolested by flocks of swans. All are running crystal clear providing something of a challenge but the shortening daylight hours and cooler water temperatures have acted as a trigger for increased trout activity. Feeding at every opportunity and taking advantage of nature's bounty before the rigours ahead of spawning and the leaner winter months.
During September evening hatches tend to improve and you can expect to see decent numbers of pale wateries, blue winged olives, spurwing olives and sedges. Small CDC dries often work well throughout the day and into the evening, as the darkness draws closer sedge patterns come into their own. On some of the sunny days when hatches can be more scarce so sight fishing with a small single nymph can be very effective and is a rewarding way of catching large trout and grayling.

Flies to Try in September
JL MOLE CUL BARBLESS
BLUE WINGED OLIVE CDC BARBLESS
MCPHAIL CDC OLIVE BARBLESS
RETIRER SEDGE BARBLESS
DADDY PEACOCK
NATURAL PHEASANT TAIL JIG BARBLESS
SR SPANISH BULLET QUILL BARBLESS
Chalkstream Late Season Availability
For a selection of beats available from now until the end of the season click HERE. Other beats and dates are available, please contact us for more details.
For more information about chalkstream fly fishing please contact us or call our office on +44(0)1980 847389.