The news from Iceland this week is continuing in the same vain as last week, excellent runs of fish and at last it seems to stopped raining to the same degree it has been. Consistent rain has now been replaced with sporadic showers and although it is still pretty chilly, it is nothing like as cold as it has been. The north coast is being particularly productive right now with some consistently large fish from Laxa I Adaldal and Svarlbardsá. Strangely the North West coast from Blanda across to Laxa I Asum and Vididalsa do not seem to be experiencing quite as good numbers.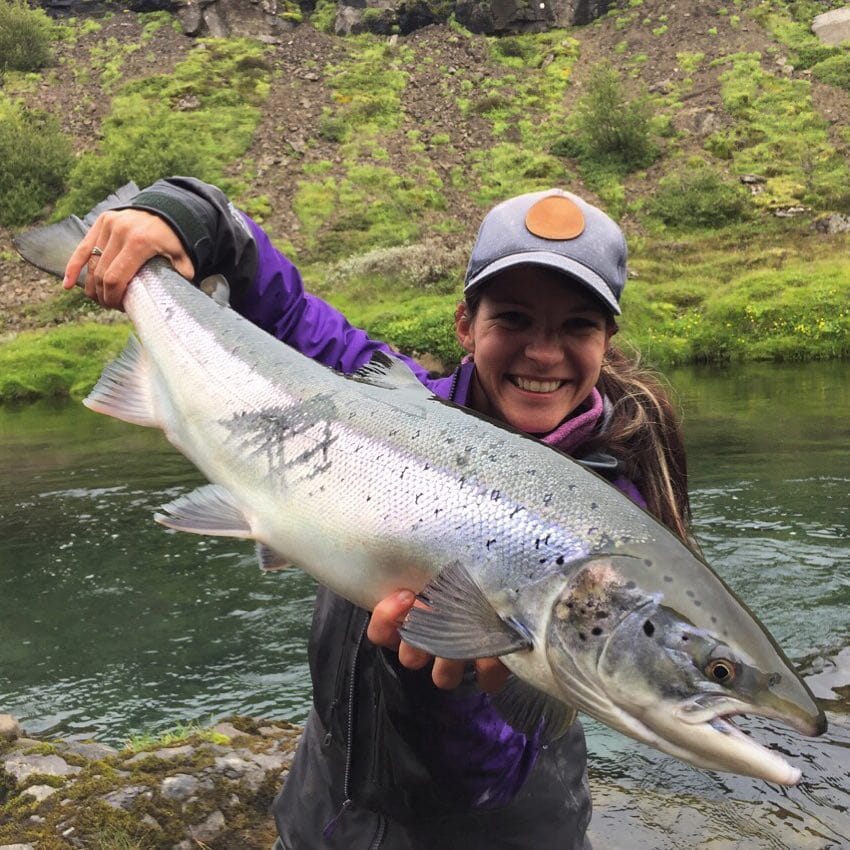 The Laxa I Kjos has continued to perform excellently with fish now distributed all the way through the system and right up through the canyon. The river produced 135 fish last week and has now gone over the 550 mark, Water levels are still high, but the temperature has increased. The Bugda however is still suffering a little from snowmelt (very unusual at this late stage) and is running 3 degrees colder than the main river, so the junction pool on the main stem is stuffed with fish waiting to go up. The sea trout fishing also continues to be very good in the meadows with some stunning fish being landed on upstream nymphs. There are still 2 rods available in 6 – 10 August at £4,600 per rod for 4 days is you want to get in on the action.
The Grimsa is almost hand in hand with Laxa I Kjos and has also just gone over the 550 fish mark. The two rivers are almost mirroring each other.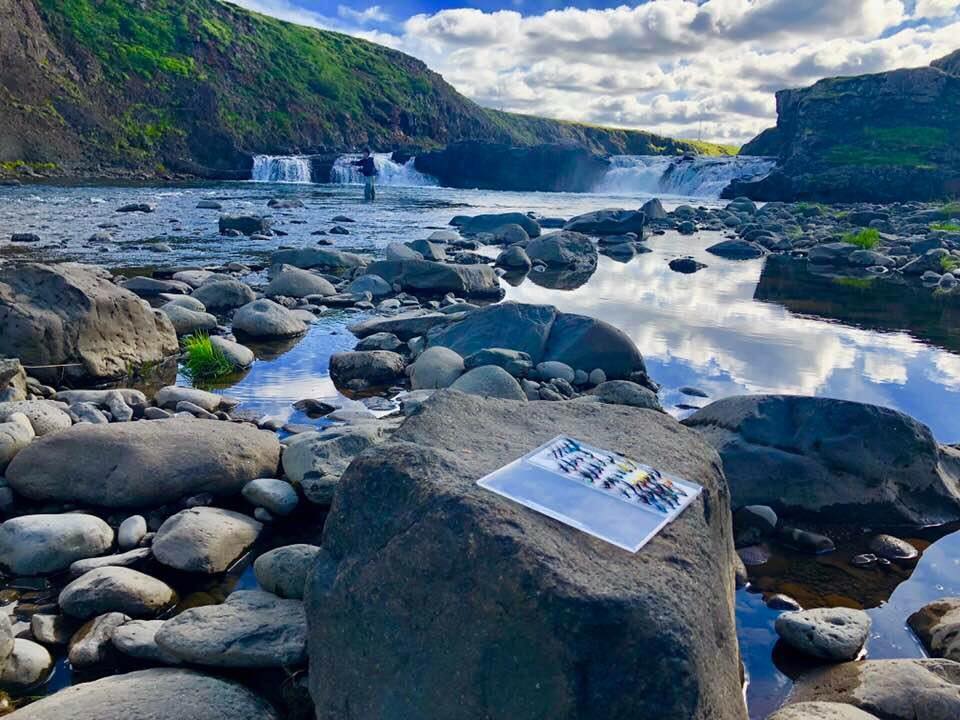 Nordura is firing on all cylinders at the moment, water level has dropped a little, temperatures are kinder and there are fish right up through the system. With well over a 1000 fish landed already we are looking at a great season as we move into August.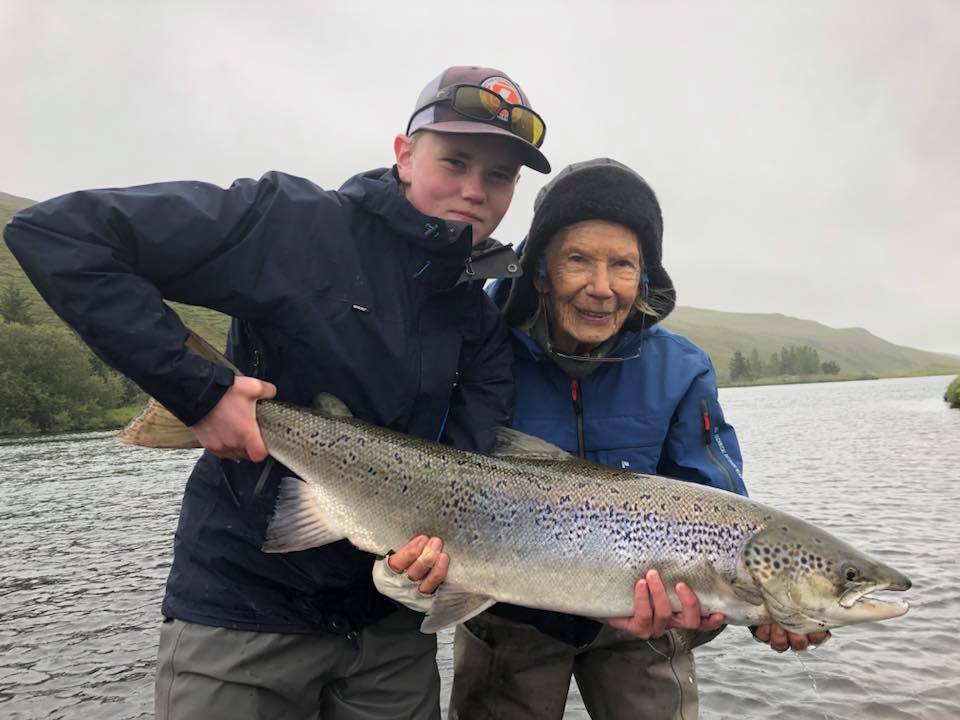 The Nes beats of the Laxa I Adaldal are performing very well with a consistent stream of fish over 20 lbs being landed and plenty of new members of the 20 lbs club. Amongst them Lilla Rowcliffe who has fished there for 30 years landed a 24 lb, 18 lbs and a 7 lbs fish in one evening at the age of 92.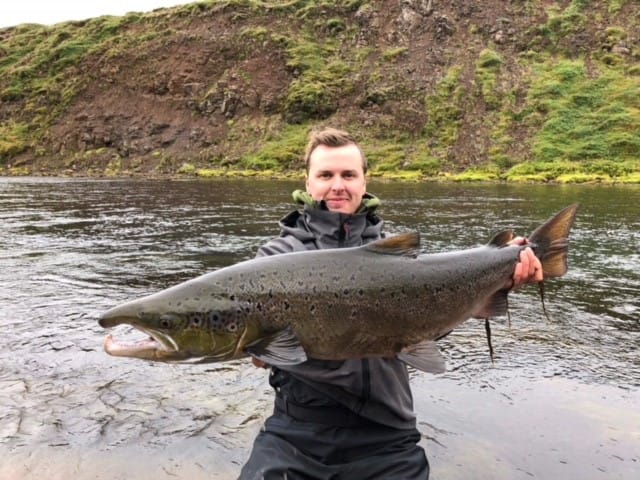 Svarlbardsa too has been reporting good numbers of multi sea wintered fish with the last group landing 24 fish in three days with an average size in the mid teens.
The mixed weather at Laxardal and Myvatnssveit has not stopped the fish from rising. Large brown trout can be found honing in on prolific midge hatches during calm spells when the wind lays down. There have also been some bibio hatches during warmer periods of the day. At other times anglers have been rewarded by working along the bank edges and small sheltered bays. This really is one of Europe's finest big brown trout destinations.
For last minute availability click HERE and for more details on fishing in Iceland please do not hesitate to contact Peter McLeod or Alex Jardine or call our office on +44(0)1980 847389.