The Icelandic salmon season is almost upon us once again and as ever we are hugely excited to hear the first salmon reports. Usually the first fish are spotted in early June and by mid July the west coast rivers are producing salmon and grilse with great consistency.
If you have not planned a summer salmon trip for this season or are looking to experience Iceland for the first time we have just received a fantastic opening on the Haukadalsá River during the prime time, 31 July – 3 August. This space will offer great hitch fishing opportunities, perfect for those that like visual salmon fishing, learn more about fishing the hitch here.
Haukadalsá is another short west coast river limited to just 4 or 5 rods. There are 40 named salmon pools accessed by the lodge, most of which have long runs and are perfect for fishing with fly. The river is intimate and best fished with a single handed rod and floating line. The average salmon is around 6 lbs with larger fish entering the river early in the season (late June).
The charming lodge is set on the riverbank directly overlooking beat 5 with breath-taking views over the hills on one side and over the sea on the other. Each rod has a private double room with en-suite facilities.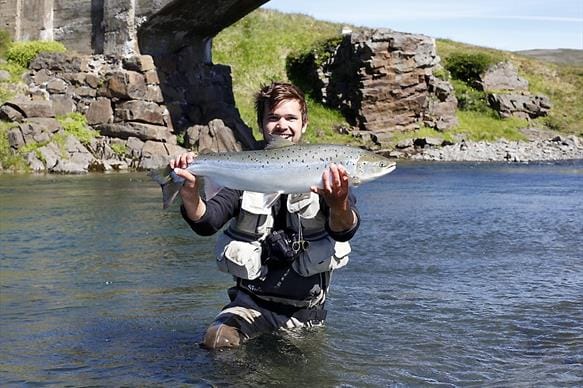 The river is usually only available to intact groups of 4 or 5 anglers but we are able to offer this space out to single rods too.
The cost is £4,200 per rod based on single room full board accommodation, shared guide and transfers. Rod sharing is available.
If you would like more information please do not hesitate to contact Alex Jardine or call our office on +44(0)1980 847389.