It is not often that a new fishing destination arrives on the scene, but this month we are delighted to unveil a new project that we have been working on in Kenya. There has for some time been a significant gap in the market for an operation that suits the needs of fishermen and families alike. Kiwayu in Kenya is just such a place. For some time Kiwayu Safari Village has been regularly visited by those in the know looking for peace and tranquility along with one of the finest beaches anywhere in the world. What they were unaware of is the incredible fishery right on the doorstep!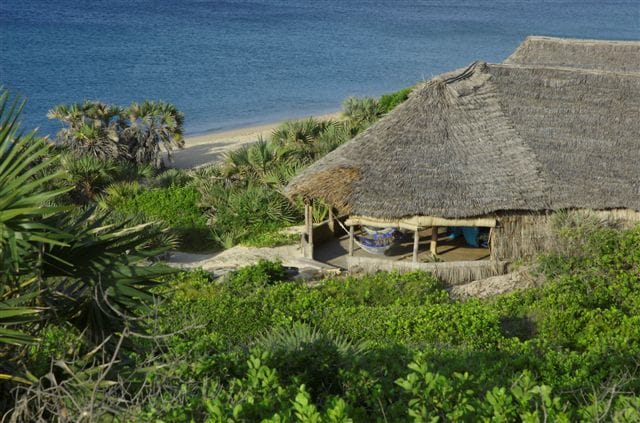 We have been working closely with George Moorhead, the owner and Manager of Kiwayu, to produce a fishing package exclusive to Aardvark McLeod so others can experience this incredible fishery. George is an avid fisherman himself and we are delighted to help him turn his dream into reality. Not wanting to take our word for it we recently invited Peter Gibson from Hardy Greys to go and test fish the area to see what he thought. He was so impressed he will be hosting our first trip in November. This is what he experienced:
"Its not often in ones life you get to fish virgin seas….to have done it four times over in the same location is truly lucky. Kiwayu Safari Lodge is situated on the northern reaches of the Kenyan coast line neighbouring Somalia. It is a fisherman's paradise. Set amongst the Kiungu marine reserve and 30 miles north of Lamu and approximately sixty miles from the border of Somalia this region is very remote, under visited by main stream tourists let alone intrepid sports fishers.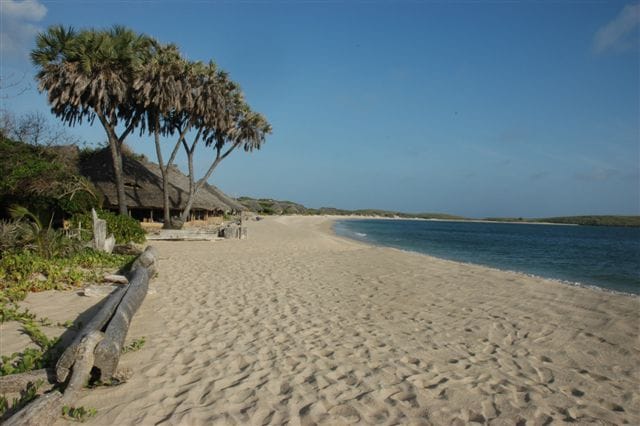 I last fished Kiwayu in 1999, and a few years prior when I was involved in the running of Hemingways Resort at Watamu. Kiwayu was talked about by the local fishing fraternity as this mythical location where an unlimited bounty awaited those willing to make the trek.On all my visits in the 90's we were never disappointed with the fishing:  sailfish, yellowfin tuna, wahoo, king mackerel, dorado, giant trevally readily came to the baits. Inshore, snapper, bonefish, grouper, wolf herring, pompano, several trevally species and ladyfish were the norm. It is also one of the few areas in Africa to have substantial mangrove lagoons creating the perfect environment for inshore species. 
Nine years on the phone rang with Peter McLeod from Aardvark McLeod asking me if I would be interested to go and re-assess the fishing potential at Kiwayu. Needless to say my arm needed very little twisting. What would Kiwayu be like today? Would the fish still be there in such numbers? Would I be deeply disappointed with the fishing? Would I survive this hard core fishing quest? As an avid fly and spin angler I was keen to try many techniques from both disciplines. Months of meticulous kit preparation was undertaken on the lead up to departure. As I was to find out very quickly the attrition rate on equipment and terminal tackle was going to be high. The plan over my six days fishing was to cover as much of the archipelago as possible including both inshore and offshore reef systems.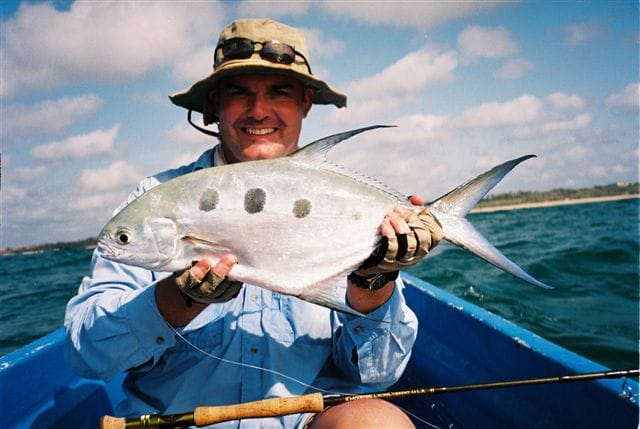 Any fears I may have had about the fishing were dissolved on the first morning when straight out from the lodge I was into nice sized trevally and pompano on fly. By the end of day one I had fourteen fish under my belt and eight species in the bag along with many missed and lost opportunities. Over the remaining week I explored all regions of the archipelago. The outcome was that this region can be split into three areas, "Kiwayu" (the southern region), "Simambya "(the central region) and "Kui "(the northern region).
All three areas have huge tidal inlets and coral structures along with mile after mile of untouched mangrove creeks. Every nook and cranny has the potential to throw up that fish of a life time. The back country fishing for mangrove snapper and grouper is mind blowing. Sight casting to structure with #10 fly rods, heavy sink lines and 6 inch flies is simply a recipe for fun…….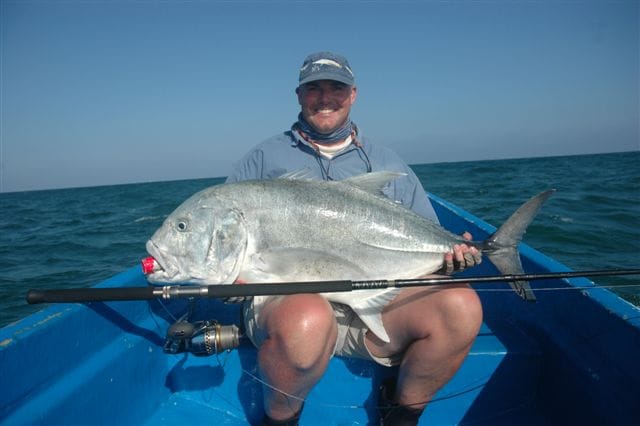 After studying recent catch statistics and talking to local skippers and crews it would appear that the offshore fishing is still boundless with five species of billfish available during the season. These include sailfish, black, blue and stripped marlin, and the ultimate broadbill swordfish. Other offshore quarry includes wahoo, king mackerel, dorado, barracuda, and several tuna species.
The crew on the boat "Elusive" were very in tune with teasing sailfish to the back of the boat along with tuna, both of which were taken on the fly over the week. The sailfish grounds are also only a five minute run from the front of the lodge! Deep water jigging is also a fantastic option to be pursued at Kiwayu. The many underwater peaks and drop offs hold phenomenal quantities of bait fish so the predators hang around waiting to pounce. Greater amberjack are found in Kenyan waters in good numbers along with giant trevally.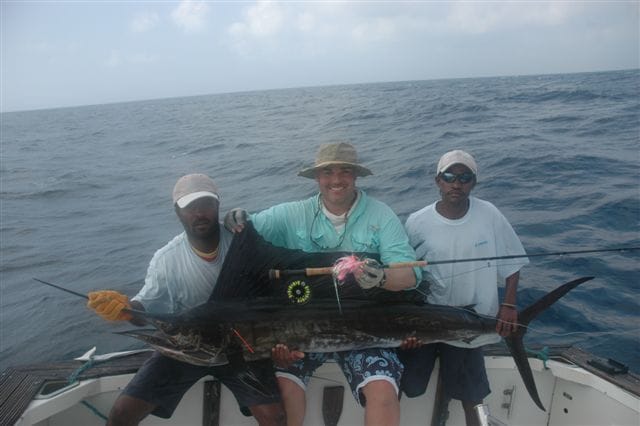 The giant trevally I caught were on fly and spinning gear with 300g poppers. Three fish around 60lb and several smaller I caught on fly and lighter spin tackle. All were released back to fight another day. I lost count of how many times over the week I saw "BIG" GT's cruising in the surf, one I estimate over 90lb! After a week of just scratching the surface of the Kiwayu fishery for the lucky fourth time my fish count was 16 species and over 70 fish. The majority were taken on the fly which for me was just awesome. I most definitely was not disappointed by any aspect of the fishing or the Kiwayu Safari lodge. The lodge has excellent accommodation, food and a great wine cellar, and of course ice cold beers for worn out anglers.
Ten years on, regular flights make this part of Kenya easier to reach than ever. Beforehand it was by boat, road or private charter, now there are scheduled flights from Nairobi. Kiwayu will truly become a must fish destination in time and rather than a "Kiwayu who? And where? Kiwayu will become known as "Kiwayu Wow!!!!!"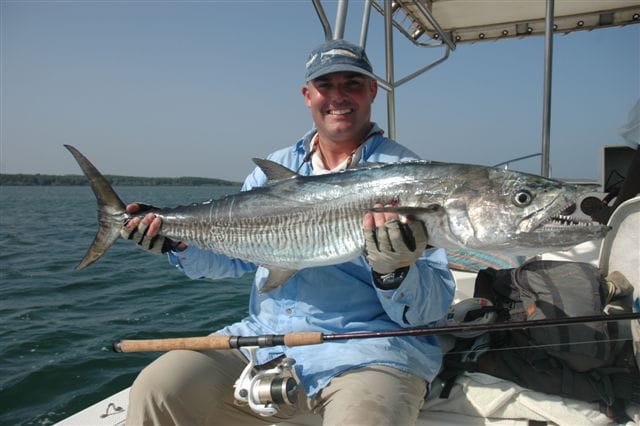 Peter Gibson will be leading our first exploratory trip from 12 – 26 November in the prime sailfish season. The group will be six, plus Peter, and there are four spaces left. If you would like to join him and test this phenomenal fishery for yourself the cost will be £3,800 per rod based on single occupancy, shared fishing throughout and excluding international flights to Nairobi. For a full itinerary and slide show please contact us as soon as possible.