The pull of taimen fly fishing in Mongolia is too strong for Alex Jardine to shake. Stunning scenery, rich culture and, of course, an amazing fishing experience await. In September 2020 Alex is looking to head to the Onon River to host a trip on the Lower River Expedition. It is a trip designed for those who do not mind a bit of roughing it… in style.
The trip includes; Eight days fishing in a special taimen sanctuary, new stretches of water daily without shuttles, accommodation in a unique combination of tent-tipi and ger camps, remote location, incredible fishing, world class guides, unique nomadic culture.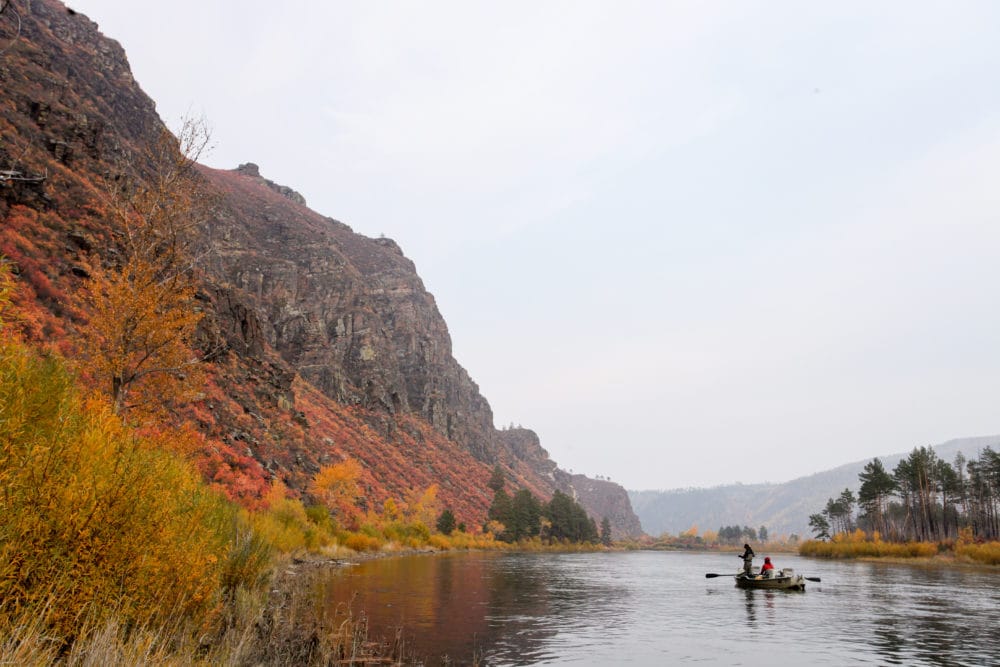 Onon River Trip description, Mongolia
The trip begins and ends in Mongolia's capital city, Ulaanbaatar. Upon arrival, a guide and driver will meet the group at the airport and take care of all transfers.
After your first evening in the capital, the group flies early in the morning to the river on a chartered Cessna Caravan. You will land near the river where the guides and boats will be waiting. For the next seven days, you will float and fish between a string of very well appointed tipi and ger camps. On the eighth day, you will have a full day to wade and walk prime taimen waters. At the end of the week's fishing, you will drive over a beautiful mountain pass to board the charter flight for the ninety-minute plus return flight to Ulaanbaatar. An afternoon and evening in the capital and then flying out the next day, unless you wish to extend your adventure.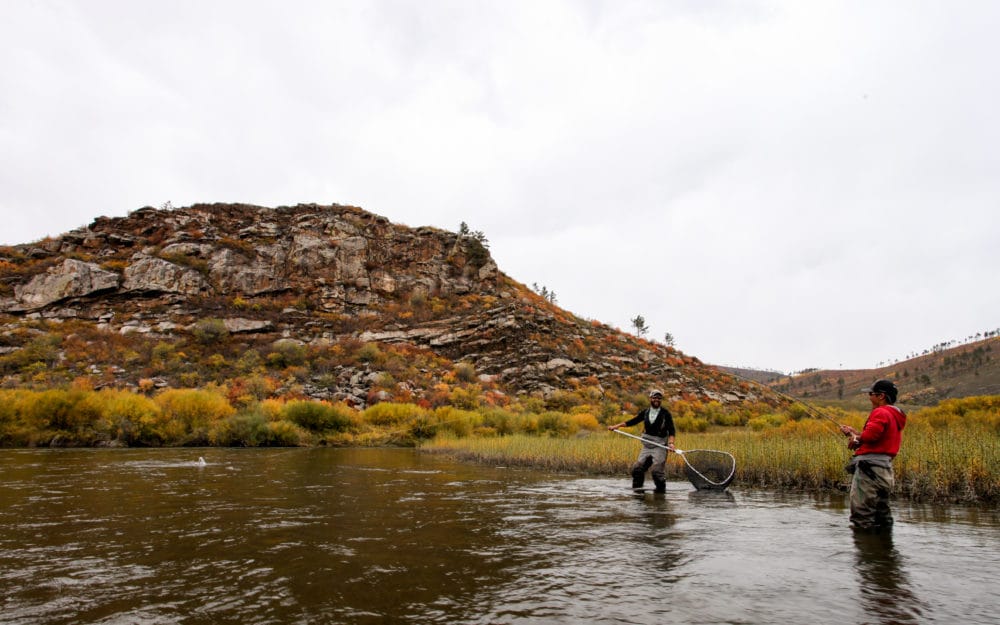 All anglers on this trip fish from USA manufactured ClackaCraft drift boats, this allows large areas of river to be covered. It is quite an experience standing tall in a drift boat while sight casting to a feeding taimen. Each day's float covers 15 – 25 kilometers (10 – 15 miles) of water, with a midday break for a shore lunch.
Only anglers holding a fishing permit allocated through Mongolia River Outfitters may legally fish this river. Our exclusive management agreement requires catch-and-release, fly-fishing only with single, barbless hooks.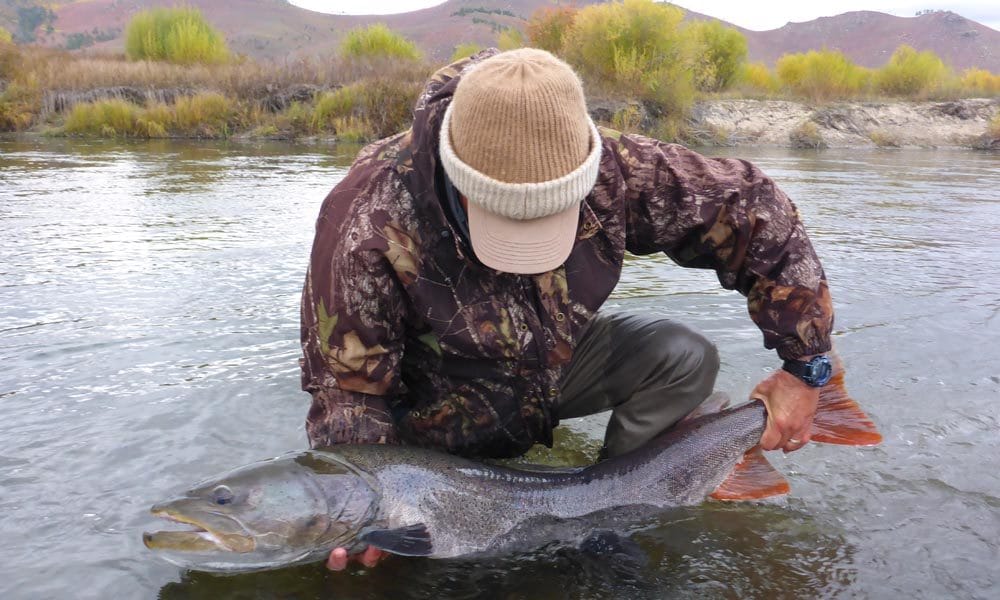 Onon River Fishing, Mongolia
If catching taimen is your goal then the Onon River would probably be the place to go. They are viscous surface eaters and love to chase down big streamers. The taimen may average a slightly smaller size than our other trips in Mongolia but they are more numerous. The river does still offer the chance of encountering a monster fish, it is reasonable to expect a fish per day.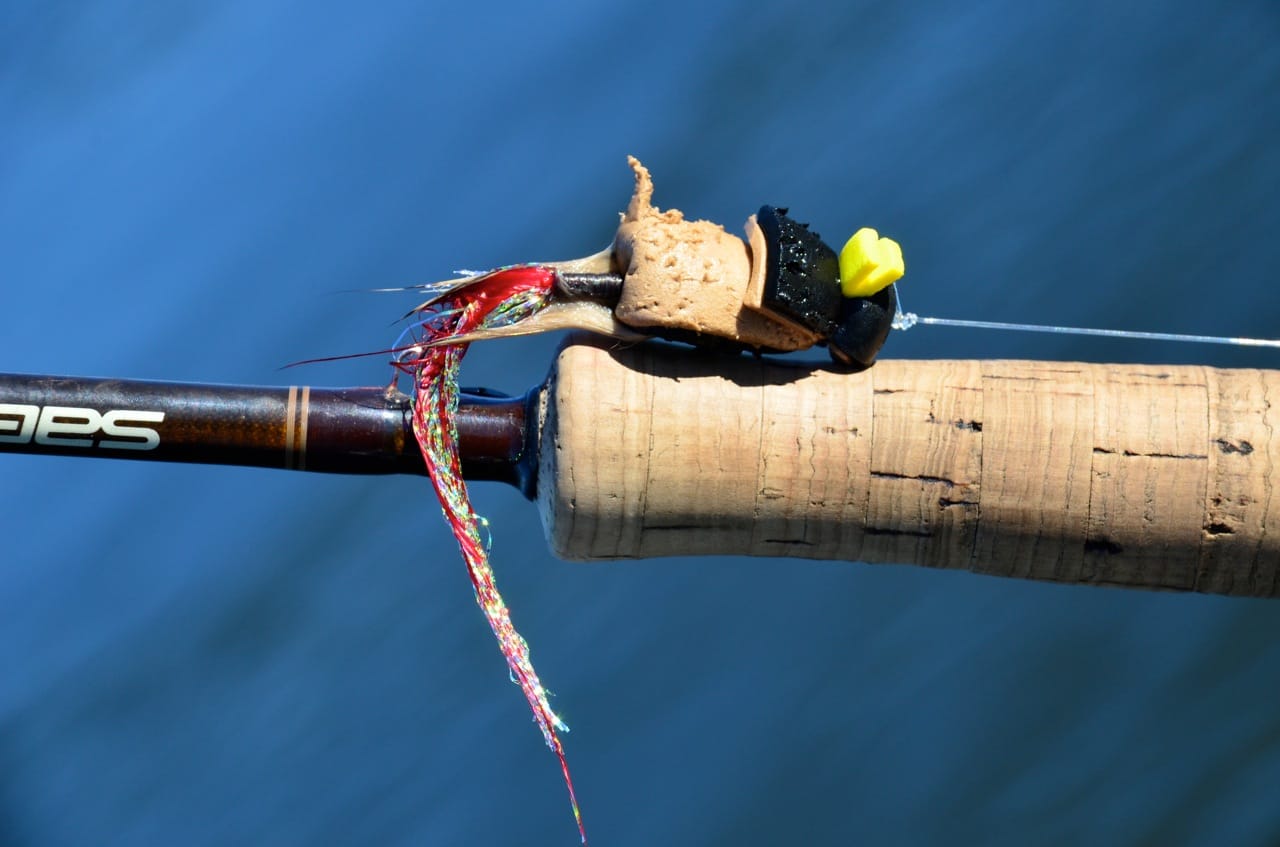 The season runs through the beautiful Mongolian autumn (September/October) as the deciduous leaves are changing colour, it is however a cooler time of year. It is possible to target lenok trout and Amur grayling. The surface activity is limited so you are better targeting them on nymphs and streamers.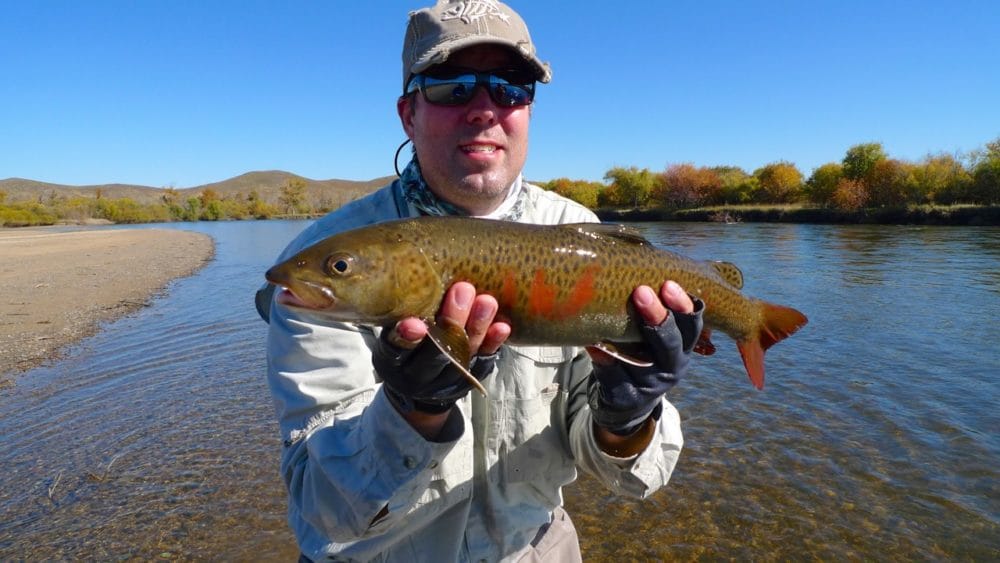 In addition anglers can also encounter two endemic species to this river system, the Amur trout and the Amur pike. The trout are strikingly beautiful and can offer some fantastic dry fly, nymph and streamer fishing, they can grow up to 8-10 lbs too. The pike often appear as a by-catch when targetting taimen in backwaters and small pockets along the river but they can grow in excess of 40 inches.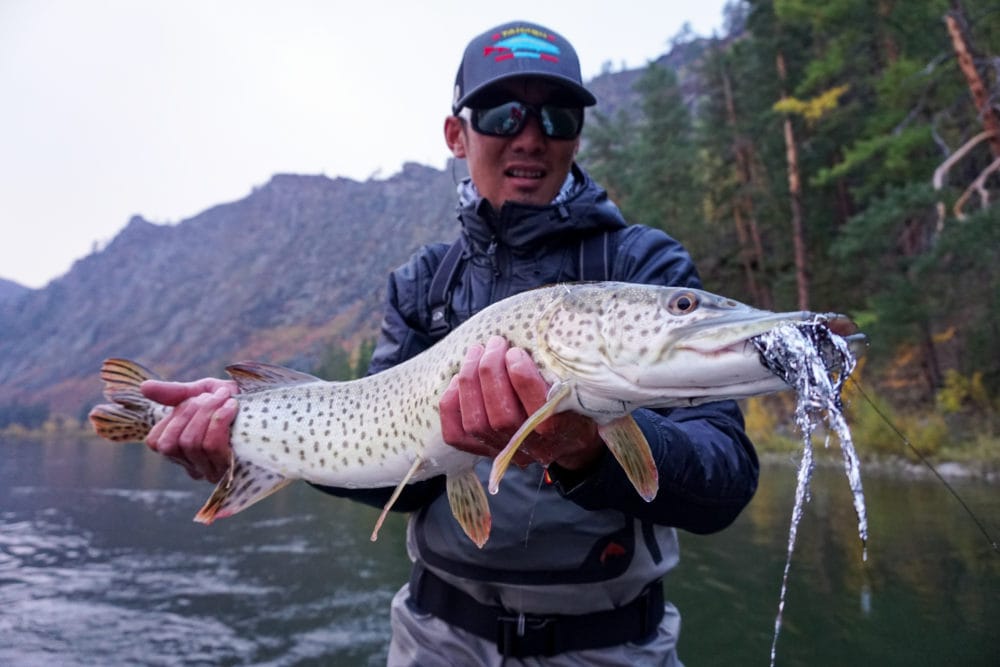 Onon River Ger and Tipi Camps, Mongolia
On the remote lower river trips, the camp gear is transported by a fleet of gear boats every day. The camps are a mix of Tipi Camps and Ger Camps. The first part of the trip in tipi camps, the last few days in ger camps. Each tipi camp has a large wall tent for dining with a wood stove; very comfortable tipi-tents appointed with comfortable cots, blankets, and wool carpets; and, hot showers! The ger camps have a large dining ger. The sleeping gers feature comfortable cots, linens, and wood-burning stoves.
Onon River Trip Details, Mongolia
Dates: 19th to 29th September 2020.
Price: US$6,450 + $500 conservation fee per person.
Inclusions: Two nights in Ulaanbaatar, airport transfers, transportation to/from the river, fishing permits, guide services, and all meals, lodging, soft drinks, beer, wine, and classic Mongolian vodka at camp.
Exclusions: Gratuities, international flights, meals and drinks in Ulaanbaatar.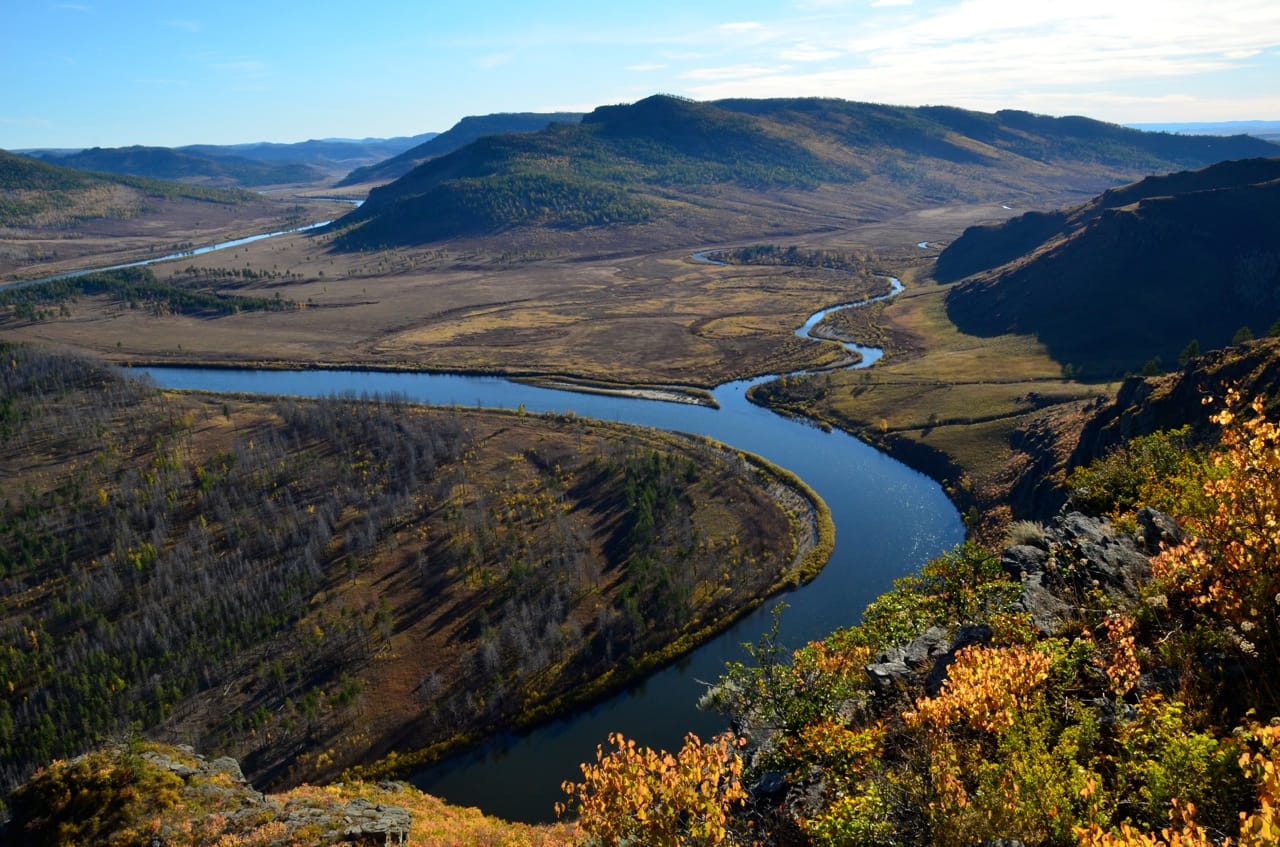 For more details about the Onon River hosted trip, or any of our other operations in Mongolia please contact Alex Jardine or call our office on +44(0)1980 847389.