Sea trout are a fish that have captivated me for as long as I care to remember. A brown trout that starts life in freshwater, goes for a feeding spree in saltwater then returns to freshwater to spawn having packed on the pounds holds intrigue and appeal. The same appeal, therefore, was spawned for steelhead; a rainbow trout that follows the same pattern as our sea going brown trout. However, the opportunity had never presented itself to pursue this magical species, which many regale and regard as the hardest fighting freshwater species of them all, pound for pound.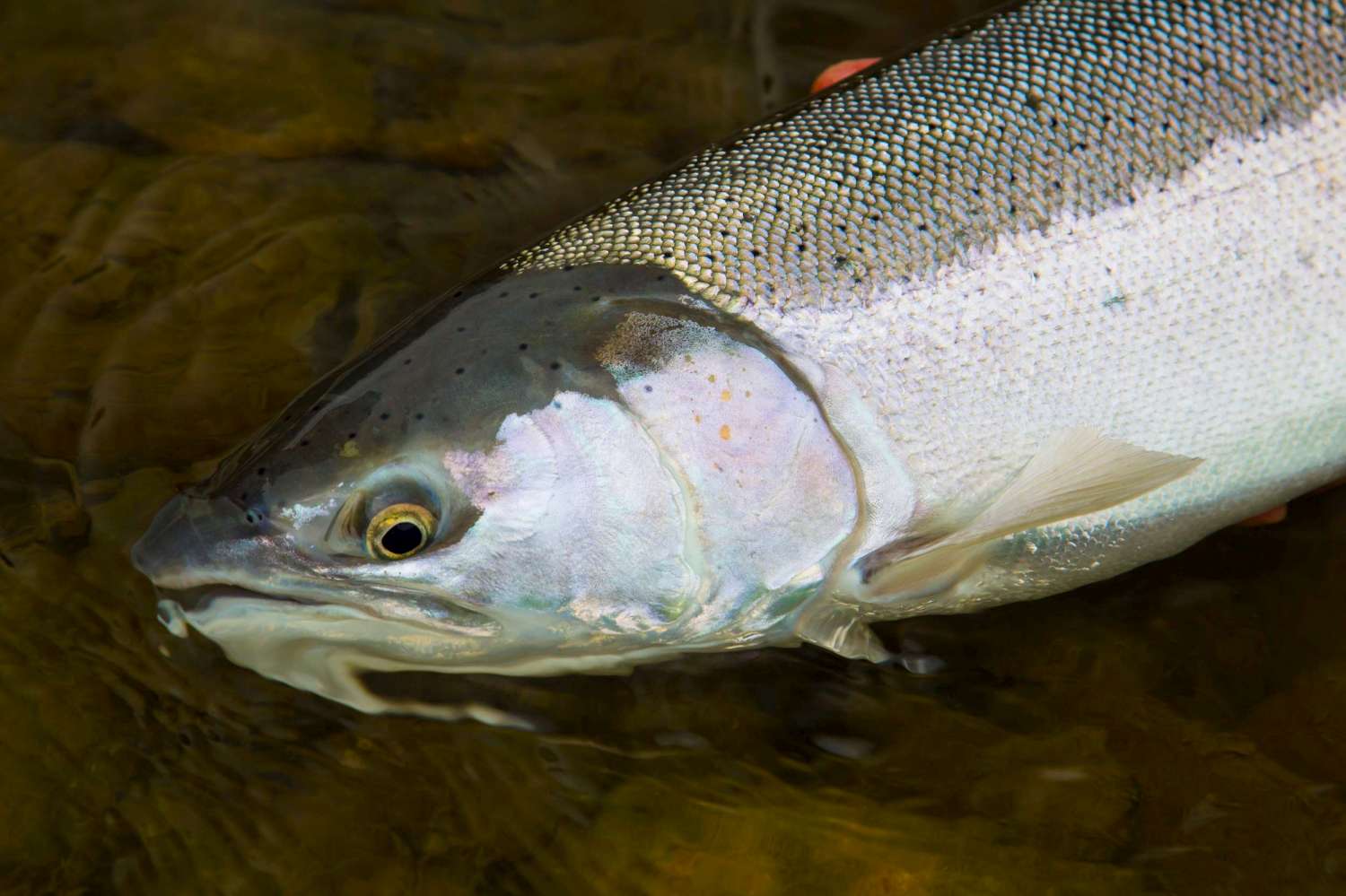 Other than a 'fluked' steelhead whilst fishing on the Chilean side of Tierra Del Fuego I had never set foot or laid a line on true steelhead water, targeting them in earnest. That is until a trip to Nicholas Dean Lodge on the Skeena system in British Columbia presented itself.
Most flights to this area of British Columbia go via Vancouver, which is easily and most commonly reached with a direct flight from either Air Canada or British Airways from Heathrow. They are daytime flights, and there is always something strange about losing some 9 hours of flying time yet landing at your destination at almost the same time you departed. Customs is very easy, with no advance visa requirements.
Passport/border control was swift and pleasant. Reason for your visit? Fishing. But why only 8 days? Very good question and my retort of 'I hope that's enough time to catch everything I want to catch' raised a smile, but raised a question in my mind; why only 8 days indeed? I must take that up with Peter and Charlotte…

The layover in Vancouver is recommended. You could connect and head straight for Terrace. However, it's easy to get around in Vancouver and you have more options hotel and dining wise. The layover also helps you 'find your feet' with the time difference etc. and get into holiday mode before the flight to Terrace the next day. Vancouver is located on the Fraser river, which, itself, is a famous fishery. Indeed, the taxi driver on the drive to the hotel was telling me of how there are, at times, so many salmon running the river that you can buy a whole one for just CDN$10.
The flight to Terrace take just under two hours and is usually on a fairly small plane – some 50 passengers or so. Mainly filled with those working in the local industries, but also a fair share of anglers, easily distinguishable by the rod tubes and fishing shirts. Indeed, I was seemingly surrounded by anglers as banter ensued after introductions were made to fellow passengers.
Upon arrival into Terrace, which is as informal an airport as I have ever experienced. Chad Black, the fishing operations manager at Nicholas Dean Lodge, met us and transferred us to the lodge. The transfer took some 30 minutes, which included an impromptu stop at the off-licence to pick up supplies for the week ahead. You can drink alcohol everywhere at the lodge except the dining room, where you can purchase wine, spirits and beer at a reasonable price.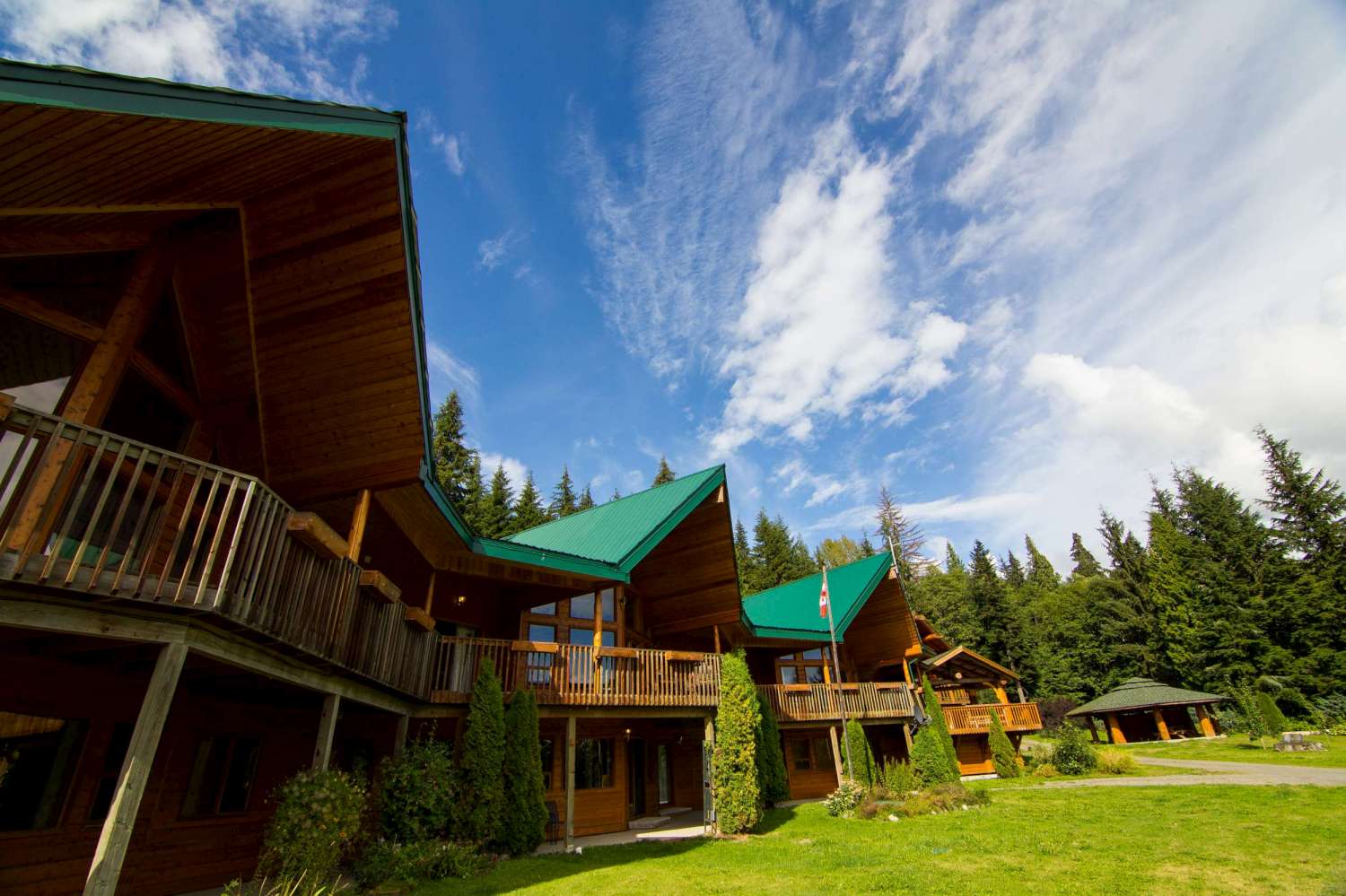 Following a tour of the lodge the rest of the day was spent at our leisure, preparing ourselves for fishing the following day and the week ahead. It was also a great opportunity to meet the gang, as I had not met any of them in person before. All had been to Nicholas Dean Lodge in previous years, so were well rehearsed with the operation and soon started to educate me. The group soon gelled, aided by a few beers overlooking the stunning vista with the Skeena a mere 200 metres away.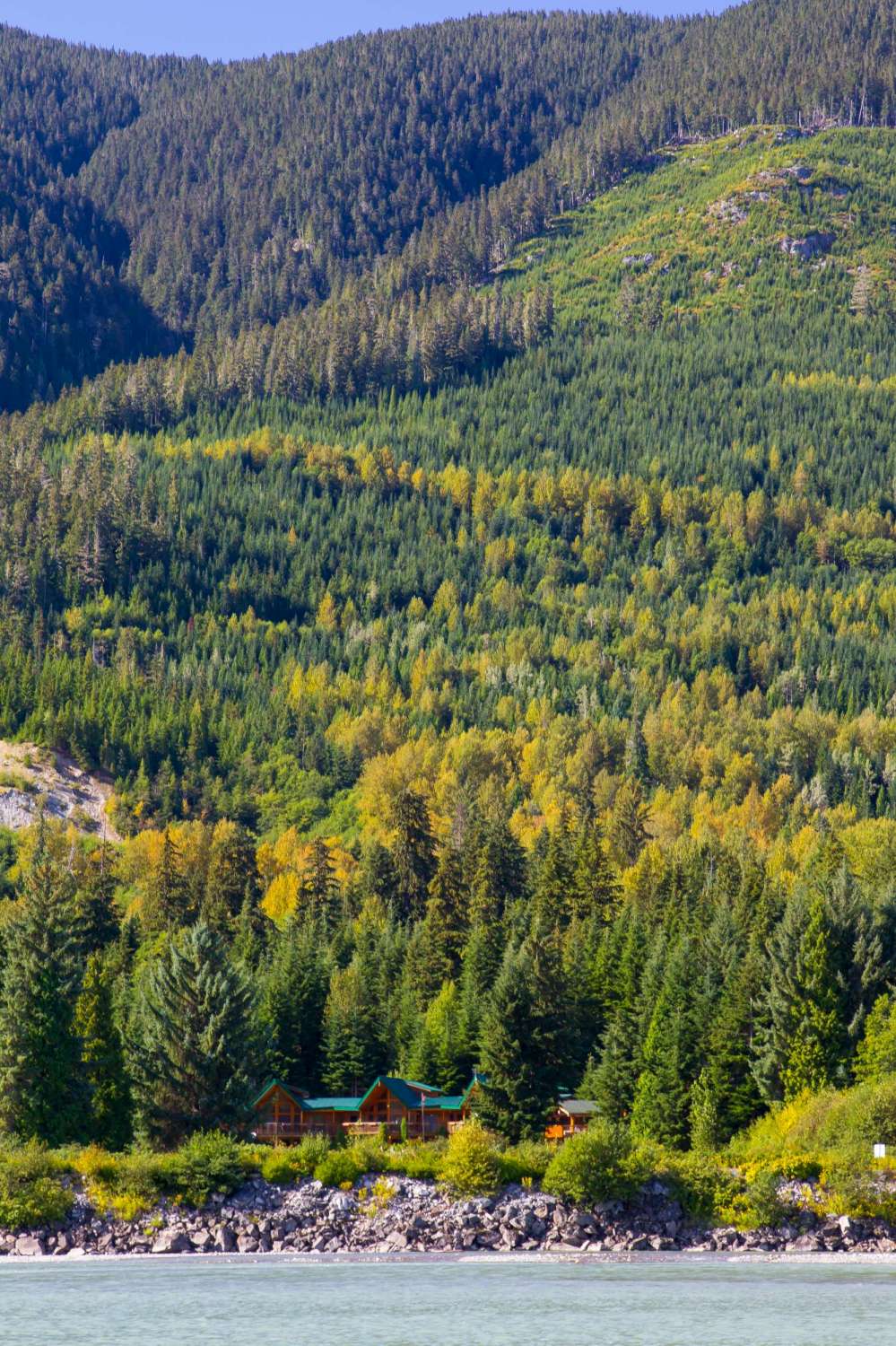 It's an early start at Nicholas Dean Lodge with a wakeup at 0530, breakfast at 0600 and fishing ensuing as quickly as you can get your waders on – the guides arrive in good time and are all ready and waiting. Needless to say the excitement of the first day had us all wide awake long before our alarms decided to chime and we were all bright eyed and bushy tailed at the breakfast table.
For the first day Adrian Whitfield and Philip Nuttall were partnered together, being good friends. I jumped in with Geoff Haslam and Rob Wigand, who knew each other from a previous trip to the lodge. They hadn't seen each other for over a year, but reunited like old friends and the banter soon ensued.
The first day was to be spent on the main Skeena just below the town of Terrace. It's a huge river and certainly one that you won't cast across. You must dissect to stand any chance of success, learning and understanding where the fish run in the mighty and powerful current. It soon became apparent and early lessons were learnt that the inside lane was largely reserved for the pink salmon, this held us in good stead throughout the week. These were present in their thousands – the estimated run, in fact, was put at two million! The novelty of catching them soon wore off and they became more of a nuisance bycatch than a target species (they're a bit like bonefish in some ways; great to cut your teeth on, but then you want to move on to bigger and better things). They have their place and are great sport for those new to fishing,  but a distraction when your sights are set on other species. The middle lane and fast lane are reserved for the steelhead, coho and chum salmon, which are more powerful and could withstand the stronger current for prolonged periods. Having said that, none were found in the main, energy zapping flow, which meant long casts were rarely needed and a single hander would often outfish the double.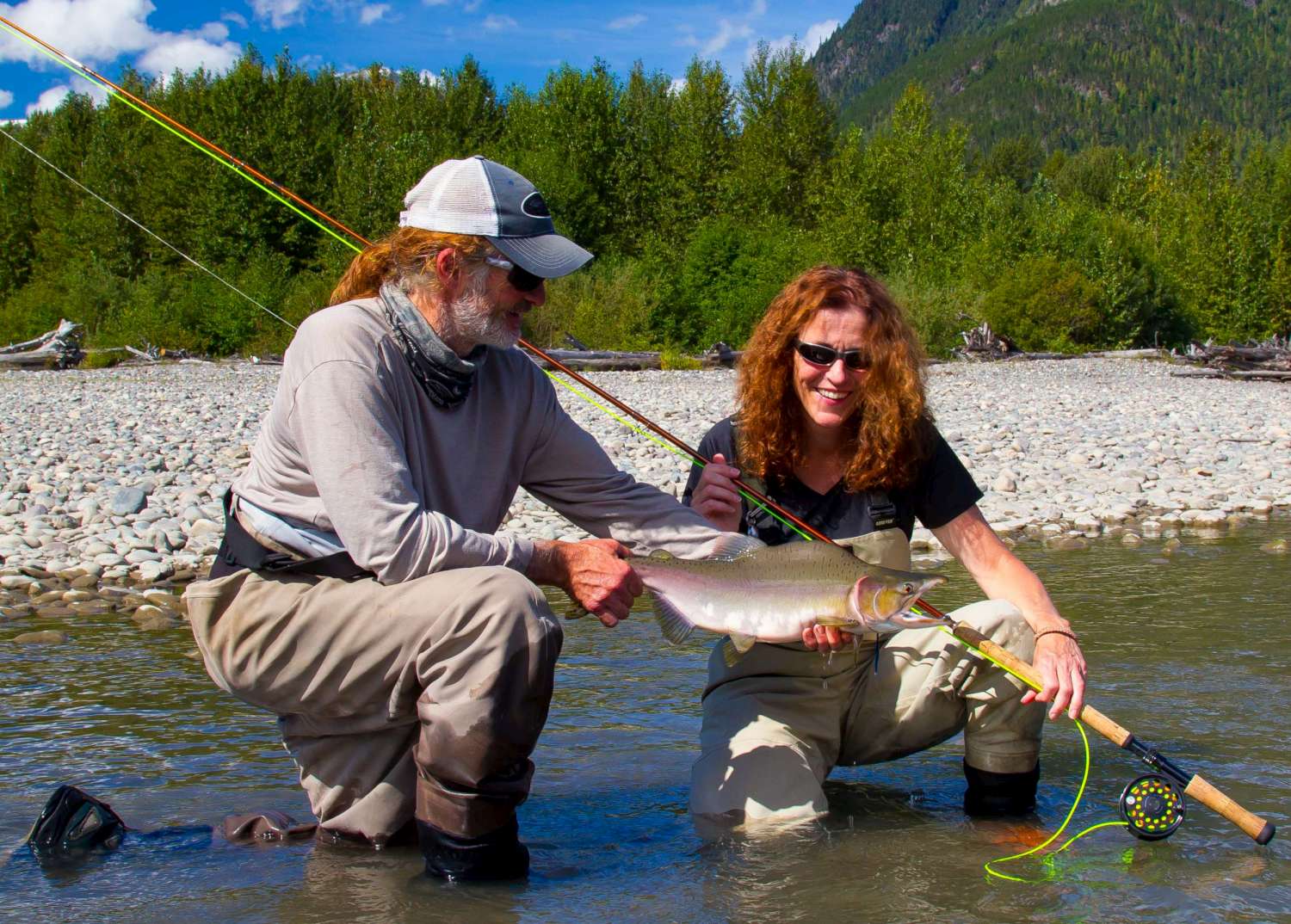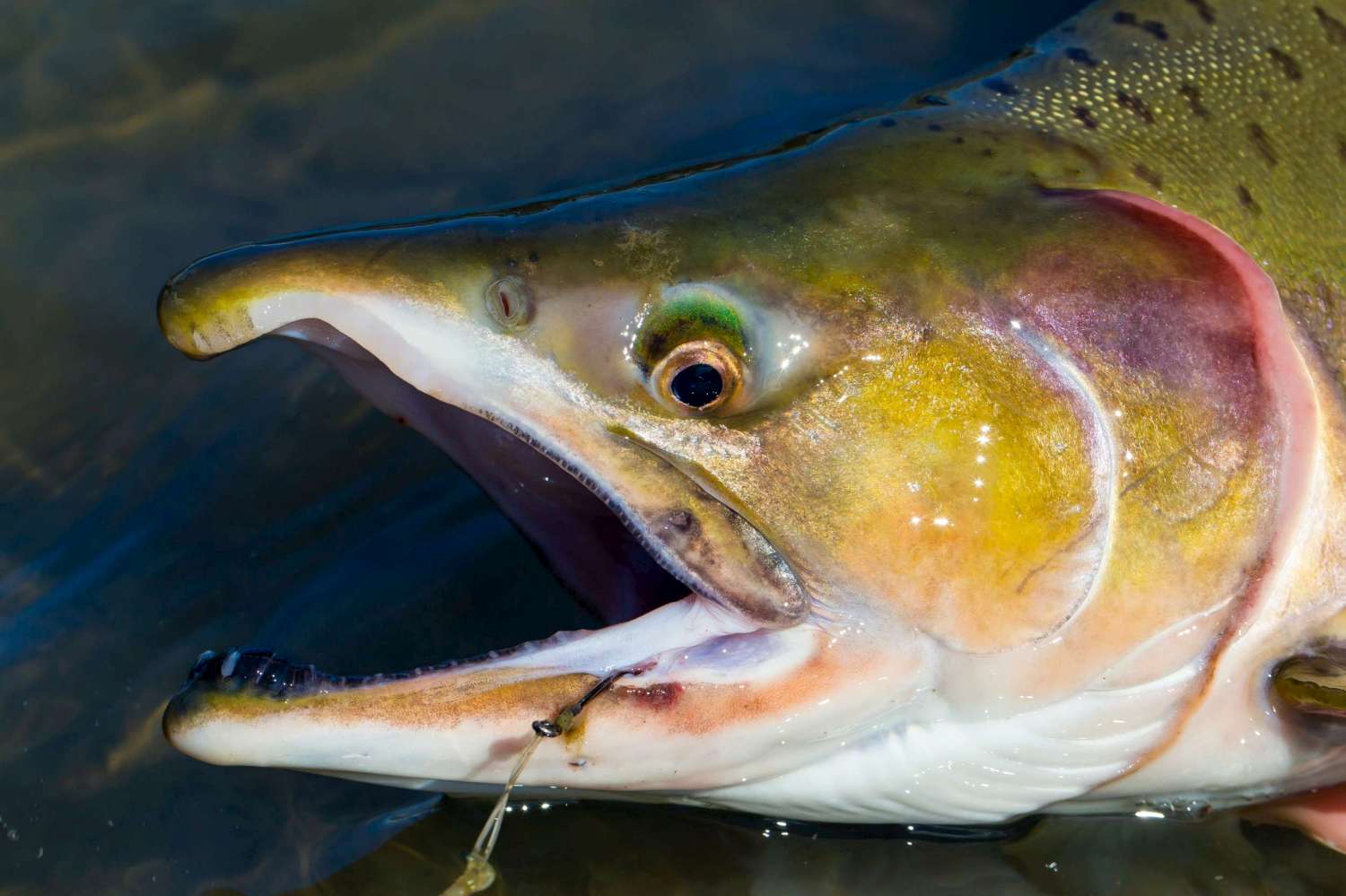 You prepare your own lunch from an array of goodies laid out next to the breakfast table in the morning. This was great as you could pick and choose to your own taste rather than a 'one lunch fits all'. Lunch would then be had bankside, there is no finer dining room in the world. The scenery in British Columbia is quite simply breathtaking. It would occupy you in quiet periods and would simply have you in awe at first and last light.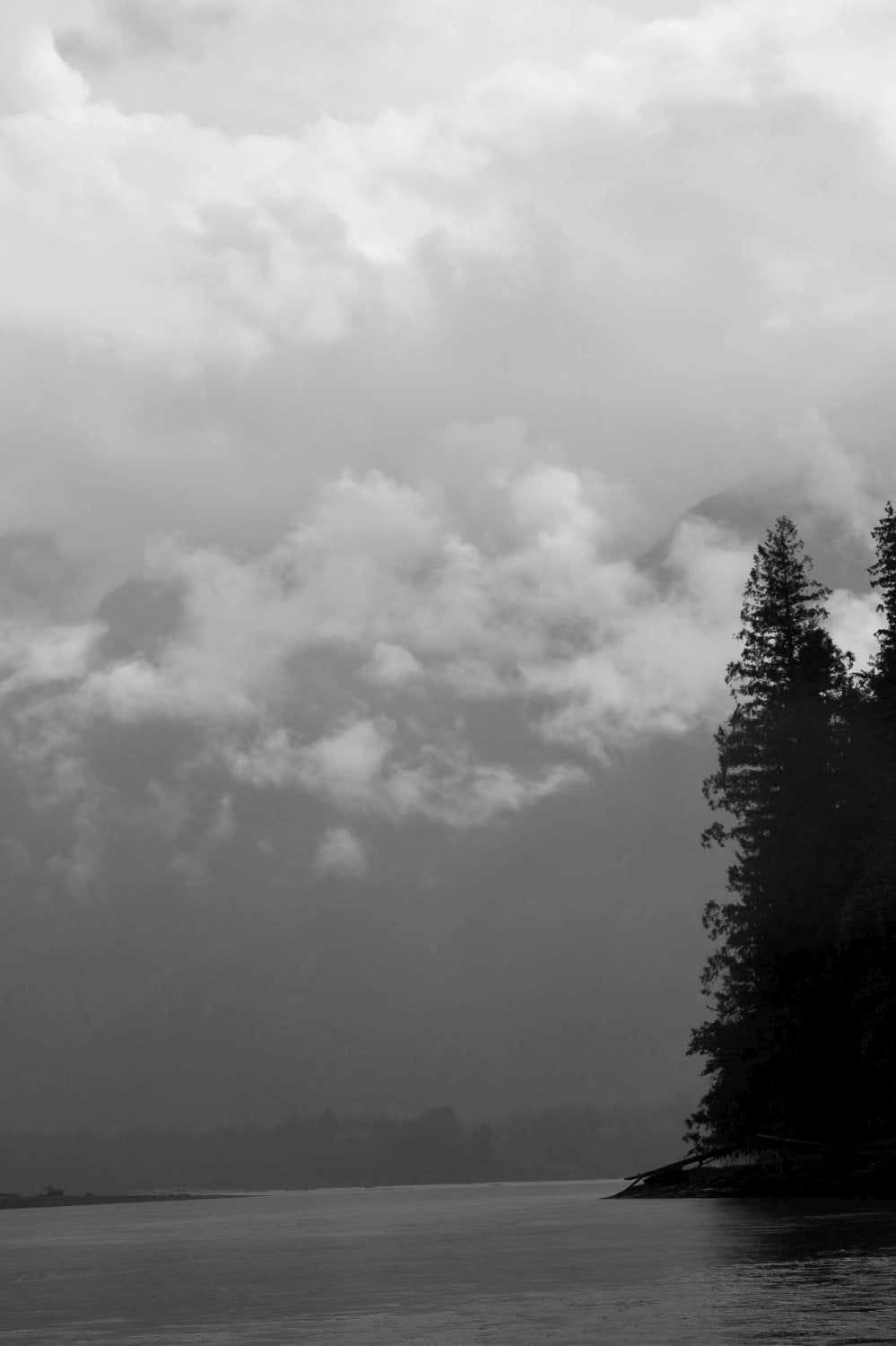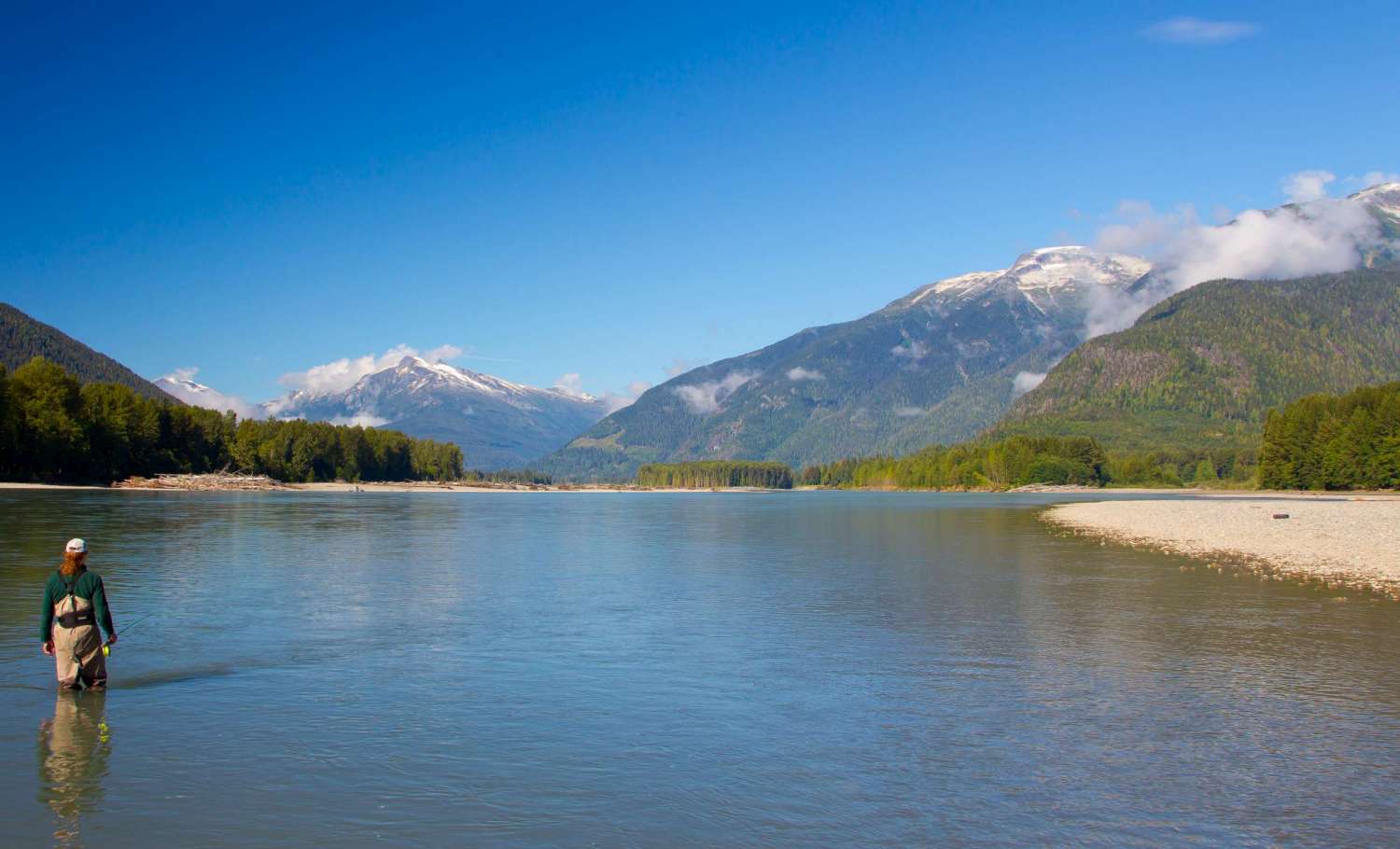 It soon became apparent that we had certainly landed in the peak of the pink salmon run, but at the front end of both the steelhead and coho run. The first day ended with a few stories of the one that got away and certainly plenty of action, albeit to the pinks. At last light, Rob, who had managed the Skeena slam that day – no easy feat I can assure you; a stick, a stone and a scuplin! – asked to try my rod (I swear this is how it transpired, and all claims of me being a poacher are totally unfounded). I, of course, gladly obliged and let Rob loose with my outfit, taking his from him to give him some room. I decided to have a little play with his outfit and almost first cast hit a tide-fresh coho salmon, much to the bemusement of Rob who had been casting a perfect line all day with his well-matched outfit. Embarrassment soon took over, with a torrent of abuse hailed from Geoff and Rob. I assured them that I only RARELY poach, they were less than convinced…(Rob, the apology cap will be in the post soon!).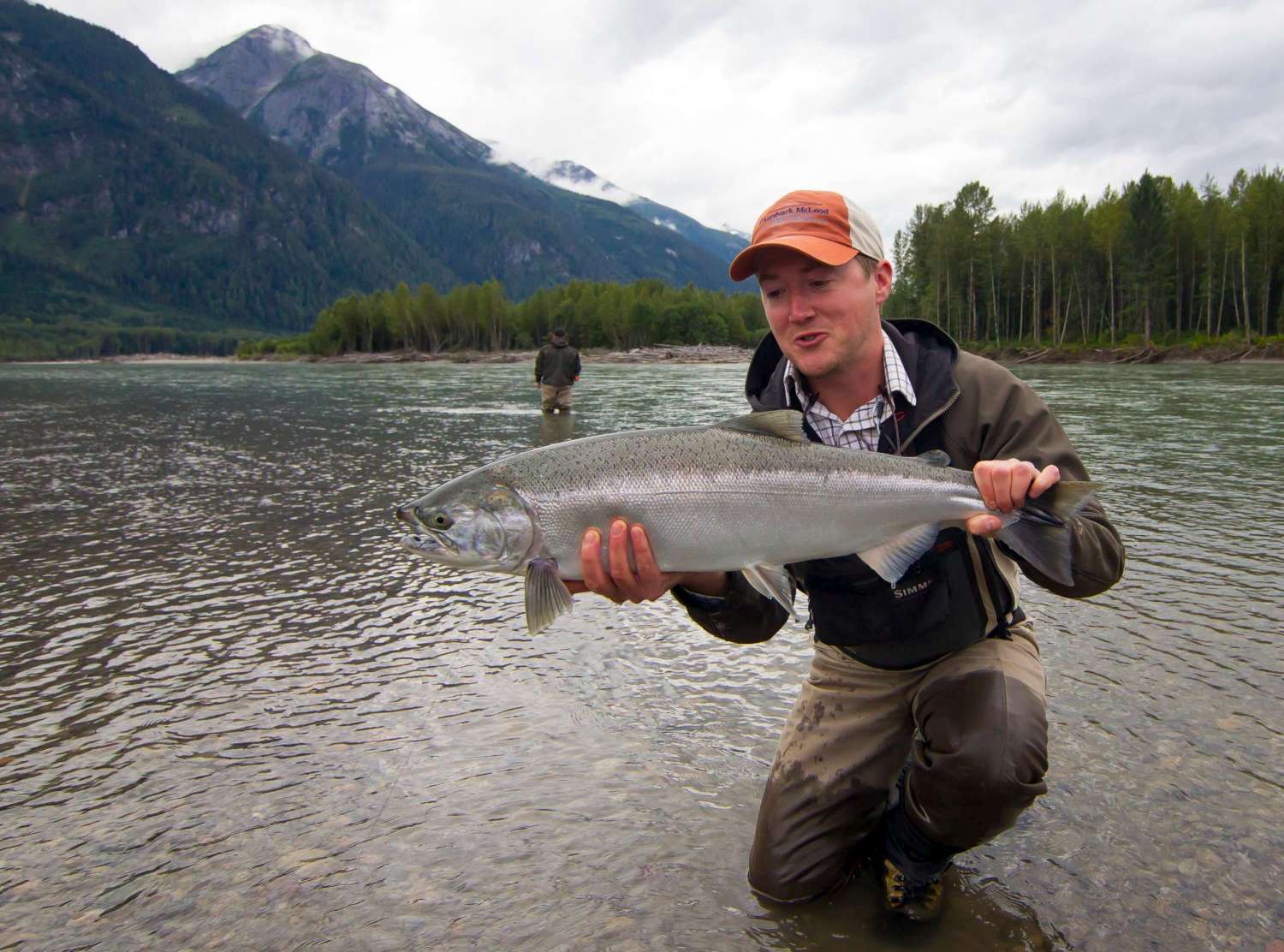 The fishing day usually ends around 1630-1730, returning to the lodge for supper, which is served promptly at 1900. Transfer time to the rivers from the lodge varies from as little as five minutes through to an hour or if you are exploring one of the myriad of tributaries fished and open to you through Nicholas Dean Lodge – this is one of the beauties of this operation; there is always a fishable river and something to suit everyone.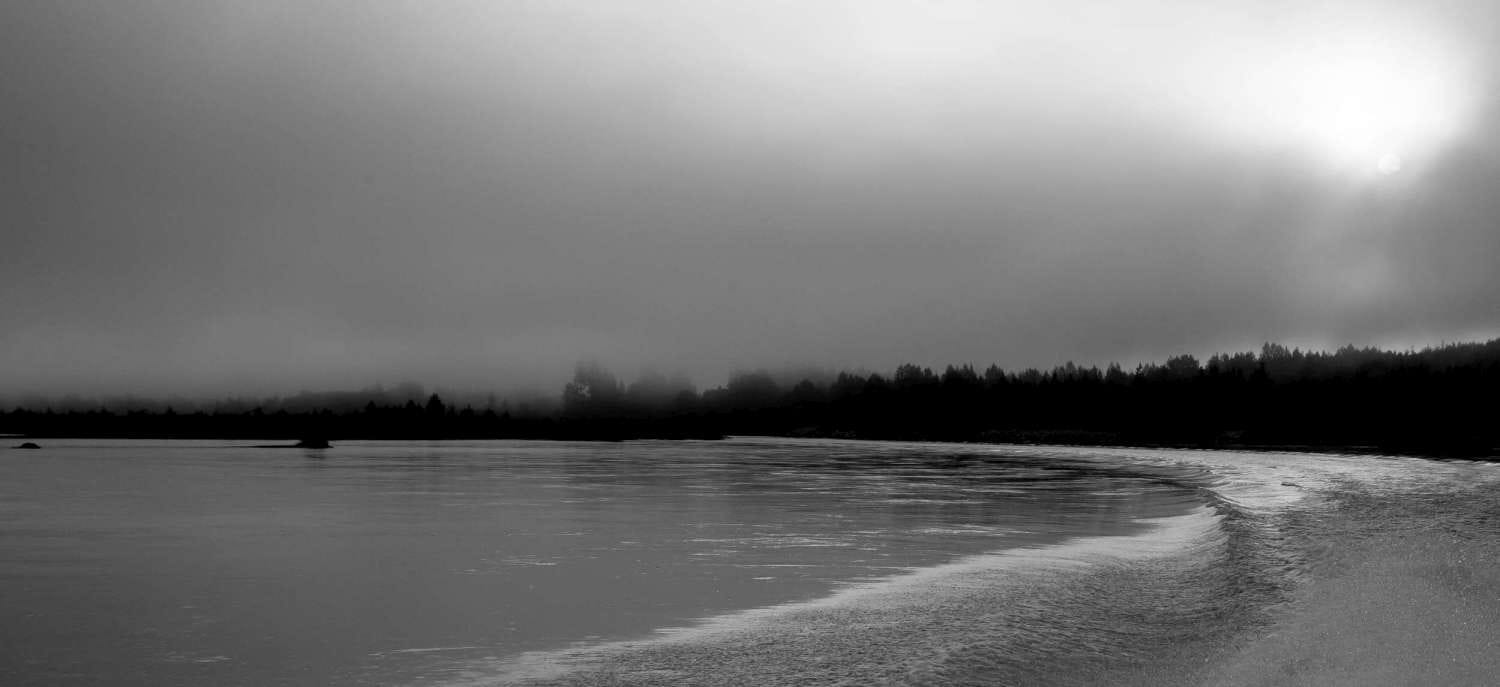 Day two was on the Kalum river. This is a sizeable tributary and certainly one to match a decent sized river back home. This is also one of the most prolific spawning tributaries of the Skeena system for Chinook (King Salmon) – boy do I wish they had told me that before we left the lodge!  It's another fast flowing river and carries a fair amount of milky sediment, as does the Skeena at this time of the year. Upon arrival we were welcomed by some huge rolling fish. Not 20 lb'ers, not even 30 lb'ers, these were 40 and 50 lbs+ fish! We're going to need a bigger boat, was my first thought…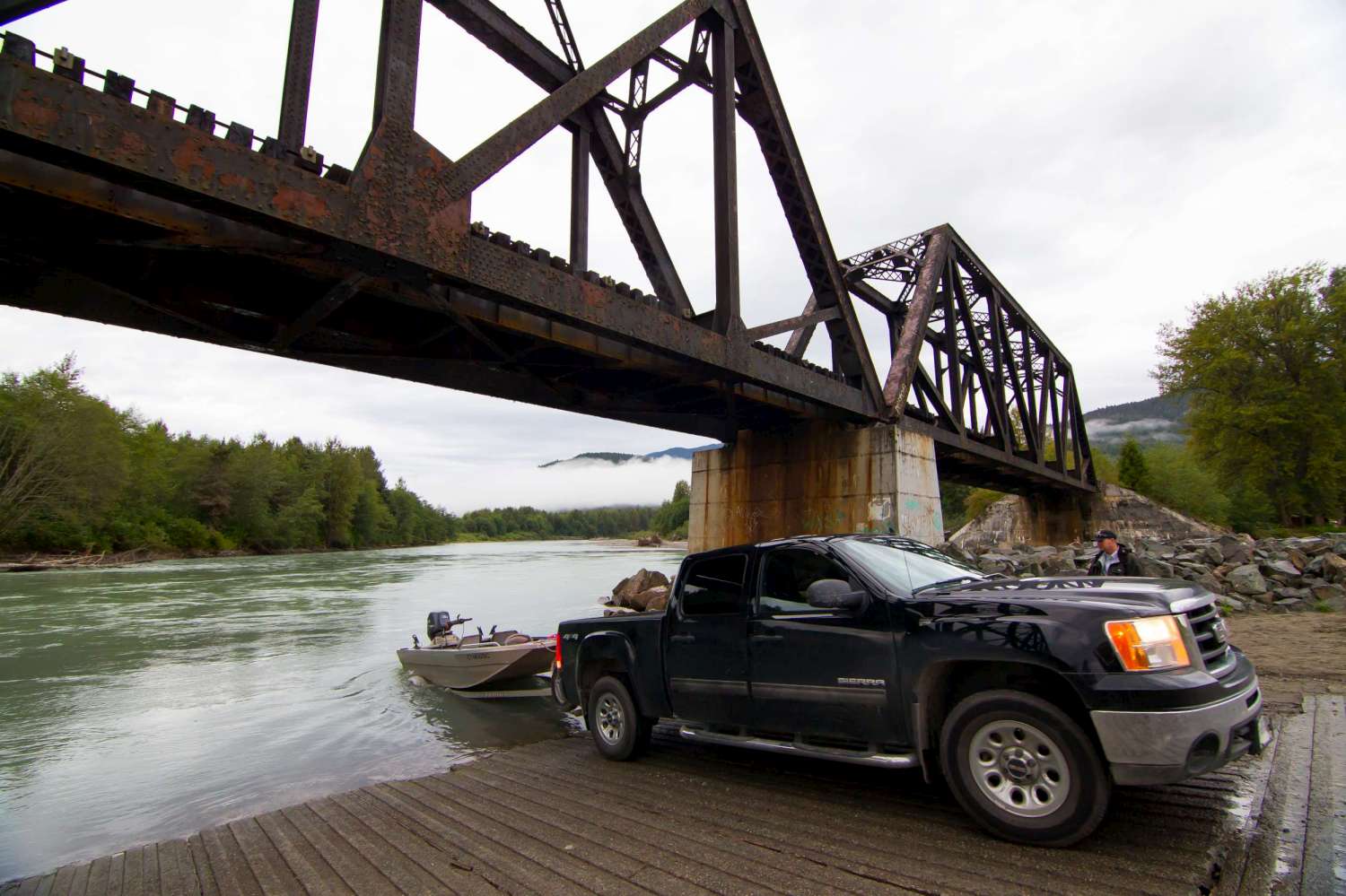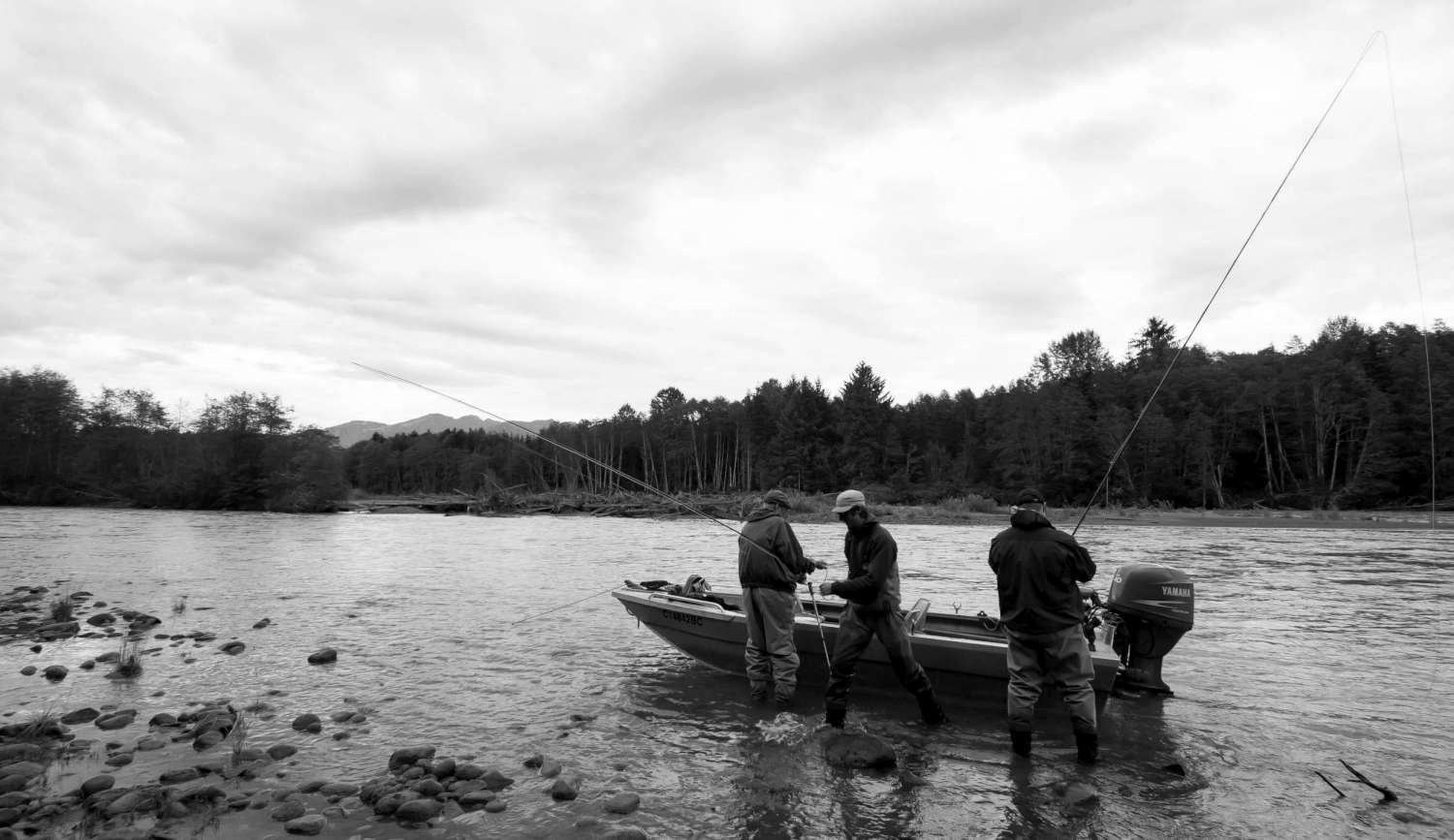 Sky, our guide and one of the finest guides I have come across anywhere, assured us that certain colours trigger the kings and we SHOULD be fine with what we were using. He looked less than convinced, and with good reason. If you like the sensation of feeling out of control on a fish and the adrenaline rush that it gives then Nicholas Dean Lodge can offer you that virtually every day. I like my adrenaline kicks, but was not quite expecting what happened next. The fly swung around minding its own business before everything went solid – the proverbial rock take! From the moment I hooked the king I knew I was in trouble, even with the 20 lbs maxima ultragreen leader, which was the go-to leader and strength, one that I have every faith in. My 13 ft # 8/9 rod was like a toothpick, certainly no match for the beast I was attached to. After a couple of minutes it rolled midriver, when the true magnitude of what I had hooked and the trouble I was in became apparent. It was huge! Just two weeks before a young, local lady had hooked and landed a 77 lb king in this very river on the fly. The fished teased me for a second, luring me into a false sense of security that I was gaining control. Oh what a fool I was. It turned with little effort and started screaming off downstream with Sky and I quite literally in tow. I kept the pressure on, perhaps a little too much. Disaster struck – the fish had my entire skagit head and running line outside the tip and the knot between the backing and running line gave, never to be seen again. The fish would have soon shaken the barbless hook loose and the line was never to be seen again…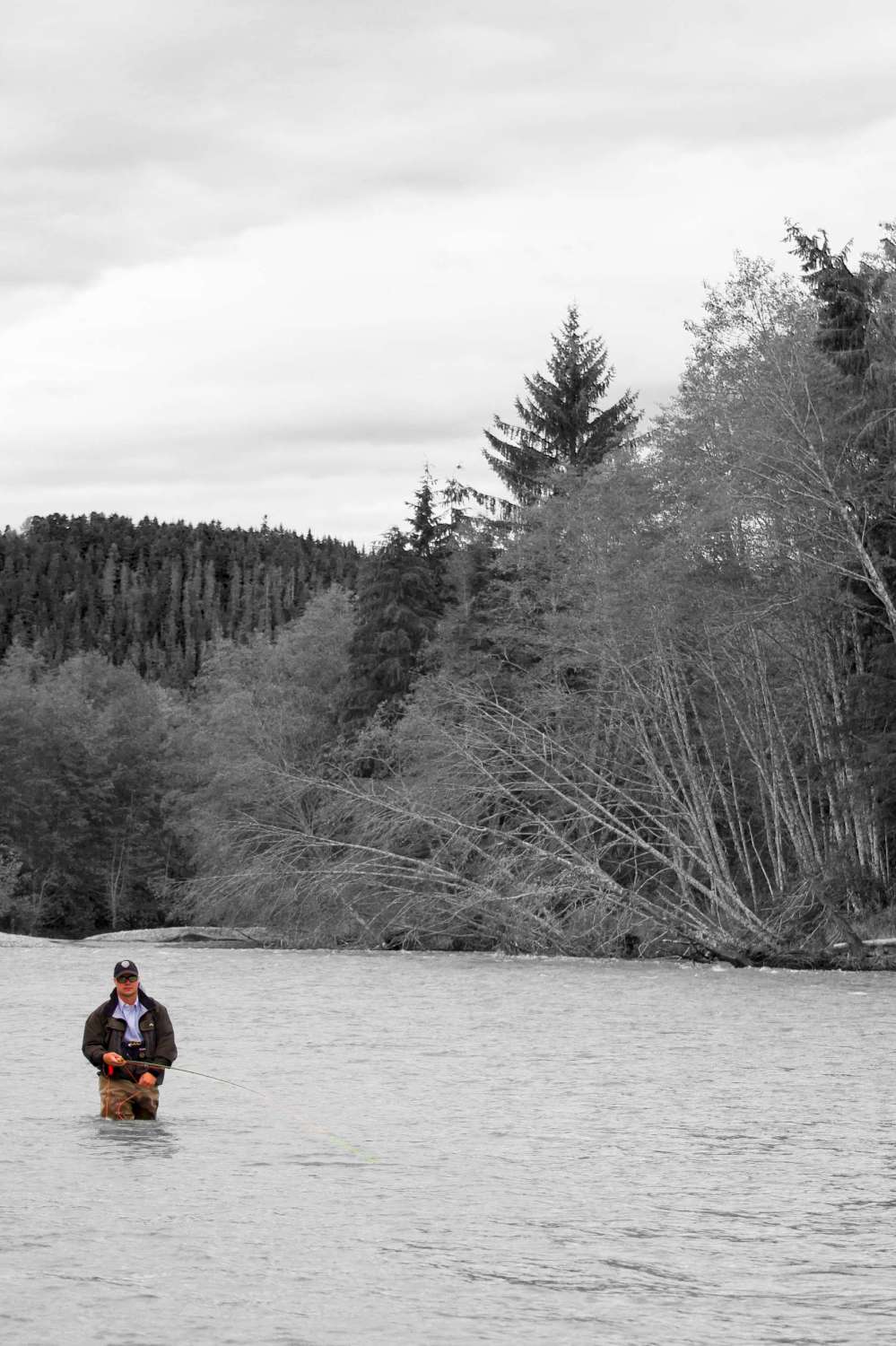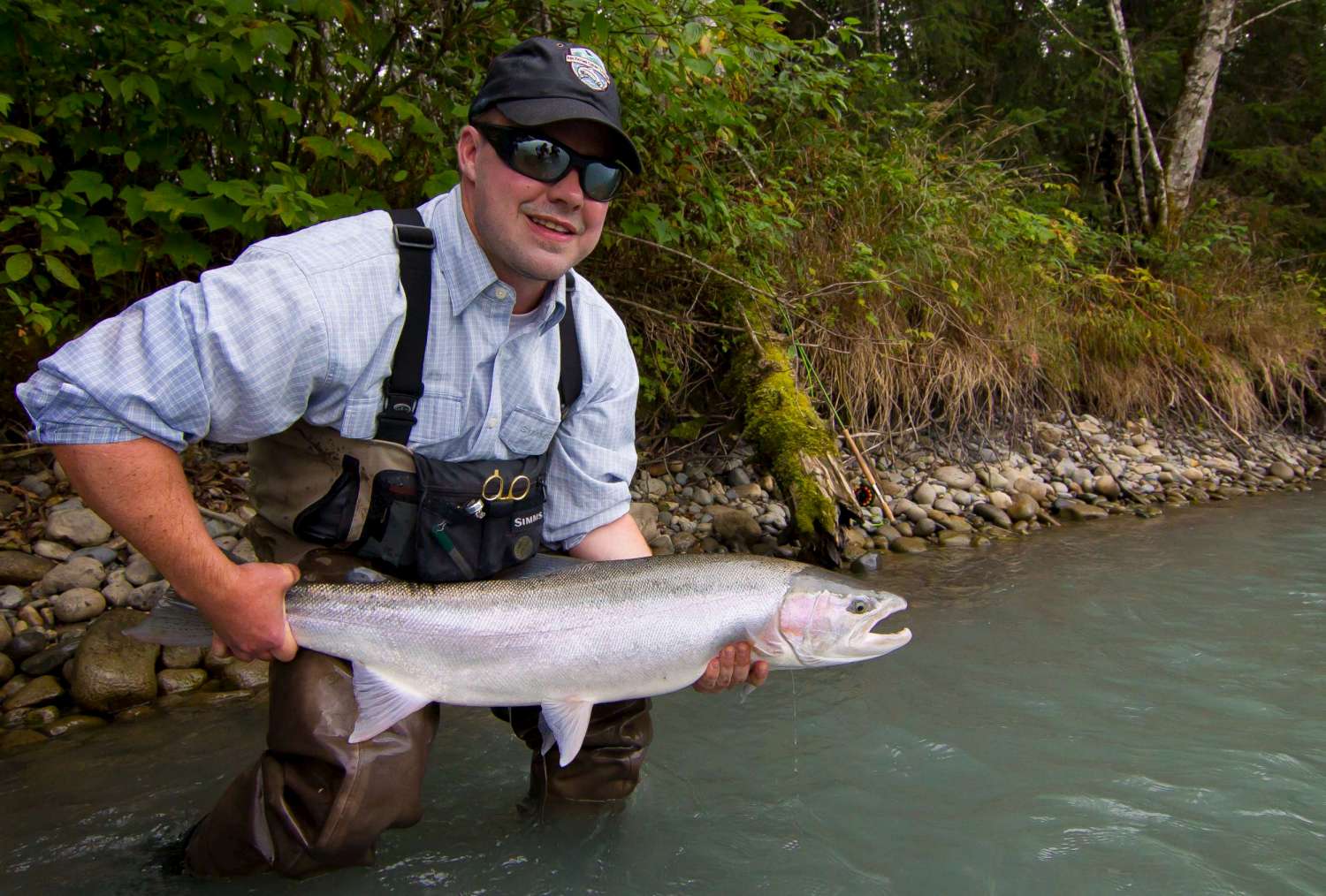 Geoff hooked one soon after but that one thankfully threw the hook before any more dramas could materialise. A pleasant day followed with a couple of small coho landed along with a specimen, fresh-run steelhead for Rob, that certainly pushed into the high-teens. We also got to see some local scientists netting and tagging king salmon, which was great to witness and learn more about. We managed to land a mixed bag that day including more pinks, a bull trout and even a small king that didn't take my line, thankfully. The day ended much the way it had started as I hit yet another big king. This time it thankfully pulled free, following some gentle persuasion from Sky…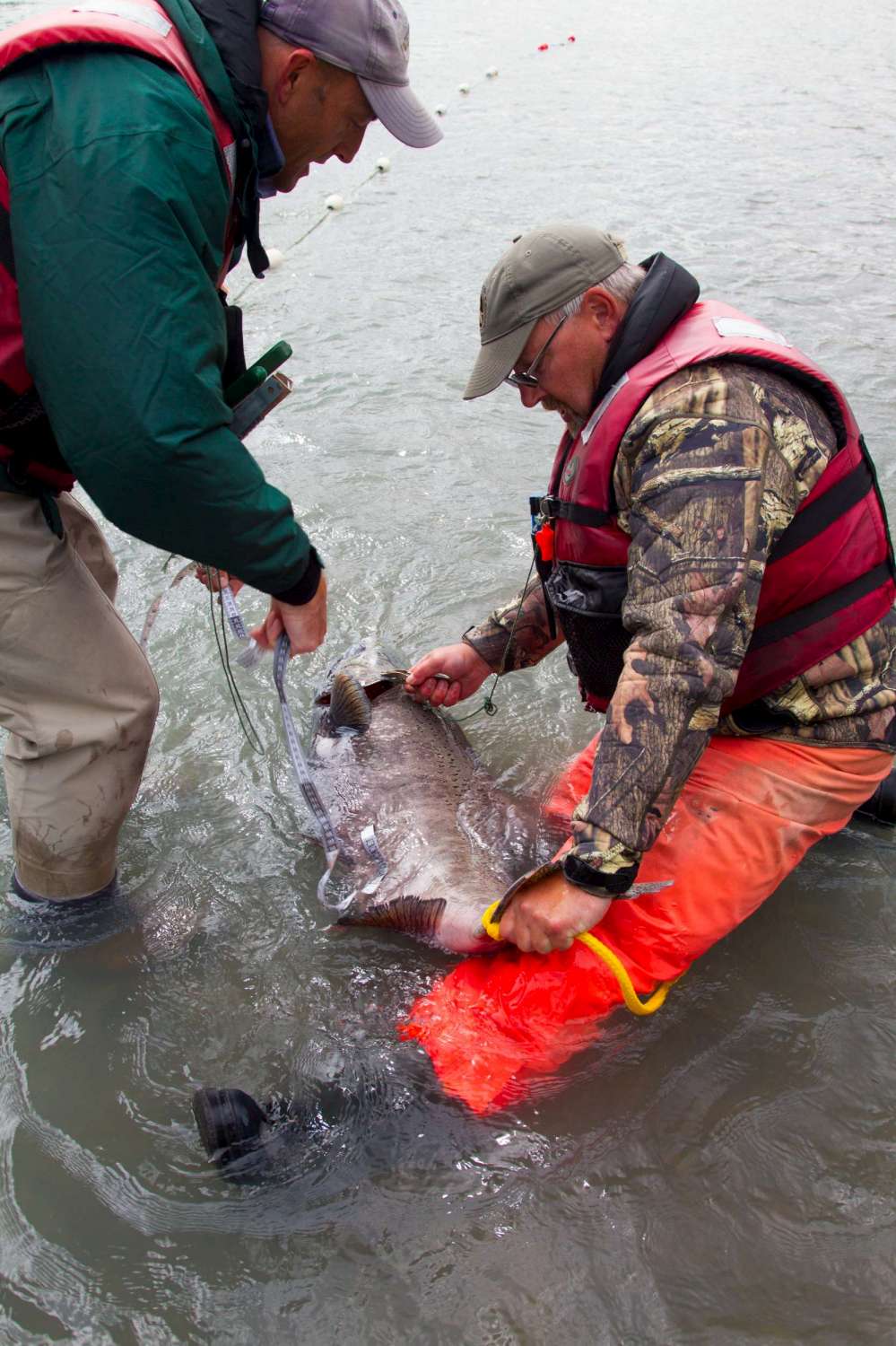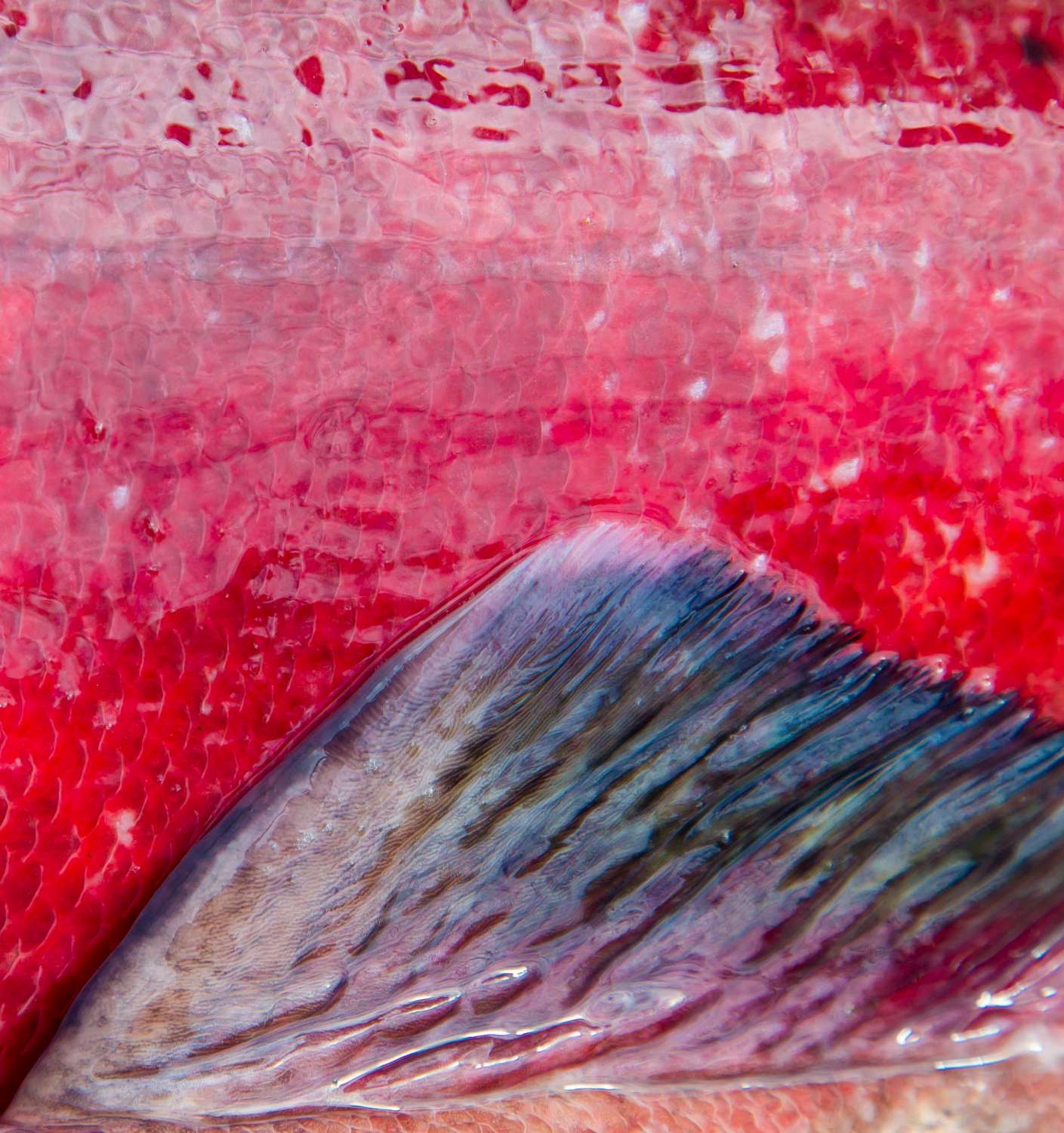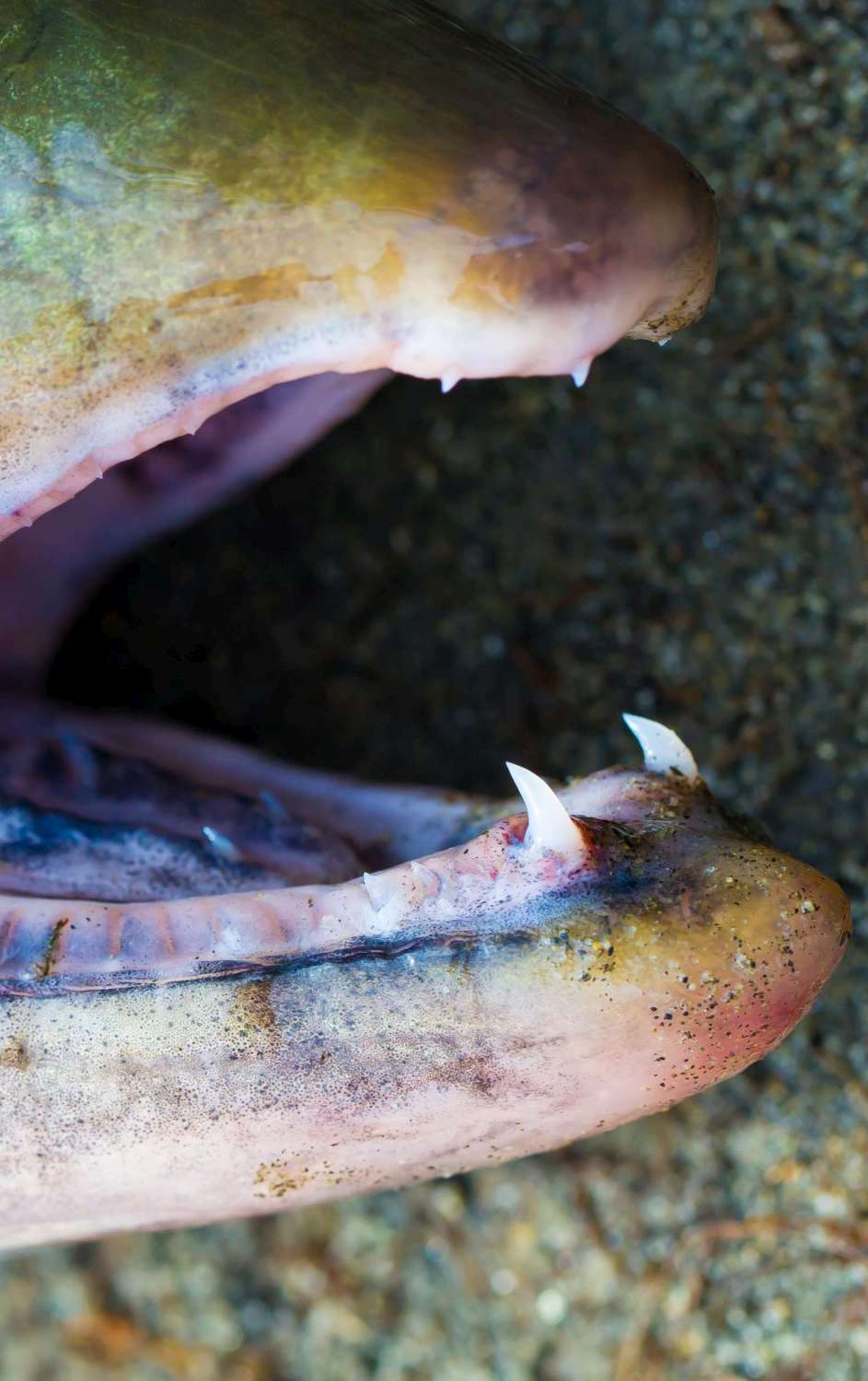 That evening we were joined by a lovely Canadian lady named Deb, who, at one time was a part owner of the operation. She gelled with everyone extremely well and soon became part of the gang. Unfortunately for her, she was to be my fishing partner for the remainder of our stay – talk about drawing the short straw.
Day three was back on the Skeena. Deb needed no introduction to the fishing and she was vastly more experienced than me. She put out a type 6 head and a long, heavy intruder with masterful ease. She was a real pleasure to watch and fish with, a great companion with plenty of banter. She was a demon with the single hander, god knows what damage she would do with a double hander – perhaps best for the fish if we never find out. She was soon in the thick of the action and we had our best day of the week, landing a few coho and hooking a couple of steelhead – Deb's making it to the riverbank, whilst mine was given a long range released. The cohos are very much like our atlantic salmon, just deeper. They are strong and great fun to catch; certainly worth targeting in their own right. The steelhead , however, are something else. I did manage to hook and lose 4-5 throughout the week and I can categorically state that they are the strongest freshwater fish I have ever hooked, pound for pound. Indeed, the first one I hooked I thought that I had lost it twice, before it did eventually throw the hook. They exhibit a blistering turn of pace and unrivalled power – you will not stop their run without dire consequences to your fingers or tackle…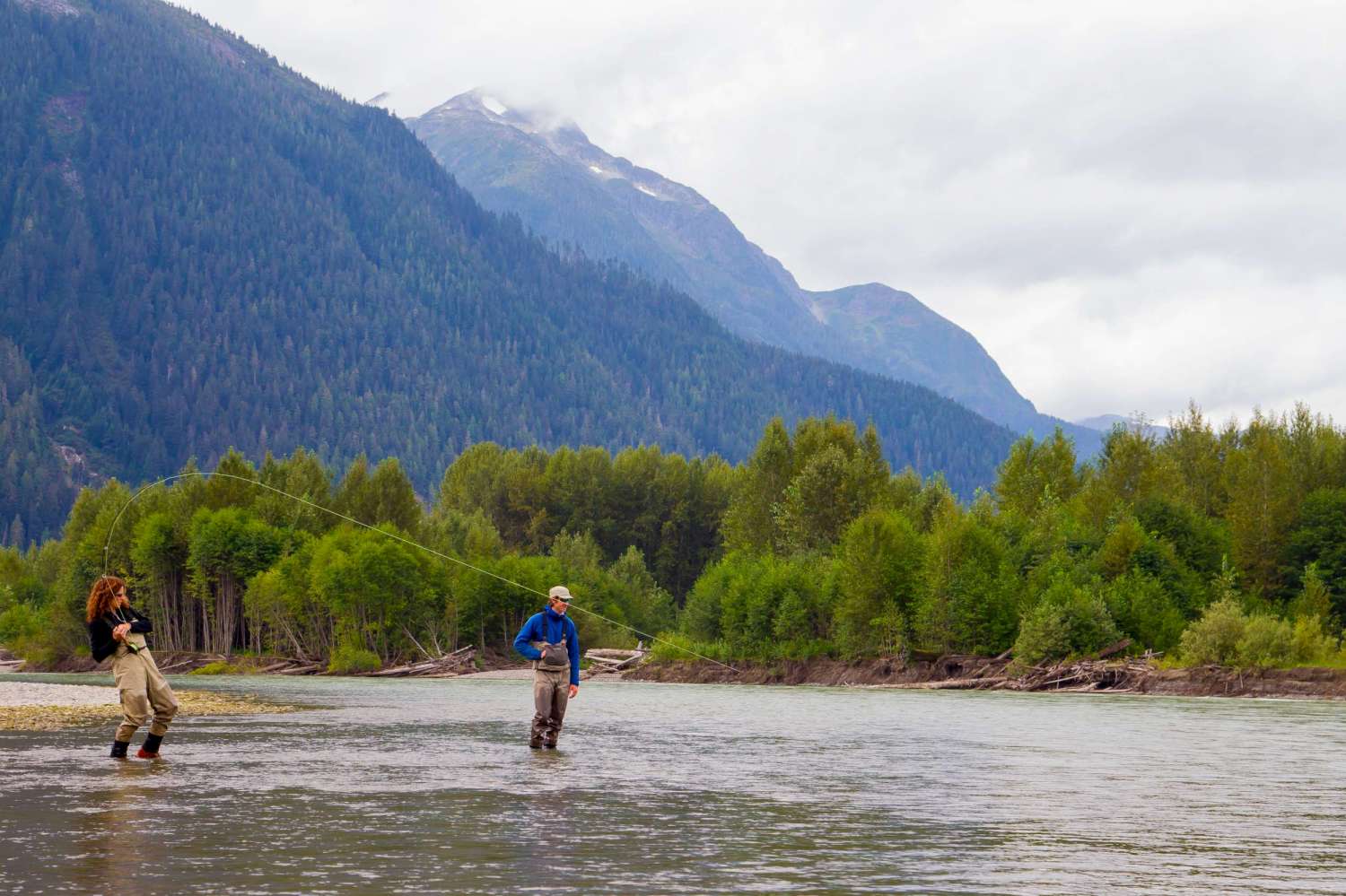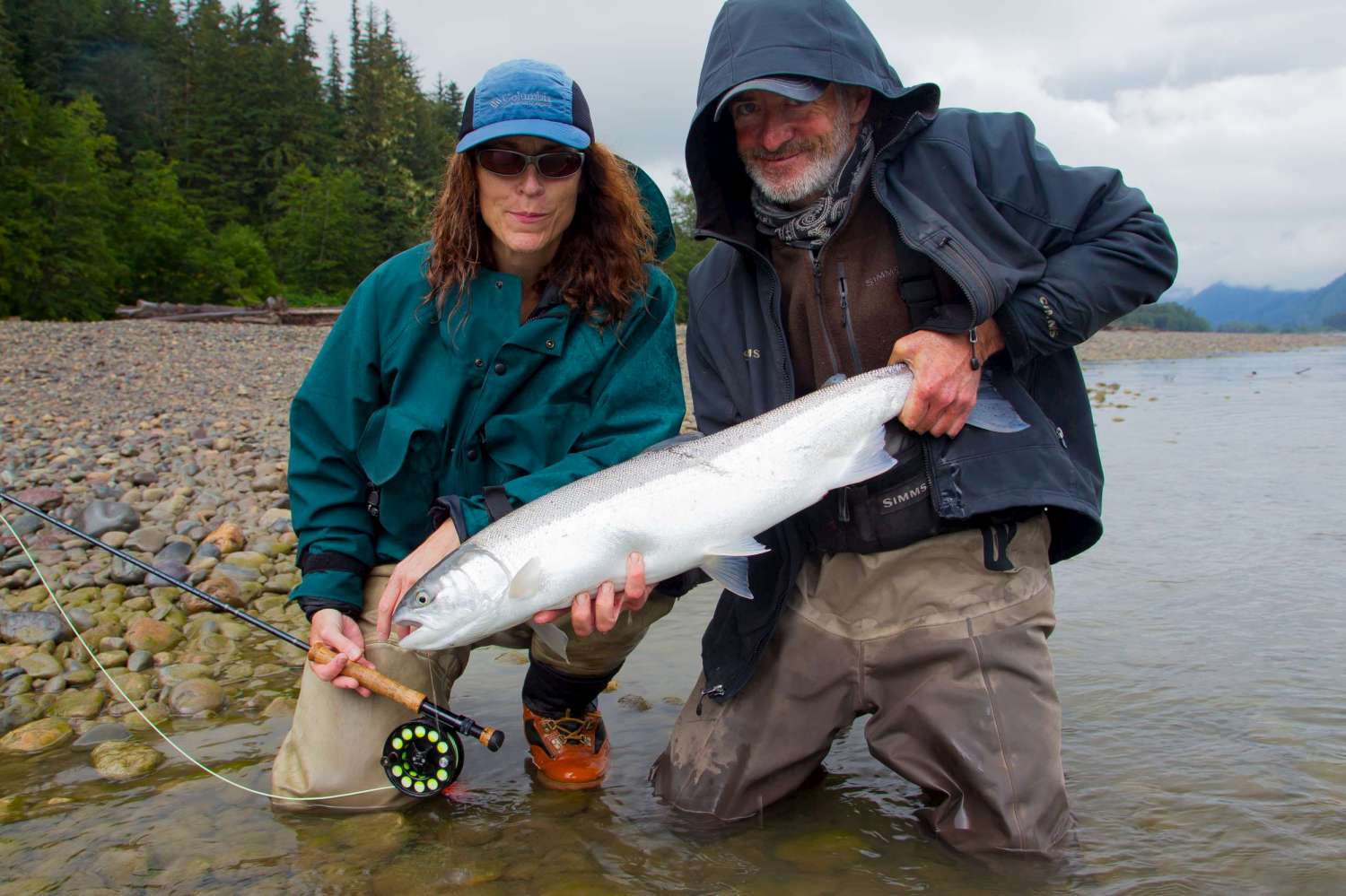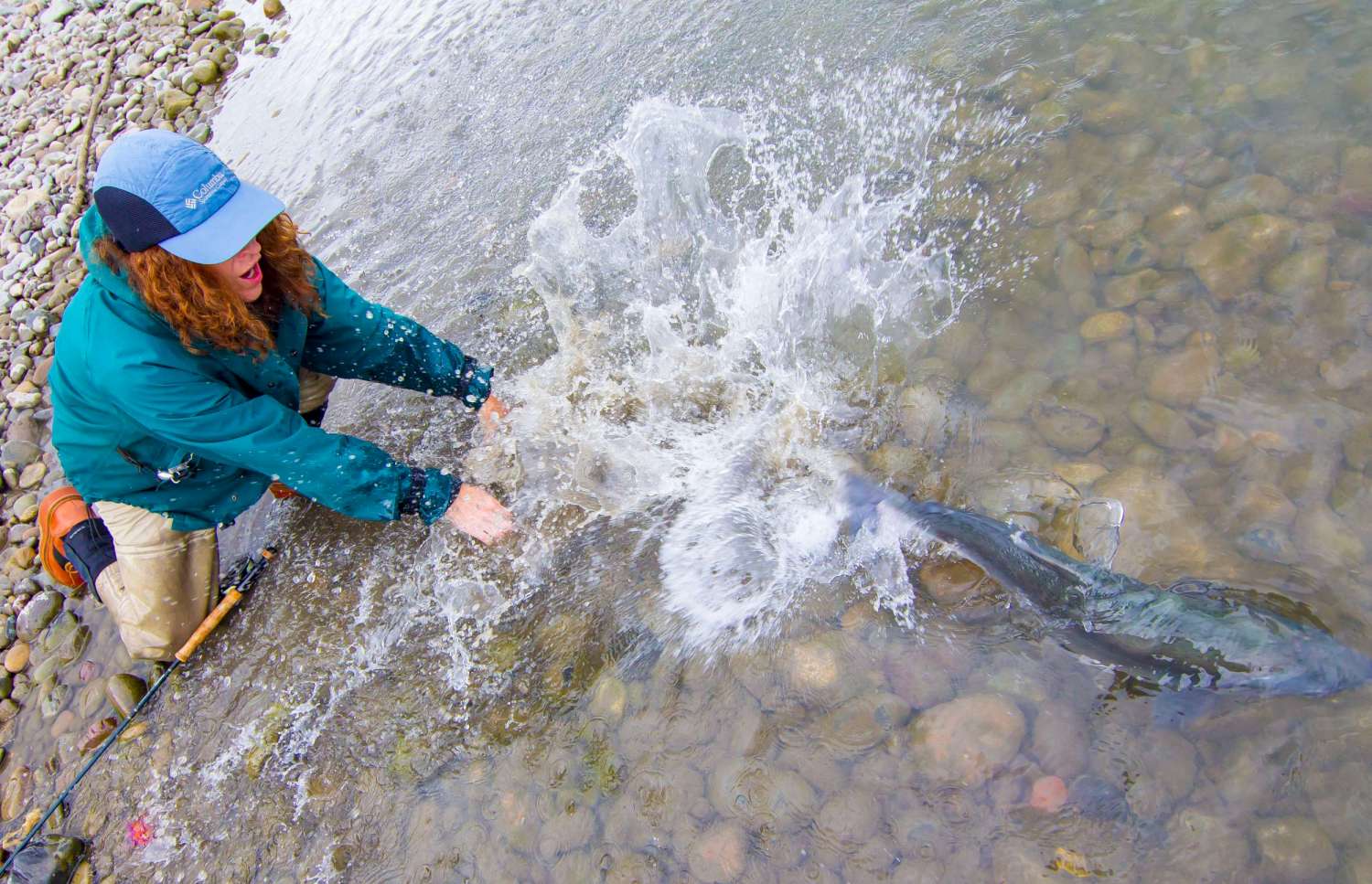 The rest of the gang had fared well too. However, the fish were running hard in the Skeena and you could soon be out of the action as the runs passed through. It was, at times, very much a case of chuck and chance, which was not my cup of tea, especially on such a vast river. Fishing for them as they rest up or arrive at their destination tributaries is far more fun and more rewarding in my opinion. However, we were early in the steelhead run, which meant that the main Skeena was the place to be, so persevere we must and did. The steelhead start arriving throughout the summer and will spend the winter in the river, sometimes under the ice, much like the Russian salmon. They then all spawn around May, regardless of whether they are autumn or spring run fish.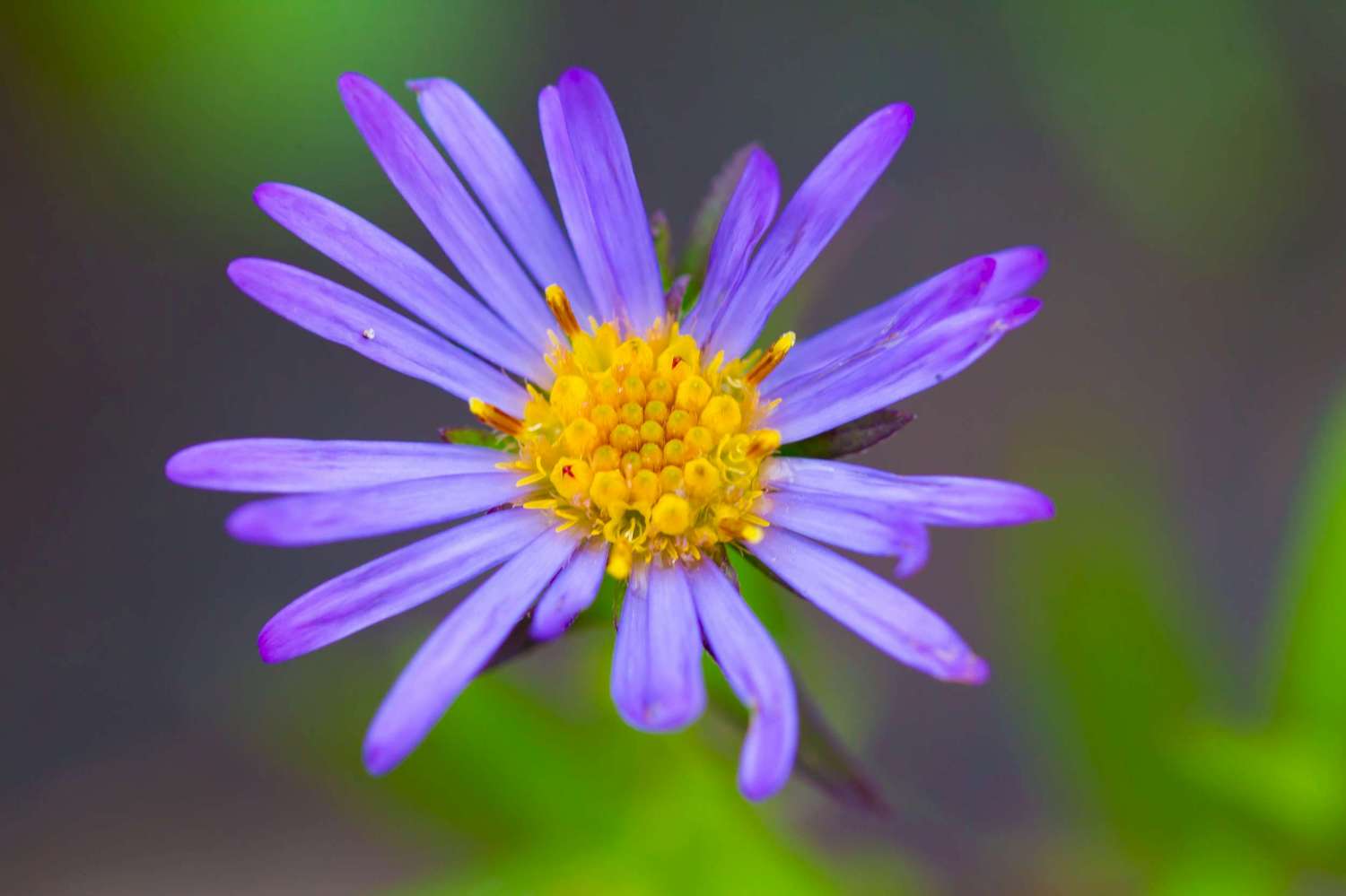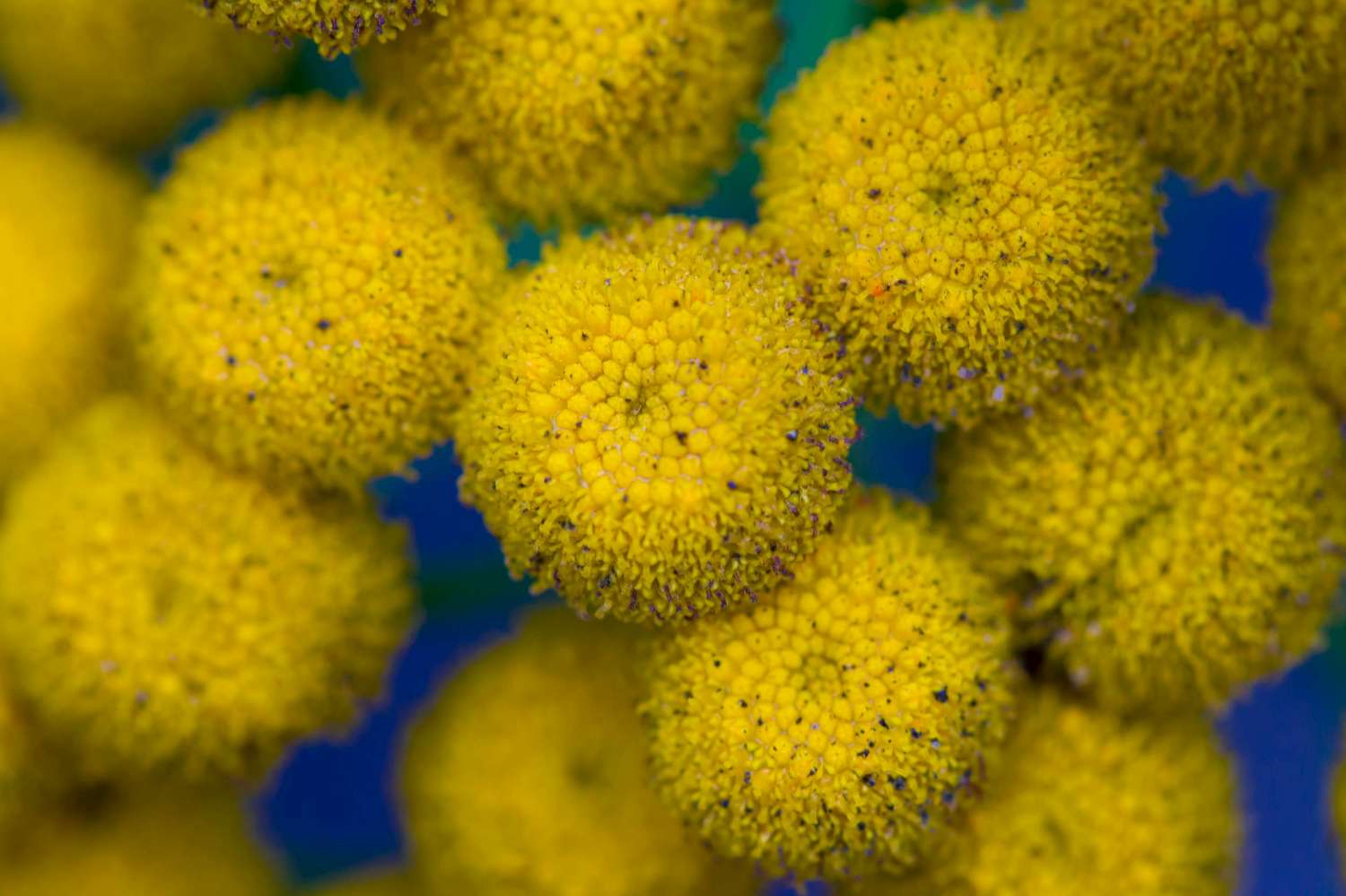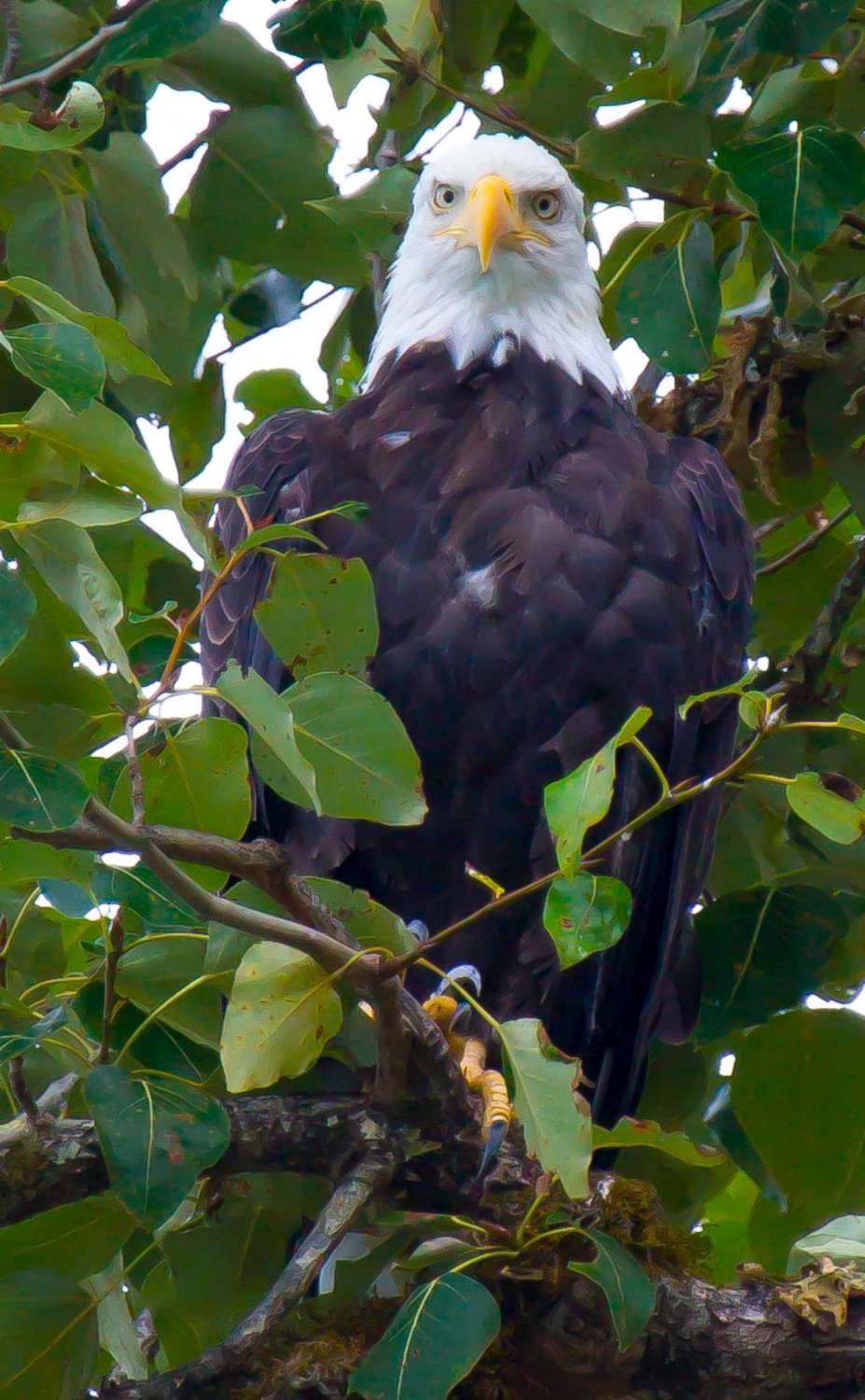 The fourth day of our trip saw the team split over the Skeena, the tributaries and Geoff and I headed off to chase some cutthroat trout on a local stream. Geoff is a very unassuming angler; he just gets on with it. He is as much fun on the river as he is off and it is fair to say that there is never a dull day when he's around. He could hook a fish in a puddle and probably would try given half the chance. He was aptly named 'the slayer'! No fish was safe. Geoff was in his element on the stream and you could see that this was very much home territory for him, searching out every pocket for the trout and whitefish gorging on the sockeye eggs, which were in full spawning mode and present in good numbers. Cutthroat trout resemble rainbow trout, with one main difference; a slash of red under their chin, which gives them their name. Bull trout were also present and one did get hold of Geoff's whitefish at one point, as he was playing it masterfully to the bank. The whitefish look like a grayling without the large dorsal fin but also very much like a bonefish. A strange but sporting species. Geoff and I worked the full length of accessible water, soon losing count of our catch.
Jeff, our guide for the day, had warned us about the 'local anglers' a.k.a bears! However, they were, and we hoped, preoccupied on the sockeye. We were also warned about the devil's club – a plant with nasty spikes, which is more of an irritant than anything else. We did see some, but gladly it didn't hamper us accessing any fishing spots, even in our off-piste route back to the car at the end of the day.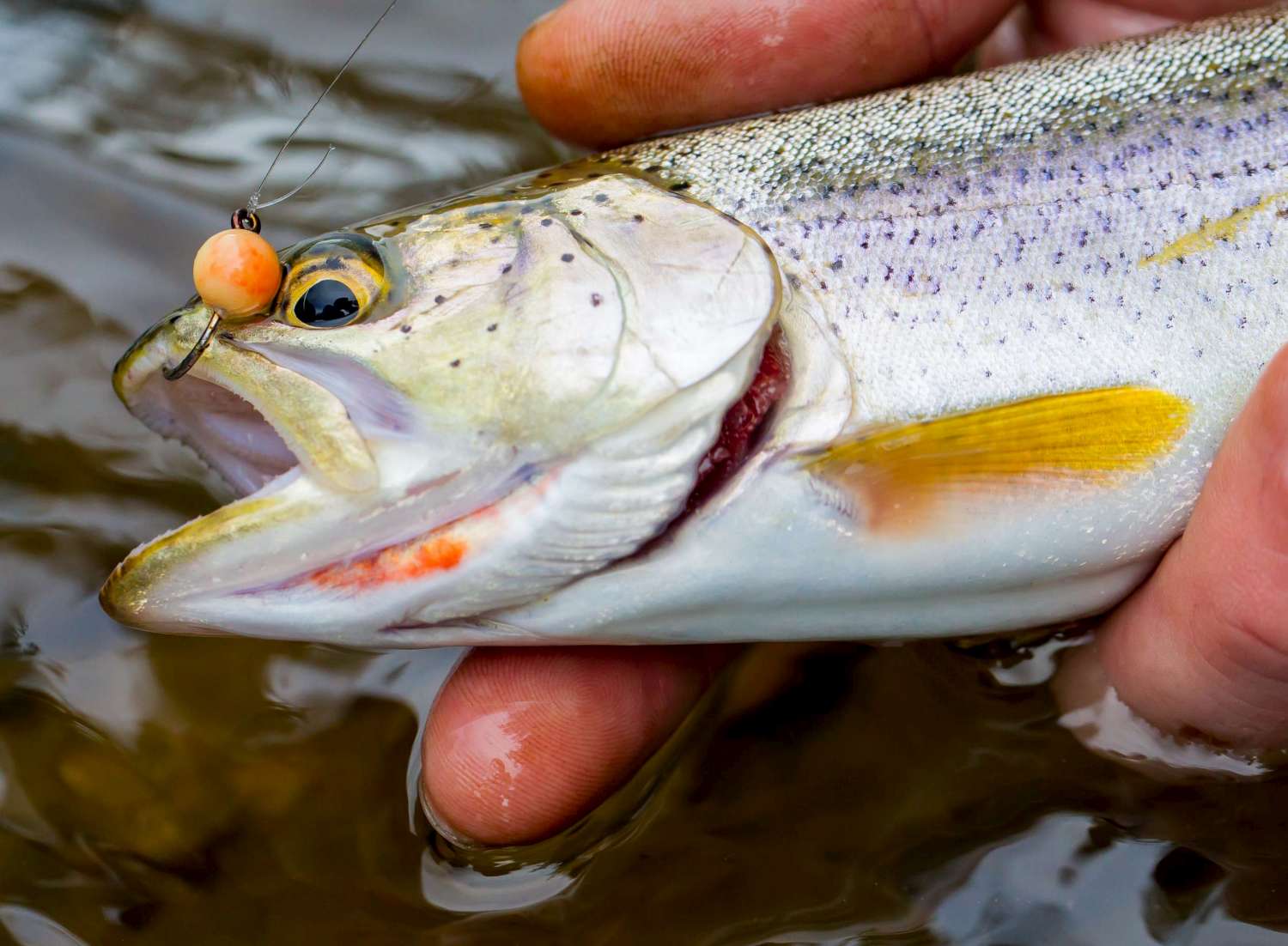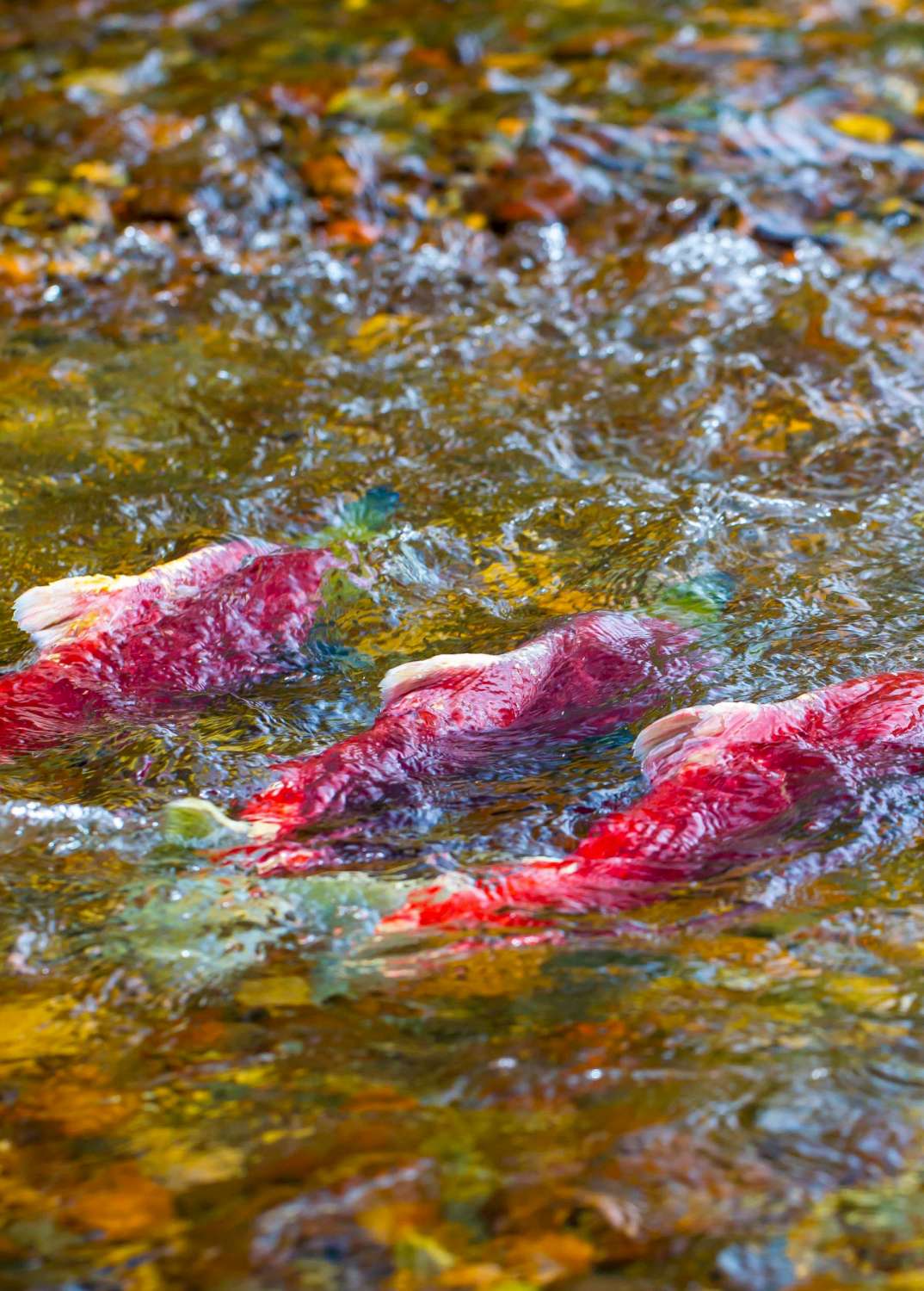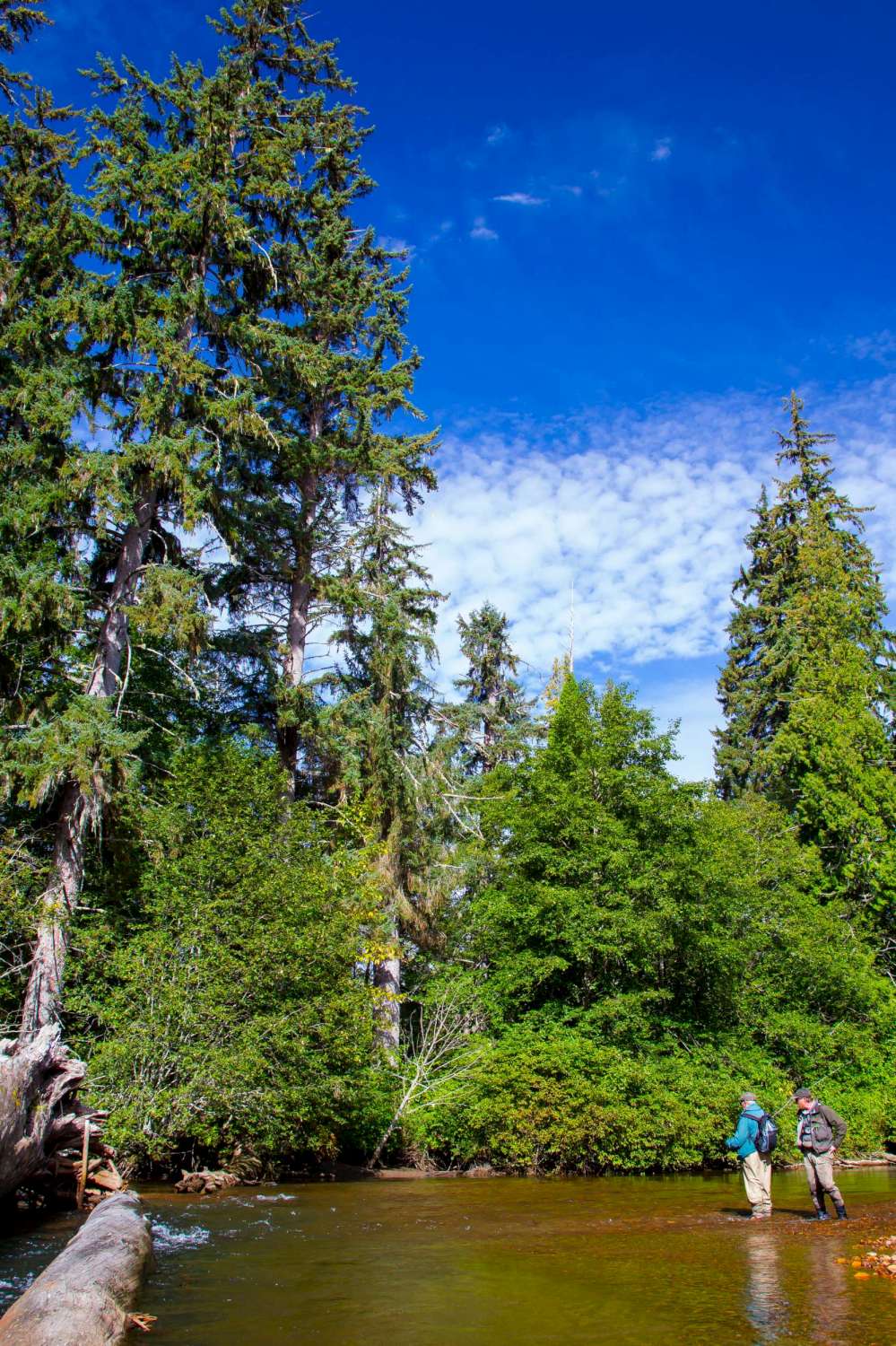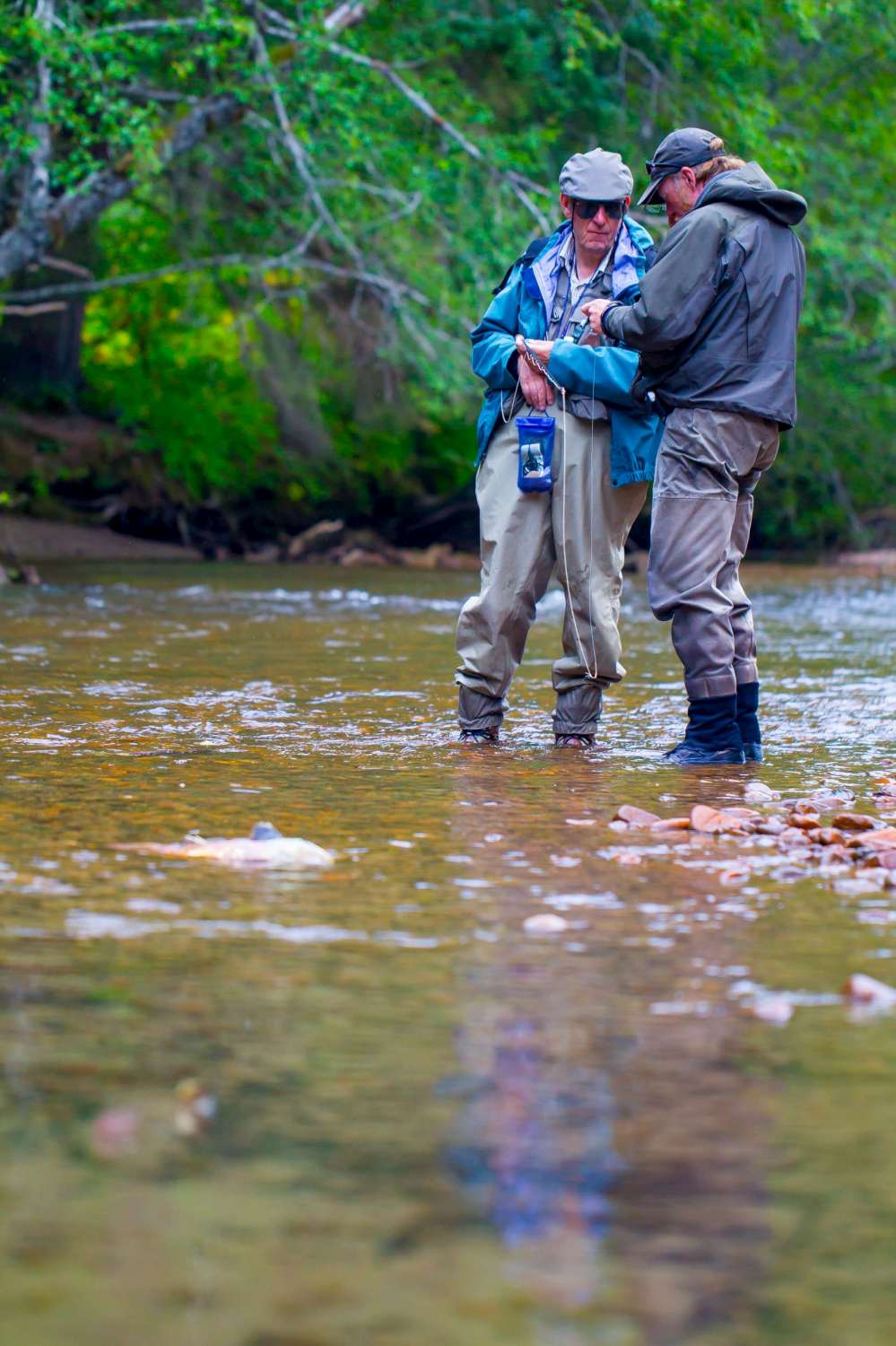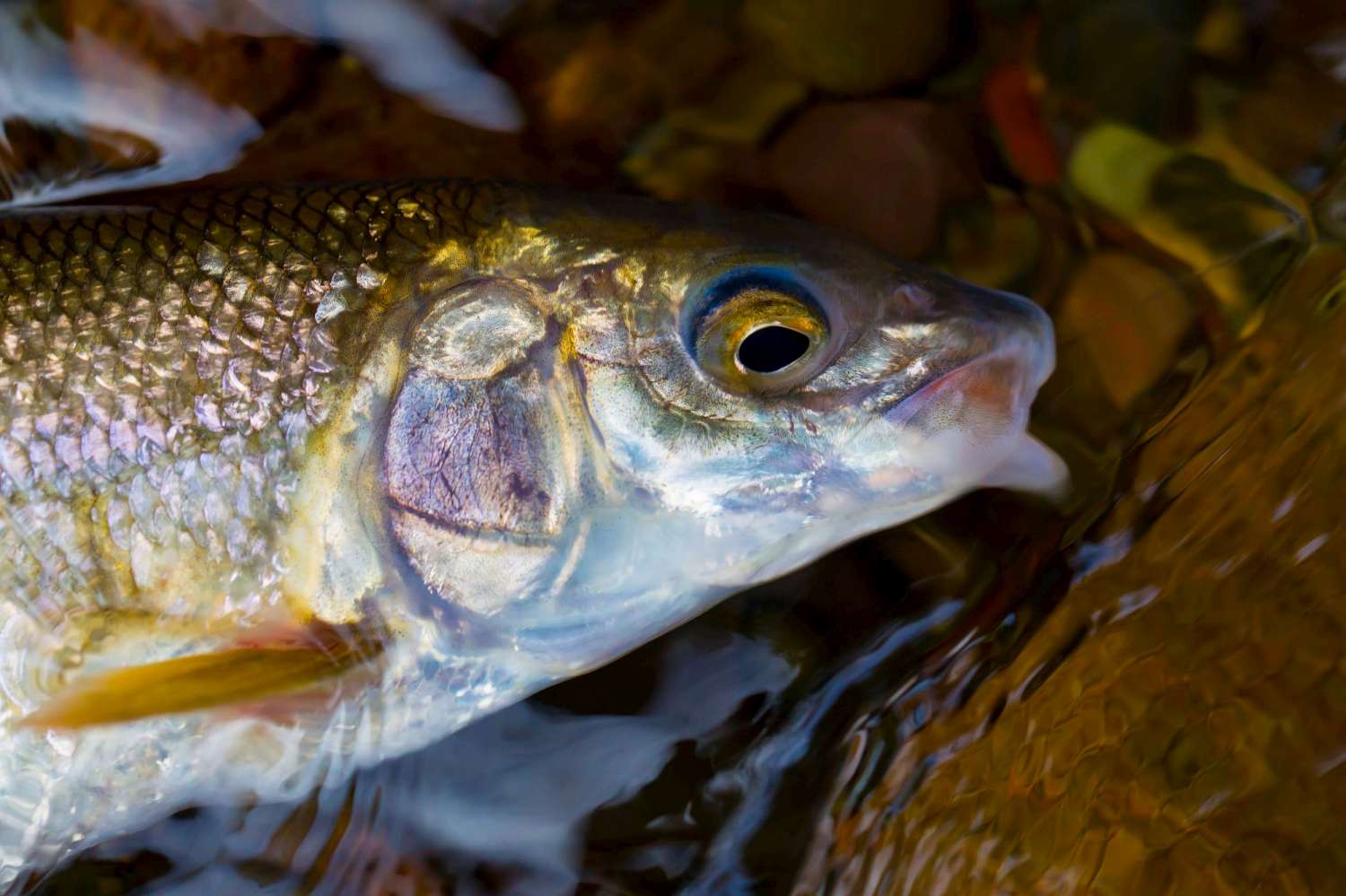 The gang regaled stories of the best day of their week when we returned to the lodge that evening. The rivers were providing great sport, especially on the coho front, but a couple of steelhead were also landed to add some interest. Philip and Adrian also managed a chum salmon between them. Chum salmon are an immensely strong fish but not found in huge numbers – certainly a rarer catch than a steelhead. Team Canada; Rob and Deb, also had a great day, but we were assured this had nothing to do with Geoff and I not being around…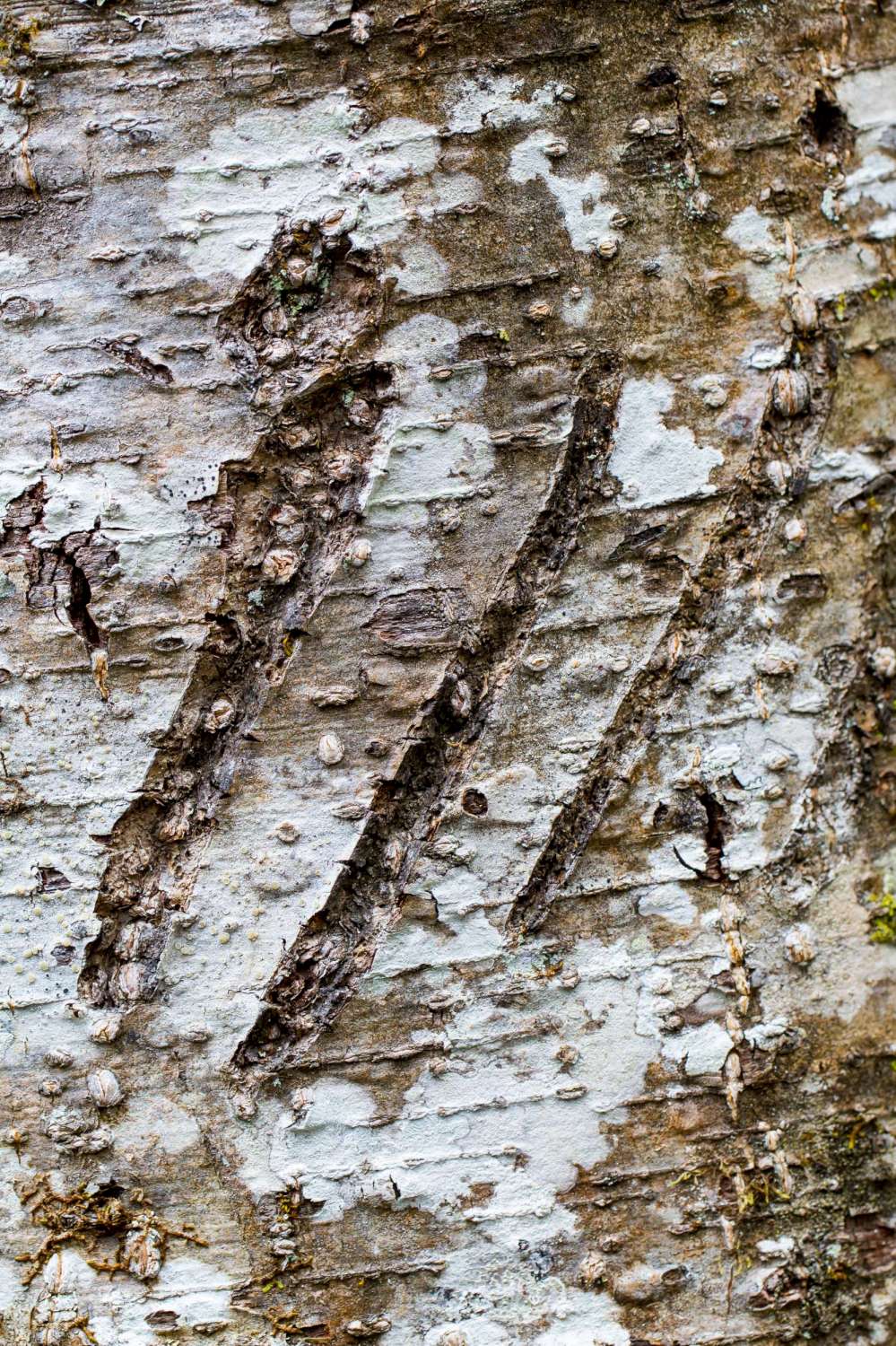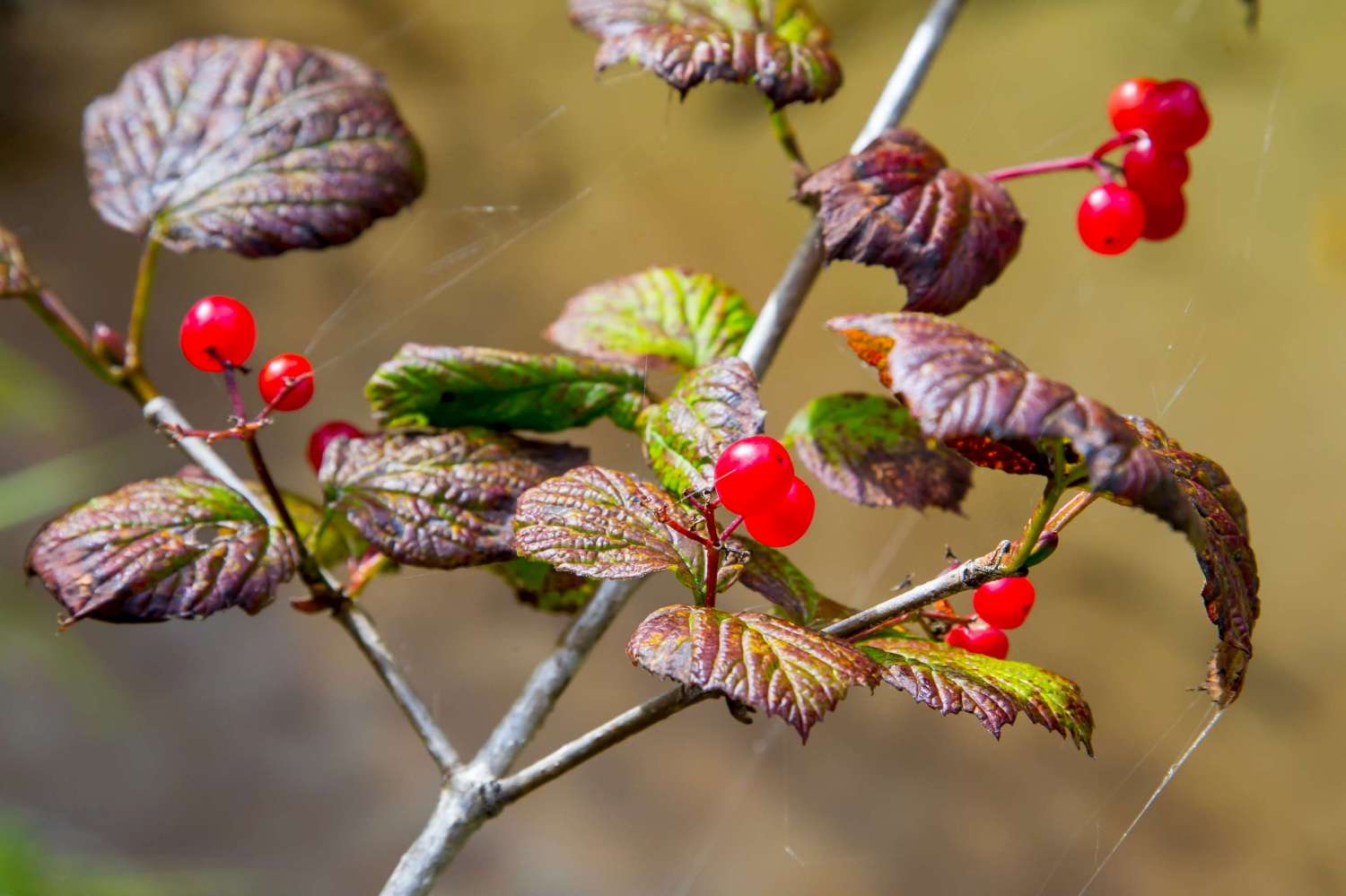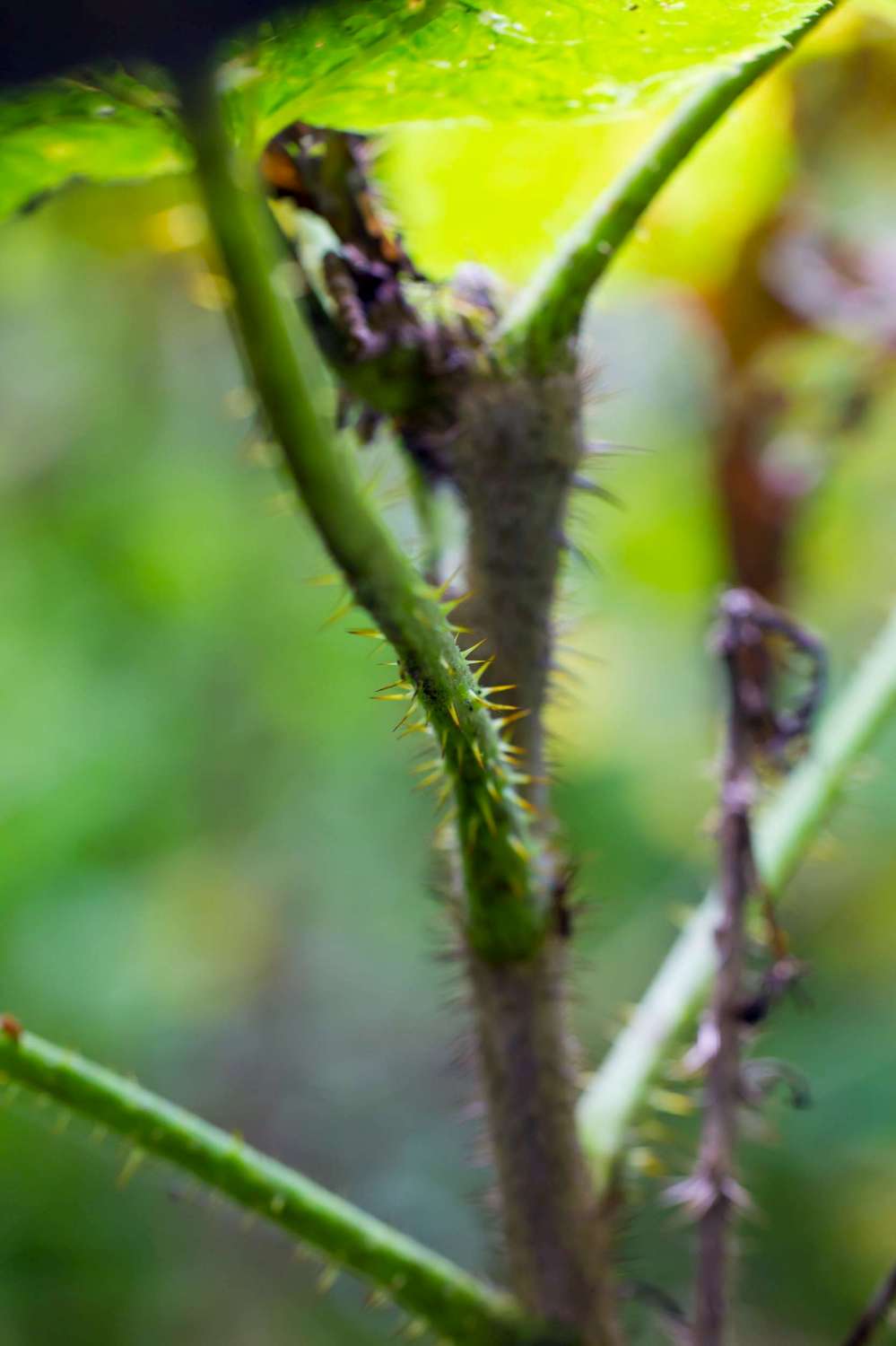 For the final day I was teamed back up with Deb – to show me how it was done once more I'm sure. This was a day I had been looking forward to most of all; we were scheduled to fish the Copper. This was much more what I had come for; fishing for resting salmon and a much smaller and more intimate river. However, all hope was soon dashed when we saw the lower reaches – there had been heavy rain overnight, which had discoloured the Copper, rendering it unfishable. It was an eleventh hour change and back to the Skeena. Deb, yet again, led the way, hooking two chum salmon – both of which were camera shy and soon shot back to the depths after unhooking themselves in the shallows. Adrian and Philip gorged themselves on coho sport, having great fun with these strong, fresh fish. Philip also took it upon himself to give a host of onlookers a rendition of Flipper, which he performed masterfully and would have had Tom Daley in awe!  Geoff and Rob continued in much the same vein, hooking and landing some memorable fish and certainly sharing their fair share of jokes.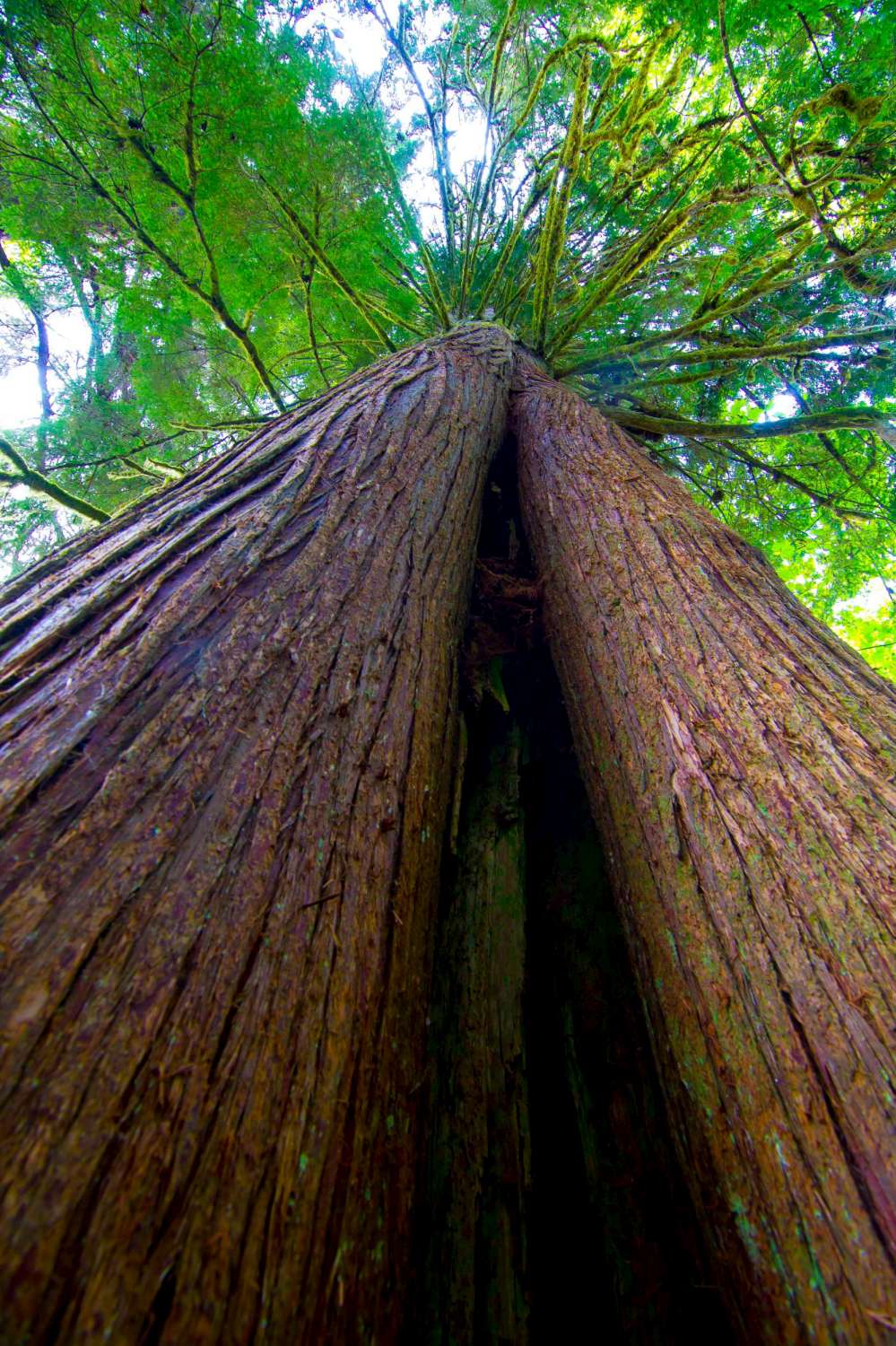 The week came and went far too quickly, even with the long days on the river. However, that is always a good indication of an enjoyable and memorable week, where new friendships are forged, lifelong memories gained and your body and tackle are tested to their limits.
British Columbia is a wonderful place to visit and one that I would highly recommend you place towards the top of your list. Whilst the fishing was disappointing at times, largely due to the timing of the trip, I would not hesitate in returning and certainly got to see the potential of what the Skeena and area has to offer. Indeed, just hooking steelhead gave me an understanding of why they are held in such high regards and why I must revisit to chase them once more…
For more information on the fishing at Nicholas Dean Lodge please contact Steffan Jones or call +44 1980 847 389