Our trip last year to the flats of Providence was sadly cut short by tropical storm Fantala who had other ideas. Half the team this year were heading back, eager to explore what had been denied to us for a year and I am delighted to report we were not to be disappointed. What ensued was a genuine piscatorial adventure the likes I have not witnessed since my first trips to the outer atolls in the mid-2000s. Huge open flats intersected by depressions and channels, all containing hungry species that clearly showed a voracious nature, unaffected by human contact. After a few days acclimatising we became part of the natural ebb and flow of the tidal cycle, joining the hunters as they made their way onto the flats and falling back to the open ocean. Time, day, emails and telephones were quickly forgotten and replaced by sunrise, sunset and daily shipboard life on the ocean.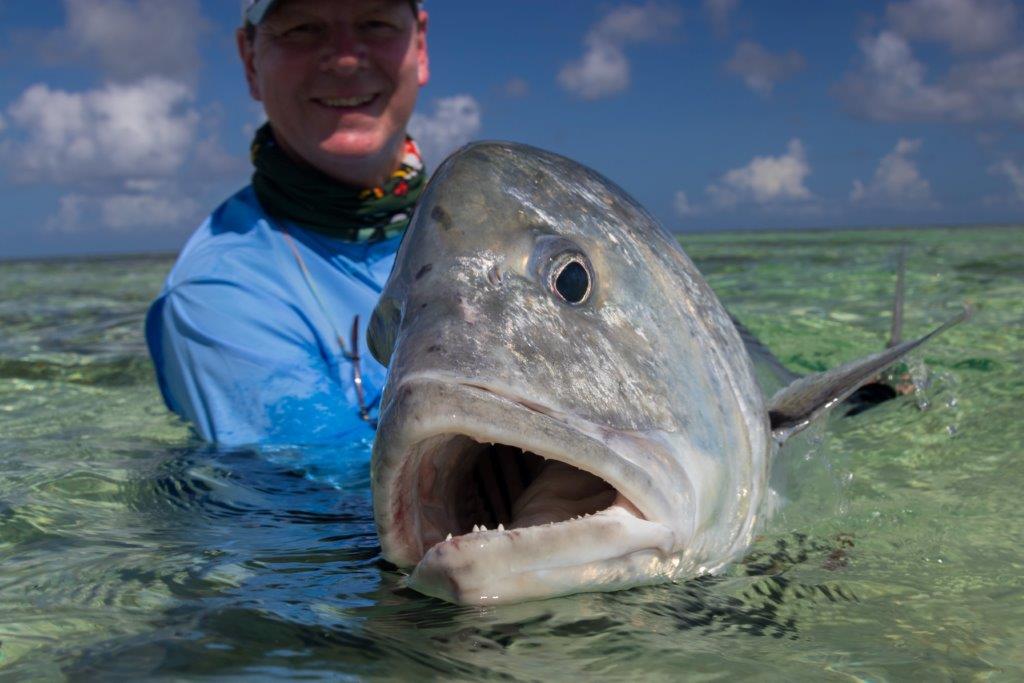 Providence Atoll is one of the largest atolls in the Seychelles and at 44 km long and 12 km in diameter the area is 345 km2 .  There are two land masses in the north and the south, Providence Island and Cerf Island respectively. We did notice that Cerf now has a channel cut through the middle as a reminder that Farquhar was not the only island to be hit hard. Interestingly though nearly all the indigenous palm trees survived, unlike the copra plantations on Farquhar. It is a huge fishing area to cover and even over the course of a week we still only scratched the surface.  There are whole swathes of the east side of the atoll we did not even venture to, much of which has never been explored.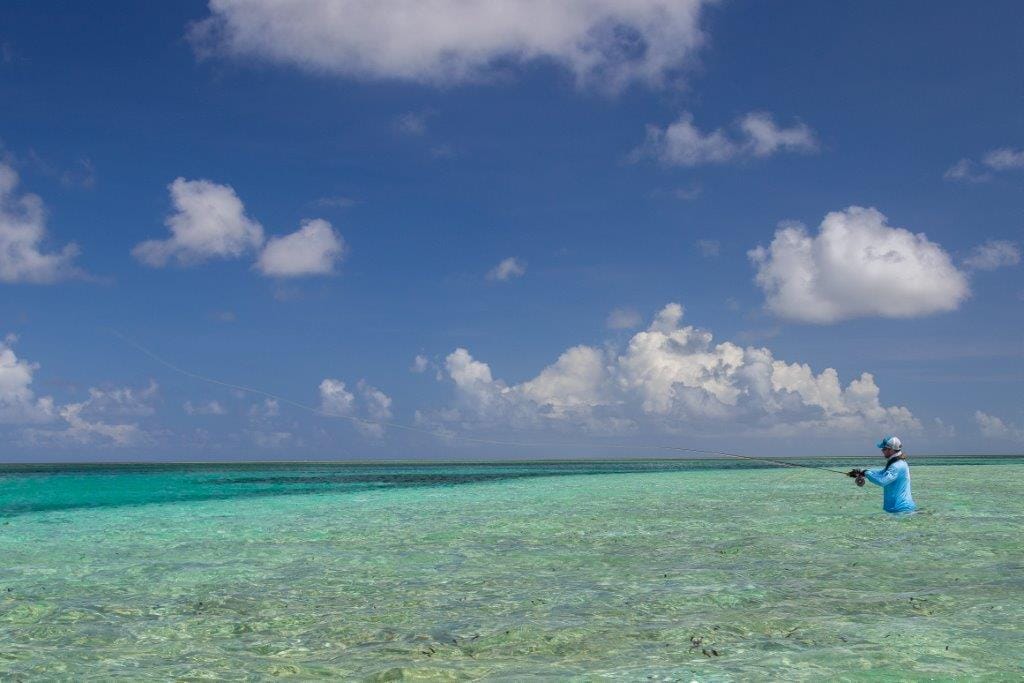 The week was chosen specifically for the tides and in the time we waded across pristine flats we saw Providence on her true colours through a whole tidal cycle, from neaps to high springs. Each tidal day brought us something different to experience, sometimes completely changing what had transpired the previous day in the same area. Although there is always a focus on GTs on a week of this nature one of the joys of Providence is the sheer variety of species that can be targeted. As the days continued the stories mounted; battles with ocean going GTs, bluefins, triggerfish, bumphead parrotfish, milkfish, monster bonefish, yellow lip emperors, permit, giant barracuda, shark and numerous other flats species were all encountered. We were staggered by the number of milkfish feeding in huge schools along the west side of the atoll. The group landed 136 GTs in total with six fish over 1 metre. The largest was a stunning specimen of 118 cm that left us all in awe. Although the success of a trip should never be based on numbers this figure does give an indication of the population on the atoll with most of those fish being over the 75 cm mark.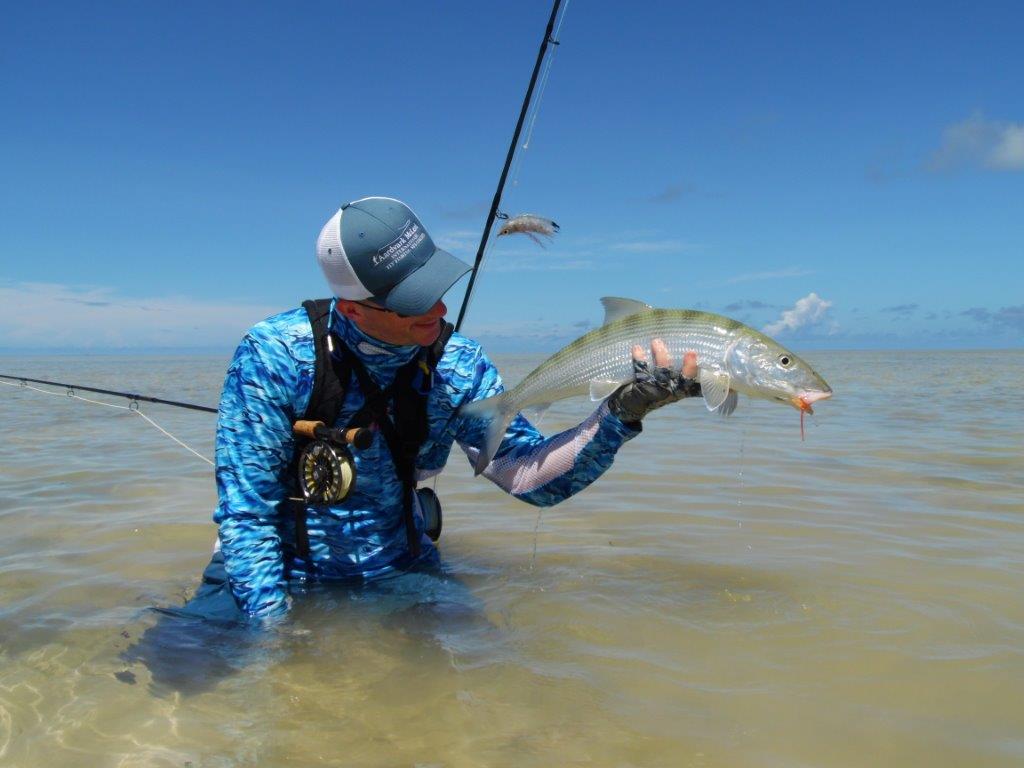 Every time I venture on to the flats I learn more about the way these fish interact with their environment and this was no exception. Nearly all the GTs we caught were on the flats, sight fished from bow waves, hanging on the backs of rays or staking out natural patrol routes on appropriate sections of the tide. The huge open flats of Providence have left me desperate for more and I will be returning next year for the first week of the season again in 20 – 27 March 2018. I am still in the process of compiling a far more detailed trip report that will follow on in due course, along with a huge number of images and video snippets for our YouTube channel. Watch this space, but in the meantime if you would be interested in coming with me then please let me know.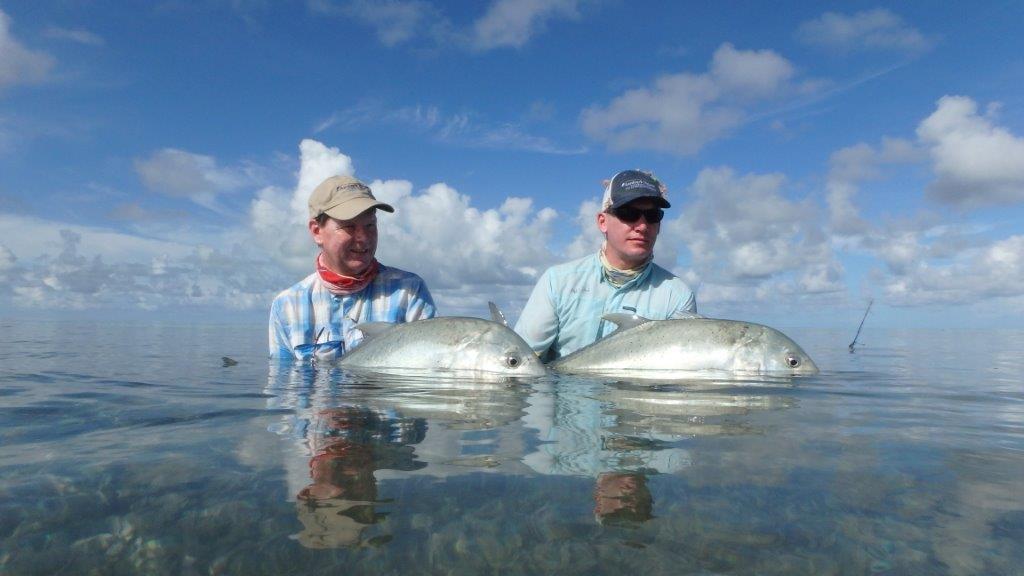 Alternatively Providence has the following availability for the coming season:
11 – 21 April 2017 (10 night/9 day Extended Trip) – 4 rods open​
Season Break
31 October – 7 November 2017 – 4 rods open
7 – 14 November 2017 – Full
14 – 21 November 2017 – 5 rods open
21 – 28 November 2017 – 6 rods open
Season Break
20 – 27 March 2017 – Peter's Hosted Group
27 Mar – 3 April 2018 – 2 rods open
3 -10 April 2018 – 5 rods open
10 – 17 April 2018 – Full
17 – 24 April 2018 – 7 rods open
24 April – 1 May 2018 – 8 rods open
The cost for next season from the Autumn of 2017 will US$12,300 per person based shared cabin and shared guiding.
If you would like discuss Providence or receive further information, please contact Peter McLeod. Alternatively, please contact the office on +44(0)1980 847389. Follow the link to visit our Providence atoll web page.