Villa Maria Lodge Fishing Report – 25 January – 1 February, 2019. Sea trout fishing on the Rio Grande, Argentina.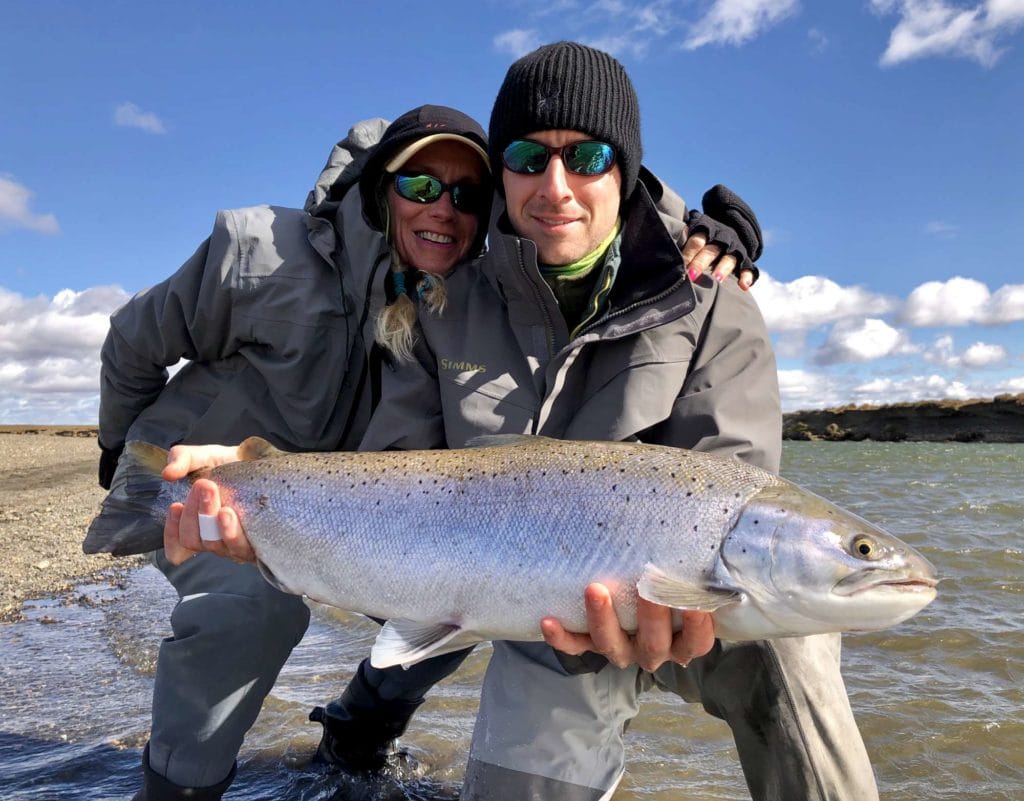 We just finished our 3rd week at Villa Maria Lodge.
Like the previous week, we can easily split the fishing week in two parts:  The first three days we had low water and clear conditions. Fishing was good and fish were consistently active in the morning and evening sessions.
Marc started the week with a beautiful 21lbs buck (male) followed by his wife, Gina, who got a 16lbs in the first session. The first day ended with a bang when James landed a 19lbs male.
At the end of the 2nd day, there was a good amount of cloud cover over the Andes and after a few local rain showers, the fishing continued to be good and steady. By the end of day three, as the river began to rise, the fish started to behave oddly. We got reports from Kau Tapen Lodge that the Rio Menendez, the biggest tributary of the Rio Grande, bringing almost 30% of the water we see in this lowest part of the river before it meets with the ocean, had risen two feet which rapidly made our water rise and colour up.
Leaving anglers with no more than 4 inches of visibility, after the river rose, all the classic ways of fishing had to be abandoned and we had to adapt to the conditions. The only option that we found worked were sinking bellies or long, heavy sink-tips plus a tandem of big dark flies which provided lots of contrast and pushed a lot of water.
On the 5th day, the water stopped rising, but was still very murky. Ginny had a great session landing from 4 fish from 12-14lbs.  By the end of the week, the water was dropping slowly, but steadily. The river began to clear up on the final day and the traditional methods started to be productive. Despite the some of the difficult conditions during the week, Gerald caught fish consistently and ended up landing 6 fish over 15lbs.
Like in the previous week at Villa Maria Lodge, we experienced a variety of water and weather conditions so it is difficult to describe what line-fly combination was the most effective. We got fish using full floating lines to Sink 3-5 shooting heads rigged with tiny nymphs to big leeches during bright sunlight. Bottom line: Be ready to try different technique and to adapt to the various water/weather conditions and fish behaviour.
So far, season looks really promising!
Fish Over 15lbs: 18
Largest Fish of the week: 21lbs
If you would like more information then please do not hesitate to contact Steffan Jones or call our office on +44(0)1980 847 389.