Slow week at EMB La Villa, river rose on Tuesday afternoon and get high and dirty all week, we used sinking lines and big flies.
On Friday the river start clearing, next week will be better.
Was difficult to get deep in some pools, we used really heavy sink tips.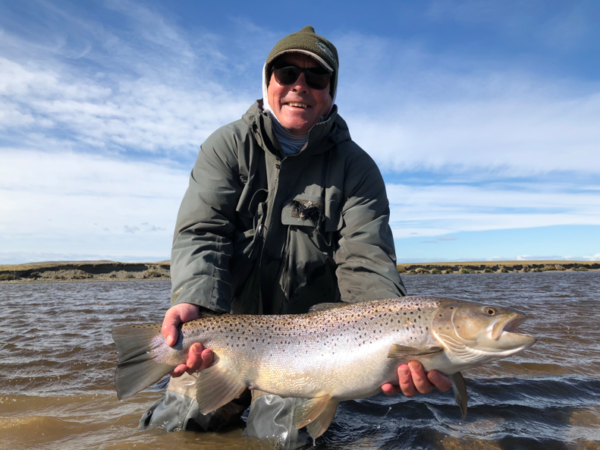 River still with great level of water at EMB La Villa. 63 fish were landed,  13 fish over 15 pounds,  Average weight 8 pounds.
Simon kaye was top rod of the week with 15 fish landed.
Water Conditions at EMB La Villa
Water color and visibility: dirty water, getting better on Friday afternoon.
Water temperature: 10 c to 16 c.
Water level: high all week.
Weather Conditions at EMB La Villa
Wind speed ranges through the week:the wind blows northwest ,it was strong all week.
Air temperature ranges through the week: 4 c to 20 c .
Weather observations (sun, rain, fog, etc.):strong winds.
Fishing Conditions at EMB La Villa
Flies that are working the best:big flies (intruders, leeches, big tube flies). Big flies for the last hour: big tube flies, leeches, intruders.
Fly lines (tips, heads, lengths, densities, etc) that are producing the best: Skagit heads with different lengths of T-17,14, 11.
Sinking lines were the best.
Length and strength of tippet and leaders: 5 to 7  feet. 15 to 20 pounds.
Middle part of the river was the best, we got more fish in the upper part.
If you would like more information about EMB La Villa then please do not hesitate to contact Steffan Jones or call our office on +44(0)1980 847 389.