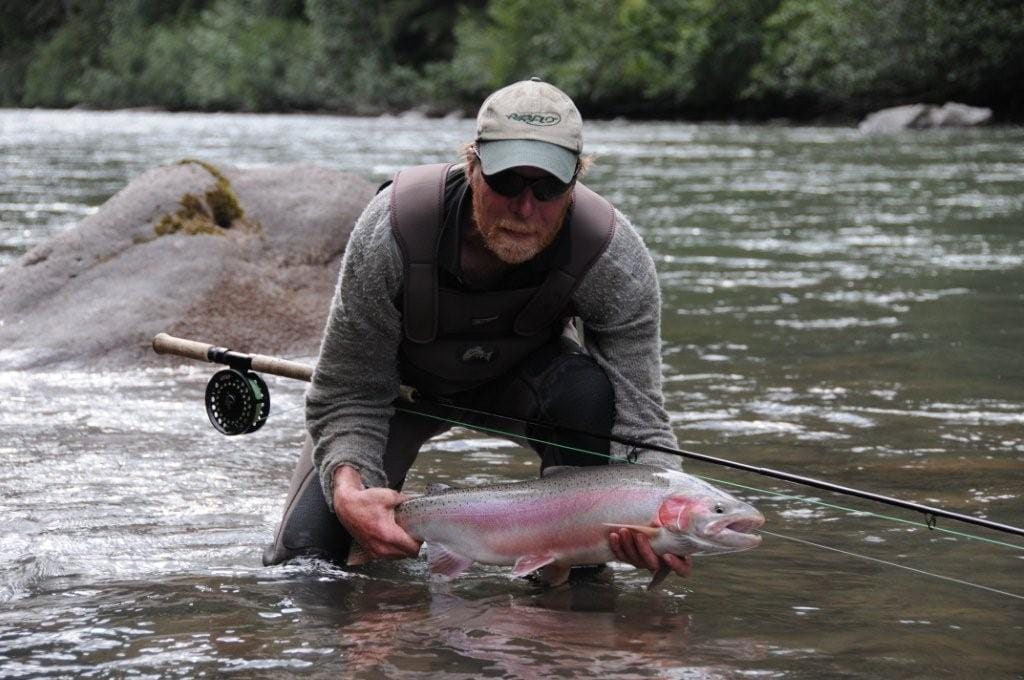 It was to be the Kalum River for us today. I was excited as the last time I was here the Kalum was blown out and I could not fish it. It is a beautiful river and best accessed by jetboat. It always flows a little milky as the river is fed by a glacier. Greg was to be our guide for the day, and we were soon racing up the river with icy blast making us feel much more awake. The first pool we stopped at had an interesting gravel lip at the top which I started on, and Alistair moved down to the main wide pool area. Almost immediately I caught a small steelhead of about four pounds, followed by a little aggressive Pink salmon. As I worked down to where Alistair had started the fly was grabbed hard followed by some thrashing on the surface and a deep bend in the rod. I had hooked a Chinook salmon, and it was not happy. At this point of the year all the Chinook salmon are in full spawning regalia as they move up the river. Some of them are vast, 70 lbs plus, and the often porpoise up the river as they go. It is a little awe inspiring. After a brief tussle and a little tail flapping it released itself from me.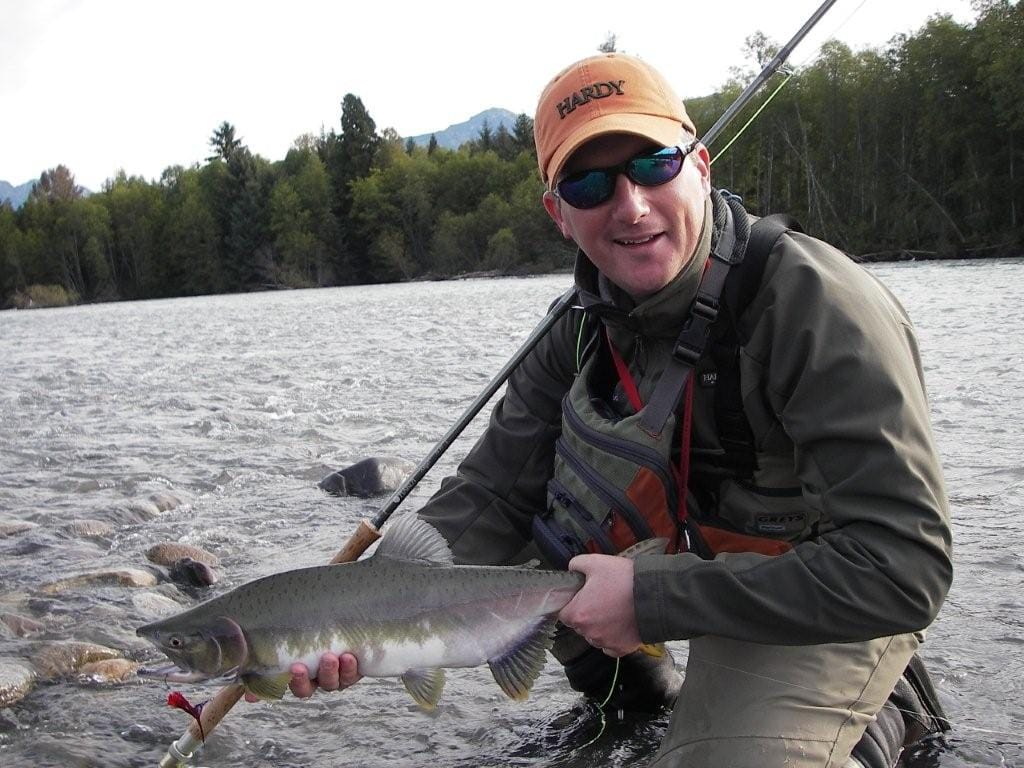 We hoped back into the jet boat and carried on upstream to another long run culminating to a wide V. The water was moving fast, and I switched my tip to a 15 ft lead core with only three feet of leader. Alistair had started above me, and I found by throwing the line almost upstream and mending a couple of times then I could reach the desired depth.  As the fly came around it stopped and I felt a brief shake before something a little like a fridge started pulling. I had hooked another Chinook, but this one was considerably larger. A little more aware this time I began to give it the GT pump and wind procedure, and very soon I had persuaded it to come over to my side of the river. Greg and I looked down at this submarine which had to be 40lbs plus. The fish looked mildly cross to say the least and then woke up. I thrashed wildly and cart wheeled , and much to my delight released me.  Playing Chinooks on fly gear is not really considered a good idea.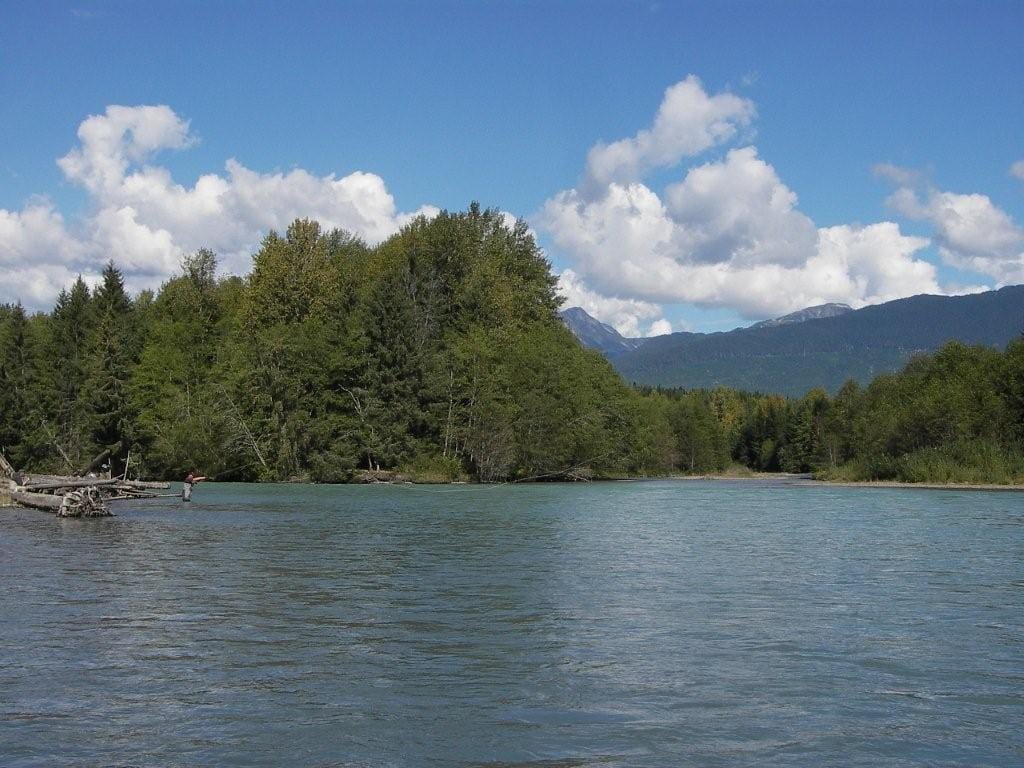 Again we hopped into the jet boat and pushed on upstream. A small feed creek entered the run opposite us, and the banks were littered with whole trees ripped up and thrown down the river when it had been in full spate. I started at the top of the run while Alistair moved in below me. Again, I cast square and threw line upstream to get the orange and pink popsicle down in the water. The line arched round and again was nearly ripped out of my hand. Frantic head shaking and screaming reel led me to believe I had finally hooked a big steelhead, but alas, it was another small Chinook of about 20 lbs. This one I finally managed to land without too much difficulty.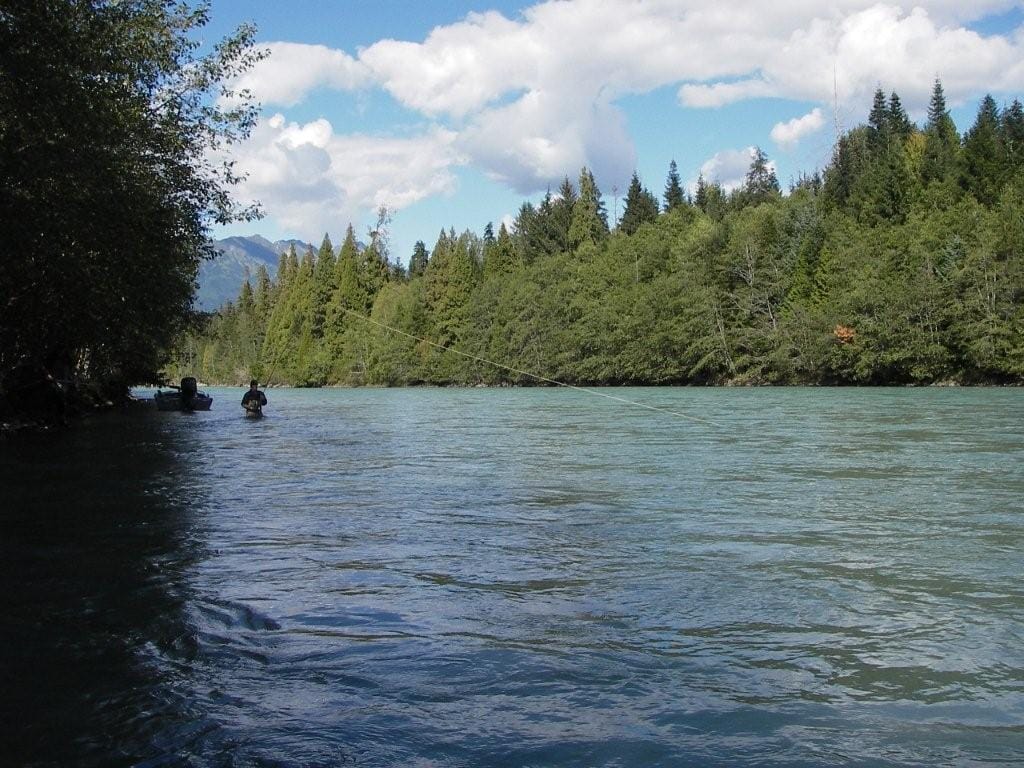 In the afternoon Greg took us to a lovely area where the river divides into two currents round an island covered in log debris. We had to fish tight under a bank covered in silver birch trees. I was minding my own business when I heard a shout from Alistair and a large steelhead shot out of the water about five meters away from me… attached to his line! This fish was hot and charged across the river stripping line of. The current here was strong and he had his hands full. After an pic struggle Greg expertly landed it and Alistair had caught a lovely doe steelhead of about 14 lbs. She was still very chrome and had probably not been in the system very long. He managed one more small steelhead before it was time to head home.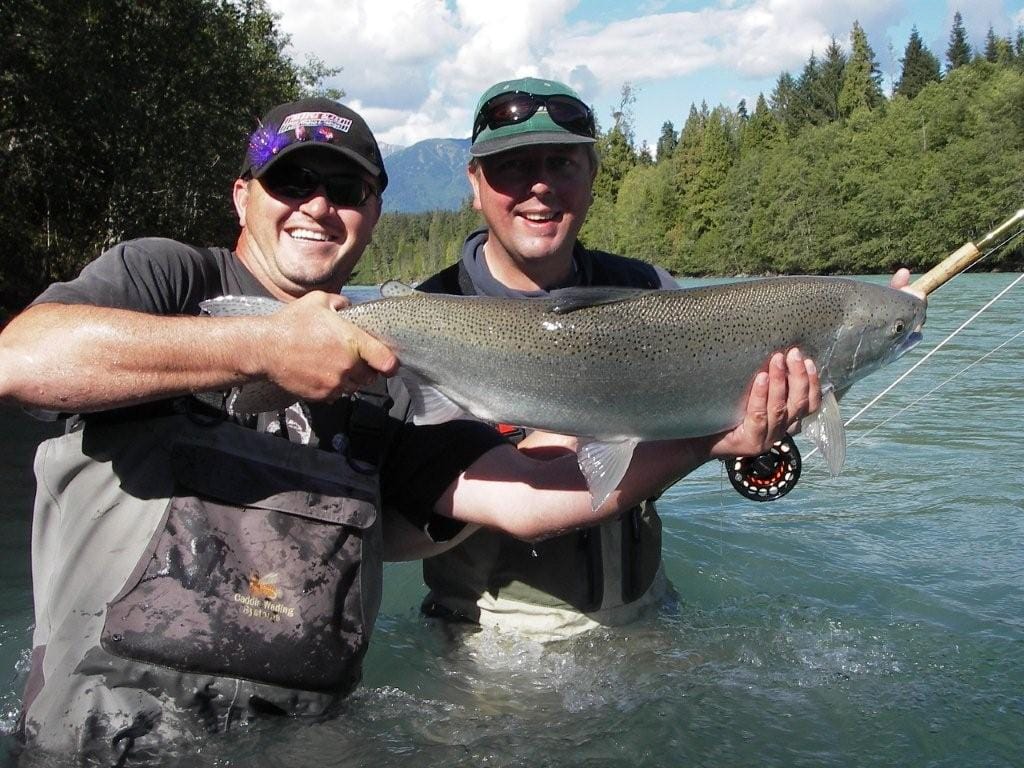 The day had proved fruitful for everyone, Patricia and Richard had fished the small stream and caught steelhead up to 7 lbs on dry fly, the Patersons had three steelhead from the lower Copper which is coming into shape, and Godfrey and Sebastian had caught three of a good size on the upper Copper after a hike in. Excellent!