Guided chalkstream days can be a huge shortcut in gaining the knowledge to be a successful chalkstream angler whether fishing the dry fly or presenting a nymph at depth for those bigger more canny fish.
Our team of chalkstream guides of Bill Latham, Alex and Charles Jardine would be delighted to part with some of the huge amount of knowledge that they have accumulated over  the many days and years they have spent prowling the banks of the southern chalkstreams fly fishing for wary brown trout and grayling.
Even those anglers that have been fishing these rivers for many years can benefit from information gained by having one of our experts along for the day making future fishing experiences less frustrating and far more enjoyable.
There is never any one right way of approaching these classic steams but we must respect the rules that have been laid down by previous generations and operate within these restrictions.
Reading the water to locate likely fish holding areas, fly selection and presentation all important choices for fishing these waters, each river and beat can present particular challenges.  Every day can be different and it is knowing how to adapt to the conditions that will lead to success.
We have beats available on the majority of the famous chalk streams in southern England from the world renowned river Test to the lesser known rivers and streams of Dorset, each has their own particular character. Our guides can help you with all aspects of fishing these wonderful rivers.
Bill was brought up on the banks of the River Avon at Amesbury, the pursuit of trout has been his life since the age of 10. Since leaving BT in 1999 Bill has been a full time guide on all the chalkstreams of southern England and guided in Iceland for three seasons. An ex England International Bill has an intimate knowledge of the rivers and streams of Southern England and is an authority on all aspects of the chalkstreams, including their flora and fauna. A day with him as your guide will not only be amusing but also an enlightening experience.
Alex was raised on a diet of fly fishing and I am pretty sure that Charles Jardine only gave him fly reels to play with instead of toys! Alex has fished for the England Youth Team, representing them at World Championship level over a 4 year period winning a team Bronze and a highest individual finish of 7th in the world.
He has travelled extensively, looking after groups of people and guiding them as well as giving numerous casting demonstrations alongside his father. Alex ties flies for the Partridge pro team, is a qualified casting instructor. He has extensive knowledge of fishing in the American West, East Coast USA, Canada, Portugal, the Czech Republic, Venezuela and New Zealand.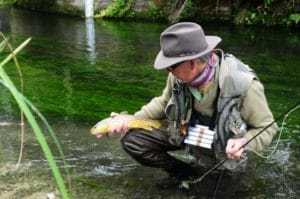 Charles hardly needs any introduction to the fly fishing world. Charles was born into a family of fly fishers and artists; his father being the late wildlife artist and respected salmon fisher: Alex Jardine. In 1976, after a near continuous association with the streams and still waters of the south, Charles was invited to work with Dermot Wilson at Nether Wallop Mill in Hampshire as a full time guide and later instructor. During this period Charles gained the APGAI certificate as well as starting to contribute to the national angling press.
To book a chalkstream fly fishing day with a guide contact Bill Latham or call our office on +44(0)1980 847389 for the latest availability.