Kau Tapen Lodge Fishing Report – 2 – 9 February, 2019. Sea trout fishing on the Rio Grande, Argentina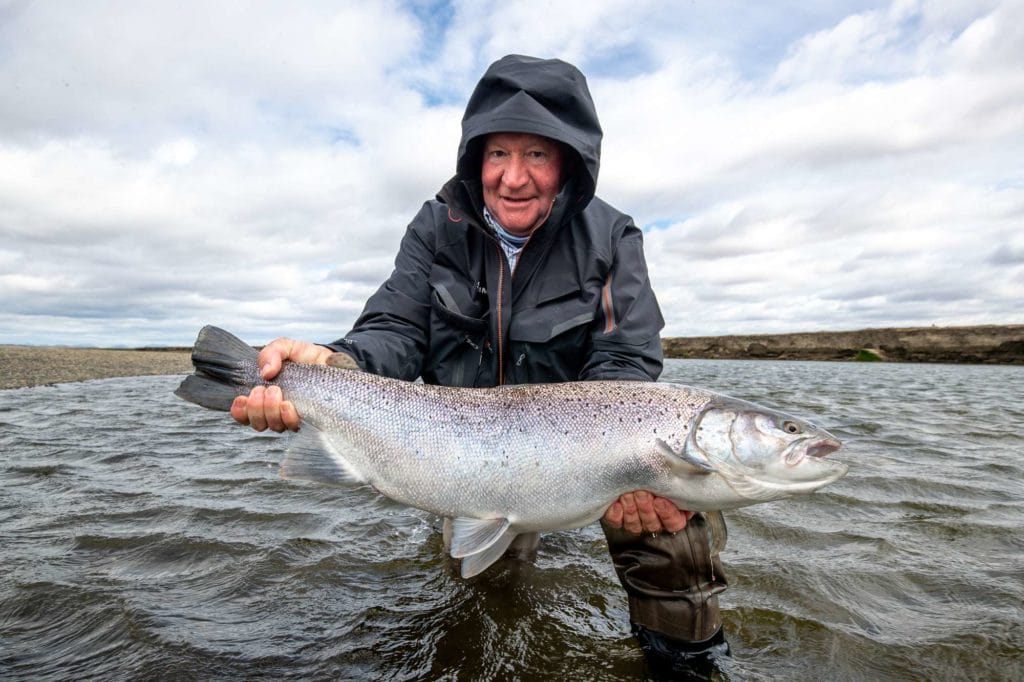 New week, a new group of guests at Kau Tapen Lodge, and new chances. However, the river remained very low and kept on dropping at a constant pace. The odds did not seem to be in our favor, but maybe the fishing gods were. And as low water wasn't tough enough, the forecast promised a heat wave that would hit us on the first fishing day. We all had the feeling that this would be a very tough week ahead of us. On the upside, though, our new group was made up of very capable anglers: Gerald (Austria), David, Ginny and her son Seth (US), who had been here many times and just came straight from a week of fishing in Villa Maria; Stuart and Ian (Australia), first time at the Rio Grande, but very keen trout anglers and eager to learn this new way of fishing; Irwin, who was here once 15 years ago brought his long time fishing friend John (US); Robert (Austria), who had never speyfished before and looked forward to a very new experience; Alexander (Scotland), seasoned angler who fishes salmon all year round back home; and Brian (US), David's son and very versatile fisherman.
Sunday started out to be sunny and windy with moderate temperatures at least for the earlier hours! Most of us were fishing with floating and intermediate tips by now, sometimes slightly heavier. And just like last week ended on a good note, this week started out on one. After the very first session, the group had already landed a good handful of double digit fish – John broke the ice with a beautiful 17 lbs fish and Brian started his trip on a cracking 19 pounder! During midday, the temperatures skyrocketed and the wind died down. While the water was 10 °C in the morning (50 °F), its was 18 °C (65 °F) in the beginning of the evening session. Understandably, the fishing shut down dramatically. Monday and Tuesday were the hottest days many of us had seen down here in a long time. Air temperatures climbed up to shocking 32 °C (90 °F) and we measured water temperatures of up to 21/22 °C (70 °F). The nights were mild and the water only cooled down a little bit. Despite of these very critical conditions, the numbers of fish hooked and landed were surprisingly good. On Monday morning, Seth landed two nice fish within 5 casts, a 14 and a 15 lbs. Brian had another 17 pounder in the evening and Ginny and Stuart topped off the day with two 21 pound fish in the late evening. Tuesday was even warmer and without a breeze in the morning. Most of the fishing was done with very long leaders and tiny flies. The river was flat like a mirror, so we suggested single handed casting where possible to not disturb the water. Our delicate approach payed off and we could land many good fish between 5 and 12 lbs despite these tricky circumstances – amongst all fish a very healthy 17,5 lbs fish for John on a hitch fly. With the water temperatures at their peak during afternoon, the evening session was only productive in the very last 1,5 hours, as the light slowly went down. But the size of fish caught on the third evening made up for it. A 19 lbs fish for Ginny, another 19 lbs fish for Brian, and a cracking 19,5 lbs fish for Irwin – that made for some healthy competition around the dinner table. Healthy Competition is also the catchphrase for this funny group of anglers. Whoever would catch the biggest fish of the day would have to tell a funny (fishing related) story or tale during dinner and would win "The flask" – a flask that Irwin hand carved with the motive of a brown trout, filled of course with whisky! This competition made for a lot of fun in and outside the lodge and really tied the group together – and, quite important too, it kept everyone focused on the prize.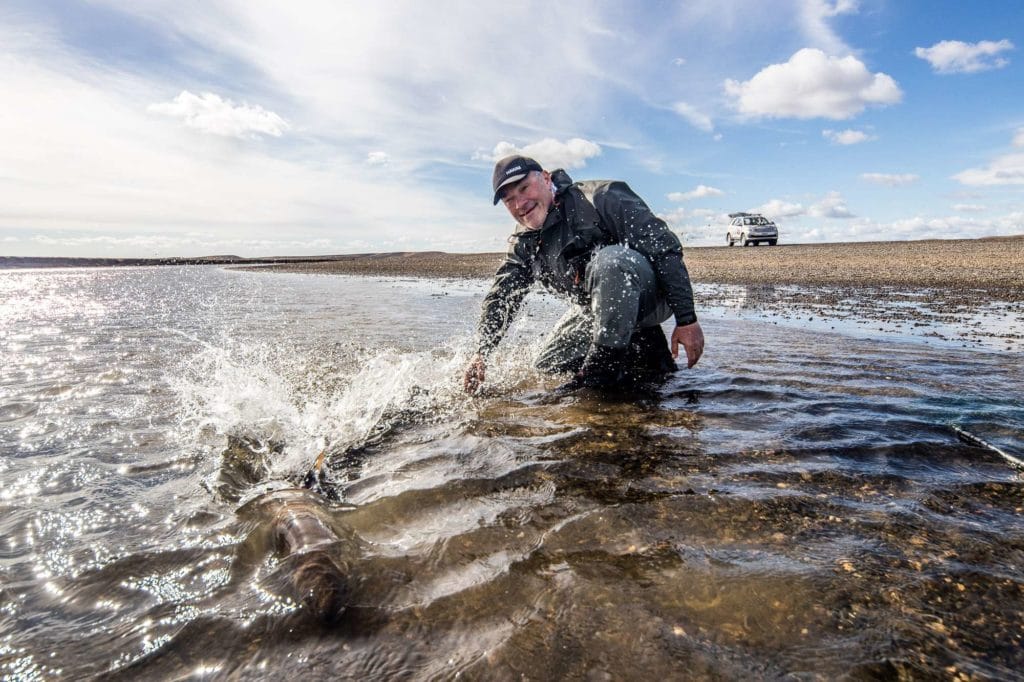 The weather cooled down again on Wednesday, and this drop in temperatures was quite needed – for us, but most importantly for the fish. That also showed in the activity of the fish and in terms of numbers, this would end up to be the most prolific day of the season so far. But as the weather stayed stable, the fishing picked up even more on Thursday, when even more fish were brought to the net than the day before. Amongst all these fish, Alexander had a nice 14 and 18 lbs fish in the morning, and finished the day on another cracking 21 pounder. Ian was over the moon with an amazing 19 lbs fish at almost dark. And Gerald had a six-fish-streak in the upper part of the river, ending this productive evening on a beautiful fresh 18 lbs fish. An amazing number of 42 fish were landed that day and that is all thanks to an extremely dedicated and hardworking group of anglers. Very well done!
However, the week was not quite over, yet. Especially not for Robert – as he was on a mission to land one big fish on his switch rod. After losing a silver bright fish far beyond the 20 lbs mark two days earlier, he had only one day left to redeem himself. But karma can be a bitch sometime…well sometimes, not this time though. And on the last cast of his trip, an angry 22 lbs hen fish took his leech. And luckily, this time chances were on Robert's side and the fish was landed.
Maybe the fishing gods were with us after all, because even though the odds seemed to be against us with low water, beating heat, and fluctuating water temperatures, this week turned out to be the most prolific one of this season so far.
For all of us, this has been an incredibly fun week. Not only was it a true pleasure to spend quality time with every single group member, but personally I had the feeling that this group in particular really grew together over the course of the week. New friendships formed, great entertainment around the dinner table, and just the right amount of competition on the water – this is what makes these trips so special. And if the fishing is this good on top of all the rest – even better. A true team effort!
If you would like more information then please do not hesitate to contact Steffan Jones or call our office on +44(0)1980 847 389.