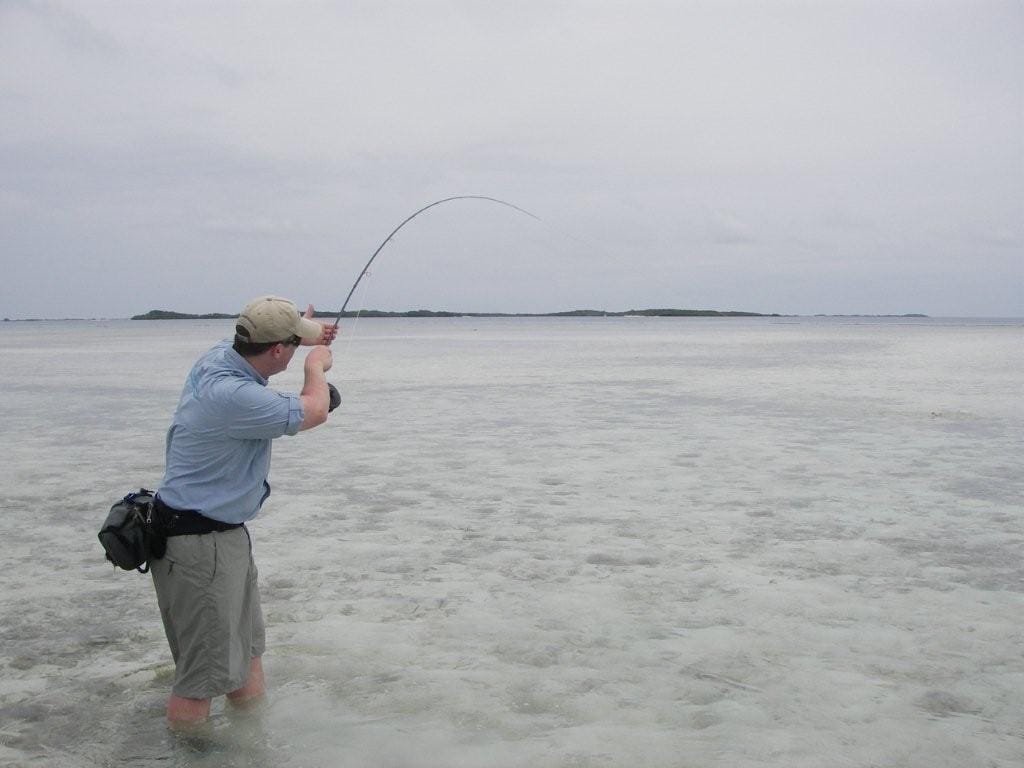 Bill decided that he would fish with Owen today and they would try a little trolling off the edge of the reef –  a little dark side fishing. As I was fishing with Owen I had a boat to myself and Jesus as my guide. As there has always been some friendly rivalry between Jesus and myself we decided to have a fishing competition on the flats, and Ramon joined us. Ramon is the other owner of Sight Cast. The area that we decided to fish is a long way out around Mosquito Cay and a long beach flat that is one of my favourites called Carenero. After running for about 30 minutes we stopped at the beach flats around Espenqui just  for a quick check and picked up a couple of fish around the edge.  I saw an absolute monster cruising the edge of the beach which vanished at high speed as soon as I put a cast down on him. The fish had to be over 10lbs, and this was obviously his minnow quaffing point. It still never ceases to amaze me that these fish are so totally clued in to minnows.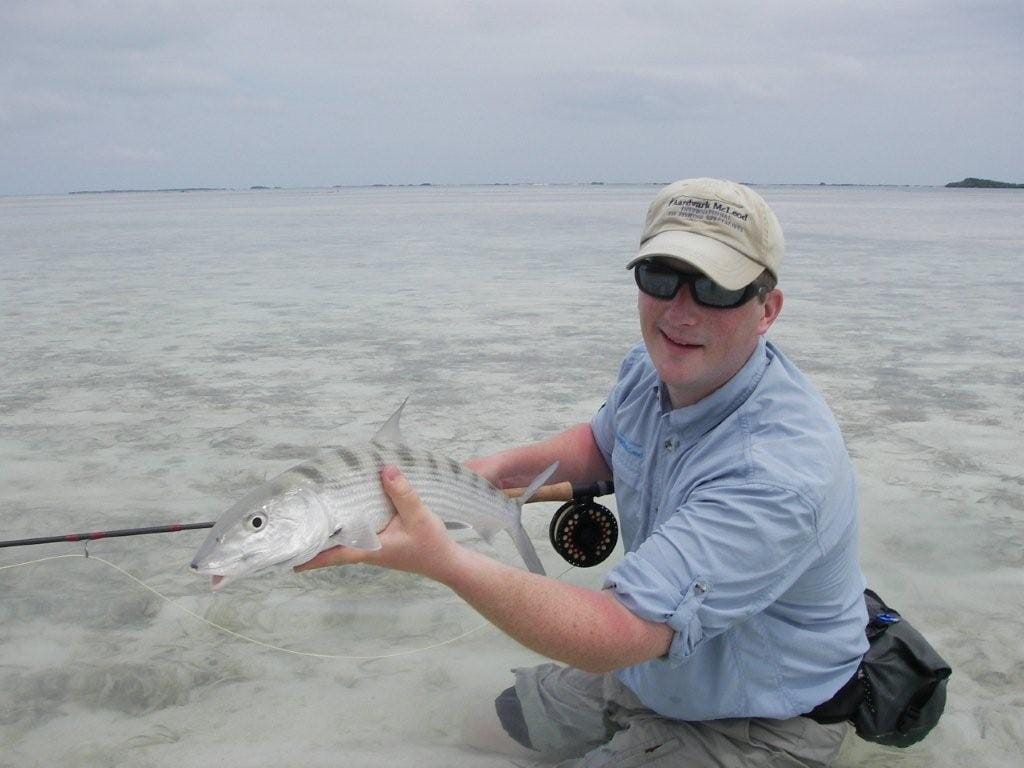 We moved on to Mosquito Cay where the tide was well down on the flats and they were exceptionally skinny. To avoid detection Jesus and I waded around the outside edge of the flat where I also encountered a school of jacks, but could not get a cast out fast enough. The outer edge had one fish with its tail and back out of the water feeding right on the edge as is there won't, and with the 7# I managed to present a fly quietly enough to get a hook up. Jesus was beginning to sweat! We could see there were no further fish on the edge, so we moved towards the beach where there is a deeper area leading up towards the mangroves. This has always been one of my very favourite flats, especially in tough conditions, and this was no exception. There were plenty of bones in the area, pushing water and tailing. They were however exceptionally spooky as it was extremely low tide, but I found  by using the ambush technique, i.e. casting the fly out a long way ahead of moving fish in the direction I anticipated them to be moving and letting the fly sink to the bottom. Then, as the fish are directly over the fly I just give it one small tweak which is normally enough to generate an aggressive strike. By doing this I managed to catch a further five bones, and Jesus picked up one near the mangroves.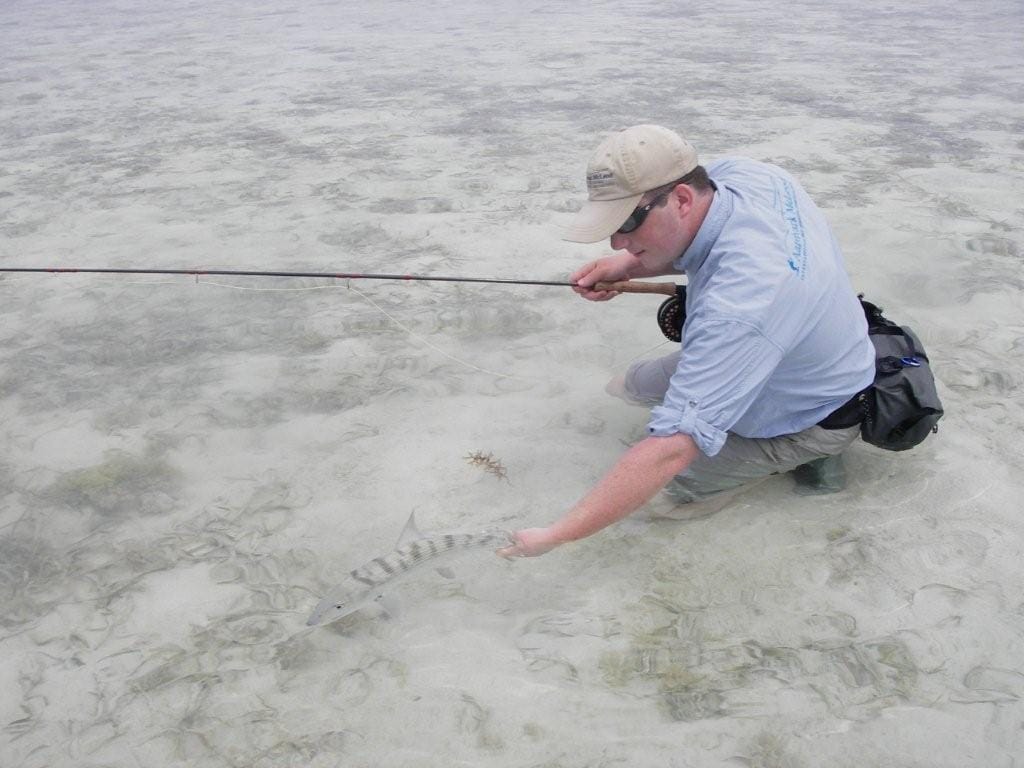 After a quick lunch on the move we turned the prow of the boat towards Carenero. In some ways this is the best  til last. Every year I come here Carenero beach is one of my great favourites. It has a very large average size of fish and a high concentration of baitfish. It is the epitome of beach flat fishing with minnows. Here I changed from the small Christmas Island special I was using to a Burke's Hot Flash Minnow that I prefer over the gummy minnow anytime. It has a lighter presentation and feels less like fishing with a rubber fish.  As it has a high bank it is possible to walk along the top, spot the fish and then scurry down and cast at them.  Just beyond the small habitation we came across a small pod of enormous bonefish, none of them under 8lbs. They were chomping on a fish carcass about 3 feet from the beach edge. Unfortunately they had no intention of taking a fly, so we moved on. Just up on the corner the pelicans were smashing into minnows so I fired of a few blind shots in their direction. Almost immediately I hooked up as the fly was hit by a freight train and the fish charged off towards the deep water. There was simply nothing I could do about as I watched line peeling off the reel. I began to pump the rod but by this time I was well into the backing. Then everything went slack…. I reeled in and found my leader had been trashed on the coral. Sniff…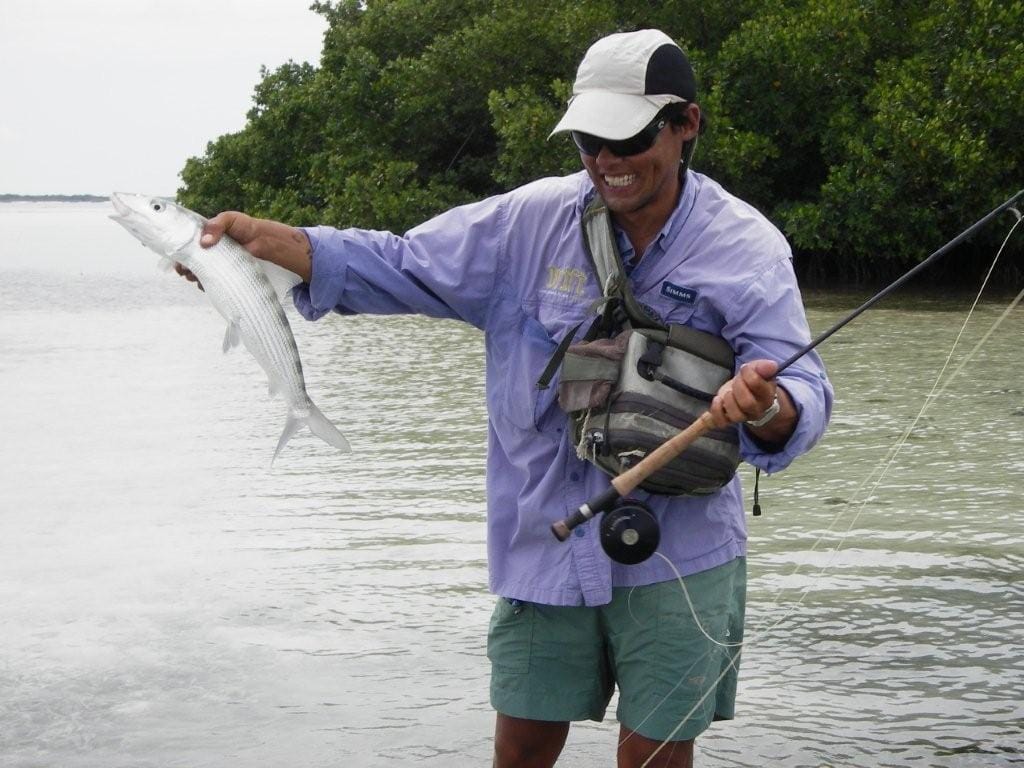 Then I was in the money… Fish would cruise by, I cast and stripped and they would rise in the water column and absolutely hammer the fly. Phenomenal.. I landed a further 6 fish, all over 4 lbs and the largest at 7 ½ lbs on the boga grip…. I was absolutely shattered by the time we finished the session. Jesus had picked up a further couple of fish as well. Finally tally was 13 bones and a bar jack to me and 5 bones for Jesus… shame…. Getting back to the lodge the days tally was a 42 bones, 1 horse eyed jack, 1 bar jack, 3 pompano, 1 barracuda with Owen catching his personal best of an 8 lbs fish on the Ocean side pancake flats along with one of 5 lbs. In the evening we had our yearly guides casting competition that Jesus finally won! He had been trying desperately to win for the last three years.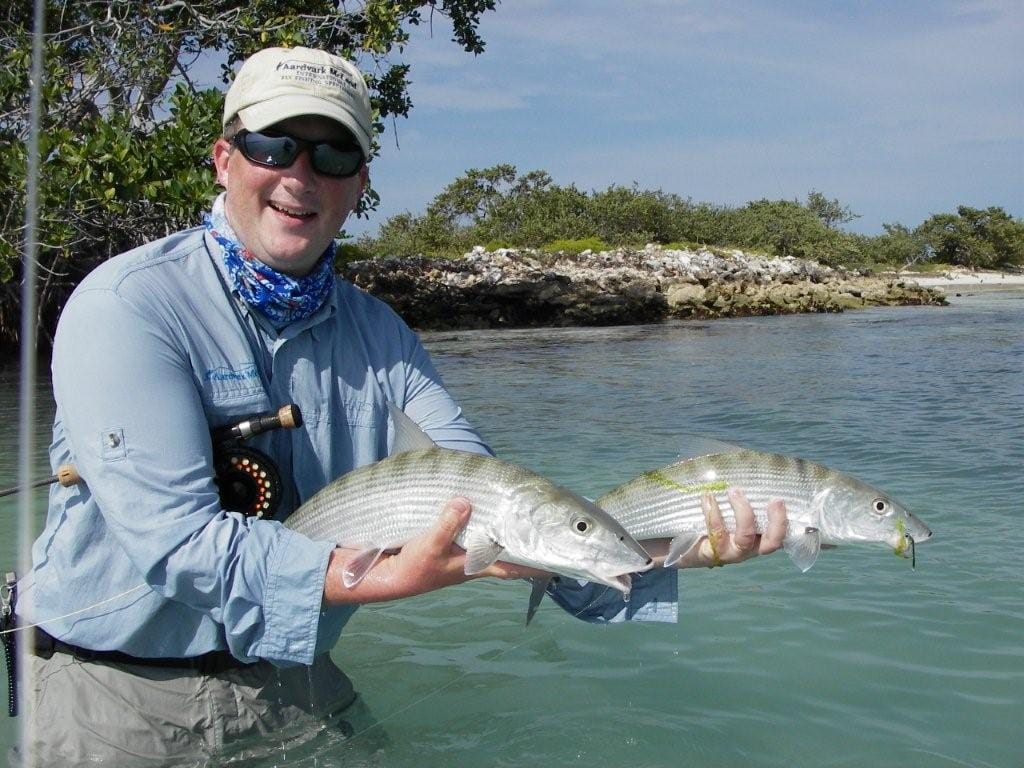 To summarise this has been one of the best weeks we have had in years. Totals for the week were some 242 bonefish, 51 others. Although it may not be the largest totals we have had in the past there were some excellent catches of permit, jacks, barracuda, pompano and numerous other species. We also had some exceptional fishing on the pancakes which even though is testing was the main reason everyone came. It is technical bonefishing, but extremely rewarding, and a number of us acheived large fish off the pancake flats. Most opted to try and catch fish on those flats rather than get numbers elsewhere proving the spirit of the trip.
At this point though we realised that there was an extremely slim possibility of us actually being able to leave Venezuela on our scheduled flights due to the Volcano in Iceland. By the looks of things we maybe here a little while….