The Tongariro Lodge recently celebrated its 40th anniversary and has become one of the most notable lodges when fly fishing for trout in New Zealand. It sits on the banks of the Tongariro River, surrounded by the beautiful Tongariro National Park on the North Island. Established in 1982 by legendary angler and guide Tony Hayes, for the last 30 years it has had an excellent reputation for good dining, accommodation, quality outdoor activities and the very best in New Zealand trout fly fishing guides.
This famous New Zealand fly fishing lodge provides private comfortable lodge accommodation in one bedroom chalets and two to five bedroom villas, all with private facilities and views of the Tongariro River or mountains beyond. The lodge is the ideal venue for fishermen, but also offers a wide selection of family adventures.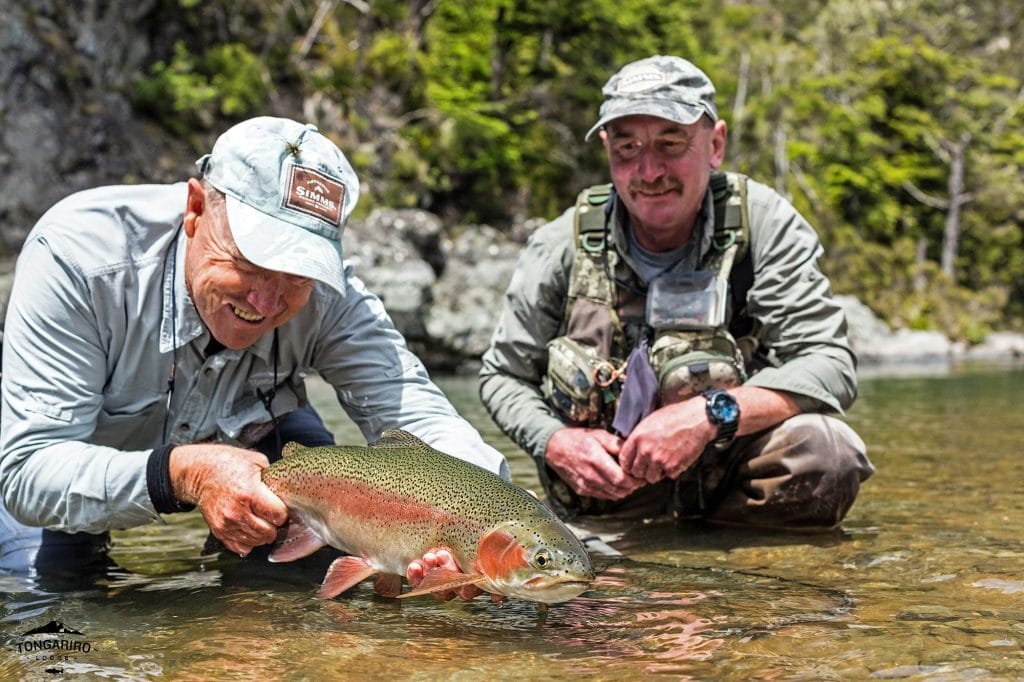 The Tongariro Lodge fly fishing guides provide access to over 40 rivers and three Lakes, offering the most diverse range of rainbow and brown trout fly fishing opportunities in New Zealand. The crystal clear waters make the fishing for large wild rainbow and brown trout very exciting as you watch each twitch of the fin and flick of the tail. The Taupo region is a year round fishery famous for its salmon like trout runs in the autumn and winter months to spawn in the head water of the rivers.
Spring and Summer Wilderness Fly Fishing Prospects
The fly fishing prospects for early summer October to December are looking excellent. Fishing for winter run fish has been the best Anglers have seen for a number of seasons and recent drift dives this winter by fishery officers have counted up to 1,946 trout in just 1.4 km sections of some Taupo rivers. A good number of these winter/spring run fish will stay in the rivers over summer. The lodge has also experienced a warmer than normal winter and a great deal of the wilderness water has been virtually untouched for two years with no international anglers.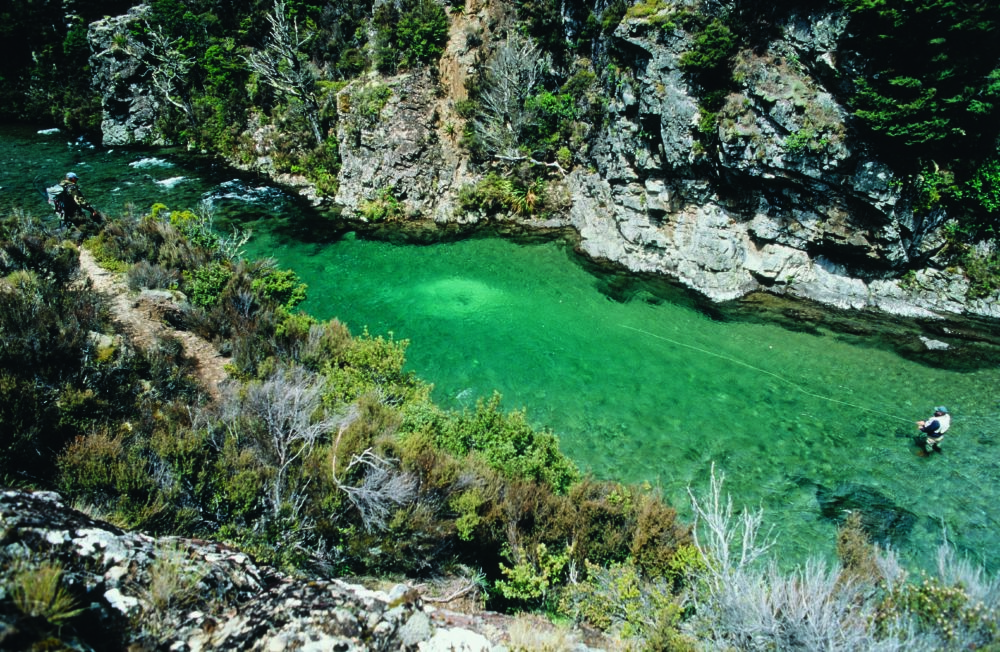 By 1 October the backcountry streams outside of the Taupo rivers and streams open and the rainbows and browns tend to feed very aggressively early season. It is quite a sight to watch a feeding trout move 10 feet to engulf your fly! By November the days are long and the sun is higher, making spotting and stalking conditions ideal. November – March is the prime time for dry-fly and for wet wading up a stream and casting to sighted fish. Fishing with cicada imitations is considered by both clients and guides to be the ultimate dry fly experience — double digit browns (over 10lbs) are landed on the Tongariro River every summer.
1st December is opening day on the isolated upper reaches of the Tongariro and Taupo tributaries. This always provides great angling for trout who have not seen a fisherman for six months. A wilderness rafting trip on the upper Tongariro offers spectacular fishing at this time.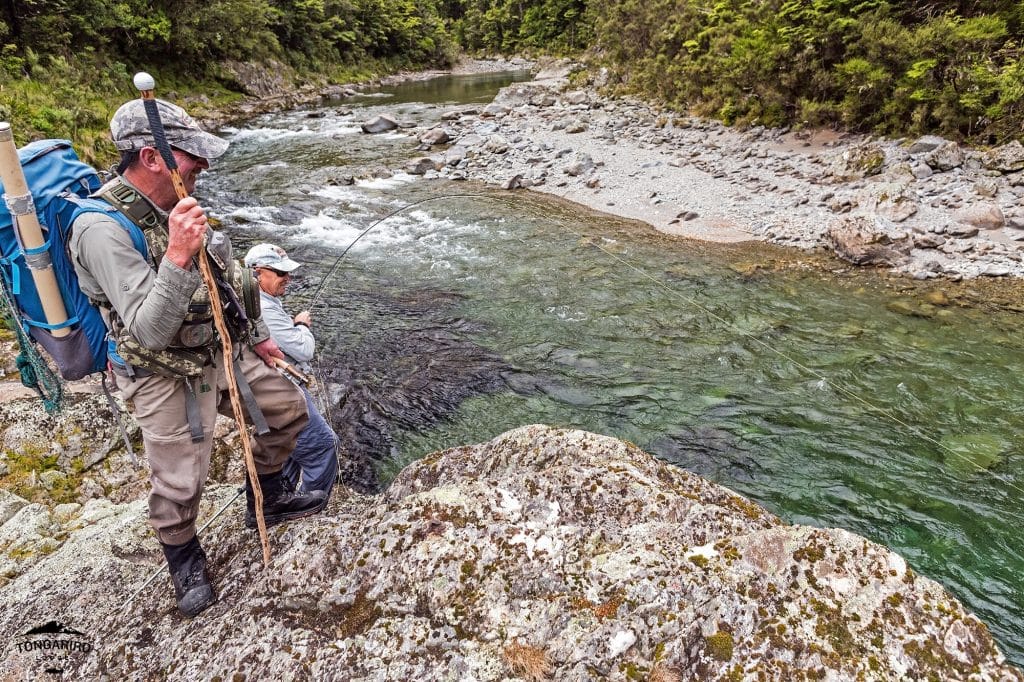 Helicopter options can be fantastic at this time and Tongariro Lodge has special access to large areas of private land, that provide anglers with helicopter access to fourteen wilderness rivers. This offers up to 60 km of trophy New Zealand fly fishing for brown and rainbow trout.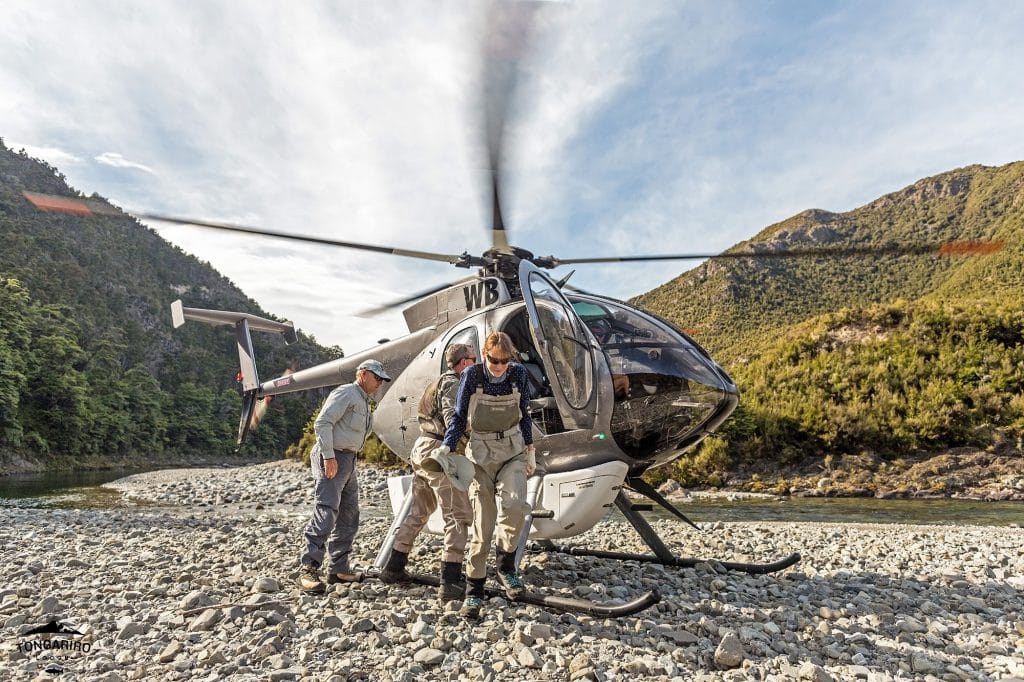 Tongariro Lodge offers some of the finest value for money fly fishing in New Zealand, and a wonderful welcoming atmosphere. For more information about the lodge and availability please contact Alex Jardine, alternatively call our office on +44(0)1980 847389.