Cayo Largo is in the South Central region of the Cuban Archipelago, and it's one of the last virtually untouched eco systems left on the planet. With 17 miles (27 Km) of fine white sand beaches, the surrounding ocean produces a spectacular kaleidoscope of colours. Cayo Largo offers anglers the perfect combination of great fishing for bonefish, permit, tarpon, cubera snapper and other flats species all from a comfortable land based operation.
The cays of Cayo Largo are uninhabited and apart from those that you fish with the only people you will see are a few commercial lobster fishermen. Cayo Largo is therefore an ideal habitat for bonefish, tarpon and permit. It is made up a series of cays, mangrove lagoons and flats that run for some 50 kilometres. The flats tend to be white sand interspersed with turtle grass ideal for those who want to wade. Around the cays are mangroves and the wading can be a little trickier, so fishing is primarily done from the boats. Most days you will have the option of either fishing from the skiff or wading. Through the flats and cays you find deeper channels that provide perfect areas for tarpon to feed on the bountiful shoals of sardines. When the tides are right you can see them move onto the flats providing great sport.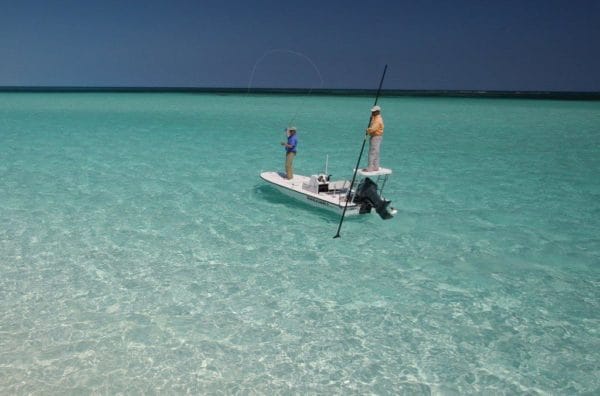 On the slightly deeper parts of the flats you will see schools of permit and you will feel the Grand Slam is seemingly moments away. There are some areas that have still not seen an angler or a fly, and part of the fun will be finding new and productive areas.
OFFER DETAILS
We have one cancellation rod in the 23rd – 30th November 2019 week. This is part of a hosted week, hosted by Andy Smith. A fantastic week with a great bunch of people.
OFFER PRICE
£2,795 for the week. This INCLUDES 7 nights stay in Cayo Largo – staying at the Villa Bella Rena Resort – 6 days guided fishing (2 anglers per guide), single room at the hotel, flights to/from Cayo Largo, Hotel nights and transfers in Havana. It does not include the international flights – please make contact for an example itinerary.
INTERESTED?
If you would like more information then please do not hesitate to contact Steffan Jones or call our office on +44(0)1980 847389.