September marks the start of prime time to target tigerfish on Tanzania's Mnyera and Ruhudji rivers and, further south, on the Okavango in Botswana. Guides and camps are getting ready and looking forward to welcoming anglers, both old and new. 2016 will see the  first combined Tanzania and Botswana trips and prime dates have been combined to allow you to experience two of Africa's finest tigerfish locations. Species wise, your focus is the striped waterdog, targeting them on fly. This is not a high return style of trip; tigerfish are a challenge. Not only do they have rock hard jaws and sharp teeth but they are highly competitive so will tussle over a fly. They also jump so keeping them on is another challenge altogether. Your trophy fish to aim for are Tanzania tigerfish (up to 25lbs), Okavango tigerfish (up to 15 lbs), nembwe, thin faced large mouth vundu and sharptooth catfish.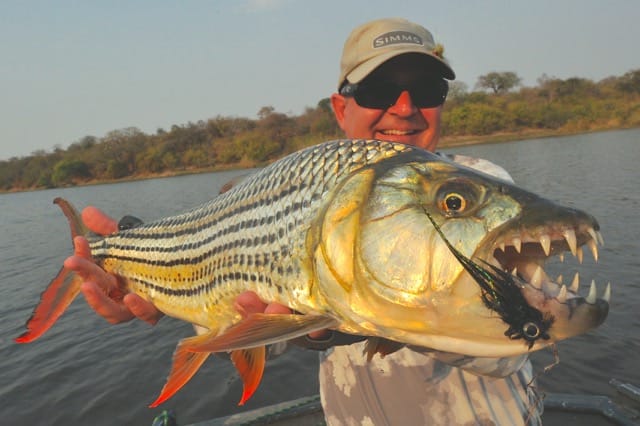 2016
18th September – 1st October (Botswana/Tanzania)
17th September – 1st October(Tanzania/Botswana)
2017
11th – 23rd September (Botswana/Tanzania)
14th – 28th October (Tanzania/Botswana)
While both locations stand on their own merit, combined you will experience Africa's best, fishing these productive rivers to a backdrop of untamed Africa. Fishing with big game around you, darting birds and with the haunting cry of a fish eagle on the breeze, you'll be looking for reasons not to go.
For more information please contact Charlotte Chilcott or call our office on +44(0)1980 847389.