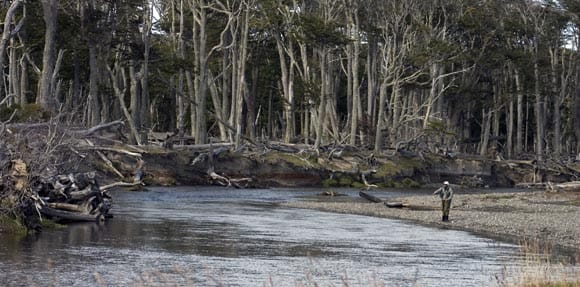 Two or three years back I read an article in a fishing magazine about the Sea Trout Fishing in Rio Irigoyen in Argentina. I immediately sent the article to my friend Jon saying that this is where we should be going. The fishing sounded interesting, a smaller river which we like, the possibility of BIG fish and the scenery looked spectacular. Jon of course agreed. A year or so later when I read an article about the Rio Irigoyen in the Aardvark McLeod brochure, I contacted Peter who offered us two rods for the week of 27 February to 6 March. The dates were very tight for me but it was all he had to offer so we just could not say no!
During the week leading up to our trip, Argentina experienced torrential rains which were very evident as we drove into Buenos Aires from the airport. We hoped that the river would be fishable. Having arrived in Buenos Aires a couple of days earlier I met up with Jon and the rest of the party on Friday evening. On Saturday morning we awoke to news of the devastating earthquake in Chile and that there were Tsunami warnings and many flights had been cancelled! Gordon Richmond of The Latin American Fishing Co. who was accompanying us quickly put our minds at rest – our flight had not been affected.
The scenery landing at Ushuaia Airport and on the drive over the mountains was spectacular and once we turned onto the dirt road which later turns into a track we realised that we really were going to be fishing in a very remote area – this is one of the things that appealed to me and I was not disappointed. Arriving at the lodge we were met by our guides; twin brothers Nico and Alex and Fernando. Nico went through all our fly boxes advising on the appropriate flies and discarding many saying "rubbish hook". As we were to learn trout hooks are inadequate – these fish get big!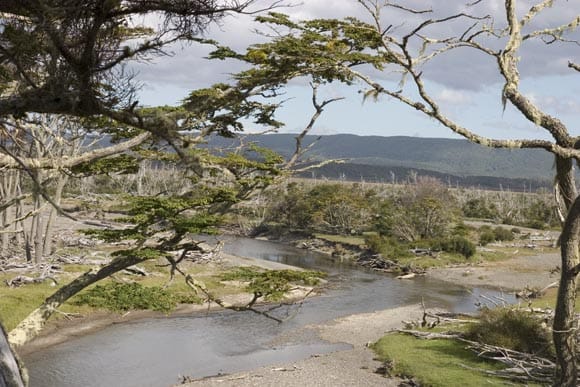 We set off around 9am, for our first taste of the Rio Irigoyen. Jon and I were with Nico for the first two days. Arriving at our allocated beat we found the water slightly off colour and Nico commented that it was falling and clearing and provided we got no rain, it was going to get better and better. Nico looked through my fly box didn't like anything he saw and pulled a large black heavily weighted rubber legged fly from his fly patch which he tied on for me. "Start above that fallen tree, cast 45 degrees downstream, tight into the bank, along the edge of the tree and into the pocket below the tree. I started in and after a cast or two got the instruction,  to throw an upstream mend into my cast allowing the fly to sink, don't mend as this pulls the fly away from the lie and short slower strips. Nico then moved off to get Jon started.
A few casts later as my fly swung through the current there was a swirl but I felt nothing. Did that have a go at my fly? Heart rate up a bit my fly landed perfectly tight against the side of the log, I let it sink for a few seconds, strip strip and bang! I was tight into my first feisty Irigoyen Sea Trout, a very bright fresh 6 pounder. I thought "this is going to be a good trip".
The second session of the day started slowly but as the sun was beginning to set, Nico moved us to what looked like a really fishy stretch of water. Fallen trees at regular intervals created what looked like perfect holding water. Nico put Jon into a pool and we moved upstream and started fishing down towards a log jam. My expectations were high as I knew this was the time when the fish became more active. Down the side of the log jam, nothing, into the eddy behind the log jam, still nothing. The water looked to good not to hold a fish, so I fired a cast square across the river right in behind the logs, let the big Bitch Creek sink and had hardly started to strip when the line straightened and I was into a very solid fish. Nico's instructions were clear, "keep it out of the logs"! After an initial run downstream it headed back for the logs and had to be stopped. After 5 or 6 minutes the fish surfaced. Nico said, "its huge!", and I could not believe the size of its tail, it was like a spade!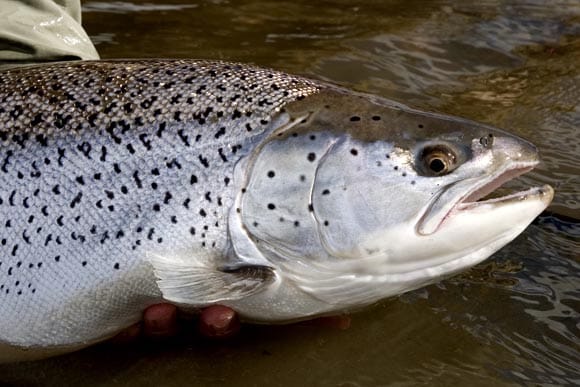 I started  leveraging the fish towards the bank,  it turned and ran powerfully downstream and then, it was gone! What did I do wrong, I was stunned and I could sense Nico's disappointment.  This is what I had come here to catch, had I lost my opportunity? With it now dark, I had changed to a big black streamer pattern and the pain of losing that fish was eased when I hooked and landed a lovely 12 pounder. This was only the first day!
Day two brought me back to earth. Again it was that early evening session that brought excitement but this time it was Jon's turn and after a really good fight he landed a 17 pounder, our biggest of the trip so far.
Our third day saw us on the bottom two beats, where we had fun with a fresh run of small fish of up to 4lbs but it was again that period preceding last light that brought the action. Alex, our guide, had selected a green bodied black Rabbit as he called it from my box. I said, "should we change the leader", but after examining it Alex said it was fine. I joked with Alex about the consequences of him being wrong. He directed me into a run at the top of the pool below a log jam which extended right across the river. In the fading light I cast the fly tight against a section of fallen bank topped with green grass, it swung around quickly in the fast current, I moved down a meter of so cast again and all hell broke loose! The fish tore downstream into the belly of the pool where there was another enormous log jam. I stopped it. It then, staying very deep, moved slowly into the main stream. It was very heavy and not easily moved, I thought about the leader.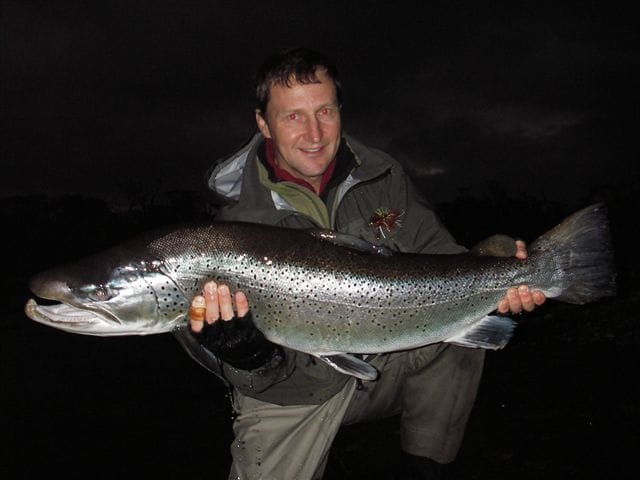 The fish then took off upstream straight towards the logs that stretched right across the river. I remember Alex telling me to stop it, my drag was tight and having little effect and so there was no option but to clamp my hand down over the fly line and onto the cork grip of the rod. The rod bent precariously but held and the run was halted just short of the logs. After what seemed like an age the fish slowly dropped back into the deep run. Moving up the bank I started easing the fish towards the shallow water and then Alex exclaimed "it's HUGE"! "It's the biggest sea trout I've ever seen". I still hadn't seen it. I continued backing up until Alex was able to tail it and then I saw it, he was a monster! A very silver cock fish measuring 99 cm in length and estimated to be 28lbs! After a few quick photos we removed the fly that was twisted and bent from the pressure and he was released, I was on cloud nine and Alex was telling me what a monster it was and how he thought my rod was going to break when I stopped the run.
Back at the lodge, over meals that can only be described as delicious, stories about the days experiences were exchanged. Everyday there were stories of big fish being landed and of course many about the big ones that had got away!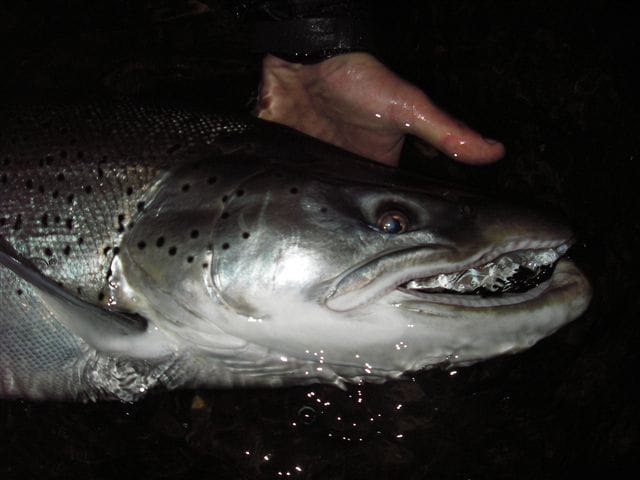 After our fourth days fishing we had an interesting discussion about when the fish were most active. As Alistair Robjent and Mons Tornqvist were fishing the beat closest to the lodge they decided to go out before first light. From the feedback we got over lunch it was worthwhile and I think it was during this session that Alistair landed his 20 pounder.
On our last morning Jon and I decided to make an early start, we headed out before first light. Unlike the clear skies we had experienced for most of the week, it was heavily overcast and damp. I had almost immediate success with 2 spritely 4 or 5 pounders and then just before 9 am Jon hooked what was clearly a good fish. The fish, as with all the big ones we caught, did not show until played out and put up a very good fight.  There was much excitement when we eventually saw the fish it was big and Jon now, on our last morning, had been rewarded with a 20 pounder.
After a break for a cup of coffee Fernando our guide took us down to the sea pool where we had an hour of fun, on the full tide, catching Robelo. (A kind of Falklands mullet.) I think I had about a dozen of which the largest was  7 pounds but I understand that they get to about 20lbs and can well believe that a fish of this size would put up some fight.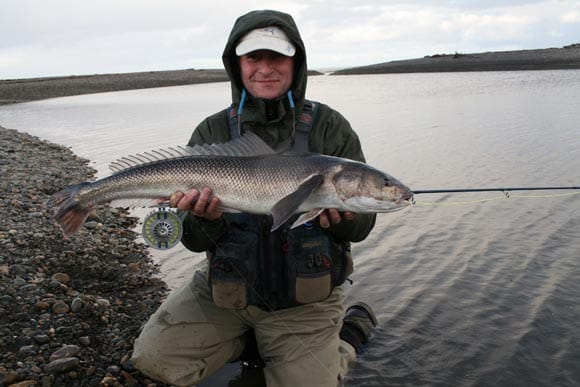 A little while later having moved up stream I landed a fish of about 4 pounds. Fernando was on hand to help and to my surprise said "it's a Steelhead"! Apparently there are some in the river with fish of up to 10 pounds having been caught.
In the afternoon we slowly fished our way up the beat, taking a number of fish but nothing much over 5 pounds.  We arrived in the fading light at the same pool where I had caught my monster three days earlier. I dug in my fly box for the same pattern that had accounted for my prize fish and after checking the leader started fishing down the pool. Nothing. It was now totally dark and I decided to change to a large black Egg Sucking Leach fly. Fernando said "give it 10 more minutes".  I cast let the fly sink deep and had hardly started a slow retrieve when the line was stopped dead. The fish ran and had to be stopped a number of times always staying deep, a sure sign of a big fish. This time as we got our first glimpse of the fish it was Fernando saying "its HUGE". Another really fresh silver fish, a very deep well conditioned hen, 88 cm long and estimated to weigh 25 pounds. What a way to finish what had already been a dream trip!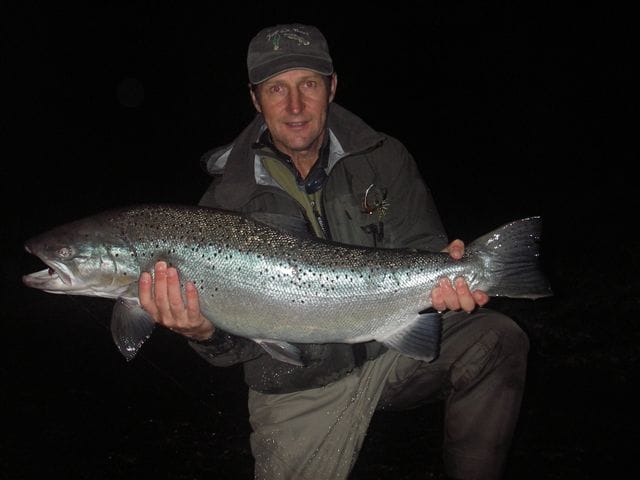 When Jon and I discussed the trip, we both commented on the good condition of the fish. We did not catch any coloured fish and without exception they were all in excellent condition. The standard of the guides could not have been better, the food was excellent and the friendly and hospitable staff all contributed to a memorable experience.