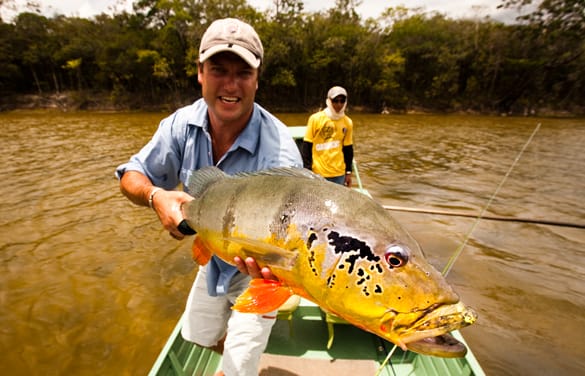 When thinking of Peacock Bass fishing in the Amazon there is one name that has become synonymous – Agua Boa. Agua Boa has been looking after clients targeting the incredible bass species on the Agua Boa river system with primary focus on fly fishing. They have recently had a break through which we would like to share with you:
"The owner of the Agua Boa Amazon Lodge and all the  staff involved with the Agua Boa have been working continuously to protect and enhance the beautiful environment, habitat,  and the fishery of the Agua Boa river and the surrounding area. As the  new year commenced we received confirmation that all of this hard work and effort had resulted in some really positive news coming from the authorities of the state of Roraima (the state in which the Agua Boa river and the Agua Boa Amazon Lodge are situated).
The environmental authorities (FEMACT) of Roraima state signed a document that has now been entered in to law, which states that the Agua Boa river (which the Agua Boa Amazon Lodge is situated on the banks of) is a "FLY FISHING ONLY RIVER". All other forms of fishing are prohibited."
I think you will all agree that this is fantastic news for the future of the Agua Boa river and its surrounding environment, and they should be heartily congratulated.