"The Cook Islands had been a topic of conversation with Peter and I for a while and I knew that James Christmas, who spends most of the year guiding on Alphonse Island, Seychelles, was keen to go. James had been listening to a friend waxing lyrical for some time about his experiences in the Cooks and, as James is not one to sit around during the off season when there is fishing to done, and as a subscriber to the 'you can't fish when you are dead' philosophy, I asked him if he would do a recce to the Cooks for us. Not wanting to waste any fishing time, James was en-route to the Cooks within a week of leaving Alphonse …. I'll leave you with him." Charlotte
On the 20th April, 2012 I boarded an SAA flight to Hong Kong International. This was to be the first leg of a four leg journey, taking me a total of 23100 km to my destination, the beautiful tropical paradise of Aitutaki, in the Cook Islands. Nearly two days of travel saw me finally arrive in Rarotonga, the political and financial hub of the Cook Islands. Rarotonga airport is unintimidating and inviting, typical of most small tourist centred island nations and Robert Skews, director of Turama Travel and Island Hopper Vacations, met me on arrival. I must admit though to being a bit out of it, considering that I hadn't had a minute's sleep since I first boarded the first plane nearly 40 hours before.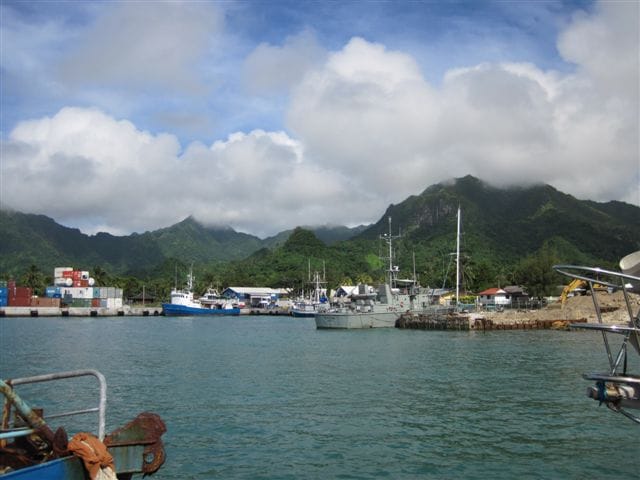 My relief came in the form of a nice comfortable bed at the Aquarius Pacific Resort, a short two minute walk from Rarotonga International airport. It was after eight in the evening when I finally settled in, so within seconds I was fast asleep. I awoke early, in time to watch the reluctant autumn sun slowly emerge from the clutches of a wild saltwater horizon. In only a short few hours time, the final leg of a 40 minute flight to my final destination would be behind me! I was to spend eight days on assignment for Aardvark Mcleod on the saltwater fly fishing paradise of Aitutaki! I am sure Rarotonga's islanders could see me quivering with excitement! After a tasty breakfast at the Coral Club restaurant, I was met by Robert as he had kindly made a vehicle available to me for the few hours that still stood in my way of my intended adventure in a new paradise. I set off to explore Rarotonga with only one mission in mind; finding suitable footwear for wading the flats. I eventually found a pair of diving booties that would serve nicely at "the Big Fish Dive Centre".
Rarotonga is a beautiful island, with high peaks towards the centre covered with lush tropical vegetation. Almost all development is situated along the coastal band, with the terrain covering inland, a natural spectacle of tropical beauty. The people are all friendly and all seem to have the typical island, laid back, no cares in the world countenance. The place is neat and clean, something noteworthy in a world of ever-increasing disposable consumerism. I now felt that I had everything that I could possibly need, a full belly and a permanent smile etched on my face, I was about to board my final flight to Aitutaki, another tropical playground! There are between three and five flights a day, serviced by Air Rarotonga between Aitutaki and Raro, an abbreviation preferred by the locals. Something that speaks to the popularity of this island paradise!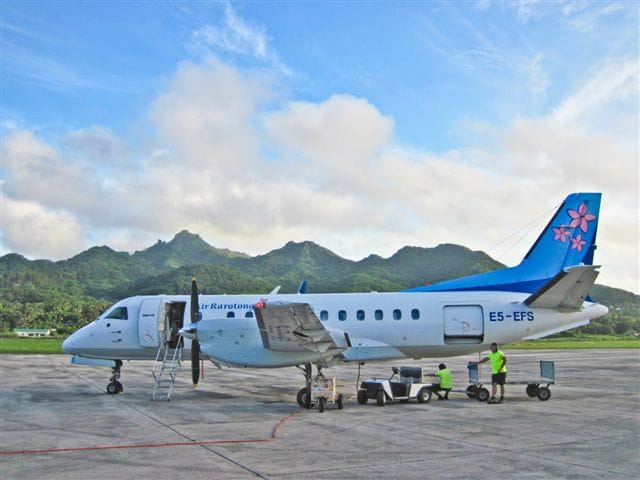 A short 40 minute flight and I arrived at the Aitutaki airport. There is a sign displayed prominently in the waiting area that says: "CATCH THE BONEFISH, IF YOU CAN" Aitutaki is home to some of the biggest bonefish in the world, and I was supremely confident that within a short while, I would be watching hundreds of yards of backing smoking off my reel. Little did I know that I was in for a lesson! Steve, the owner of Ranginui's retreat, my accommodation for the next few days, met me. It was getting late, with only a few minutes of sunlight left in the day. Following a short drive I found myself staring at some of the most intriguing saltwater flats, as the last rays of sun struggled against the encroaching darkness. I quickly unpacked my gear and set off on a short walk down the road to the "Samade restaurant and bar" for a meal. It was a set menu of either barbequed chicken or fish, I opted for the fish and enjoyed a generous portion of fresh Wahoo, one of the tastiest fish you can eat. A good meal and a few cocktails saw me off to dream of silver ghosts – usually the stuff of nightmares, but out here, the stuff of dreams.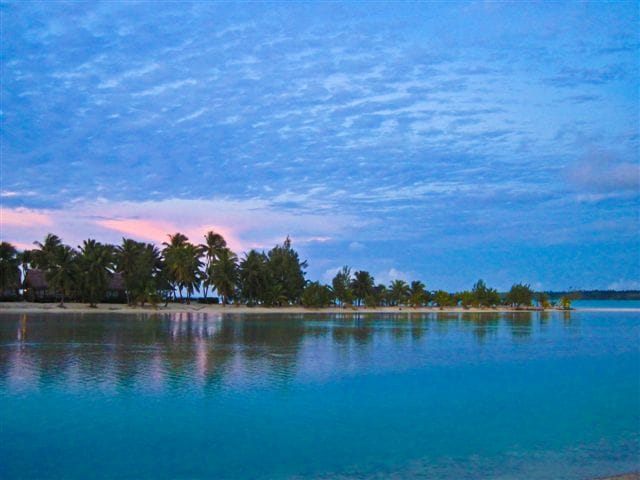 A severe case of sleep deprivation was not enough to keep me from sleeping through my 5am alarm. I was filled with the excitement, awaking early to make sure all my gear was in order long before I was to meet my guide for the day: Butch Leone. The Ranginui retreat chalets are only a few meters from a channel and even as the very first light began to push back the shadows, I could see the unmistakeable signs of life at the waters edge; nervous water giving away a shoal of juvenile mullet. Every so often chaos would erupt, as shoals of small trevally would come in and smash into the mullet up against the edge. Only a minute passed before I was chased back inside by swarms of mosquitoes, and the most nasty of winged creatures; sand flies! I quickly pulled on my long pants and sprayed myself with a liberal dose of insect repellent, a lesson learnt. A short while later, Butch Leone arrived, a warm smile and quick introduction saw us off to the Koru café for a quick cup of Java and a good breakfast. Then it was off down the road to the point to load up the boat and cast off for the day.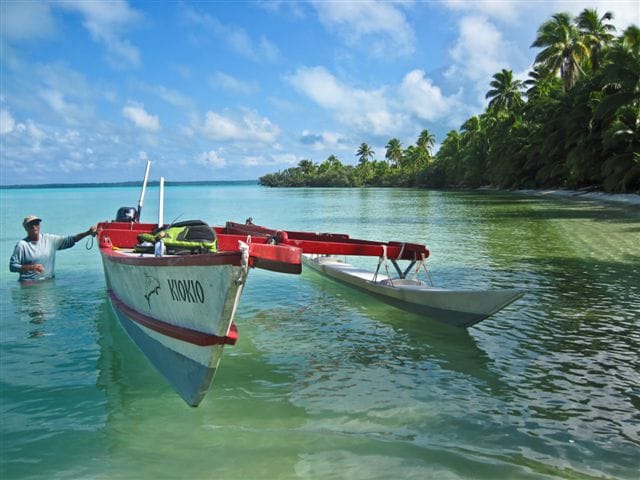 The day was full of promise, only a few clouds rolled past. The sun was out and the air seemed to sparkle with all the enthusiasm of a new tropical fly fishing playground. Butch had chosen the Samade/Ranginui flats as our first port of call, a decision that was soon to change my boundaries of bonefishing forever. It was the start of the pushing tide, with the water only a foot deep over the sand, any bonefish was sure to give itself away, it was only a matter of time. Sure enough, Butch called out: 11 o'clock big fish, 60 feet you see it? I nearly fell over backwards! This massive tail arched up and flashed gently, followed by a massive dorsal fin! What I found difficult to process was the fact that there was possibly more than 24 inches between this tail and dorsal! This was by far the biggest bonefish I have ever had the privilege of seeing, let alone cast at and I was instantly completely focussed. I conferred with Butch as to exactly where he wanted my fly to land, then shot out the cast of my dreams. It was perfect! At least I thought so, but the bonefish however, did not! He stayed put, arching up again to illustrate that he was as focussed as I, only his and my focus were unfortunately in two completely different places! I stripped the fly back as slowly as one can, right past his line and still no acknowledgement! Okay Butch what now? I had landed my fly exactly where I was instructed, but the fish never budged and I was now worried that the fish's tolerance was about to be compromised, since my first cast had already landed as close as I dared! Butch said "let's try a little closer"! No worries, this was not something to panic about, it was after all, only the biggest bonefish I had ever seen, so my false casts meted out slowly and deliberately. Before I could shoot the line, three monster mullet came flying across the flats aimed straight at the bonefish! The inevitable stomach freefall appeared as suddenly as the mullet, and I watched as this massive bonefish turned and burnt off the flats, throwing a wake that one would normally associate a medium sized trevally! My heart was pounding in my chest, and I could only stand and stare at the place where this giant had been sitting peacefully puffing up the sand, as it periodically plucked at some unseen delicacy! This flat is small, so I suspect that this was the fish that Butch expected to see and the outcome was more than likely also as expected!
There is something about the first fish of a trip, how often it turns out to be the best fish by far and how often one seems to completely stuff it up! I hadn't stuffed it up, though and the knowledge of what had happened was a difficult thing to swallow!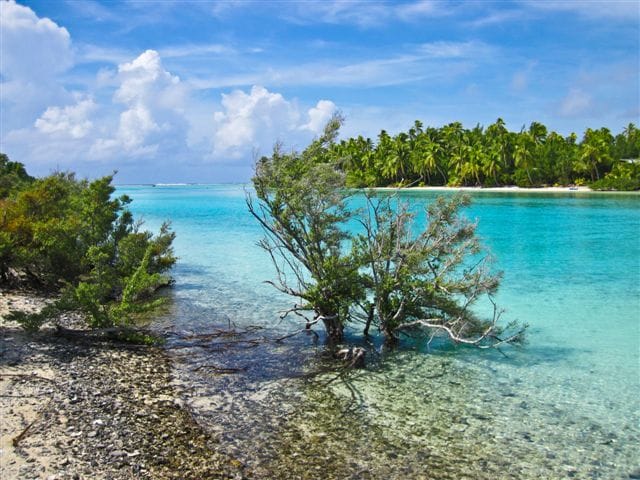 We climbed back in the boat and set off again, this time to some distant flats that would allow us to pole along quietly and hopefully surprise a few massive bonefish. Aitutaki lagoon is a vast expanse of water, a unique system of coconut palm islands that form a barrier to the elements along the perimeter of the atoll. There are some large islands as well as quite a few smaller ones and then there is the main island of Aitutaki. Many of the small islands are still pristine, so be sure to bring along your binoculars because you may get a rare sighting of some interesting tropical species! Our next stop was the flats protected by Akaiami Island. There is no dramatic rise and fall of tide within the lagoon, and the majority of flats are slightly deeper than a comfortable wading depth. These flats are perfect for poling, one of the more relaxed and civilised saltwater fly fishing niches! Butch set up a nice drift approximately down the centre line of this flat, allowing good space to the shore as well as towards the drop-off.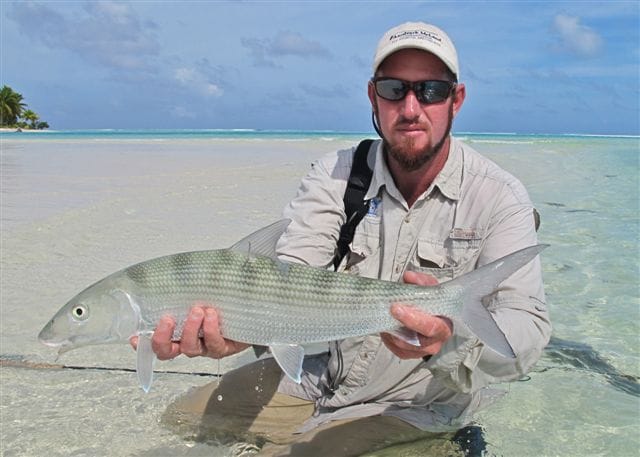 We scanned the water looking for any grey smudge or shadow that might belie the presence of a bonefish, but it was becoming tough to spot fish as the wind was building steadily stronger as the sun climbed higher. I distracted myself casting my Sandprawn at every coral bommie in sight, watching all kinds of species racing out from the protection of their coral fortresses. I caught all manner of reef species; small snappers and groupers, some small trevally and watched the determined antics of a vast number of Picasso triggerfish bent on chasing down my fly to no avail as their diminutive proportions could not quite handle the gape of my size 2 fly! Every now and then Butch would call out an incoming bonefish, all of which were large, but it seemed that these fish were super wary on the day as I never even got a shot out! These bones would be hightailing it off the flats into the safety of the deep water, long before they came into range! I could sense Butch's frustration building but I wasn't really fazed as I am no stranger to tough days on the water. I managed to get the fly in front of two large bones, but they came at the boat from behind us and even though the fly initially piqued their interest, they ended up too close to the boat and high tailed it off the flats! After we had covered the Akaiami flat we proceeded to Tekopua. As you make your way across the deep water between flats, you pass many coral heads and banks, all of which have the potential of holding a variety of trophy species. I always have a 12 weight nearby as I am not one to let a trevally go by without at least an attempt to wipe that self-assured, smug look off their face, but today all I could think about were the bones! Tekopua turned up much of the same, a few fleeting glimpses of some very large bones, but no real shots. After we had exhausted this flat as well, we decided to stop at One Foot Island for some lunch and then some wading. Butch provided a simple but tasty meal of tuna mayonnaise sandwiches. Soon I was getting itchy, since most of the day was already behind us and although I had already seen ten or so double figure bonefish, I only had a cast at three of them. I could feel that this was not normal behaviour on the part of the bonefish and realized that this could spell the onset of some nasty weather!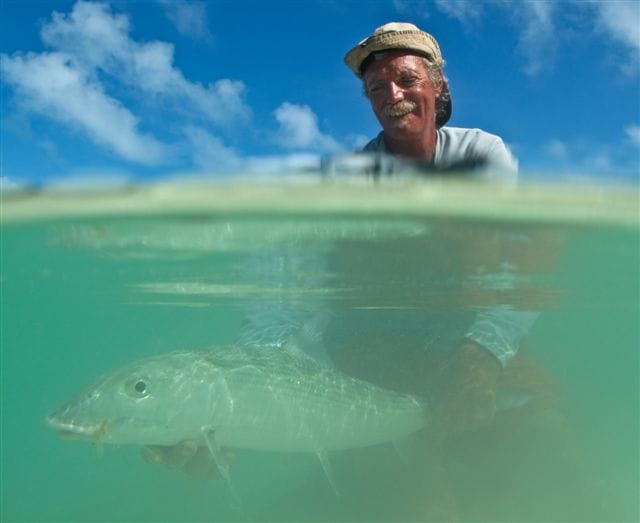 We waded along this sandy point and soon enough I saw a good bone come out of the deep and track a line right towards me. I cast out the Sandprawn and as it reached ground zero, the bonefish accelerated forward and a slow strip and then tight line! Finally! I let the relief settle in, as my reel sung out the disappearing backing tune! This was the first real shot I had had and now the beautiful dance of angler and bonefish was finally underway! A few long deep runs later and I had a prize specimen in my hands. It was no trophy but a respectable fish none the less. It never ceases to amaze just how incredibly beautiful bonefish are, how the sun light is almost magnified as it reflects off the hundreds of mirror like scales, each perfect in form and placement. A quick photo and off it went back into the deep to regain its strength.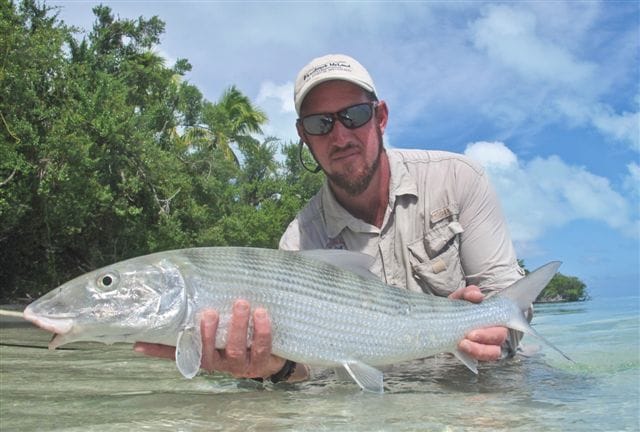 The wind had increased steadily during the course of the day, and it became quite a strain to pick out the grey smudges of bonefish through the ruffled surface. I had not noticed it, but the effects of long distance travel was plaguing my concentration and some unnecessary false casting saw me strike the tip of my nine weight with the fly! I knew the inevitable was upon me, and sure enough a couple of casts later my four piece rod became five! This was a potential disaster, as I had no back up nine weight, I had travelled there with no less than three 12 weight rods (I am a little bit obsessed, Okay!) and only one 9 weight! What a disaster! It was the end of day one and I was already potentially without a bonefish rod! The afternoon deteriorated quickly as the clouds came rolling in thicker and faster and soon the end of the day rolled in. As we made our way back home, three things struck me: how incredibly blessed we as fly fishers are to experience such awesome natural beauty. How there are absolutely no dangerous creatures swimming in and around the Aitutaki lagoon – that is zero sharks or sting rays – and finally, how mistaken you can become after catching hundreds of small bonefish, especially when you finally come up against real trophy bones. You soon realize that big ones can often be more difficult and perplexing than fly fishing's holy grail: the permit!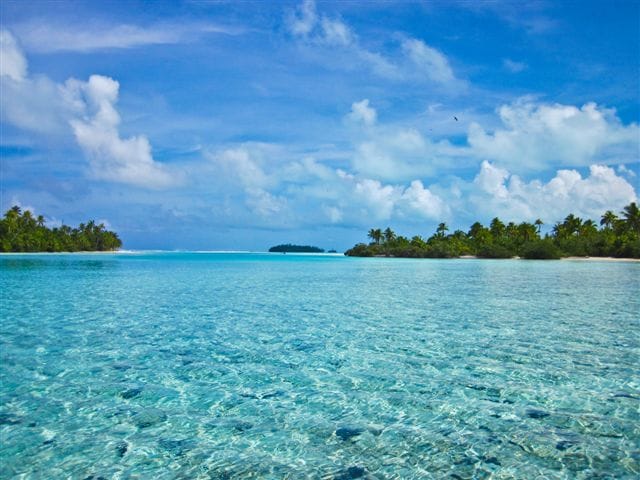 Aitutaki lagoon holds some of the cleanest water you can find anywhere and no matter where you look out here, you will be blown away by the stunning shades of Azure and Aquamarine blues contrasted by the intense greens of the tropical vegetation. This kind of beauty takes ones breath away, and as I said my goodbye to Butch, I was washed by the warmth that comes from satisfaction, I had not stuck one of the trophies, but had seen enough of them to realise that this was indeed a special place! Another sumptuous meal at The Samade restaurant and I was off to dreamland. I awoke early once again and tied a few slightly heavier weighted sandprawns, as although I was more than prepared for any wading, I was a bit short on flies for the deeper water that is typical of most of the bonefishing flats here. 8:00 o'clock came up quickly, and after another delicious breakfast at the Koru café, I met Butch for yet another attempt at snagging one of these legendary bones.
Butch Leone has been fishing Aitutaki for the past fourteen years and a key figure in exposing the bonefishing here to the international community. We set off once again towards Akaiami, this time though, the wind seemed to have continued from where it left off the day before and I was acutely aware that things were going to change in the very near future. The fish must have known this as well as their behaviour was more determined, with fish hauling over a long distance to intercept my fly. I missed the first two but the third one stuck and soon I had another prize specimen in my hands, a fish of around seven pounds. A short distance poled and another good fish came screaming over and it was "On Dad!" This one was also around the seven pound mark, but both fish gave an account of themselves way above their boxing weight, so I was excited at the prospect of sticking one of the double figure fish that showed up regularly enough, yet hadn't quite yet made themselves available for a dance. At the end of Akaiami, A different kind of shape made its way quickly along a submerged ridge towards us, the iridescent blues giving away an incoming blue fin trevally! This fish was a monster, and panic set in as I hurriedly tried to swap out my nine weight for the twelve, but I never quite got the line out in time and watched helplessly as this twenty pound plus slab of fish wrecking machine waked right up against the edge of the island away from us. Although I never got to see an attack, I am sure some poor unsuspecting mullet became breakfast. I enquired of Butch about good days and bad on the lagoon and quickly realized how challenging the bonefishing is on Aitutaki. Butch told me that six fish was the best tally that he had had so far, so with two fish already under the belt I was bent on surpassing this. It is important to note that Butch is exclusively a proponent of sight fishing, he will not entertain for a moment the notion of blind casting for bones.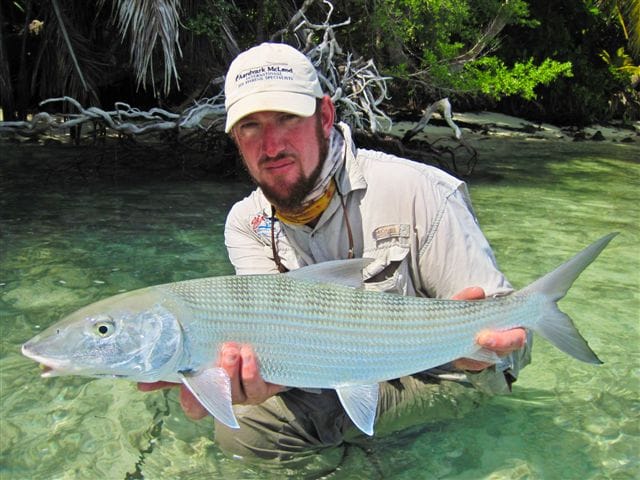 The wind was proving to be annoying as gusts would push through, distorting the surface enough to make it impossible to make out any shadows on the bottom. We pushed on to Tekopua, hoping that a window would appear allowing for some better visual acuity. We were in for a bit of good fortune, the shape of Tekopua provides a better windbreak with this prevailing wind, and we had reasonable sighting conditions. A short while later I had attached myself to yet another Aitutaki steam train, a good fish slightly over the eight pound mark. Once released, we silently glided slowly along, focussing on each and every smudge on the bottom, hoping for the give away movement of a feeding bonefish. Every now and then I would be spurred by the sudden appearance of some very large shadow that seemed to appear out of nowhere, but still none would come into range. The next thing, a fish appeared in the window of smooth water up ahead, a monster that anywhere else could easily be mistaken for a respectable sized trevally! I made a good cast, the fly sank quickly and the trophy bonefish showed a little excitement as it suddenly accelerated towards my fly! I stripped slowly with all the concentration that I could muster and the bone stayed on my fly, closer and closer, my heart was in my throat, and then WHOOSH! It turned and disappeared off the flats as quickly as it had appeared! My heart was pounding so hard, I thought it might rupture out of my chest! As the adrenalin faded, I was calmed by the fact that there is little in this world that gets one going quite like the anticipation of an incoming trophy fish!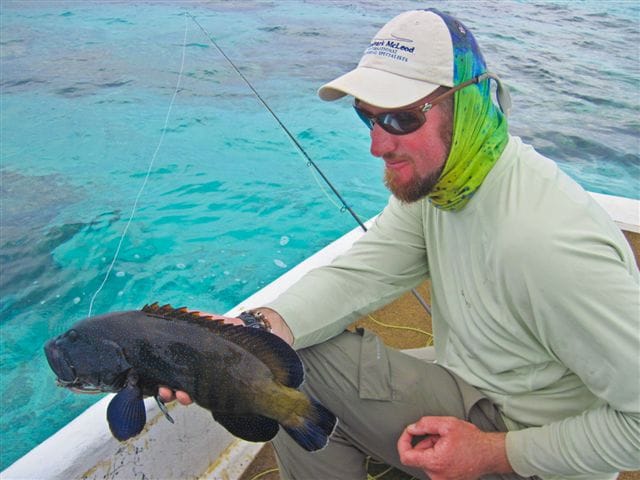 It is amazing how quickly the hours melt away when one is so focussed, the only thing betraying the advancement of hours was the increasing presence of cloud shadows as the wind increased incrementally, making it ever more difficult to stay focussed. It is one thing to try and make out the shadows of fish on the bottom when there is stable light, another thing entirely when the lights are going on and off like a disco strobe. Three fish landed, I needed at least four more, but the day was coming to an end faster than I cared for. Suddenly Butch called out an incoming fish, one look confirmed that this was one hefty specimen and I fired off a cast. The fly settled and this fish had obviously made his decision to eat long before the fly reached the bottom, as he shot forward from a long way off and inhaled my fly as it touched down! YE HAAAAH! I settled in for what was going to be my first trophy bonefish rodeo, stoked to watch the yards of backing peeling away at a horrific pace, when suddenly it simply stopped. AAAAAGH! The cold realisation of a tippet break forced me to scream in frustration! Damn, I was confident in my gear; back to back bimini twist loops, the highest quality terminal gear available and still a fail! A fail that I really hoped to avoid, these fish were all tough customers and I had travelled half way around the world in a bid to stick a trophy. If there is anywhere in the world with the potential of a new world record bonefish, Aitutaki is the place! All I could think of was that I had not changed the tippet after the last fish and the only likely answer was that somehow this fish had managed to graze my tippet! I always promise myself that I will change my tippet after each fish and it became painfully apparent that it might be prudent to follow my own advice every once in a while.
The ominous arrival of some large brooding dark grey clouds put stop to my hopes to beat Butch's record, so we decided to fish the twelve weight with a popper around the coral on the way back to base. Every coral bommie held the promise of some unseen predator but I was distracted by my disappointment from what had transpired earlier. By this time the wind had become uncomfortable and after testing a few of the larger coral bommies, we decided to call it a day.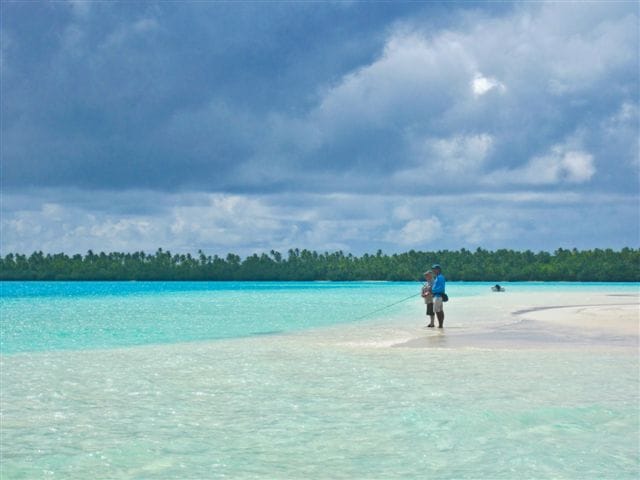 On approaching the Samade flats that separate the private island of the Aitutaki lagoon Resort and Spa from the mainland, I noticed a fellow fly fisher prospecting the shallows. So far I had only been aware from conversation that there was another fly fisher on the island, as yet having this vast lagoon mostly to myself, with the exception of tourists on the large cruise boats enjoying cocktail cruises, as well as a few dive boats and private craft visiting various islands. I made a mental note to introduce myself but after my final goodbye to Butch, Steve, the proprietor of Ranginui self catering chalets, insisted that I should meet his good friend: Mike. Mike is a pilot for Air New Zealand, whom is in the unfortunate position of having to ferry guests between New Zealand and the Cook islands on regular basis. He is a passionate trout fisher and had recently made the transition to prospecting the ocean for some sport on the fly. We quickly struck up conversation and soon had made plans to have dinner and discuss maters piscatorial. After a shower, I got on my scooter, one of the more popular modes of transport on the island, and made my way to the "Boat Shed Pub and Restaurant". Mike and I soon found ourselves amongst good company as we joined Ian Dollery, another obsessed fly fisher whom is involved in the development of bonefishng and guides on Aitutaki. My next day was to be unguided, so it soon became apparent that three likeminded individuals might do well to set off together and share some good company. Did I mention that Ian is Australian? This sounded like the beginning of a joke: An Australian, a South African and a Kiwi set off in a boat….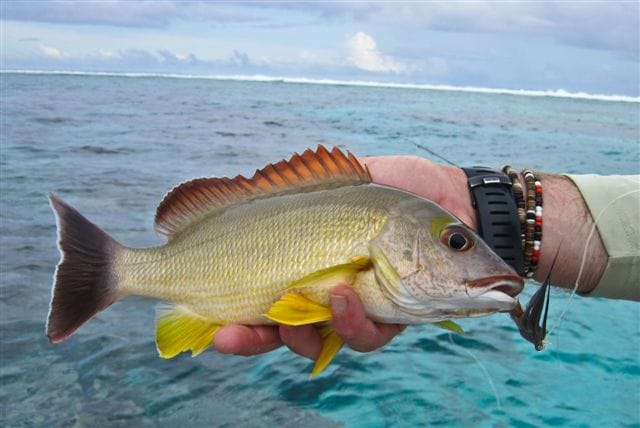 Morning came with the realization that my worst fear had arrived, the heavy grey sky heaved past, with the unfortunate promise of not too distant rain. Rain and wind, two things that are usually best avoided, but when you have travelled half way around the world to be somewhere, well there really isn't much of an alternative… Mike had only a nine weight with him, so after vandalising my Sage 12weight tip section to replace the broken section on my 9 weight, I had another two 12weights set up. One had a floating line with a popper and the other an intermediate with one of my favourite brush flies. It soon became clear that Ian had spent some time exploring this lagoon, as he put us on a good bank of coral out in the deep water and a few casts raised some pretty hefty Brassy Trevally that chased down Mikes fly, but nothing came near my popper. We never connected to anything, but the sight of those coral gangsters had galvanised us and we were definitely a little more optimistic about our prospects despite the impending gloom. Once again, we set off all the way across to the furthest corner of the lagoon, we were keen to try and get a shot at the big bones, but a short walk confirmed for us that it was going to be close to impossible to spot even the really monster bones.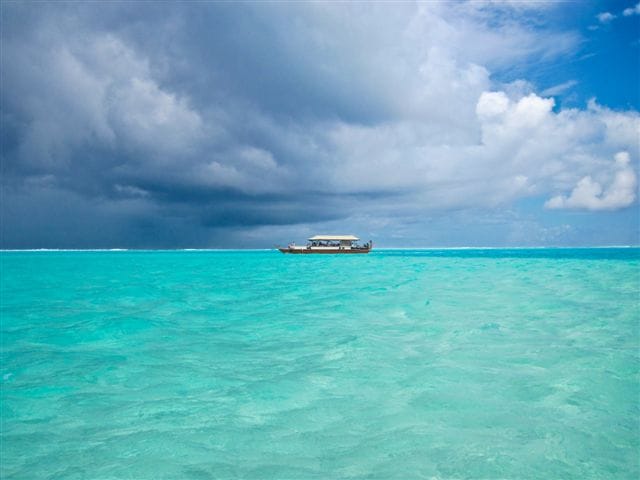 The poor light combined with an angry body of water whipped up by the gusting wind, made for almost impossible sighting conditions. Soon we were back on the boat and cruising along slowly along the coral minefield strip that marked the edge of the reef and separated the now really angry South Pacific from the Aitutaki lagoon. We were on the lookout for the tell tale black shadows of a Giant trevally that was potentially lurking around every coral head. Mike and I traded turns casting the brush fly at coral bommies and I managed a few smallish snapper as well as a decent Peacock grouper from in amongst the coral. It was Mike's turn and up ahead, I made out the unmistakable black shadow of a decent GT guarding a bommie like a dog guards a bone! Mike had quickly gained a reasonable grasp of the nuances of casting a big heavy 12 weight, but the moment he laid eyes on the GT, everything fell apart and before he could loose the line, the GT saw us and streaked away towards the pounding surf! Mike's casting before this, had been fluid and solid, but like so many of us the adrenalin factor slots you right before you NEED to make something happen! I was up, and that first sighting of a GT had me quivering in anticipation!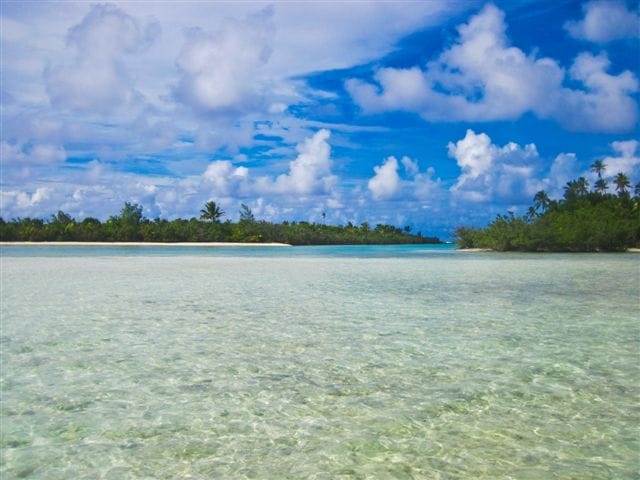 A little while later, suddenly, Ian called out a fish: BIG GT! Incoming! I turned to see where Ian was focussed and milliseconds were all it took to register this big, grey slab of destruction inbound from our '7 o'clock! The fish was only yards away, and four years of training in the GT Mecca of the Seychelles had me respond like an automaton! The fish went from idle to warp speed and time went into slow motion, first smash; the fish inhaled the fly, but my strip set only plucked the GT's would be meal from his mouth! He would have none of that! This time, the fish exploded on the fly and I launched into a "Lets see if I can pull his jaw off" stripset, the fish paused for a moment and then turned and burnt its way away from us! My line shot up off the deck in a blur of chaos, the line had wrapped itself around my large flybox! The box launched vertically, opening up about ten meters above us and rained heavy clousers, poppers and baitfish down into the water and on the boat, a bunch of fly line tore through the eyes only to remove my rod tip on its way out! A second later and this complete cluster was over, with my backing parting with a noise akin to a gun shot! So a Kiwi, an Australian and a South African are out on a boat….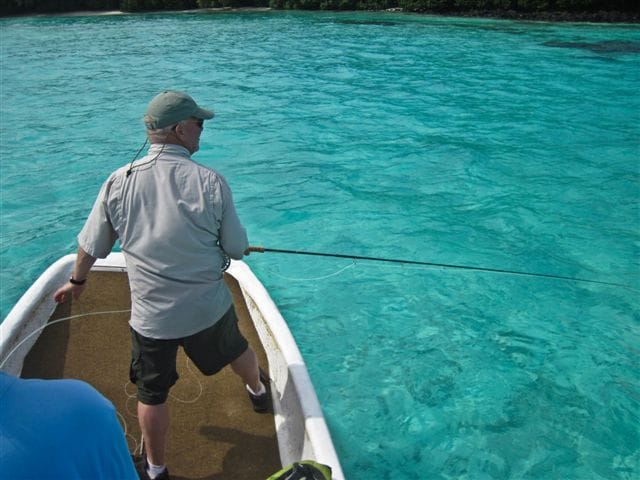 As much as it hurt to know that I had moments before lost a brand new flyline and the business end of my favourite flyrod to a slab of ocean madness, it was quickly apparent that everyone on the boat was in need of some calm, all three of us trembling from the effects of some serious adrenaline! It is often amazing to think that it is moments like these: brief, intense and completely out of control moments, that form the core reason that compel us to travel thousands of miles, in the hope that we may get to see a fish such as this, to insert ourselves into the chaos and attach ourselves to sweet moments of madness! That, once spotted, may be in range long enough to make a cast and that maybe, if things go your way, one may have the fortune of bringing some measure of control to a situation that at the best of times, is a futile exercise of utter mayhem! I knew right then that the discomfort of a 15,000 mile journey had been worth it!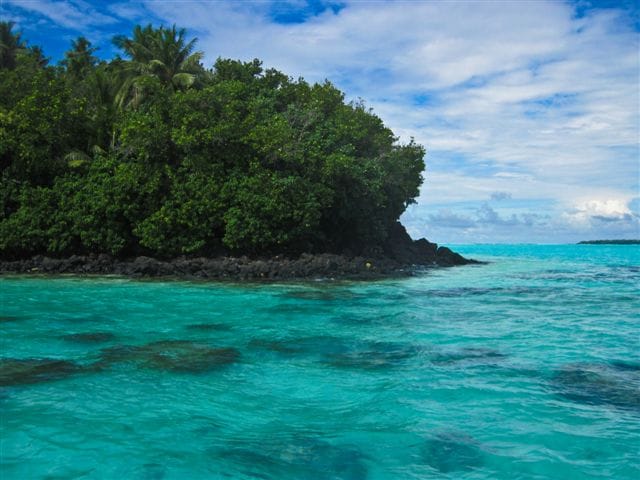 The day had been a mixture of bad light and bad winds, but there were a few periods where the wind died down long enough for us to try our hand and sample the rich blessings available, and although an ominous, brooding, sky signalled the end to a largely fruitless fishing day, that one brief dance of chaos left each of us with the warm glow of satisfaction. Who said fly fishing was only about catching fish? Hours before that, a Kiwi, an Australian and an African were three strangers, and a day on a boat with the hope of trophy fish saw us end the day as if we had known each other our whole lives. Of course it could have ended entirely differently had one of us been careless enough to bring up rugby, or politics, or maybe religion. Such was the fullness of the experience shared out on a lagoon in a tropical paradise! Mike was flying out the next day, so we shared a last meal, again at the Boat Shed, and then wobbled back to our chalets much later in the evening to dream of monster GT's, island girls and other most critical aspects of existence.
I woke up early as usual, but this time it was a little bit tough to get motivated. The wind and rain had not let up and the wind had actually intensified! Breakfast at Koru café, which also displays local art and various other wares, was exceptional as usual, a family run business where every meal is obviously crafted with a measure of love, in fact the café itself is an extension of the family home. This allows the owners to keep an eye on their two young ones as they run riot, while looking after the needs of their customers.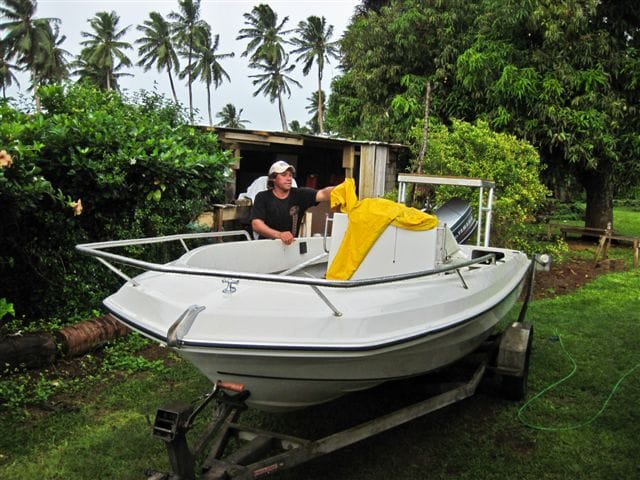 I met Itu Davey a short while later, and it soon became apparent that the day was going to be a tough one. Itu is an islander whose entire life has been based on Aitutaki. Before becoming a guide, Itu was one of the more successful bonefish netters on the island, and I am sure a lifetime studying the movements and cycles of bonefish within Aitutaki Lagoon for netting is exactly the reason he now has a successful fishing business that also employs his two brothers. He is a quiet man with a warm, gentle nature and his enthusiasm for fly fishing is quickly apparent. Grey skies meant that sight fishing was going to be tough to say the least, so Itu decided that we would try a half day wading the flats. The morning proved tough, with a few large fish seen, unfortunately the high winds had stirred up sediment in the shallows, so even though it was reasonably easy to spot a fish as it tailed in the knee deep water, it proved difficult to get the bones to see the fly, and my efforts there resulted in a few small bluefin trevally and a nice greenspot trevally as well as two puffer fish! After an hour or so Itu decided that we needed a change of venue, so we headed off to hitch up his trailer and take his skiff down to the harbour to try our luck on what is known as the town flats. Itu's timing was perfect, we crossed the channel to the flat and it was clear that the water had recently started to push back onto the flats, bringing some hungry bonefish with it.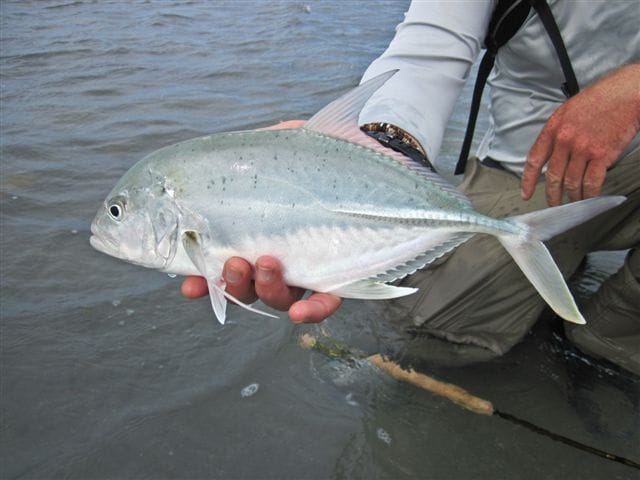 Itu spotted the first fish and my cast proved true, the fly landed and a handsome 9lb bonefish came over in a hurry and scoffed my fly! As luck would have it, the rain decided to belt down at the same time that I hooked my fish. We made our way slowly around the flat, straining in the gloom to make out fish. I covered another five bones on this flat, but none of the others responded positively. After a short while it became obvious that conditions were simply becoming impossible to fish for bones, so Itu decided to take me out and try out a few coral bommies that he knew traditionally held the possibility of trevally. The wind however, would not relent so I decided to call it a day. The following day was no better and we both decided to give it a miss in the hope that the weather would improve the following day. I spent the day tying flies, there being no point in going outdoors since the wind and rain belted down the whole day.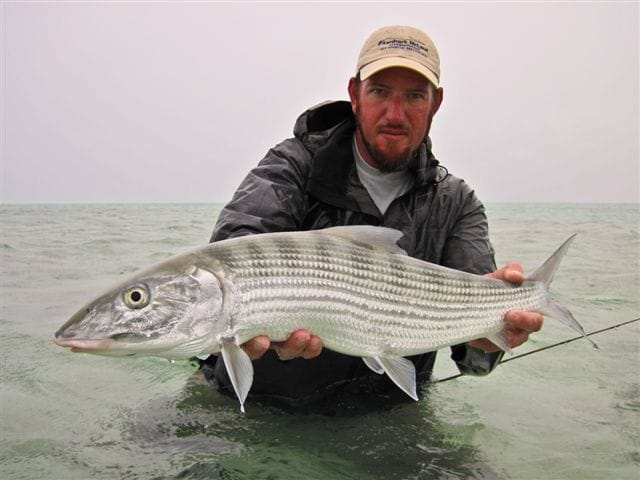 I awoke the following day to more of the same, only the rain had stopped and there were a few small patches of blue sky appearing every now and then. The wind was still blowing hard, and it was somewhat disappointing since I had heard a lot about Itu's spotting abilities. Itu has an interesting approach to the bonefishing at Aitutaki, he has done very well with even beginner level fishers on some hefty fish. If conditions prove too difficult to sight fish, Itu will go out into the deeper areas of the lagoon and look for what he calls milkwater. Milkwater is an area of the deep flats where huge shoals of bonefish can be found feeding, their feeding disturbance stirs up the bottom sediment enough to form areas sometimes the size of a football field of this milky water. Itu employs a drogue to slow down the drift of his skiff and guests use sinking lines and heavy flies to get down amongst the feeding fish. It quickly became apparent how effective it is to slowly drift through these mudding fish, keeping contact with your fly as it moves slowly along the bottom.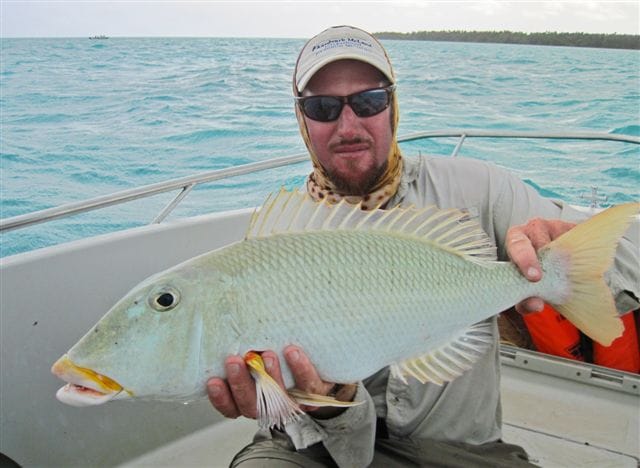 The results were immediate, and I connected with a few good fish in quick succession, including some really respectable brassy and yellowspot trevally. I caught a few small bones as well and it was interesting to hear from Itu that none of the juvenile fish ever make their way onto the shallow flats. A few hours later, the sun broke through, so we decided to take advantage and try some sight fishing on the flats. The brief respite in weather had done nothing to improve the behaviour of the bonefish, and even though I covered a lot of fish and had my heart in my mouth on a few, it was painfully apparent that these fish were not in a feeding mood. I did manage one good fish though, and ended up with six bonefish for the day. Itu's best tally is fourteen fish, including three fish between 12lb and 14lb!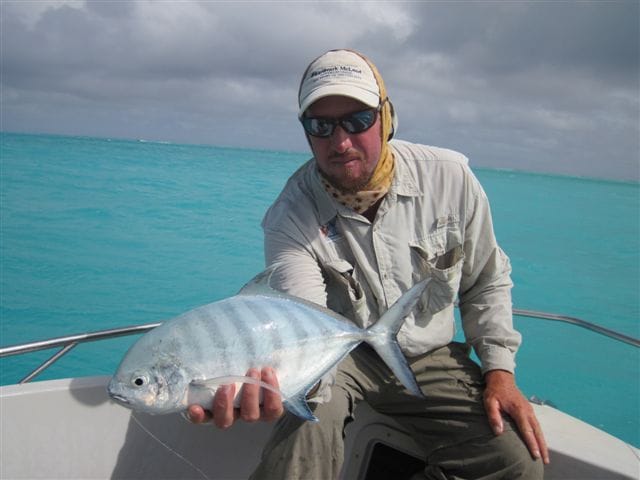 I was a little disappointed to realise I was at the end of my stay, and was yet to land a double figure fish. Itu let me know that the best months at Aitutaki for targeting the Bones are August, September and October. It was apparent that the temperature in the lagoon plays a big role in the Bonefish behaviour. Itu uses popping gear to tease up some big GT's, so there is always the chance to hook up to a real monster! The best months to target the Giant Trevally is January and February, when large numbers of baitfish move into the lagoon. If the weather is settled it is possible to go out the lagoon and target all manner of awesome species behind the surf! This was something that I was desperate to explore but unfortunately the sea was very rough when I arrived and only got worse. I had a mornings fishing left ahead of me, so it was an early dinner and then off to bed.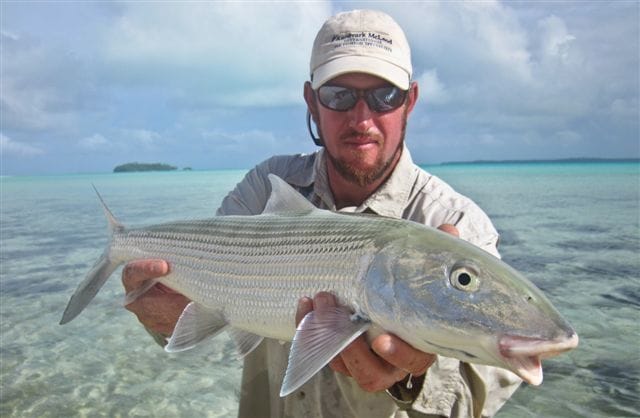 My final morning was suddenly upon me, and I could see that at least the sun was actually going to pay a visit, even though the wind continued to blow really hard. Breakfast at Koru Café and I set off on my scooter a short way to a nice protected flat. As the sun climbed, I could see that this flat held promise, a nice expanse of calm water meant that I might actually be able to spot fish this time! I made my way out slowly and deliberately, taking maximum care with each step. The sandy bottom was difficult to wade as it was pock marked all over with some deep holes and one bad foot placement could spell disaster if I should suddenly slip. A bad footfall would send out a shock wave and guaranteed any bonefish on the flat would respond negatively. I scanned the flat with a slow intense stare, hoping to pick up the distinct barred dorsal surface of a bonefish, or maybe a tail fin waving gentle and brief. Close to the shore, under some drooping coconut leaves, was a magnificent specimen. It tilted upwards with a confident arch, then paused, then slowly arched its back out of the water once again, confident and unhurried. My heartbeat started to hurry. Again, you could have fit a trophy something in the space between its tail and its dorsal fins and I wanted this one bad! I needed to be closer, each step became an event of precise planning and careful execution. I was in range, my line shot out cautiously, this time a few extra false casts so that I could be certain of my target zone, and then off it launched. My fly sailed true and landed as I had hoped. The bonefish didn't budge. It stayed put, continuing to feed as if it was the only thing in existence. I dared not move my line for fear of ending this dance before the first note had even played out. A minute went by. Two. Three. The fish stayed exactly where it was when I cast, tilting forward every now and again as if it was trying to excavate through to some shrimps in Africa. I dared not move though. My fly sat on the bottom exactly three feet ahead of this enormous bonefish and it might as well have not existed. At the moment I decided that I might have to risk everything and slap the fly back down this time right in front of its nose, the fish suddenly moved forward and every nerve ending in my body was tweaked in anticipation. The Bonefish swam right over my perfect imitation as if it did not exist! Unbelievable! Once the bonefish past, I strip it out intently, waiting for the fish to stop and tail once more. The fish stopped in the shadow of a coconut palm and tailed, giving me my opportunity to lay the fly up ahead. It was on the move this time, and I decided to tweak my fly the moment the fish had it in its line of sight. This Bonefish had nerve! It continued on over and past my fly once again. Panic took over now because I knew a fly change was obviously in order, but the fish was moving fast now, tilting up every few yards to inhale some poor food item. I had no option, loosing a long cast out this time to the right of its path. The fish turned! It had seen the fly!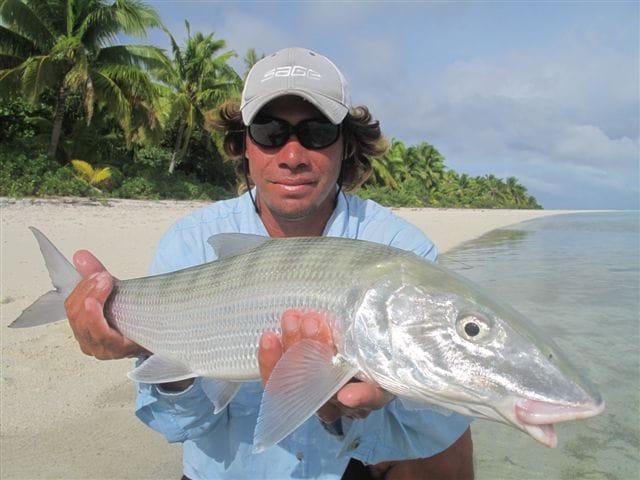 So had a palm sized buefin trevally. The bonefish closed in from the left and the bluefin beat him to the fly from the right. The moment the Trevally stopped on my fly, the bonefish exploded into a warp speed exit from the flats. I never set the hook, I stood there and stared out after my trophy, left only with the milky stripe caused by the bonefish's tail as it streaked away off the flats, almost like the jet stream of a high altitude plane. As my heart slowed down, all I could think of was a line I had used on countless occasions with my guests in the Seychelles: "it is not usually the fish that you catch that brings you back to a place, but the ones you don't!" As I made my way back to my scooter with the impending finality of packing up gear looming, I knew one thing for sure: I need to come back!