The Goodnews River Lodge is that rare find in the Alaskan fishing world. It is the only full service lodge located on the Goodnews River, a three branch wilderness river system about 450 miles from Anchorage, at the edge of the Togiak National Wilderness Reserve and flowing into the Bering Sea in southwest Alaska.
Being the only Lodge on the Goodnews River assures a minimum of fishing pressure. If you have fished some of the more famous rivers in Alaska, you know you have to compete for the best spots on the river with other Lodges. Not here. The only other anglers you are likely to see are your camp mates.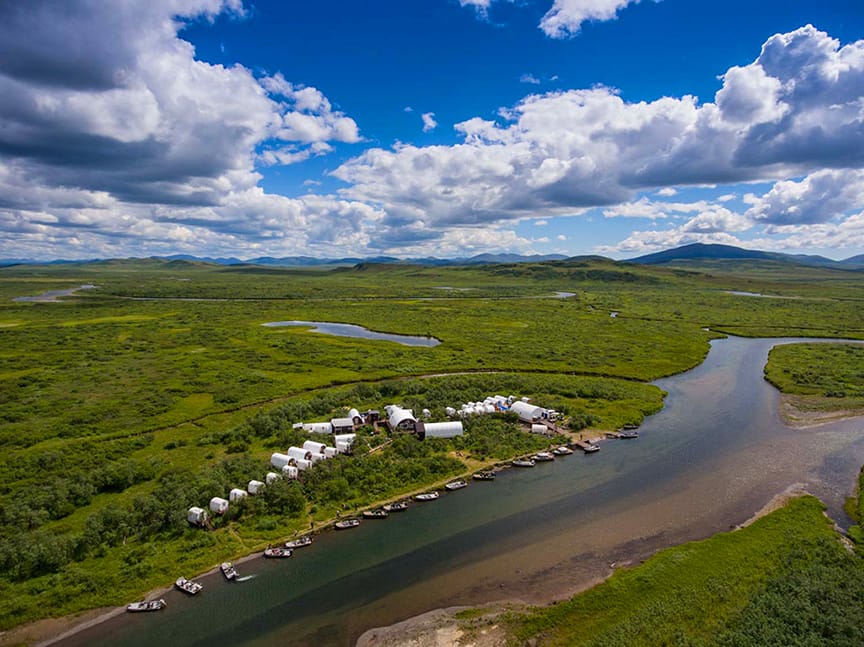 The Goodnews River boasts outstanding runs of all five species of Pacific salmon, sea run dolly varden, and resident leopard rainbow trout and grayling. The lodge is a fixed camp on the banks of the main branch just above tidewater, and is not a fly out Lodge, so weather is rarely an issue. There is access to over 490 miles of fishable water via a fleet of high speed jet boats.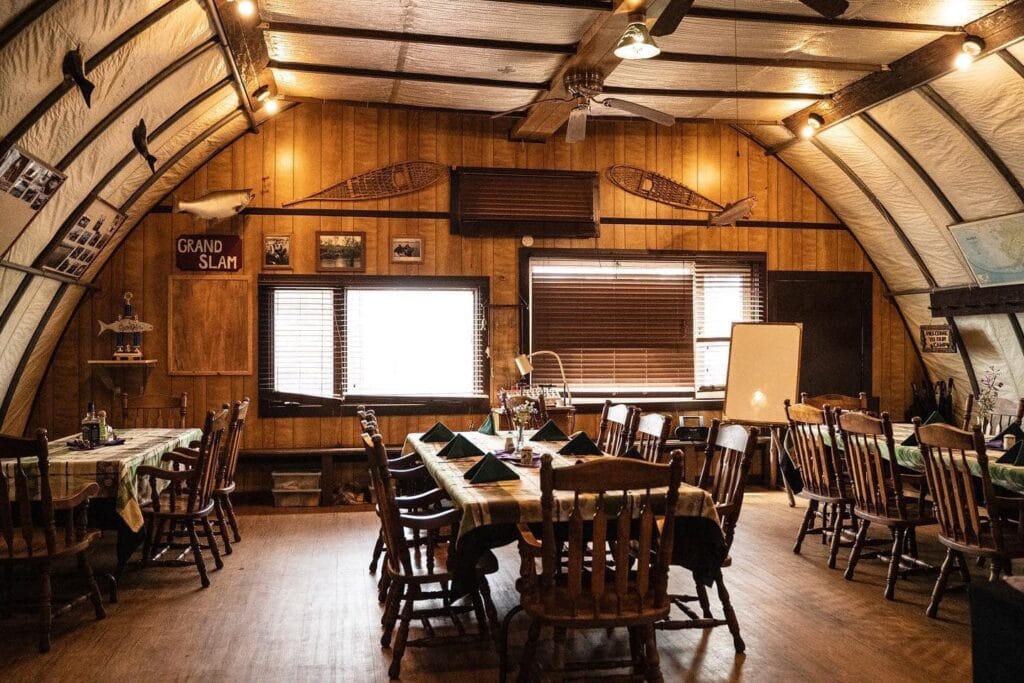 Each pair of Guests will now be accommodated in spacious high tech, heated, elevated Weatherport cabins with porch, door, and windows, and includes a private bath and shower. (Single rooms are available on request). There is a heated drying room for waders and fishing gear so they are dry and ready for the next day's fishing. Gourmet meals are served in the dining hall, and after dinner guests can relax in the recreation hall after a long day of fishing.
The Fishing Day
The Goodnews River Lodge power and lights turns on at 0530 each day. Coffee is available for the early riser at 0600. A Breakfast Buffet including eggs to order is served family style at 0700. At that time you will also make a sandwich for lunch or decide to come back to the Lodge for lunch. You will also be offered a choice of entrees for dinner that evening, including the option of fresh fish.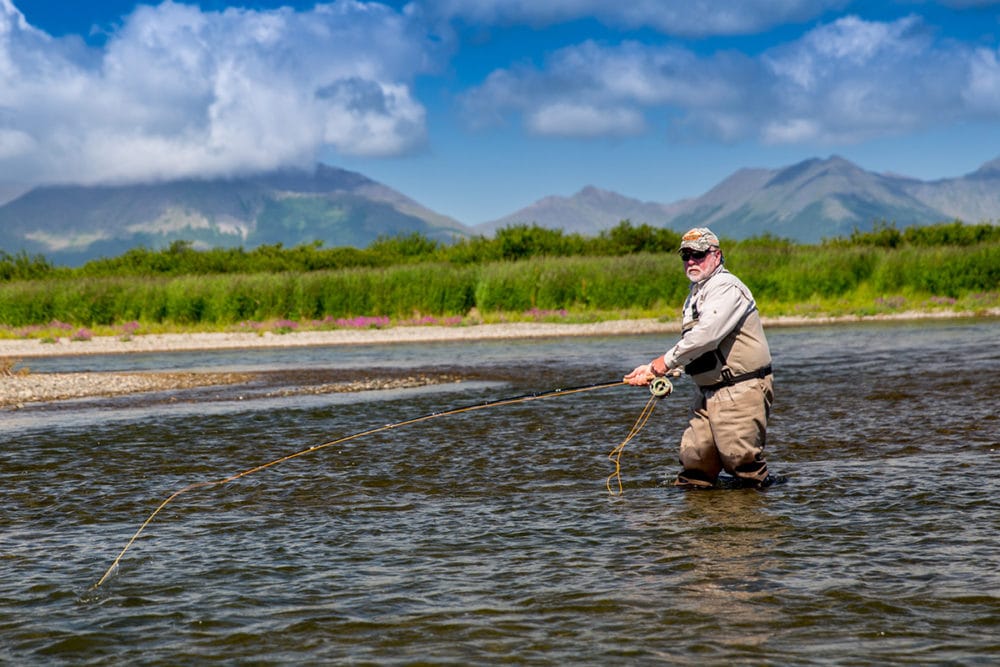 Boats leave the Lodge at 0815 and return at 1730. Appetizers are ready at 1830, followed by dinner at 1700. Guides are assigned each evening after dinner for the next day's fishing as we like our guests to fish with a different guide each day to take advantage of that guide's knowledge of the river. Both angler and guide then have a chance to discuss what it is they want to fish for the next day, make sure the proper gear is ready. And, if you would like a Shore Lunch the next day, this is the time to order it. Then, it is time to relax in the recreation hall, or sample the outstanding fishing available right out in front of the lodge. Lights out at 2230 for a good night's sleep.
The Fishing Calendar
As you know, run timing is very important to any successful Alaskan fishing adventure. The 2023 season at Goodnews River Lodge begins the week of 19-26 June , with the arrival of the mighty king salmon, along with outstanding fishing for rainbow trout and grayling. Kings on the Goodnews typically average 20-25 lbs with many fish caught that weigh upwards of 40 lbs. Fly anglers can expect 10 or more hookups per day. These fish, like all the salmon fished for on the river, will be chrome bright and fresh from the Bering Sea, many still sporting sea lice.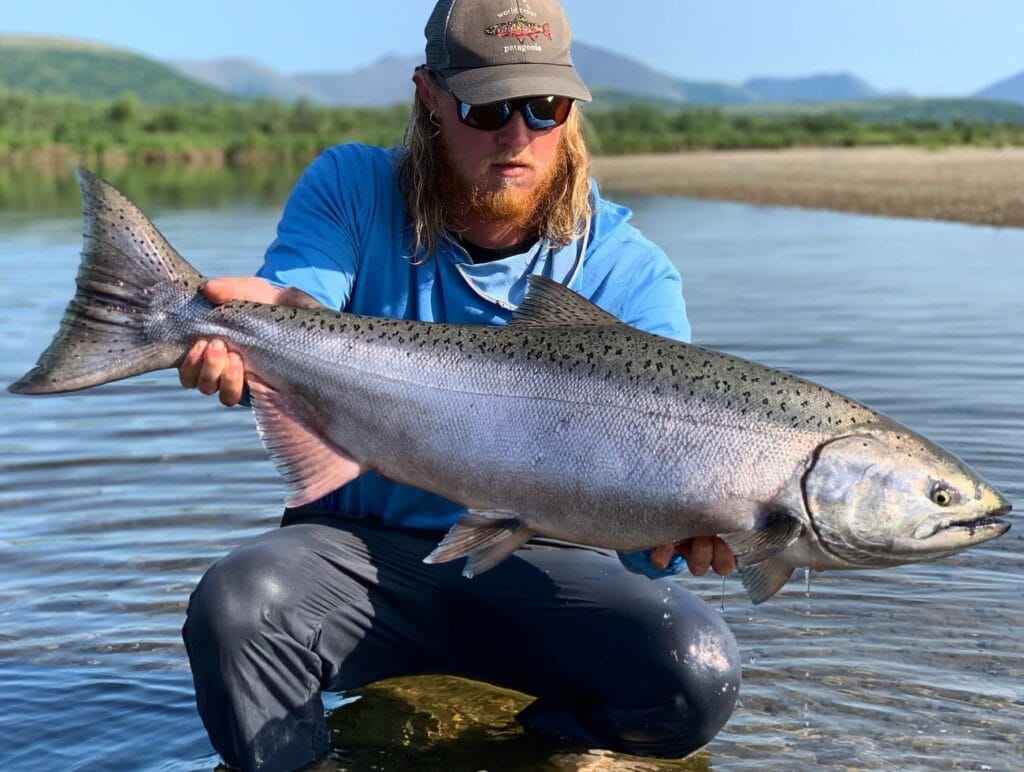 In addition to the kings, thousands of feisty chum and sockeye salmon move into river in early July, and anglers who target chums can easily catch 25 or more a day. When the chums are this thick, they have been known to eat poppers off the surface with gusto, just like Silvers.
Our resident population of rainbow trout are hungry after a long winter, and will be following the salmon as they move upriver, and respond well to streamers. When the water temperature hits 48 degrees Fahrenheit, they will eat a deer hair mouse skated across the surface. Rainbows are targeted in the upriver sections of the North Fork, Middle Fork and the South Forks of the river, as well as numerous creeks and braids.
Mid-July brings the arrival of sea run dolly varden. Cousin to the brook trout, this is the time when some of the largest dollys of the year are caught, up to 30". The "Grand Slam" season hits its peak the weeks of 27 July to 3 August. It is quite an accomplishment for an angler to land all five species of Pacific salmon on fly in one day, and the Goodnews River is one of the few rivers in Alaska where that is possible.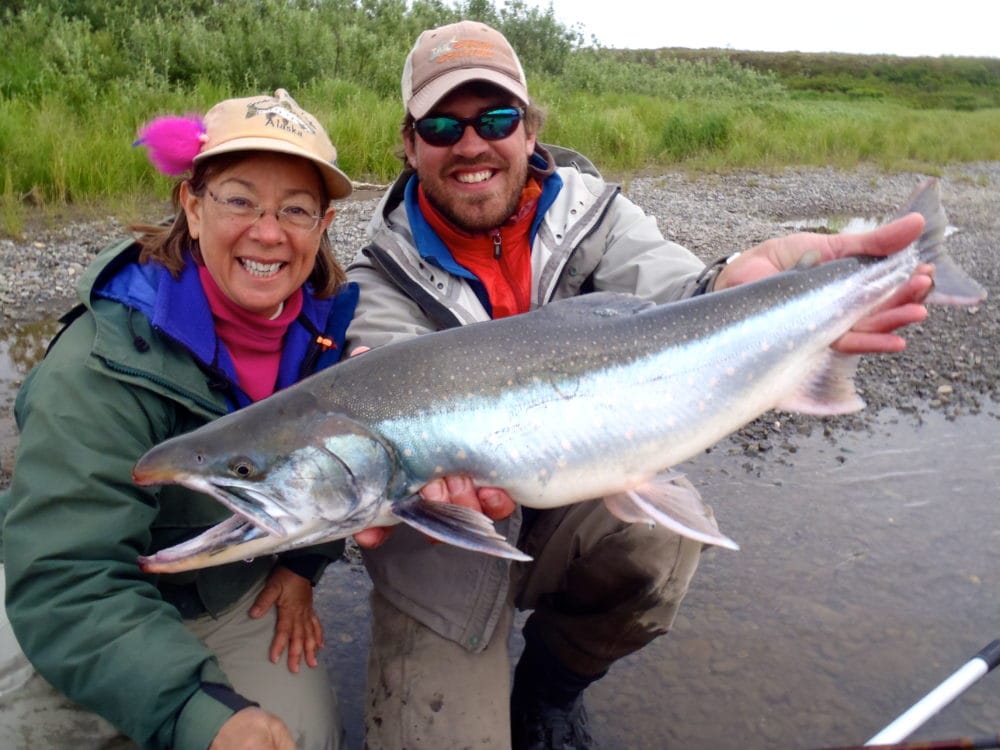 Goodnews River Lodge are best known for their outstanding silver salmon run, very similar to Atlantic salmon. The first silver is usually caught around mid-July, and fresh silvers just keep pouring in until long after the camp closes on 9 September. Averaging 10-12 lbs, these chrome bright fish will take a streamer very aggressively, but fishing for them on the surface is the way to go. 40-50 fish days are the norm in August, and if you can handle more, they are there for the catching.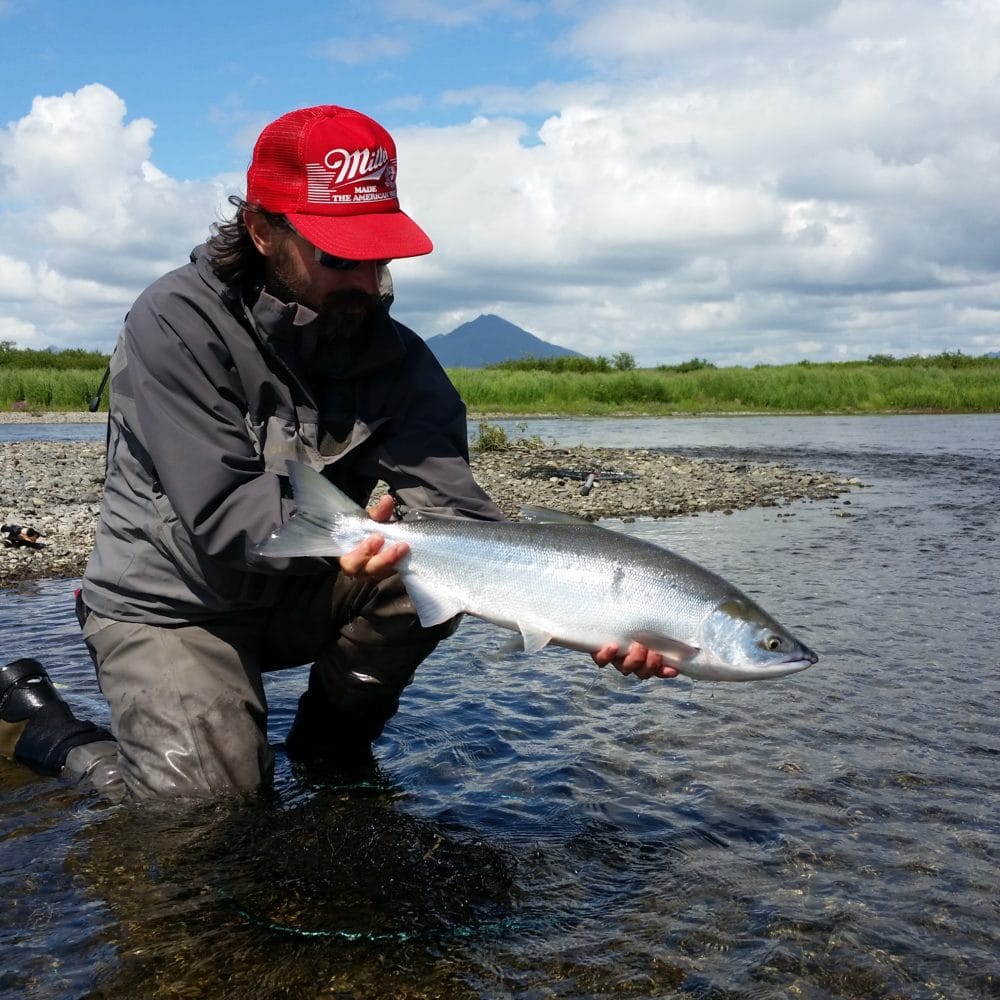 Rainbows and dollys are easy to find upriver as they feast on the banquet of salmon eggs deposited by the spawning Chum and Sockeye. This is "Match-the-Hatch-Alaska Style" time of the year when beads will take the most fish, but they also respond well to a Mouse skated over the spawners. It's really hard to beat a day of silvers in the morning, and then rainbows and dollys in the afternoon.
2024 Season Rate and Availability
19 to 26 June: US$7,995 per person (Kings, rainbows, grayling, chums, sockeye)
26 June to 3 July: US$7,995 per person (Kings, chum, sockeye, rainbows, dolly varden)
3 to 10 July: US$7,995 per person (Kings, dolly varden, chum, sockeye, rainbows)
10 to 17 July: US$7,995 per person (Kings, dolly varden, chums, sockeye, rainbows)
17 to 24 July: US$7,995 per person (Grand Slam, kings, rainbows, dolly varden)
24 to 31 July: Kids week – US$8,200 per person (Grand Slam, rainbows, dolly varden, silvers)
31 July to 7 August: US$8,995 per person (Silvers, rainbows, dolly varden, Grand Slam)
7 to 14 August: US$8,995 per person (Silvers, rainbows, dolly varden)
14 to 21 August: US$8,995 per person (Silvers, rainbows, dolly varden)
21 to 28 August: Sold Out
28 August to 4 September: US$8,995 per person (Silvers, rainbows) – Cast and Blast week option available.
4 to 11 September: US$8,200 per person (Silvers, rainbows) – Cast and Blast week option available.
Pricing for all 2024 weeks will now include a deluxe, ensuite cabin for every two anglers at no additional cost. Requests for single accommodations will be handled as available in one of the original cabins.
Round trip private Charter air transportation to and from Anchorage and Goodnews Bay of $1,375 per person, and a Native Land Use Fee of $120 per person are not included in the above pricing.
Under 16 Special Offer:
Kids Kast and Katch Week, 24 to 31 July. To help welcome future anglers to Alaska and salmon fishing. Each fully paying Adult this week can bring along a child aged under 16 for only US$3,500 per child including charter fare. ( Native Fee additional). Children can learn to fish, tie flies and participate in lots more activities.
Cast and Blast Option:
The Alaskan waterfowl season opens on the 1st September, therefore the last two weeks of the season offer a Cast and Blast option. On those days you can hunt Duck at dawn, then come in for breakfast, and fish for Silvers and Rainbows for the rest of the day. If you would like more details and pricing on this please do let us know.
For more information about Goodnews River Lodge or Alaska in general please contact Peter McLeod or Alex Jardine, alternatively you can call our office on +44(0)1980 847389.