Fly fishing in Alaska is a fantastic experience with a huge amount of variety in terms of species to target but also accommodation options. There really is a lodge for everyone up here whether you are a seasoned salmon fly fisher or looking to dabble your toes into fly fishing travel. Many anglers have fallen into the trap of thinking that because there are no Atlantic salmon that they would rather not travel to Alaska, but they are missing out on some thrilling fishing.
Although only a very short season, each month offers a completely different experience. In the early weeks you will target Chinook (King) salmon, the largest of all the Pacific salmon and a fish with unrivaled strength in these waters. As a comparison the Chinook run can be likened to the bigger multi sea winter fish we see running the Norwegian or Russian rivers, often reaching over 40 lbs. Silver salmon start running in August and push right through until early September. Alongside these two Alaska offers a multitude of species running the rivers to spawn, these include the other three salmon species; Chum (Dog), Sockeye (Red), and pink (Humpy) salmon.In addition to the Pacific salmon there are rainbow trout, Arctic grayling, Arctic char, dolly varden, northern pike and lake trout. It is the freshwater equivalent of flats fishing with variety being the spice of life.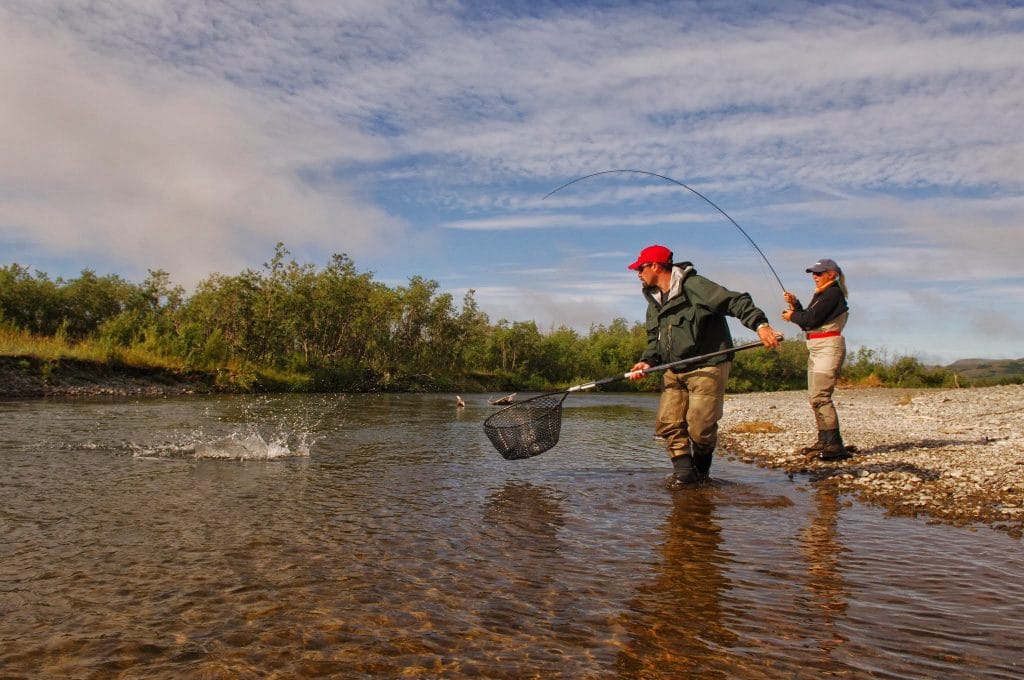 This is the perfect starting place for a first time visit to Alaska. An extremely homely lodge, fantastic guide team and a set programme that rotates you through a myriad of different rivers, each one offering a different experience and most offering different species to target. A great place for complete beginners through to experienced anglers alike – they really do have something for everyone. Fly outs are included in the schedule and waters near and far are explored, the week stay also includes two comfortable campout nights which offer a true wilderness experience. The fishing options from the lodge and its camps are seemingly endless, with a myriad of rivers and waterways brimming with Pacific salmon species, rainbow trout, grayling and dolly varden. Each day anglers are transported to their fishing by boat or immaculately maintained De Havilland Beaver float planes, both offering an wonderful and different perspective of the Alaskan wilderness.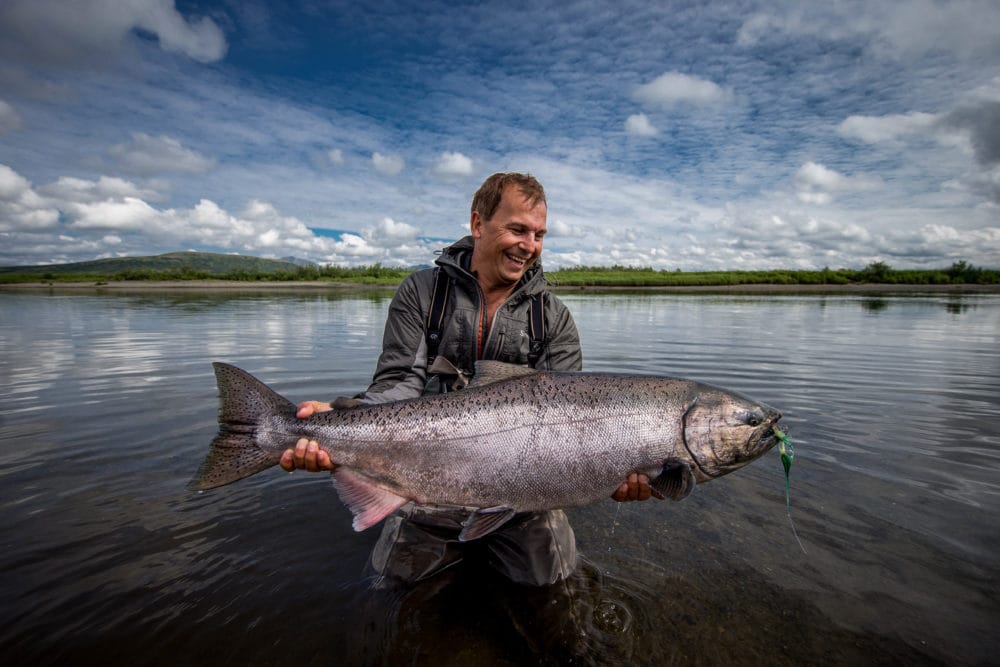 Is that rare find in the Alaskan fishing world. It is the only full service lodge located on the Goodnews River, a three branch wilderness river system about 450 miles from Anchorage, at the edge of the Togiak National Wilderness Reserve and flowing into the Bering Sea in southwest Alaska. Being the only Lodge on the Goodnews River assures a minimum of fishing pressure. If you have fished some of the more famous Rivers in Alaska, you know you have to compete for the best spots on the river with other Lodges. Not here. The only other anglers you are likely to see are your camp mates. The River boasts outstanding runs of all five species of Pacific salmon, sea run dolly varden, and resident leopard rainbow trout and grayling. The Lodge is a fixed camp on the banks of the main branch just above tidewater, and is not a fly out Lodge, so weather is rarely an issue. There is access to over 490 miles of fishable water via a fleet of high speed jet boats. Each pair of Guests will now be accommodated in spacious high tech, heated, elevated Weatherport cabins with porch, door, and windows, and includes a private bath and shower. (Any request for a single accommodation will be handled in one of our original Weatherports without a bathroom as available). There is a bath house with six bathrooms, each with hot shower, sink and toilet, and a heated drying room for waders and fishing gear so they are dry and ready for the next day's fishing. Gourmet meals are served in our Dining Hall, and after dinner guests can relax in our Recreation Hall after a long day of fishing.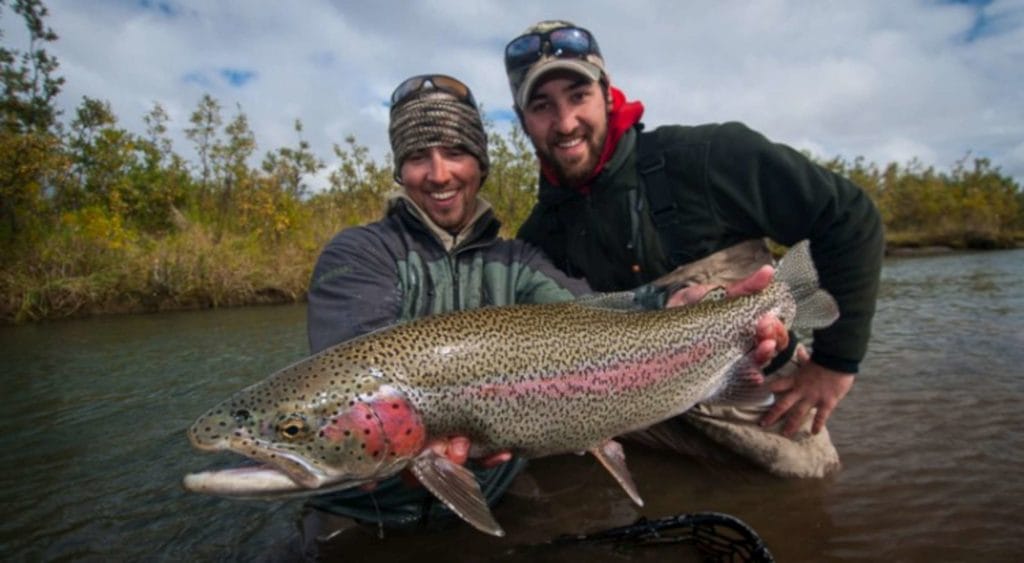 Alaska West is undeniably one of the best destinations in the world for the sheer abundance and variety of Pacific salmon species. Focusing on the Kanektok River, anglers are taken out each day by their guide in pairs using a fleet of 18 foot jet powered skiffs. The fishing on the river varies throughout the season; early June is prime time fishing for King Salmon, mid-season offers the fisherman an excellent chance for a grand slam (all five salmon species) and later in the season fly fishing for trout. The rainbows, dollies and grayling are always present in the river and make for excellent fishing throughout the season. An extended run of sockeye, chums and pinks guarantees that all weeks will have good runs of sea run fish. This remote operation is classified as a 'deluxe tent lodge'. You sleep in very comfortable and spacious tents (two anglers per tent) – the tents are heated (when required) and the floors are wooden and carpet covered.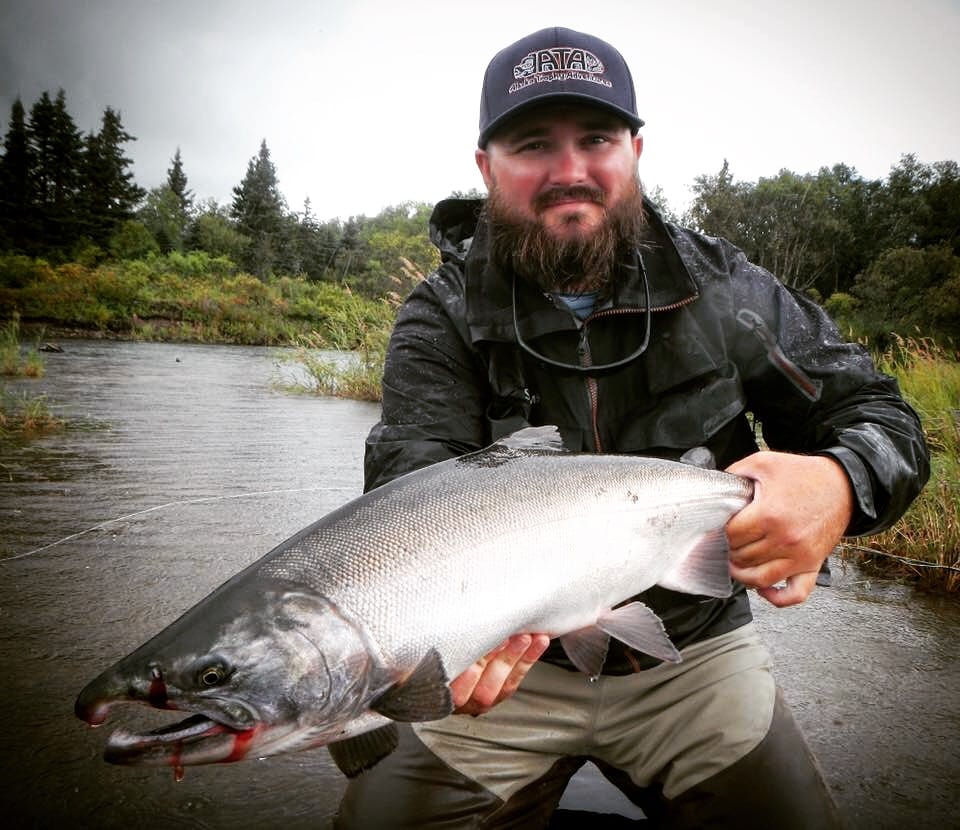 Boasting a world-famous run of all five species of Pacific salmon with the salmon season starting at the end of June, peaking through July and August. With much more to offer, the Alagnak is also home to a host of resident fish, such as leopard and rainbow trout, arctic char and grayling. This prestigious river is located within the Katmai National Park, with its headwaters in the surrounding mountains and drains into Bristol Bay.  Also known as "The Branch River" , the Alagnak's seemingly endless braids can turn 10 miles of river into 30 miles of fishable water. With such exclusive river access, you are sure not to be bothered by any crowds and if you really want to get away from it all, why not opt for a fly out or raft trip; an unparalleled opportunity to fish and truly experience the remoteness of the location.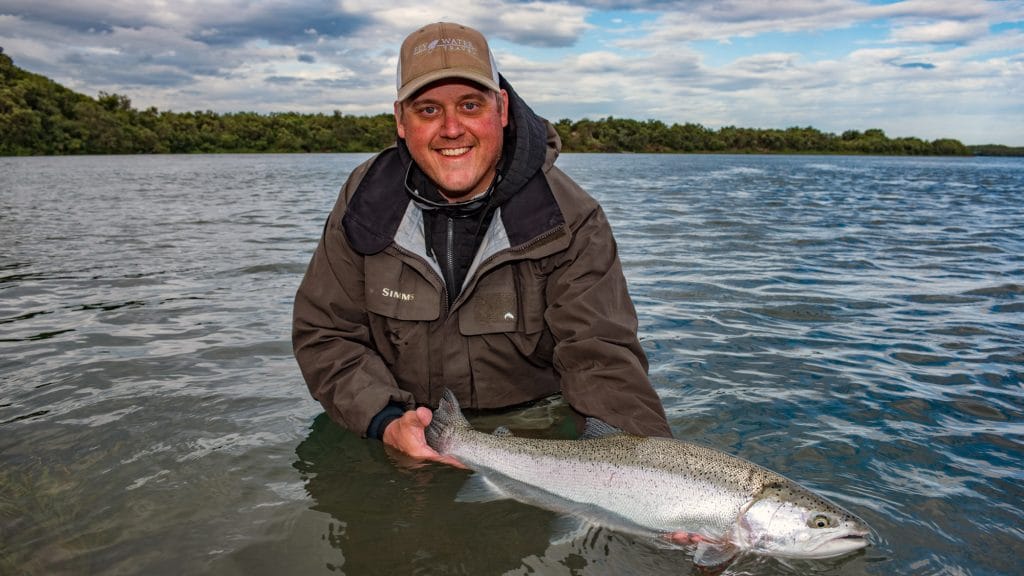 A lodge where you call the shots on a daily basis. Fish on the Naknek river immediately in front of the lodge – it produces some huge rainbow trout. Alternatively, fly out to a remote river where you get that true feeling of exploration and escaping civilisation. Several float planes are ready to take you on your journey. Your daily schedule is planned and discussed in detail to make sure you target what you want to target on a daily basis. In addition, they also have a halibut fishing operation for those looking for something different; these have even been caught on the fly! A really relaxed, informal lodge. A perfect opportunity for a family trip. When guests are not on the water they can relax in the comfortable and welcoming lodge, with great views over the river. The lodge can accommodate up to 20 guests, there are eight spacious double occupancy rooms each featuring a private bathroom and a two-bedroom house. The main "social area" is the lounge, bar, and common area. This area is the epicentre of social activity, where guests gather to enjoy a drink from the bar and talk about their day of fishing. There is also a screened porch area attached to the great room. Rapids Camp Lodge keeps a full-time masseuse on-site throughout the week. If you are looking for more than a great fishing trip, Rapids Camp also offer glacier and volcano flight-seeing, bear and wildlife viewing, clam digging and eco-tourism activities.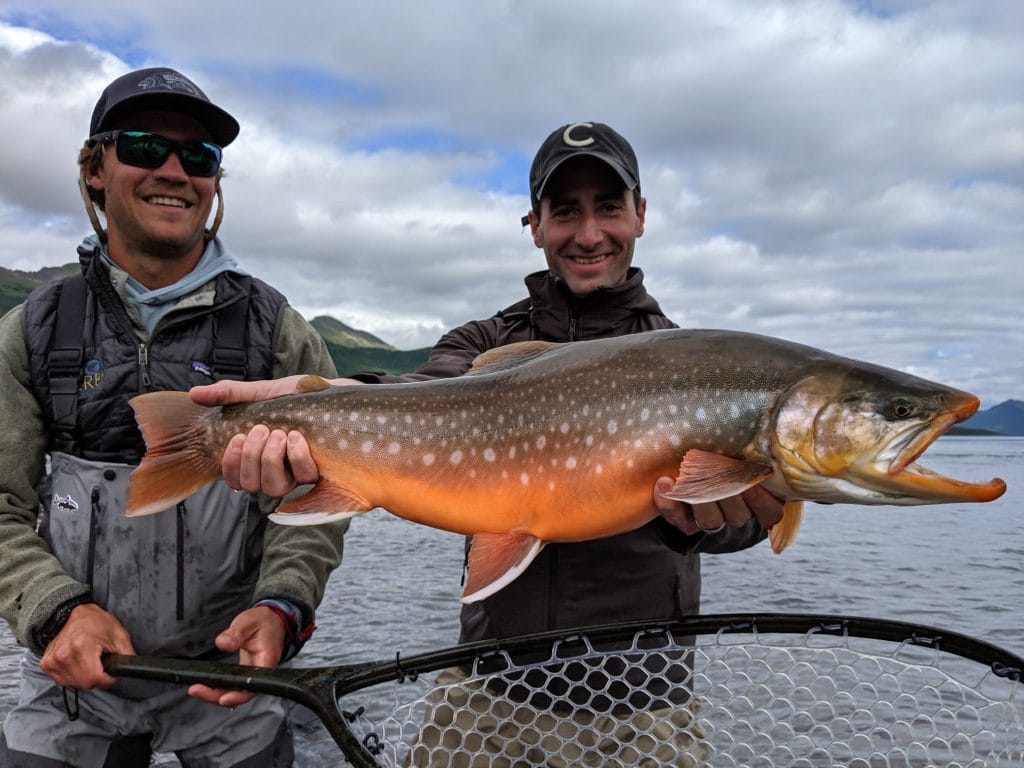 Located very near Bristol Bay Lodge but offering a very different experience. Mission is a very large lodge with all the mod-cons. This is probably the fanciest lodge you can visit in Alaska whilst still having access to prime fishing, which, of course, is still their main focus. They have access to a huge variety of waters and the schedule is dictated by you – you call the shots on what you target and where you fish on a daily basis. Best of all, this totally flexible itinerary comes at no extra cost; the daily fly-outs are included in the package cost. The perfect choice for those that like their creature comforts and for smaller parties.
Kulik Lodge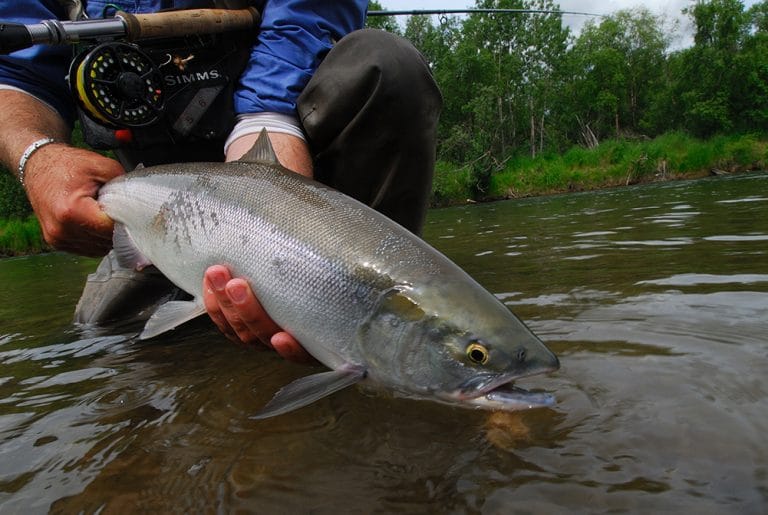 Kulik Lodge has provided anglers with the finest Alaskan freshwater sportfishing available since 1950. The lodge is situated on the banks of the Kulik River, one of the top trout rivers in the world. It is the only operation located on the river, which means that the home waters are the same waters that many of the area's other high-end lodges fly in and out of each day. Choose daily fly-outs, fish the home waters, or create your own schedule that allows you to enjoy the comfortable accommodations, excellent amenities, and untouched wilderness that surrounds you. With numerous aircraft, experienced pilots, professional guides, and access to the famous rivers in Bristol Bay, Kulik provides fishing that is out of this world. This is a fantastic lodge for targeting wild rainbow trout, they do also access the Nushagak River for king salmon. The 'Nush' has one of the biggest runs of kings in Alaska and it is possible to fly fish for them but a lot of anglers typically fish conventional gear as the fish are holding in deeper areas of the river.
For more details on fishing in Alaska please do not hesitate to contact Peter McLeod or Alex Jardine or call our office on +44(0)1980 847389.