Alaska Trophy and Adventure Lodge – special offers
Alaska Trophy and Adventure Lodge (ATA Lodge), a lodge that is both family owned and run, sits with Alaska's Katmai National Park. On the Alaknak River, the property sits with 160 acres of land and with over 60 miles of water that is exclusive to the lodge.
23 – 30 July 2017, save $1,000 on a king salmon week
Due to a late cancellation in King Salmon fishing week of July 23-30, $1,000 has been deduced off the normal published price of $5,295 brining it down to only $4,295. There are only a handful of places available for this week and it is a fantastic offer. This is the best time to have a chance at these Chinook Salmon on a swung fly, sight fished in crystal clear waters with either a single or double handed rod.
11 days for the price of 7 in 8-18 June 2017
As opening day falls mid-week, ATA Lodge are throwing the first few days in for free and basing their prices on the lowest priced lodge based package available. That is 11 days for only $4,995.00.   This is prime leopard rainbow trout time and very good for grayling as well as the possibility for some dollys, lake trout and pike.  Dry fly fishing is very good at the time and you can catch trout (and grayling!) on skated mouse patterns for which the Alagnak River is famous.   For groups of 3 sharing, we can combine this deal with the following 3 for the Price of 2 Deal described next.
3 for the price of 2 in June, August and September 2017
This offer is based on ATA Lodge's lowest priced package of $4,995 per person. If 3 people share a cabin, boat and guide, you only pay for 2 places which works out at $3,330 per person.  This is an amazing value for Bristol Bay fishing of this quality and the deal is on offer in June, August and September which are prime weeks for trout and grayling (all of June and from mid Aug-Sept), the huge chum salmon run (early – mid August) and the silver salmon (coho) run (mid-Aug through mid-Sept).
Last Minute "Bed Filler" Offer in 2017
If you do not have 3 people in your party but would still like to benefit from a "Last Minute Special Offer" this season (2017), should we still have availability during any week in June, August or September, ATA lodge will be willing to apply their "Bed Filler Offer" for the price of $3,850 per person.  That is over $1,400 off their normal prices for a 7 day/night package.
Please contact Steffan Jones for more details. Alternatively call the office on to +44(0)1980 847389 for more details.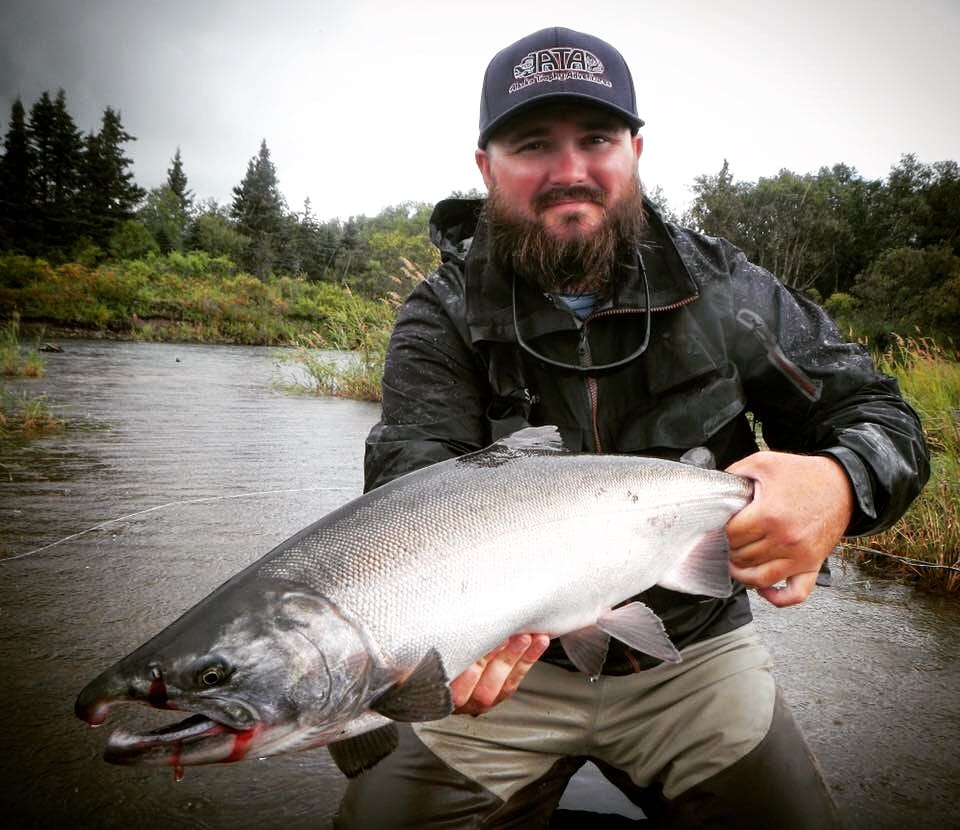 What's included in these deals?
1)  Sunday to Sunday stay in one of a cabin or chalet
2)  6 days of guided fishing by jet boat
3)  All meals during your stay
4)  All tackle if needed (rods, reels, lines, etc).
5)  Transfer from King Salmon Airport to Air Taxi Charter Flight to ATA Lodge
What's not included in these deals?
1)  Air travel from your home to King Salmon as well as other expenses en route (hotels, meals, transfers, etc)
2)  Round trip Air Taxi Charter flight from the town of King Salmon to ATA Lodge – $300 per person round trip – which we will arrange once we know arrival and departure times in to/ out of King Salmon.  We ask clients arrive in King Salmon by 10 am on the Sunday of their arrival and depart King Salmon after 3 pm the following Sunday.
3)  Bed Tax and National Park User Fee – $147 per person per week ($21 per person/per day)
4)  Fishing License/King Salmon Stamp
5)  Alcoholic Drinks (apart from wine served with some dinners, all other Alcohol is "bring your own" and can be conveniently purchased right across from the King Salmon airport before your Air Taxi Flight to ATA Lodge if needed.)
6)  Gratuities (recommended at 10-15% of the full retail cost of our normal packages).