It is never too early to book flats time in the Indian Ocean and experience these unique atolls first hand. Offering totally different experiences, there is an atoll for everyone. Availability changes on a daily basis but the following breakdown of space will give you a starting point and we will be happy to run through the options and discuss the pros and cons of one atoll over another.
Alphonse Island – 26th March to 2nd April 2022
Alphonse Island in the Seychelles offers incredible saltwater fly fishing for bonefish, trevally species, milkfish and triggerfish from the flats of St Francois Lagoon. It offers single accommodation as standard and is absolutely ideal for partners and families.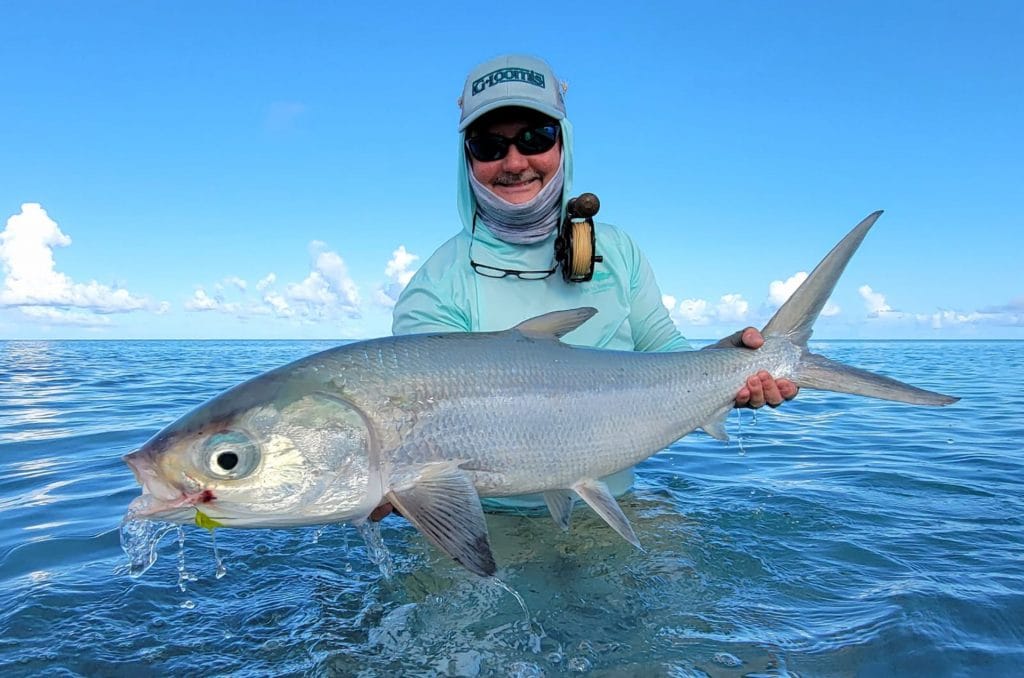 The bonefish were very obliging this week with over 600 being caught!! Sarah, Steve, Nick, James, Alan, Adam, and Graham all caught their first bonefish. Jeff, Jean, Mark and Sarah all also managed to catch 20+ bonefish on multiple occasions. Sarah, Dianne and Katherine all spent some time looking for bigger bonefish, with each catching bonefish greater then 60 cm. Wade spent half a day on the bluewater boat catching a sailfish on fly and then finished off his day on the flats catching bonefish, completing a Bills and Bones Slam. In terms of a unique catch on the flats, John managed to land a lovely batfish. Sherry managed a very special fish this week as well, catching her first permit and the only one for the week. Only two triggerfish were landed this week, the first being a nice sized yellowmargin triggerfish caught by Mark and John landed a lovely moustache triggerfish on his last day. The GTs were out and about this week with lots seen and a good few caught. Mark, Nick, James, Wade, John, Abbott, Katherine and Jean all managed to catch their first GTs. Pierce and Adam also managed to add some more GTs to their tally's. Wade managed to land the GT of the week measuring 88 cm, on the last day.

Finally and definitely the angler of the week, Mark managed to catch a milkfish, a dream fish, a lovely 85 cm GT and 20+ bonefish to finish off his week with a Flats Slam. On the bluewater side of things Wade, Nick and Steve all caught their first sailfish on fly, while Nick also managed to catch his first wahoo.  Well done to all the anglers on a great week of fishing. Next week is looking like another great week of weather, with the tides moving towards the neaps keep a look out for reports of triggerfish and permit. 
At week's end, the tally was: 625 bonefish, 2 triggerfish, 13 giant trevally, 1 milkfish and 6 bluefin trevally
Please contact us for more details. For those not wishing to fish for a full week on St Francois, it is possible to book a couple of days in a week to fish St Francois atoll or to fishing around Alphonse itself, both guided and unguided.
Farquhar Atoll – 23rd to 30th March 2022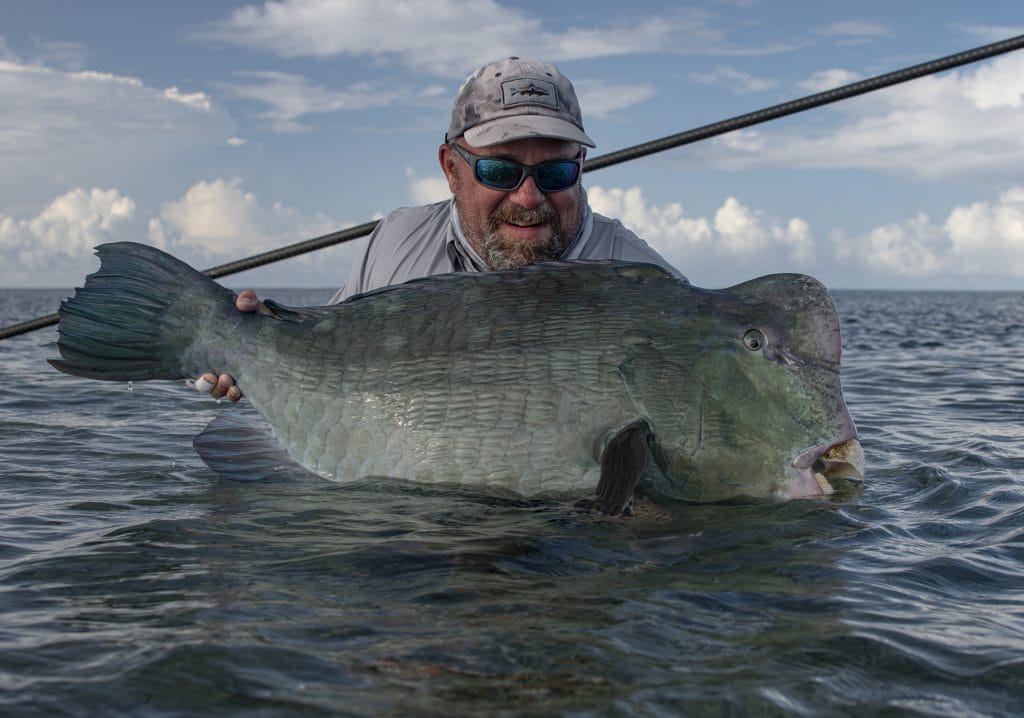 This diverse fishery is made up of countless flats, channels and surf zones. The flats consist of hard white sand, turtle grass and broken coral which enable comfortable wading for a wide range of species. Onshore, Farquhar is best known for both its great GT and bonefish populations but also offers fishing for Indo-Pacific permit, triggerfish, barracuda, milkfish, bumphead parrotfish and various other trevally species. Offshore, anglers can come into contact with grouper, GT's, dogtooth tuna, yellowfin tuna, wahoo, sailfish and even marlin on occasions.
Farquhar once again produced some incredible catches this week with an array of different species landed. It was great to have Chantal Chone and Patrick Hargreaves back with us and joining us for the first time Geoff Thomas and Russ Cowell and from Silverbow Fly Shop, Sean Visintainer (host), Sam Wood, Wayne, Spencer Williams Malyn Malquist and Leon Buckles. Chantal had a goal to land a bumphead parrotfish and to try and get her fist Napoleon wrasse. She achieved this on the first morning by landing a great bumpy and soon after that an impressive Napoleon that was "tailing" on the flats. She also managed a good number of species and three GTs throughout the week. Patrick had a solid week with four GTs and a huge variety of species off-shore which included huge African marbled groupers and Boha snappers. Geoff and Russ took a few days to tick off the GT box, but they eventually did and ended up with two and three respectively. Geoff also managed a great bluefin trevally on his 10 wt rod in amongst loads of coral in the surf zone. He didn't stop there as he also managed a great bumpy.
Sean and Malyn had an epic week and one day in particular stood out as they both landed Flat Slams of different kinds. Sean with his first GT together with a bonefish and then to top it off a bumpy. Malyn, his boat partner managed a 92 cm GT, a bonefish and to finish the slam managed his first moustache triggerfish. Sean ended his week by landing the biggest GT of the week a monster 104 cm on the last day. Father and son combo of Wayne and Spencer landed five GTs between them as well as a triggerfish each with a great number of bonefish along the way. Spencer with a terrific bumphead parrotfish. Leon's highlight of the week was his 61 cm yellowmargin triggerfish, a fish that is going to be hard to beat this season. Sam too also managed a monster yellowmargin trigger measuring 55 cm a bonefish of 61 cm as well as a few GTs and a monster Bumpy measuring 104 cm.
The tally for the week was; 25 giant trevally, 40 bonefish, 6 triggerfish, 6 bumphead parrotfish, 4 napolean wrasse
If you would like more information or availability on Farquhar please contact Charlotte Chilcott or Peter McLeod or call us on ++44 1980 847389. Alternatively click HERE if you would like us to contact you.
Cosmoledo Atoll – 24th March to 31st March 2022
Cosmoledo Atoll is regarded as one of the world's most impressive fisheries. While considered as being the giant trevally capital of the world, Cosmoledo also plays host to an impressive number of other fish. Bonefish, milkfish, permit, bluefin trevally, sailfish, tuna and a variety of other species regard this pristine expanse of sand and coral flats as home. Built in 2018 the new eco lodge sits discreetly on Wizard Island and provides the perfect base for one of saltwater's most exciting adventures.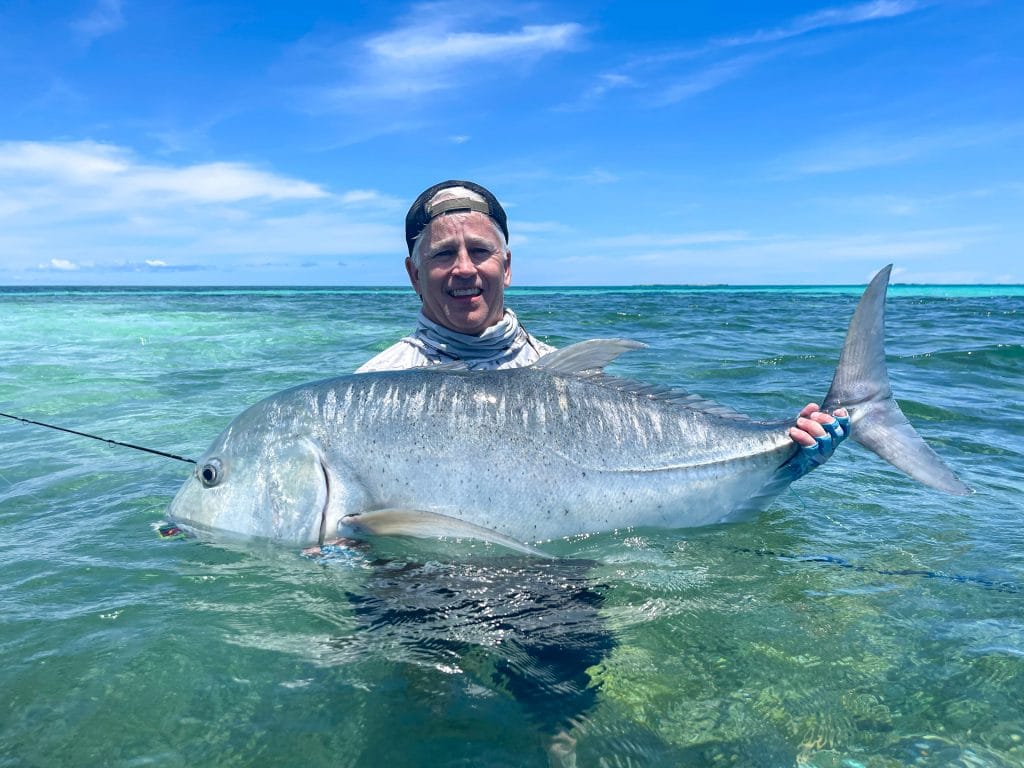 During week 21 we experienced tough neap tides with very little water movement but despite that, throughout the week there were definitely some special fish caught and some memories made. The catch of the week without a doubt goes to Fred who had never caught a GT prior to his trip to the Seychelles. On the first day he goes out and not only catches his first GT but also the biggest fish for the week. This monster measured 124 cm which is an absolute trophy fish in anybody's books. Along with that he also managed to capture a giant African marble grouper (AMG) a very aggressive predator. The milkfish made an appearance this week as well with two being landed, this only being the 4th and 5th milk fish landed for the season a great fish and an awesome achievement. The first caught by John Holman and the second by John Cook both deserving anglers. As per usual there were an abundant amount of bluefin trevally around. The anglers all took great advantage of this, landing a large number of this underrated species which is very nice to see.
The tally for the week was; 5 bonefish, 42 giant trevally and 2 milkfish
If you would like more information and availability on Cosmoledo, please contact Charlotte Chilcott or Peter McLeod or call us on ++44 1980 847389. Alternatively click HERE if you would like us to contact you. 
Astove Atoll – 28th March to 4th April 2022
Astove Atoll has come to the forefront of the Indian Ocean operations as the home of large GTs and is regarded as one of the wildest most rugged and secluded fisheries. It is a ecosystem of contrasting environments where the daily rhythm and drama life on the reef is played before your very eyes. Fishing only 6 rods, it is a rare exclusive opportunity and privilege to gaze into a world, which has changed very little in the years that have passed.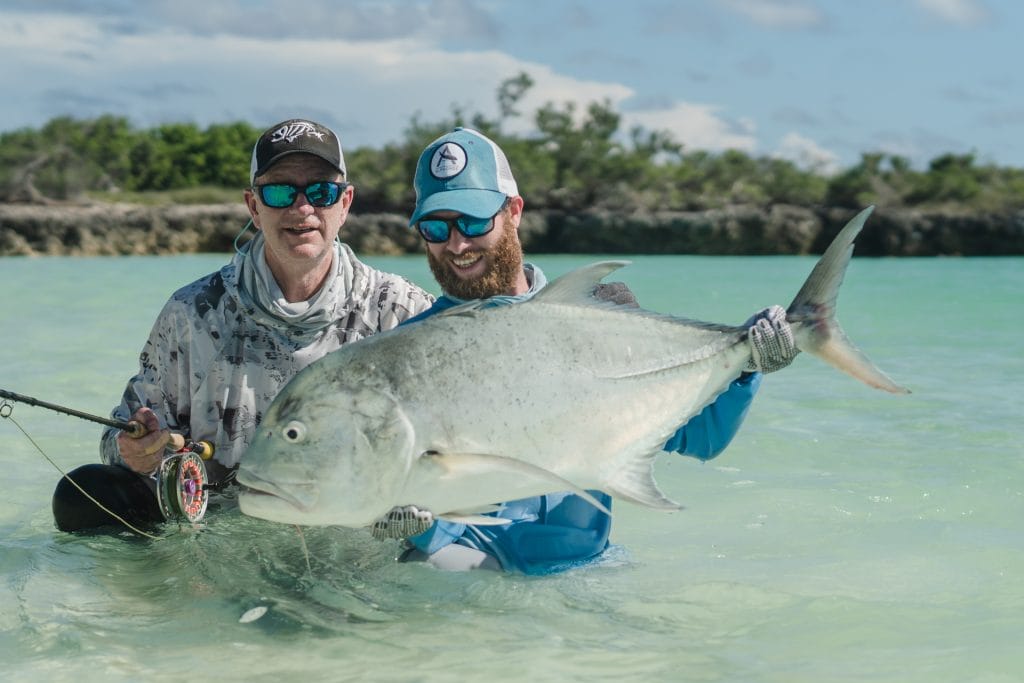 A week of south easterly winds, fortunately enough having some protected areas to fish. Not having the easiest conditions, effort was put in to ensure some memorable catches were made along with good times. Lots of talking and much more walking. A tackle set up preparing rods and reels for a grueling week ahead. Igor kicking off with a GT on the first day of 81 cm and Chris Welsh catching 72 cm bluefin. With the wind picking up for day two, Chris wouldn't let that disturb his desire of catching what he wanted, Igor making sure he added to the numbers. Chris catching three GTs for the day biggest of 76 cm and Igor also catching himself three GTs around the 65 cm mark. Chantal made sure she would keep the bonefish numbers up for Astove and managed a beautiful 64 cm surf bonefish, whilst the surf bonefish were happy, Lambert got stuck into the numbers game with those powerful surf bonefish racking up 10 along with a 66 cm GT. Day five would mark a memorable catch for Chris, catching himself a 104 cm GT off the beach along with two more to add to his tally. The next day Chris decided to start hammering the triggers, a yellowmargin for the win for Chris. Chantal and Chris decided one week wasn't enough and would be staying on Astove till the Thursday Cosmo change over and then head over to Cosmo. Chris couldn't get enough of the GTs as well as triggers. So decided to add a slam to his already memorable week, catching three GTs all around 80 cm, a moustache triggerfish as well as a 60 cm bonefish. Chris had to ensure he added some more triggers, he landed another moustache trigger on his final day on Astove.
A great week all round with shots at everything including permit in the lagoon. Spring tides gave us great surf walks with good opportunities
The tally for the week; 18 giant trevally, 35 bonefish, 3 triggerfish
If you would like more information and availability on Astove, please contact Charlotte Chilcott or Peter McLeod or call us on ++44 1980 847389. Alternatively click HERE if you would like us to contact you.