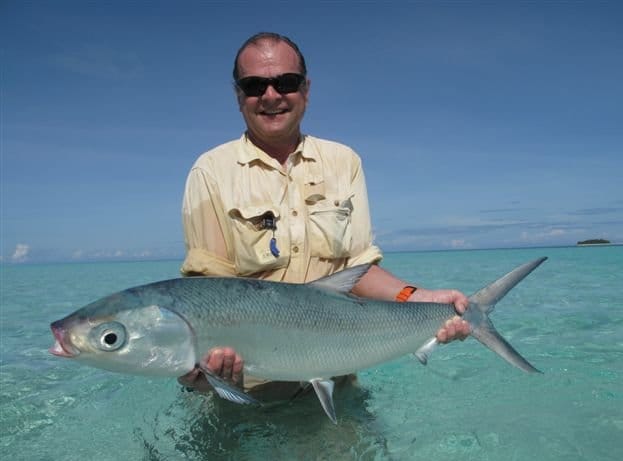 After an incredible 2012 season Alphonse Island has again proved to be the most consistent saltwater fishery on the planet and we are delighted to confirm that for the 2012/2013 season the number of rods will be reduced to 10 per week. The season will open on the 27th October and end on the 27th April and the fishing operation will run in the same format as previous seasons. The existing guide team will be returning and will continue to be headed up by Devan with Shawn & Mandy running the resort. Tam Tam will continue to play her iconic part in the fishing operation after a re-fit on Mahe.
Much of the existing resort complex will be redeveloped and guests will be accommodated on a single basis, in simple yet comfortably appointed rooms. Although perhaps not quite as luxurious as the A-frame chalets, they will be refurbished to a high standard providing comfort and convenience and all other aspects of the operation will continue to provide the current high level of service.
The cost will be US$6,200 + US$1,095 for the charter per rod based on single occupancy with shared guide and boat.  There will be a reduced rate over the Christmas period from the 15th December to the 12th January of US$5,600 +US$1,095. With an 85% return rate this year space is going to be limited, particularly with the reduced number of rods per week, so please contact us as soon as possible as space is going to be at a premium next season.  This is not marketing spin – if you wait you may be disappointed.
For over 12 years Alphonse has been a shining beacon of consistency and is the saltwater operation that all others are measured against. Not only has the fishery produced extraordinary species variety it is one of the few places where you can catch milkfish on the fly.  Over the years, the island and staff have become friends to several generations of saltwater fishermen. This is the last season that we will see the operation in its current format and price so if you would like to fish Alphonse in 2012 / 2013, please email Peter McLeod or Charlotte Chilcott or call us on 01980 847389.