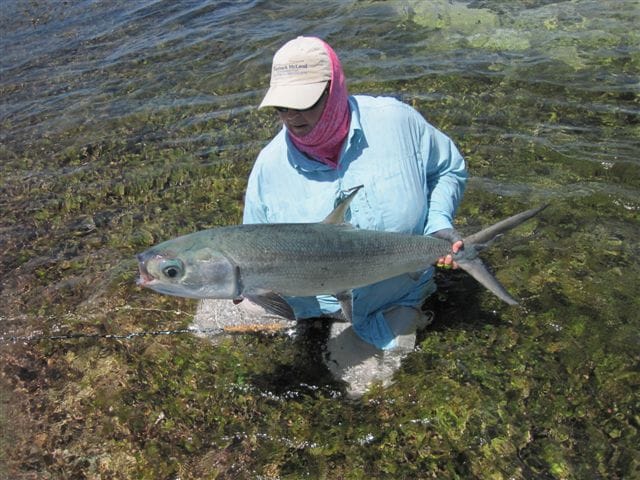 After a magnificent start to the season the fishing has continued to impress with some really smashing catches for the months of January and February.  The team has just released their 10,000th fly caught game fish for the season, comprising of bonefish, GT's, giant triggerfish, yellow margin triggerfish, milkfish, bluefin trevally, bohar snapper, green jobfish, permit, sailfish, barracuda, yellowfin and dogtooth tuna. The variety on offer astounds any angler who visits our shores.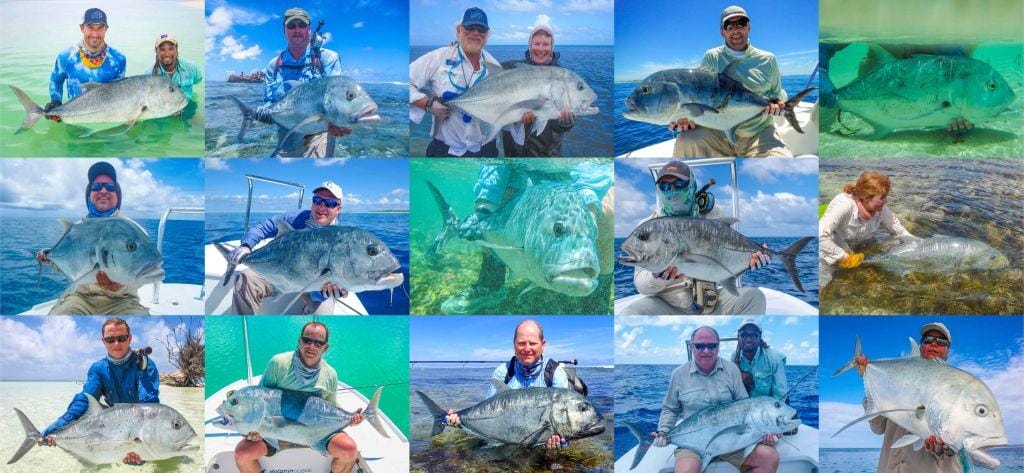 This season's milkfishing has been even better than any previous seasons with records of over 12 fish landed in a week and specimens in excess of 40 lbs. Last week saw the start of the return of the large milkfish schools after they left Alphonse on their mid-season spawning migration. We are just past half way through the season and the guides are keeping their eyes peeled as they know the milkfish return in our autumn is imminent. A change back to South-Easterly winds or a stretch of stable weather can trigger some end of season milkfish shots.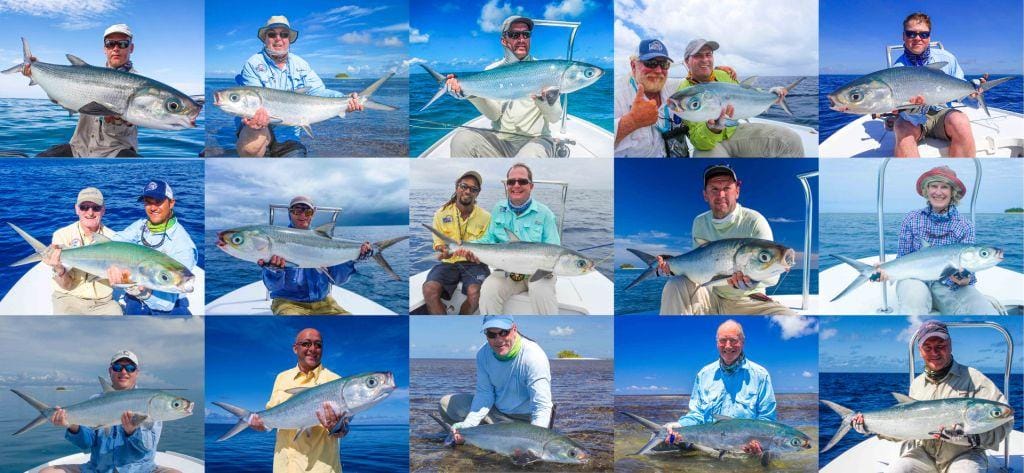 The GT's have been around in really good numbers during the January and February period as the warmer water invites them into the shallows to target their prey. Trophies are being landed every week in the 1 metre plus bracket, and last week saw a trophy being landed of 115 cm, which is estimated at 75 lbs.  The "Not Your Average Popper" fly continues to drive these fish crazy, both on the flats and offshore.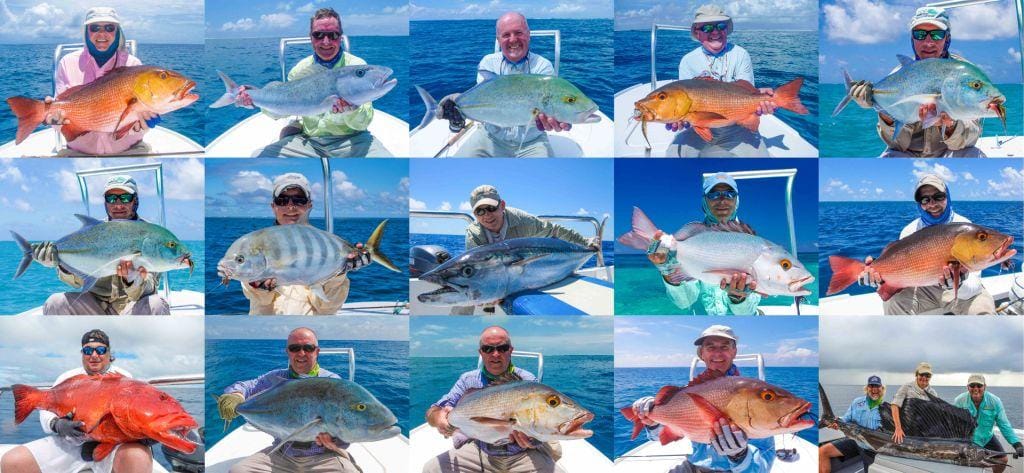 The triggerfish have been hungry throughout the season in both the shore break and on the pancake flats. Guides recall sessions where a team of anglers would have upwards of 20 shots at these tailing critters in a session. Just last week Hugh Armstrong and Dimitry Kolovorotny landed a fabulous "Triggerfish Trio", consisting of two giants and a single yellow margin. So far this season the team has landed 32 giant triggerfish and 34 yellow margin triggerfish, which means there would have been at least three times more lost.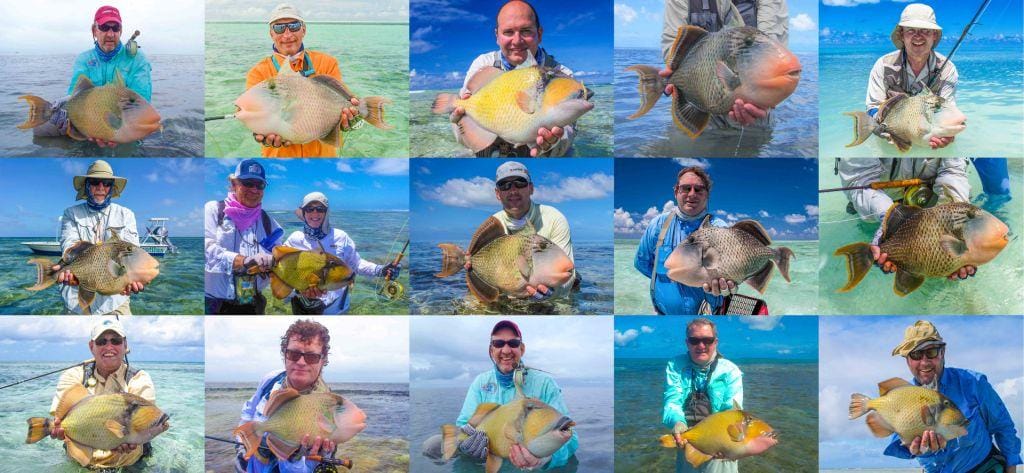 There have been some really nice dogtooth tuna around, with specimens of over 85 lbs being landed after some really exciting fights. The sailfish are also around in good numbers and numerous fish of over 70 lbs being landed during the first part of the season. There have also been a lot of other smaller trevally species around, with 945 bluefin trevally caught and released so far. Other species like bohar snapper and green jobfish are caught on a regular basis while offshore and there are even chances for the rarer species like yellow spotted trevally and honeycomb grouper.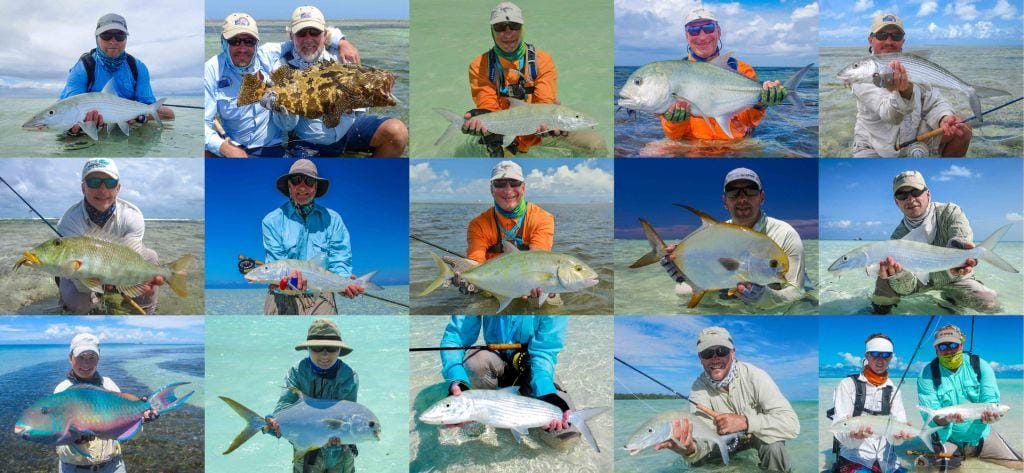 The saying goes without fail, "bad weather brings big bones", and the months of January and February has proven this with some real trophies been landed. Alphonse and St François has undoubtedly the best Bonefishing in the Seychelles. We have also had some shots at the elusive Indian Ocean permit and several lucky anglers managed to land one up to 12 to 14 lbs trophies. We are approaching our last third of the season and look forward to sending you some fresh news off the flats. 
Tight lines for the Alphonse Team.
Charlotte and her group are heading to Alphonse Island this weekend and we are looking forward to hearing how she gets on on her return. For more details on Alphonse Island Contact us or call +44 1980 847389