The guides on Alphonse Island, Seychelles pioneered milkfishing on fly and it remains 'the' place to go in the Indian Ocean if you want to target these incredibly challenging fish and experience their explosive power.
17th October 2013 – Alphonse Island celebrates another incredible achievement after Greg de Villiers, whilst guided by James Christmas successfully caught and released the biggest Milkfish ever recorded on fly. This mammoth fish being held up by two large chaps has been estimated at over 45 lbs. After finding a school of daisy chaining milkfish, Greg made 2 casts, hooked this giant and then had to endure a 1 hour 35 minute flight before the fish was finally netted. "It was an incredible aerial display and the fight was harder than I have ever seen. The fish is a monster, biggest I have seen", enthused resident guide, James Christmas.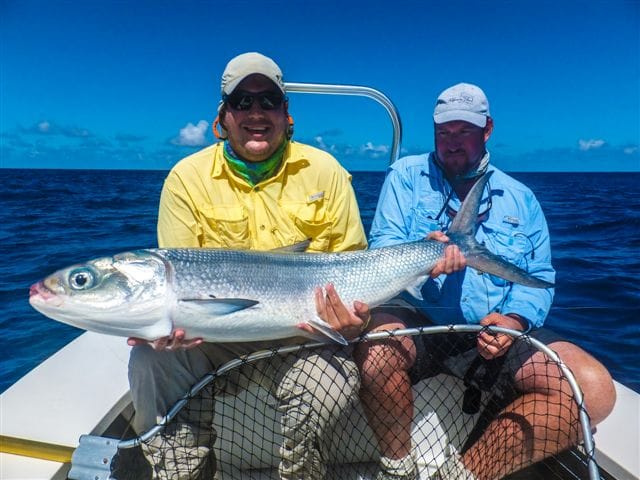 There are still two rods available in 15-22 February 2014 but very little space left elsewhere in the season.  If you are keen to go, please contact Charlotte Chilcott or call us on 01980 847389.