It was fantastic to hear that clients Joern and Maria had both had personal bests during their week: Joern landed his biggest GT to date at a hefty 80 lbs, his biggest sailfish and, leaving until the last day, Maria not only beat her own personal GT best by landing a beautiful 118 cm fish but it is also the biggest on record for a lady angler (and yes, she set the record the first time around…….  no pressure, Charlotte).
The big GT's are around and they are hungry as the team found out last week! Joern Heiner and Maria Mazura joined us for their 4th week this season and were duly rewarded with 2 monster fish. Guided by Scott, Joern landed a magnificent female GT of over 80 lbs after an hours fight and which dragged them further than a km offshore.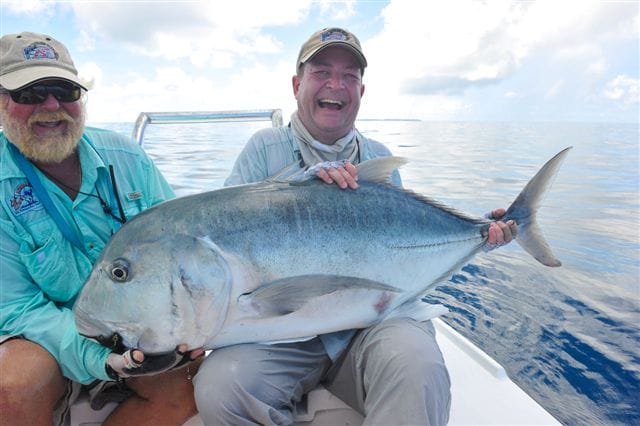 Maria, guided by Wayne, spotted an almighty shape slowly sliding down the flat with a school of milks. "I jumped out of the skiff and turned the skiff to an angle that would enable Maria to make a good cast. The cast went out perfectly to entice the fish, which rushed the fly, exploded out the water right next to the skiff and engulf the tan brush fly. As the fly was set the fish headed off on a 300 meter run, with us chasing behind. We almost got spooled by the almighty first run and no amount of drag could slow its pace. We followed the fish while dodging coral heads and gaining line slowly.  Maria is no stranger to big GTs as she already held the record for the biggest GT caught by a lady angler on Alphonse. True to form and in an amazing 20 minute fight she had the 118 cm, 80lbs trophy fish beat" comment her guide, Wayne.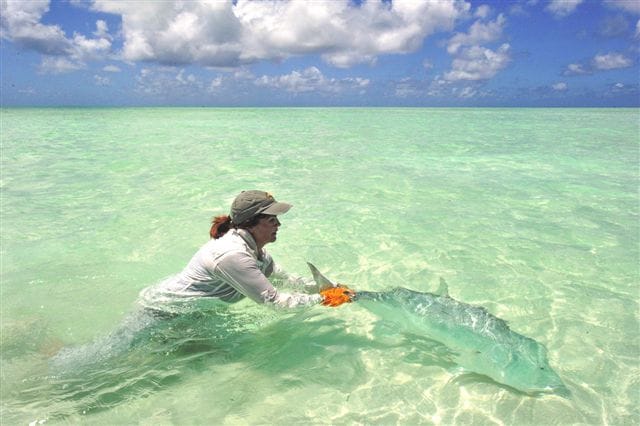 Joern had some unsettled business from his last trip in November and, while guided by Devan, successfully landed a large sailfish after a spectacular flight.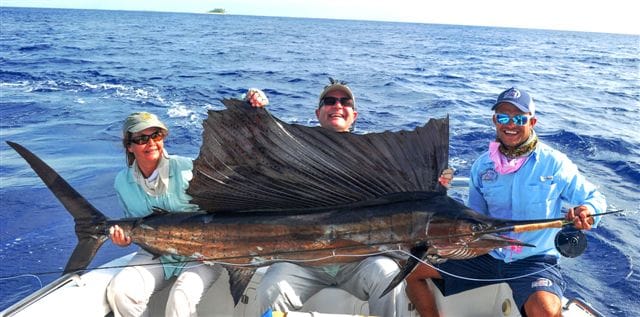 The permit where also around in good numbers as anglers had plenty of shots. Permit being permit, they didn't eat last week so lets hope they get hungry soon.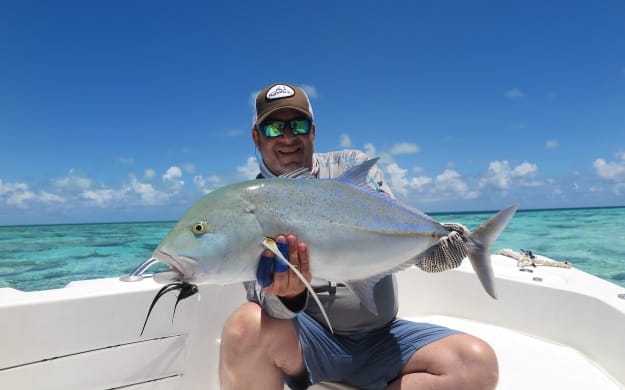 The bonefish tides were superb all week and the big tailing fish were ravenous on occasions. The population is as strong as it has ever been with numerous seasoned "Alphonsians" insisting that the fish are getting bigger and more plentiful. In the past few weeks some anglers talk about having landed 50 plus bonefish in a few hours, which is incredible for any part of the world.
Thanks for another great week. Tight lines from the Alphonse Team!