A few spots remain on Alphonse in November / December 2015 which is a prime time to be out on the flats of St Francois so please contact Charlotte Chilcott or call +44(0)1980 847389 for more details.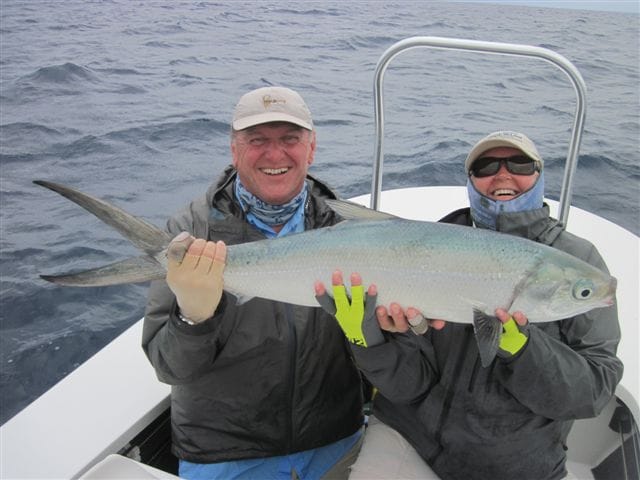 The appeal that Alphonse holds is actually quite hard to pin down to any one factor. The fishery is unsurpassed and the menu is wide and varied; bonefish, triggerfish, GTs, milkfish and permit are the prime target species while sailfish, wahoo, barracuda, bluefin trevally, groupers, snappers and emperors amongst others make up the supporting cast.
For those who prefer to wade, there are hard white sand flats and coral finger flats. For those who prefer a higher spotting platform, you can fish from a skiff and for those stout of heart (and legs) a walk to the surf line should put you in line for some off the scale opportunities. The bluewater boat and crew are on hand to unlock the potential beyond the reef. Sailfish on fly? Wahoo on fly?  Mix up your week and experience it all.
On the arrow shaped Alphonse, the comfortable and iconic A-frame chalets and excellent food make it the only Indian Ocean fishing lodge that is also ideal for non-fishers and families in search of a quiet island hideaway.
November has always been an excellent period on Alphonse and there are a few rods remaining in a month that traditionally sees the hard fighting milkfish return to the waters of St Francois. It's a month which has seen our clients achieve several firsts; first ladies Grand Slam, many first milkfish landed, first reel dropped off the back of the mother ship and retrieved (with much patient winding), the inaugural trip of the Alphonse 1# Club and many more besides.
It is a fantastic time to fish the atoll and some space is available in the following weeks:
31 October – 7 November
21 – 28 November
28 November – 5 December
If you would like to hold space or would like more details please contact Charlotte Chilcott or call +44(0)1980 847389.