Everything has a beginning and this is where my amazing three week trip began. Alphonse. Tiny little jewel sitting in the Indian Ocean. Those of you who were brave enough to wade through my India blog can attest to the fact that I can type as much as I talk.  I do however find it remarkably difficult to write about Alphonse.  I have had plenty of time to think about WHY in various planes, trains and automobiles recently and have decided that it is because both Alphonse and St Francois are so all encompassing; there is so much to say, so many photographs to share.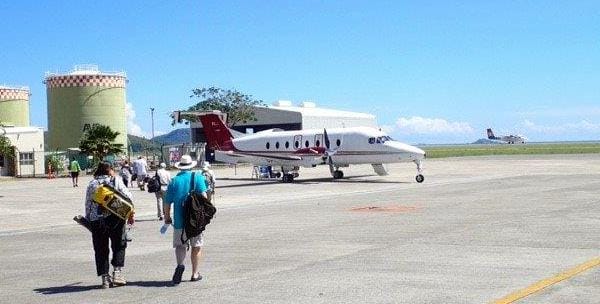 This time however, I had an unusual incentive … when I got back from India and started catching up I was rather saddened to see that I had been left out of the Alphonse blog! It was like I had not been there so I thought I had better get on and write my own tale of a week of losses, of stunning achievements (not mine), of unbelievable happenings but most importantly of a fantastic group of people who I had the absolute pleasure of spending a week with … as you can see, quite a dapper bunch for the flats.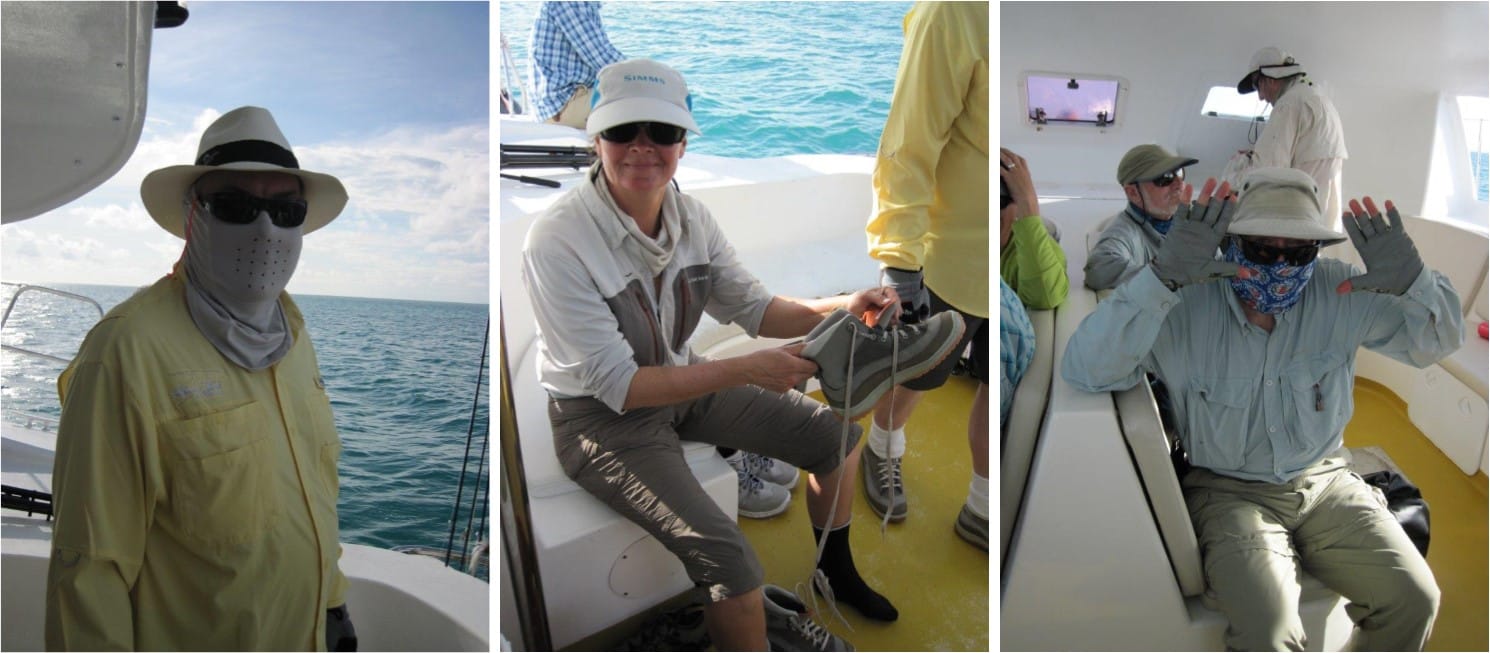 Overall, it was a pretty tough week in terms of the fishing but despite that there were a number of great fish landed. Although we have experienced better fishing conditions on Alphonse in March, to add some perspective, where else in the world could you experience similar conditions and still catch the fish we did?
Our first day had poor light, big wind chop and the neap had a mid-day high so we were primarily in search of triggers.  None were landed but plenty were seen and cast to. I had one trigger follow my fly and essentially crush it into the coral rather than eat it.  In spite of the conditions, John, Peter and Janie all landed 20+ bonefish.
Sunday dawned hot and still and remained hot and still. Joern and Maria were out on the bluewater boat and landed three sails and three bonefish – each getting their Bills and Bones for the week giving the bell a hefty ring later that evening. Phil and Joe were the graveyard crew with a heap of bones between them – 40 to Phil and 30 to Joe. John, having brushed the cobwebs off his kit after 10 years of non-use proved that what caught 10 years ago can still catch today by landing a much sought after Alphonse moustache triggerfish. A very nice one to tick of his list on his first trip out the Indian Ocean. Michael caught a magnificent 119 cm GT; I think that the look on his face says it all.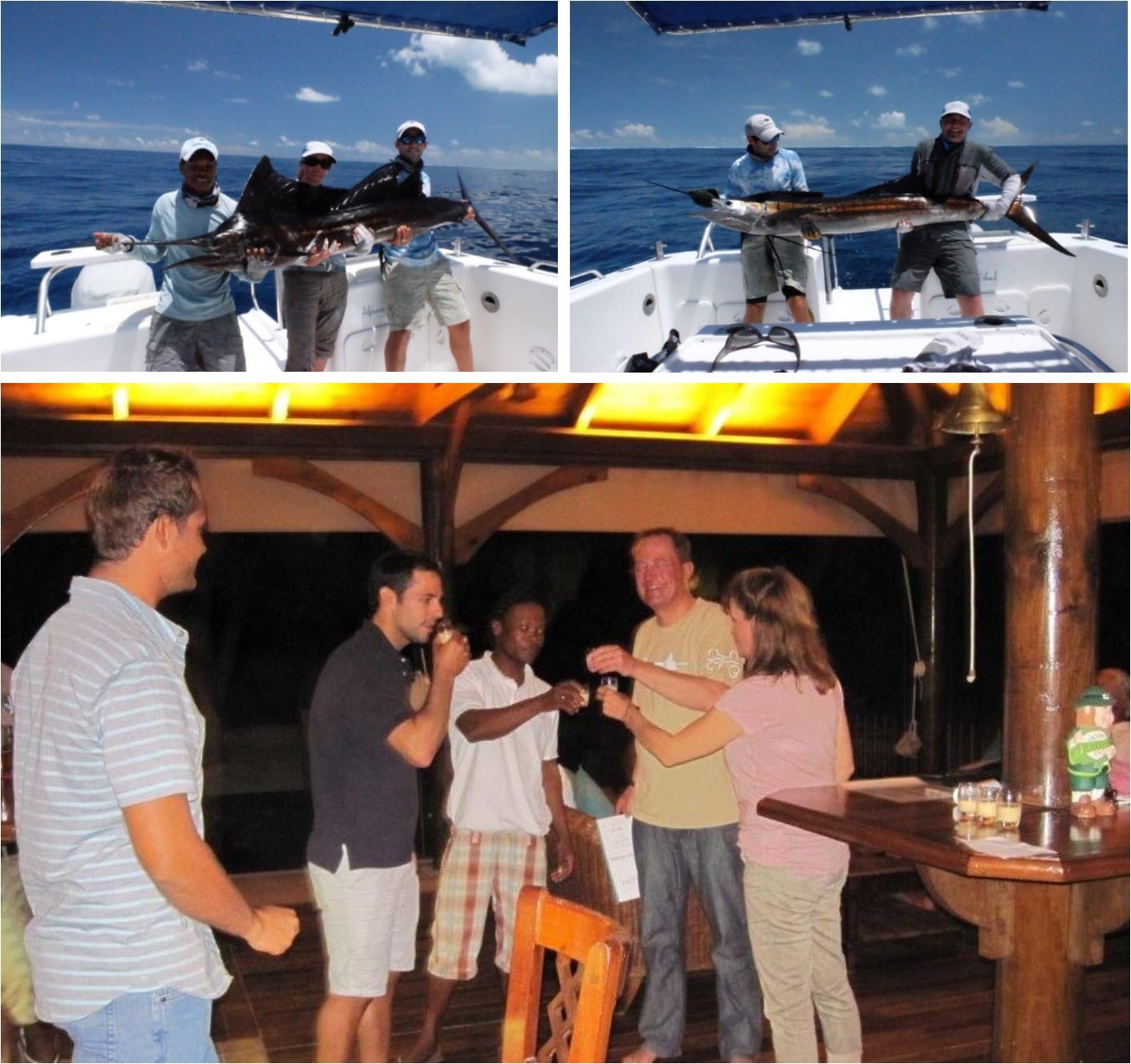 I also had to confront my nemesis that Monday; a GT.  On one hand initials of something that I have no trouble getting to grips with – gin & tonic – on the other, the giant trevally which has proved to be somewhat more problematic. Bulldogs with fins. Bullies of the reef. Snapper of my leaders. Cutter of my fly lines. Straightener of my hooks. There have been testing moments along this path, despondency behind my buff. No-one reading this can have any idea of the silent pressure I have been under in this GT obsessed office. I needed to actually LAND, rather than LOSE, one. It was bordering on the embarrassing; two trips a year to arguably the best mixed species saltwater fishery in the Indian Ocean and I kept losing a fish that, quite frankly, isn't that picky.

We set out that Monday morning; James, Geoff and I. Our plan for the morning was that we didn't have one. James knew what he wanted to see; conditions he felt were right, and he asked us for forbearance as he putted us along, hugging the coral heads, not rushing and moving seemingly aimlessly in search of 'something'. He was convinced that conditions were perfect for the Kappel shoal to put in one of their rare appearances. What is the Kappel shoal? Like a mythical creature on an ancient map, much is spoken about the shoal is seldom seen. It is a group of nurse sharks with an attending posse of GTs. Rumoured to be anything between 5 and 15 GTs (and upwards), I have to admit to having had my moments of 'yeah, yeah'.

Geoff was up first on anything that came by and when James shouted 'GEOFF. CAST. NOW' he lept to his feet and manfully got his line out while he scouted the water and tried to see what had roused James. He saw it just before I did. A big, dark shadow that morphed into several nurse sharks feeding along the coral edge. The GTs were feeding on the small fish that escaped the sharks disturbance only to find themselves in more serious trouble. Geoff's fly was exactly where it needed to be but the GTs were already feeding deep and couldn't be interested in a juicy morsel on the surface: the enticement that a NYAP normally offers was ignored. They sunk out of sight, Geoff sunk down in his seat, James sighed and we moved quietly off, hoping to pick the shoal up again.  We saw teasing signs every now and then and when James asked if we could bear another half hour of searching, we were very happy to do so.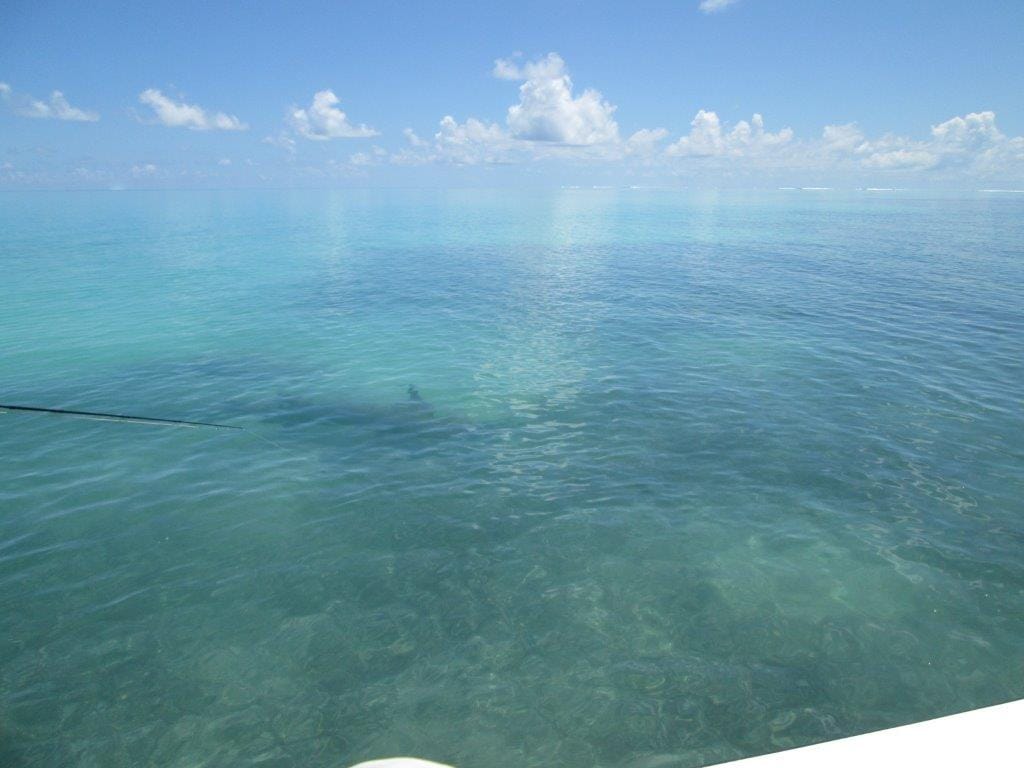 Our search took us from one coral head to the next, tempting splashes leading us along. Eventually we came to a small pancake which James deemed to be suitably 'fishy'. He was towing us when he shouted 'Charlotte. Rod. CAST'. At that point I hadn't seen anything but cast at 12 o'clock. As the fly landed, I saw the nurse shark moving down the flat towards us, travelling diagonally left to right. There were two GTs on the shark, one either side and one slightly further back than the other.  I picked up and recast, this time slightly further to the right, about six feet ahead of the shark. With stripping encouragement loud from both James and Geoff, it was almost in slow motion that I saw the GT on the far side accelerate toward my fly. It swam over the shark and in front of the foremost GT. The bucket maw engulfed my fly (a Mayo Mullet baitfish pattern) – the sheer power of the take giving me a death-like grip on my rod. The air around me vibrated with 'SET SET .. SET IT' from James closely followed by 'CHARLOTTE DON'T YOU DARE LIFT YOUR ROD'. The line burnt through my fingers and inconsequentially I remember wishing that I hadn't left my thicker Simms gloves (a nice gift, thank you Gordie) drying over my bathroom taps! As the reel screamed and the line, and then the backing, ran and ran, I could see the second GT swimming further out, not spooked and almost waiting for the other fish to join it. The shark on the other hand was so close behind my fish that at one point it swam over my leader. I squeaked very loudly then as I had visions of my leader being cut by the shark. I cannot be the only angler who has muttered 'please don't come off, please don't come off' under their buff and after a short but brutal fight, I had regained my backing and line. Although he has a long reach, trying to tail my GT and hang onto the boat must have come close to splitting James asunder. Eventually we got ourselves sorted out and with the GT safely tailed, I could finally take the GT skunk flag down. And there it is; 90 cm so I'm told and a priceless memory of a hot, still day on St Francois.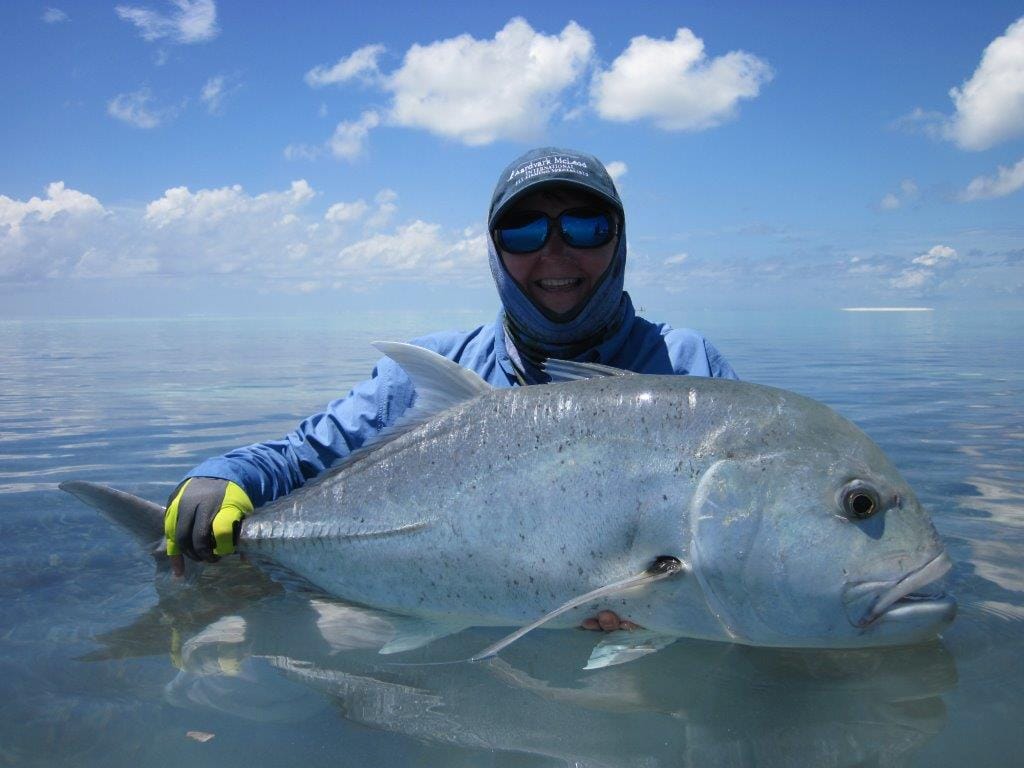 Tuesday dawned hot and still but thankfully with a little more wind than the previous day. We were made to work for our fish but Maria landed a very nice giant triggerfish and Pelham landed a yellowmargin triggerfish. Phil had a cracker of a day landing both a sailfish and a bonefish to give him a Bills and Bone – the third of the week.  Joe and I were both unlucky on triggerfish and John and Rob had the graveyard flag with 20 bones each, all landed in what has become known as 'Sonic Boom'. Michael added a permit to the special count for the day.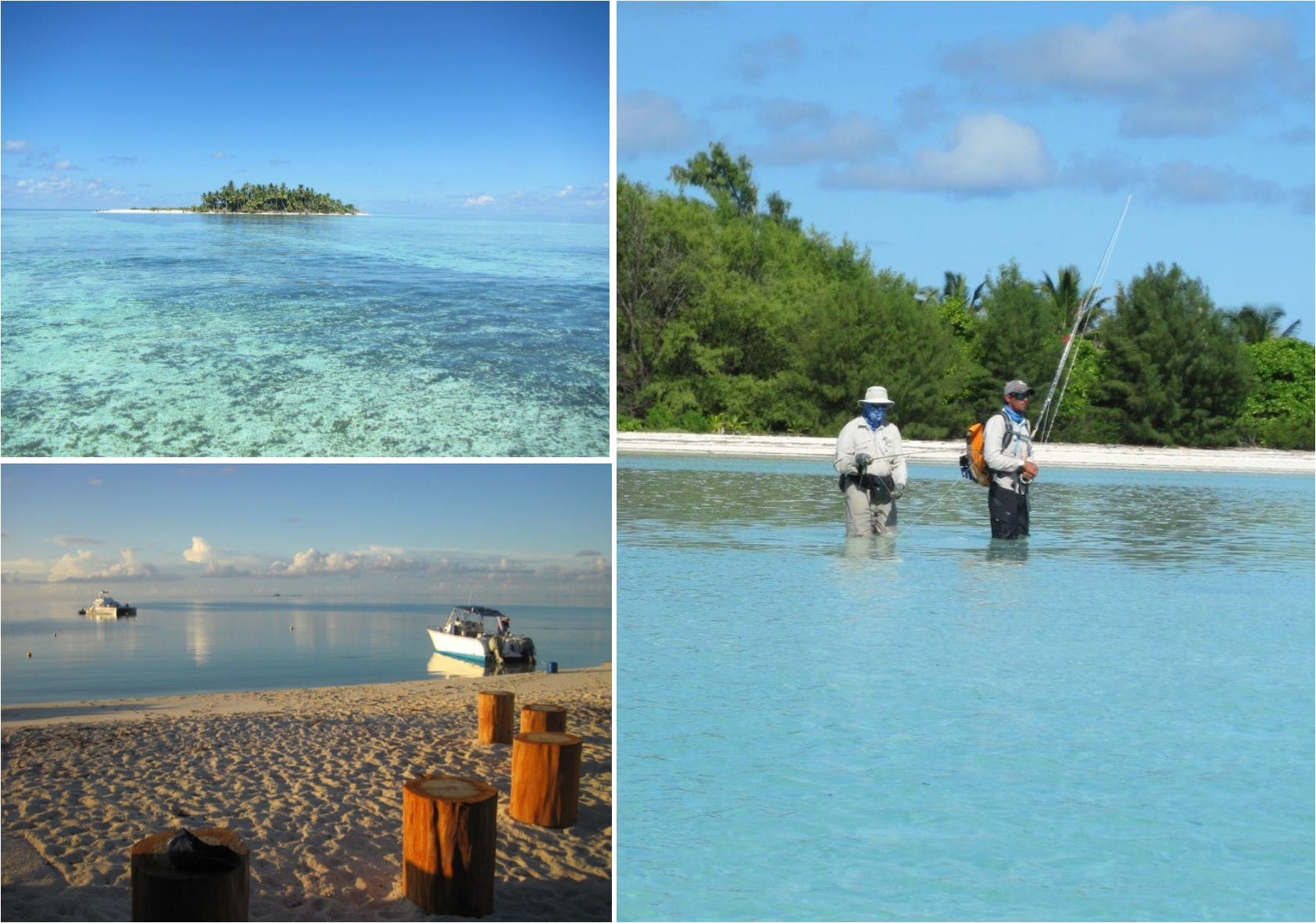 Yousef took Peter and I outside to look for milkfish; they had been feeding on the surface both inside and outside of the lagoon and conditions were good. Light glistening on the water got the heart rate up only to be dashed as over eager eyes searched for the reflection of light off the open mouths of feeding milkfish. It wasn't long before Peter was casting over them as a long line of manta rays paraded past on the other side of the boat. He had one touch, many casts but the milks went deep and while we could see them swimming below us, they didn't resurface for a while. Deciding to give them a little longer, Peter threw his 12# one direction while I dredged with my 12# in the other. Neither of us had any luck and as the milks hadn't resurfaced, we headed back in. Ignoblis rock was well out of the water when we parked up on the edge of a finger flat to search for triggers and were surprised to see a small group of milks daisy chaining in one of the small bays. Peter and Yousef went to try their luck while I walked up the flat in search of triggers. I wasn't long before Peter had a bend in his rod and – with some initial irritation – had hooked a very respectable brassy trevally on a milky dream.  Released in very short order Peter quickly returned to his challenge of targeting the milks, hooked it and … they left me on the flat.

The water was rising, a big lemon shark was cruising, Ignoblis was disappearing and Yousef was probably having kittens. Alex very kindly picked me up and give me lift over to the boat where Peter landed a very nice milkfish.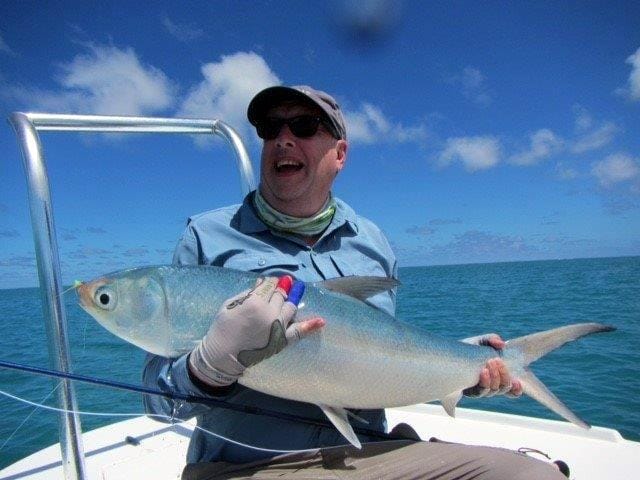 Peter and I had parked up with Yousef for lunch, gliding into the beach where a large school of mullet were bunched up in the shallows, almost breaching themselves on the sand. They moved in and out but never moving very far and we could see just beyond some turtle grass the torpedo shape of a barracuda patrolling.  While the mullet schooled, a couple of very big bonefish sneaked up behind us and casually swam right in front of the skiff. As we had lunch out, we watched aghast as one very unphased bone circled around us, eating the proffered chilly beef. Two brassy trevally worked their way up and down the school of mullet, staying well away from the barracuda but not settling enough to take a fly. Lunch done, we moved off in search of the cause of the bigger disturbance we'd seen not long before while at the same time Geoff and Michael had quietly appeared a little further down the sand spit. Bad move on our part as not long after we had moved off, a shark and GT came through followed by a permit who came within casting distance of Michael who put his fly just where it needed to be and with Brandon proving very handy with a net, and no doubt all of them having their hearts in their mouths, Michael landed this very beautiful slab of silver and gold.  Later in the week he added a very, very nice GT to his list for the week.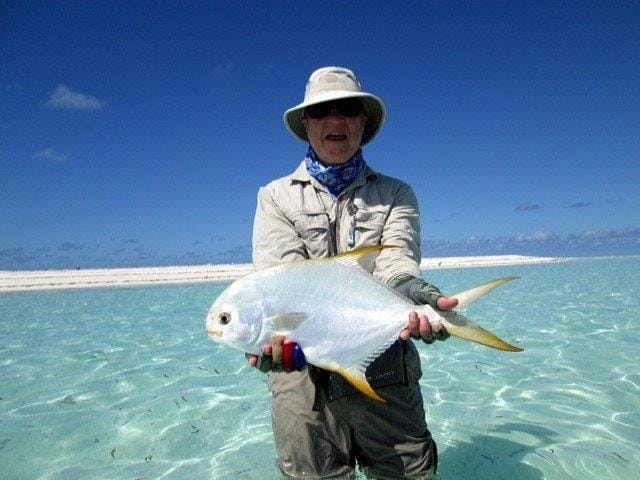 Wednesday belonged to Geoff and two very special sights that I hope never to have repeated. One involved Geoff, alcohol and a push bike and the other a permit of which more later. Kicking the day off with a GT and a milkfish in very quick order, Geoff had to work a wee bit to land his bonefish and get his Grand Slam. A truly exceptional achievement.  Again, the look on his face says it all and I doubt very much that the memory of that will fade any time soon.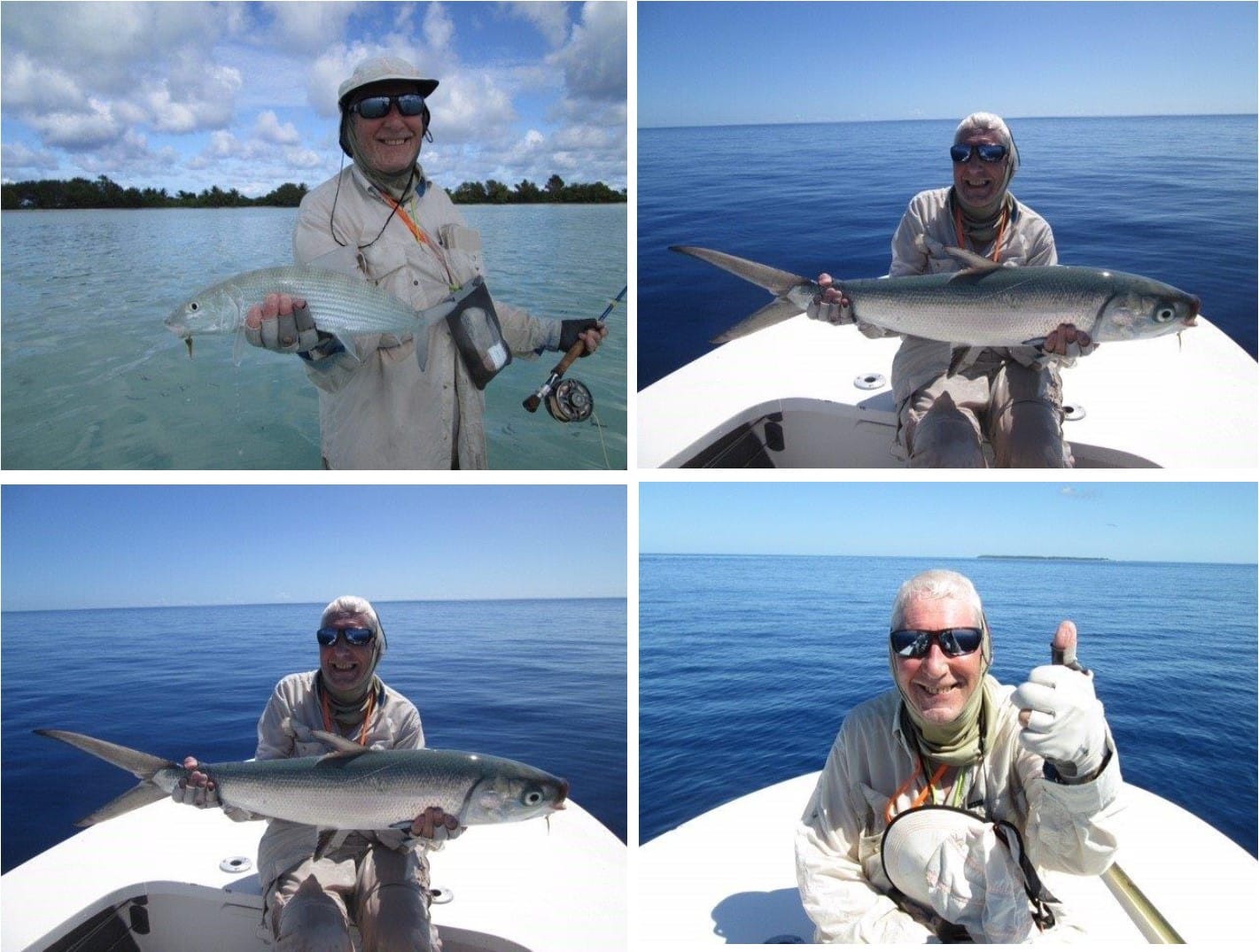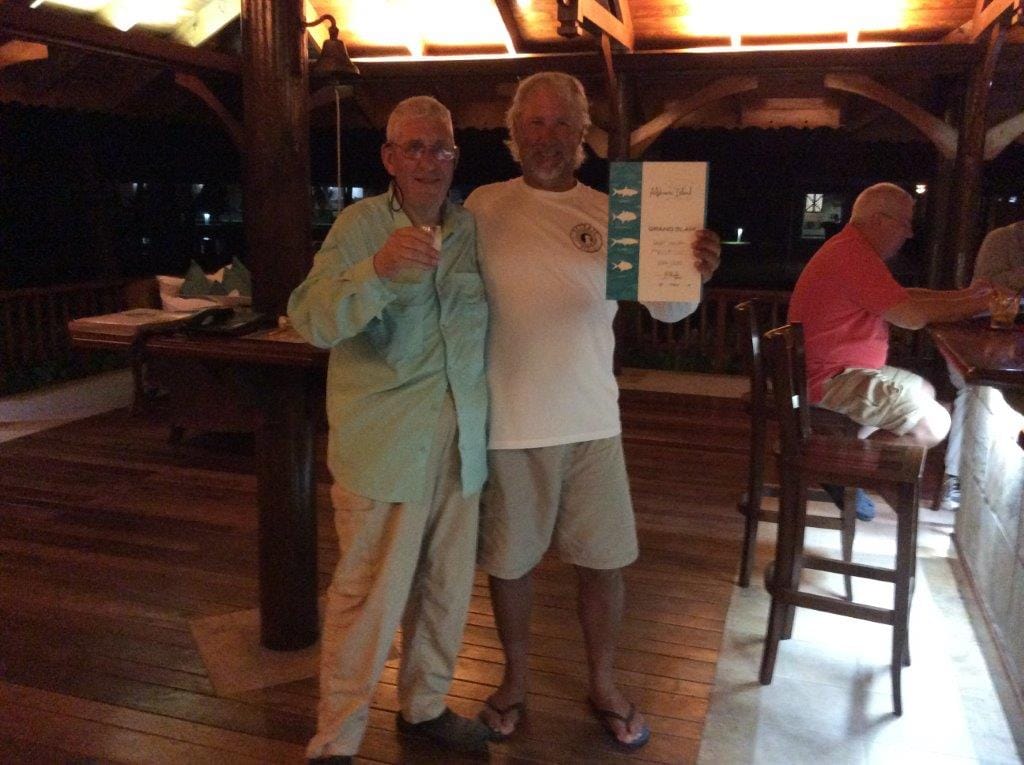 The not so glorious part of Wednesday belonged to Peter and I .. and a permit.  Sneaking along the flats with Kyle, Peter walking some way behind us and in the other direction, Kyle and I were chatting when he froze, grabbed my arm and whispered something. 'WHAT' I said loudly as I hadn't heard a thing. 'Permit. Straight ahead'. I cast but just wasn't accurate enough but the permit didn't spook or twitch. It didn't run. One rather too close presentation made it back off slightly but it endured my attempts stoically for a while before running out of patience with me and moving off to find a more competent angler. As did Kyle. Left to my own devices, I saw a dark shadow moving up the flat once more and hollered to Kyle and Peter that they now had a permit coming their way. It peeled off before it reached them and some time later, Kyle had worked his way back towards me gesturing for me to follow up the finger flat. As we walked up, Peter about 30 metres in front of us, a permit entered from stage right and swam directly down towards us.  I landed the fly where it needed to be, right in front of the permit. I twitched the fly once. Left it and twitched it again, my fly now about six inches in front of a small lump of coral. The permit had followed, it had seen my fly and as I moved the fly slowly the permit followed. Heart in my mouth, I'd forgotten to breath, so completely absorbed was I in my fly and the fish. I couldn't believe my eyes when the lump of coral grew a tentacle and pinched my fly from in front of the permit. I had landed myself an Octopus. There was a significant lack of ladylike language for next few heartbeats followed by a silence broken only when Kyle said 'well, you can unhook it'.  Mirth had now overtaken us as I brought the Octopus towards us, very pale in colour with tiny patches of orange. By this time it was climbing up my leader and I deposited it on a real lump of coral where it promptly changed colour to a deep rusty brown and orange. It was truly beautiful although the permit would have been much nicer. With some judicious wriggling, it finally shook off the fly and the two of us turned round to find Peter in pursuit of the permit. It allowed itself to be cast at a few more times before leaving us for more rewarding entertainment.  The upside? I got a free drink and an Alphonse 'first'; apparently no one else has caught an Octopus on fly; a new species added to the catch list!

Thursday dawned choppy and windy.  Janie and I were fishing Alphonse and Janie's quiet day started off as Yousef and Brandon walked us out to the surf on Alphonse while the rest of the group headed out to St Francois. Janie did not stop casting all day; every time I looked across she was fishing and also fitted in a couple of refreshing dunks to cool off in between.  The push was slow in coming and we while we saw a good number of triggers, they weren't settling. Janie saw a couple of GTs and we had some nice big Bluefin trevally cruising in the surf. I had another fly crushed by a trigger and we were back home in plenty of time for lunch. Janie and Jacqui relaxed and enjoyed the peace and quiet of Alphonse for the afternoon.

A mixed day overall; Joern and Maria had a very quiet day as did John. Michael frustratingly lost two triggers which Geoff was no doubt rather rude about as triggers have been his nemesis for many years.  Peter was despondent not catching a GT but having been route marched through scrub, beating a path through the mangrove, James had taken Phil and Joe to a very sweet honeyhole which produced a 90 cm GT for Joe and a 110 cm GT for Phil.  Mixed day, mixed blessings; such is fishing.  Out on the bluewater boat Rob had a sailfish and bonefish, scoring him a Bills & Bones.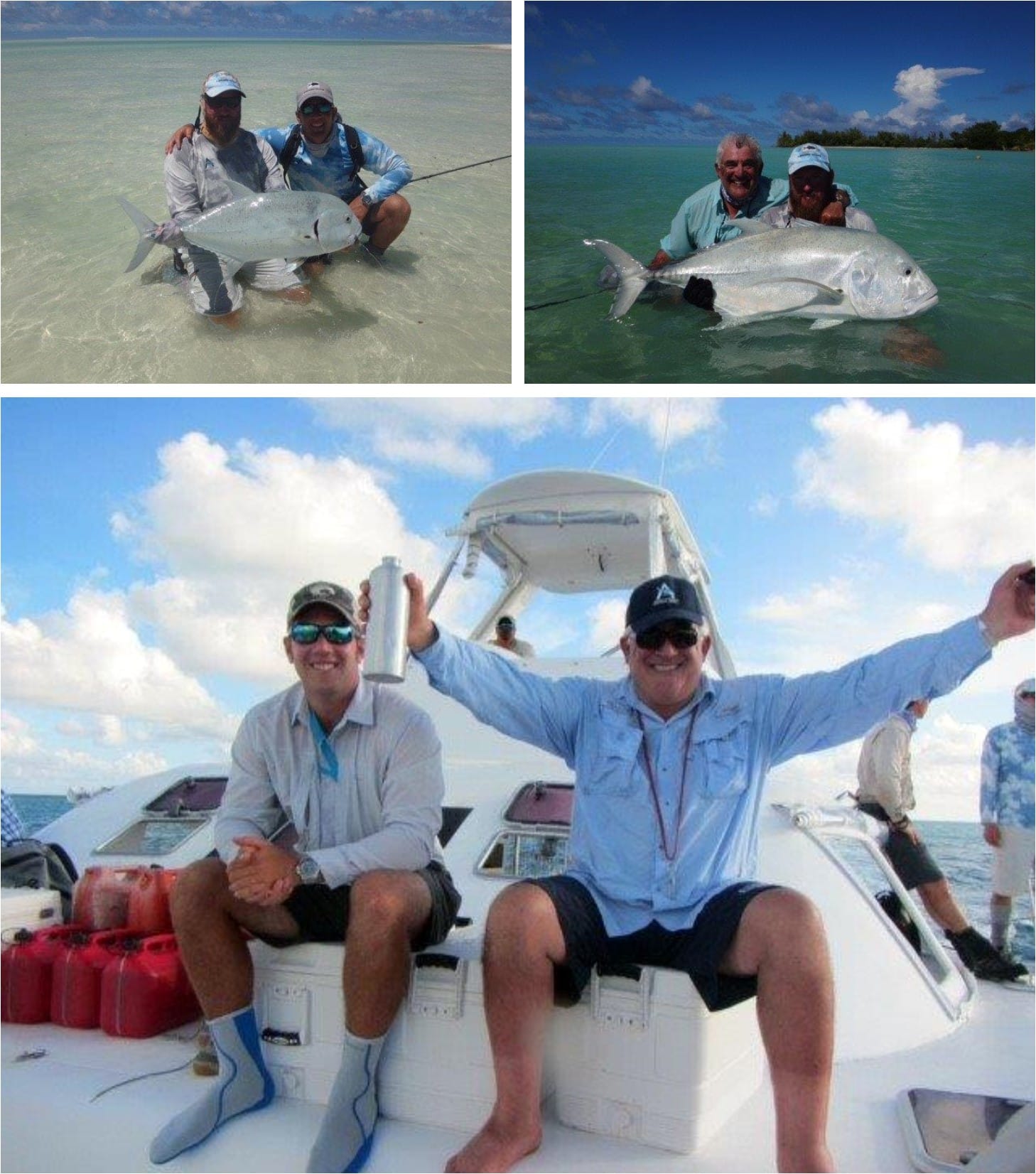 A wet night brought a cloudy and overcast Friday, again with a mixed bag of results. Wayne took Peter and I into Cosmic and round the back, through the gully. I've never been able to access it before and it was pretty special seeing a part of the St Francois that I'd never seen before.  The theory being that the GTs push up through into this one way backwater, the bones are essentially trapped and the GTs have a killing time. Final fishing days are always a little sad; you know your week is done and some of us finished on a high, some not so but it was a great week with great company.   Peter and I had another permit encounter, this time under the watchful eye of Wayne.  Jeff was out shadow guiding and he and I were wandering along, near the edge when we both spotted 'something'. Jeff realised very quickly it was a permit and I shouted to Wayne and Peter to come down to us chop chop.  They did and Peter put in a lovely long cast, right where it needed to be. With no interest, he picked up and cast again, the permit turned, the fly was twitched and followed.  I stopped breathing again watching this unfold in front of me when the smallest bonefish on St Francois darted out of no-where and took the fly and then proceeded to mess around while Peter desperately tried to unhook it.  With Peter occupied, I cast at the once more obliging permit, twitched my fly and saw the fish change direction and follow.  Once more holding my breath, I was absolutely focused on that permit and didn't the little Bluefin trevally until it was too late. It took my fly and the permit took off. Have we paid our dues to the permit king? Probably not but success has to be getting closer.
Rob's elegant hat was finally outshone by his magnificent GT.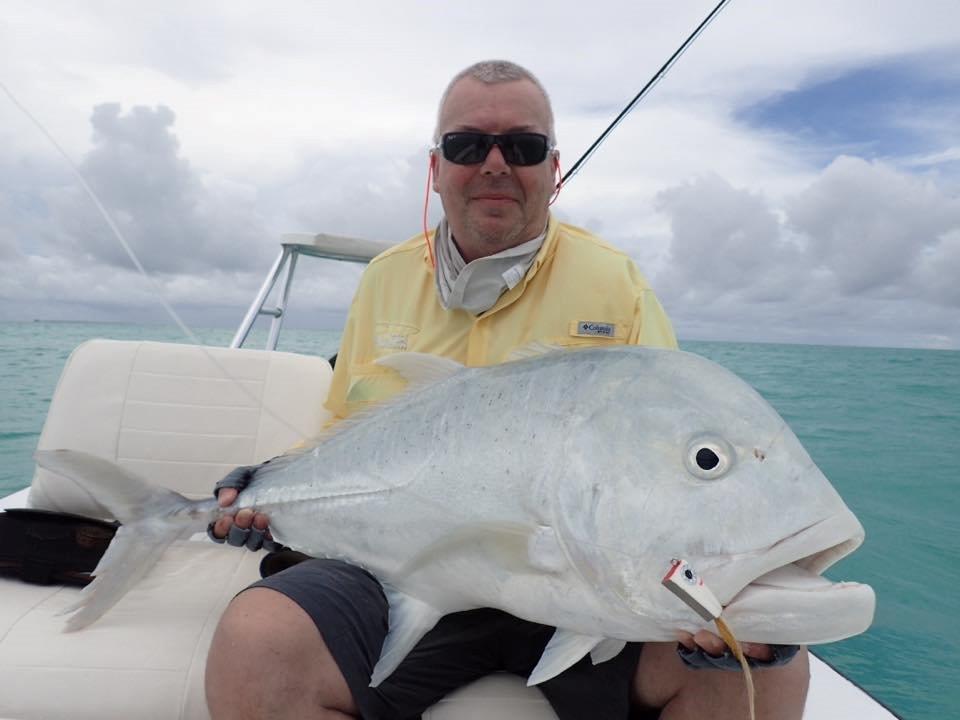 Pelham and Janie once more managed to avoid my attempt to get fishy photos from them but they could wade but they couldn't hide  ….

GT Friday lived up to its names and the day had to belong to John with this very large, metre plus GT. I'm still not sure who was more excited -Yousef or John.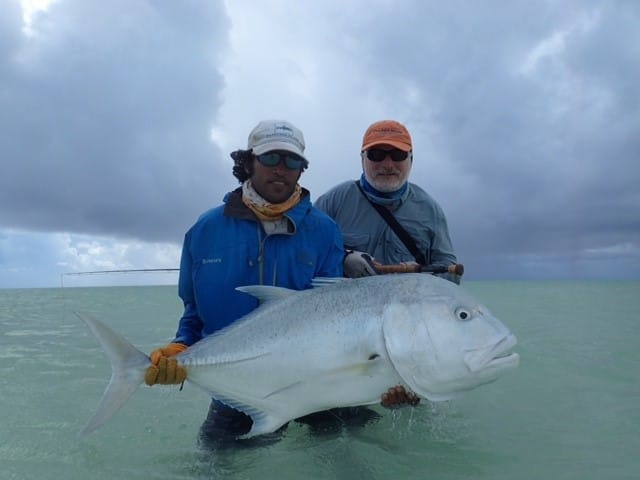 What trip would be complete without a stop to admire the pets on the Alphonse mooring, some of them are seriously big and I am always amused watching the very round football like triggers darting amongst the monsters.  Although we have tried hard to convince her otherwise, Jacqui remains adamant that a day by the pool, drinking wine, reading or cooling off in the pool beats a day on the flats. There is notable difference between cooly elegant lady awaiting our return and the hot, sticky and tired group of anglers arriving.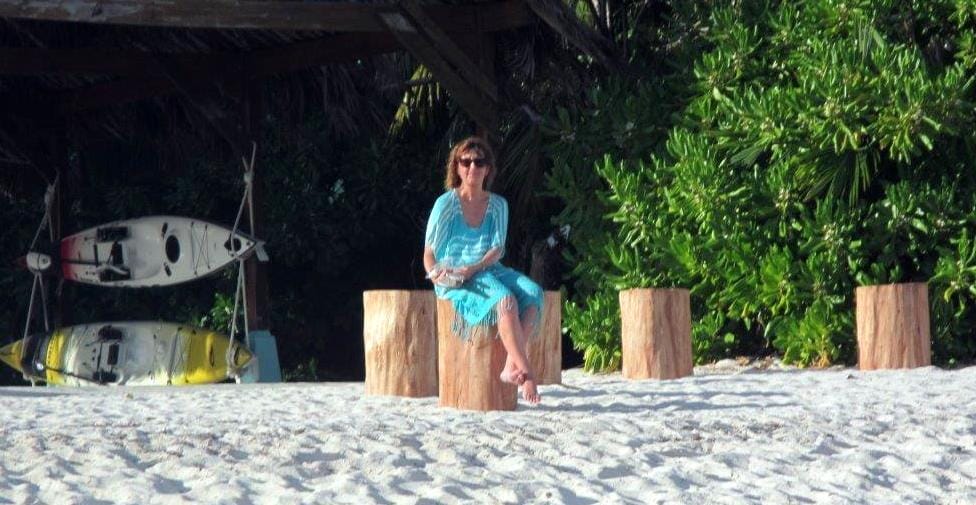 With rain and wind again in the night I was lying in bed thinking of contingency plans for flights, all of which was wasted effort as Saturday morning dawned breezy but clear.  We said goodbye to Joern , Maria and Michael who were all staying on to fish again. Settled in at the hotel once more, we were comfortably based for the period between flights and with an early dinner done, I waved goodbye to everyone heading back to London and went to repack – again – for the next leg of my journey.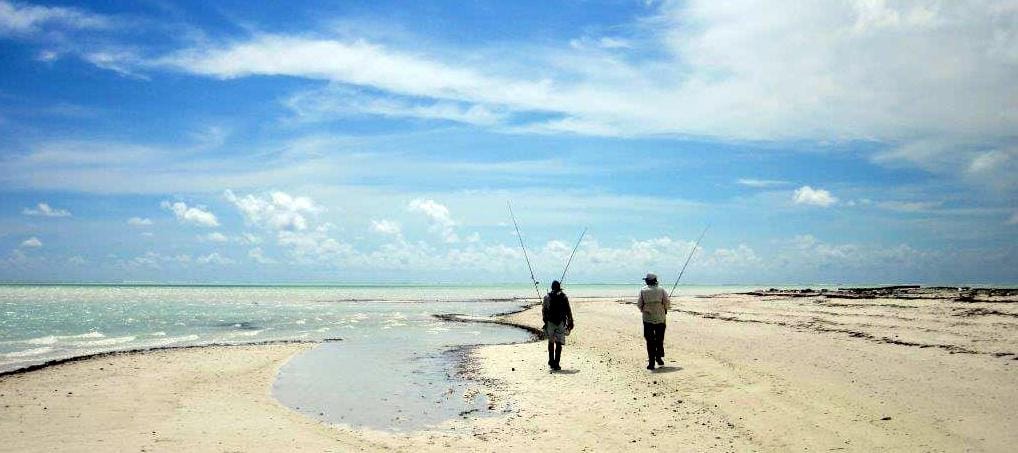 Please contact Charlotte Chilcott or call +44 (0)1980 847389 for details and availability.  If you would like to join Charlotte on Alphonse in 12-19 March 2016 please get in touch. Further details are also available on our website so please click HERE.
If you would like read Part I of Charlotte's Indian journey, from New Delhi to the Saryu via Corbett National Park, please click HERE.
Part II of the Indian odyssey can be reached HERE.