Alphonse and St Francois never cease to amaze me and my end of November/early December hosted week this year proved once more how good this fishery is. It's hard not to love the Seychelles and my autumn migration to the islands is one I look forward to all year. The majority of the group are experienced Alphonse hands having fished it for many years and there were even a couple of the original Tam Tam shirts in evidence on and off during the week. We arrived onto Mahe in beautiful sunshine, the mountain clear of cloud and the drive down to the hotel was mainly done in silence as we all soaked in the view and the sun. With crystal clear blue water on one side, traffic and chaos on the other (it was voting day), it was wonderful to be back and the view from our balconies was ………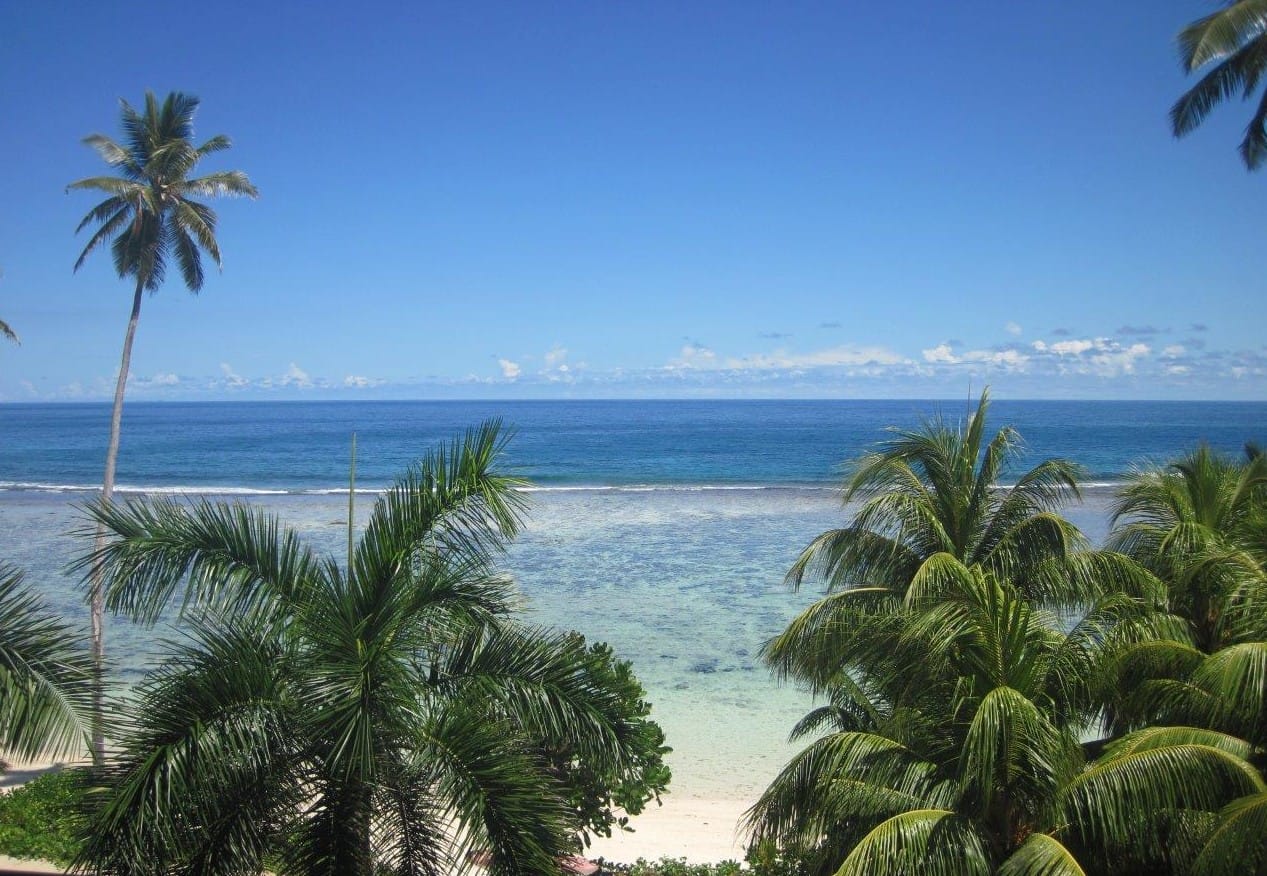 With an early arrival at the IDC hanger requested, we set off once more in glorious sunshine to wait for the flights to Alphonse (we were being shipped in in two batches). It's been a few years since I flew from the IDC hanger and not having to contend with the heat and the hustle of the domestic terminal made a nice change. With a restricted luggage allowance, the scales seem to loom over the room but without delay the bags were weighed, luggage labels affixed and soon we were aloft.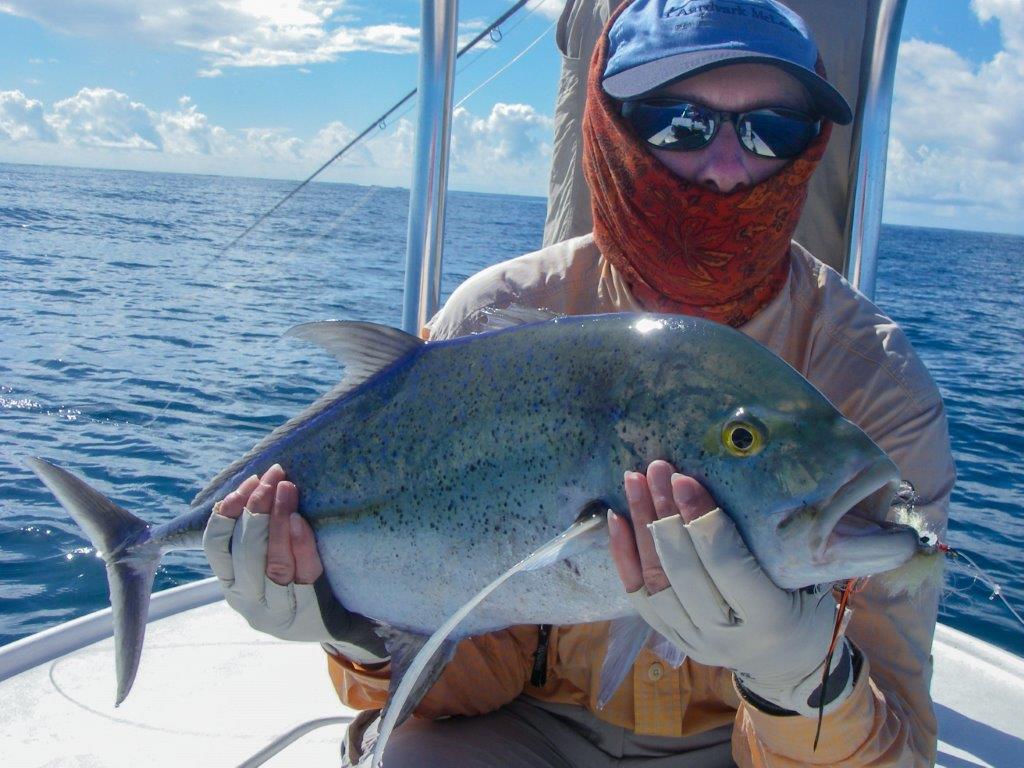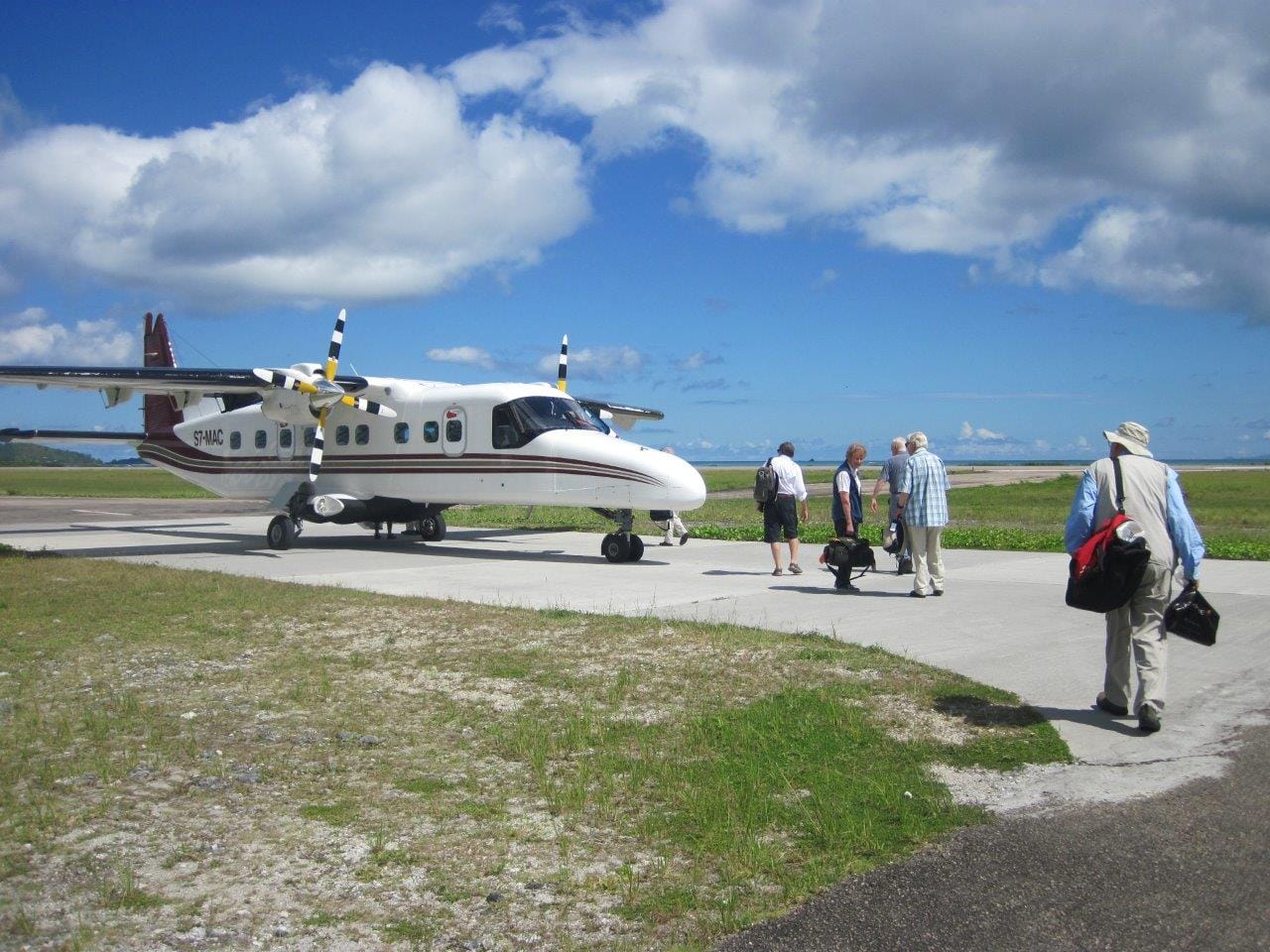 Without a direct flight from the UK to Seychelles, it is a long journey and that is partly why I strongly recommend flying out the day before; a good nights sleep and no stress about connecting flights makes the last leg of the travelling a pleasure rather than a trial. Having said that, taking off from the "wrong" end of the runway caused no small amount of consternation and it took about 20 minutes to convince my erstwhile boat partner that we weren't heading north; as Denis Island hadn't come in sight by then he allowed himself to be convinced that our pilot did in fact know which way to go. It always seems that the arrow head shape of Alphonse appears all of a sudden out of nowhere and once spotted, its no time at all before the palm trees are whizzing past the windows as you land. I had time for a quick chat with our clients who had fished the week before heading to the bar and my long awaited coconut.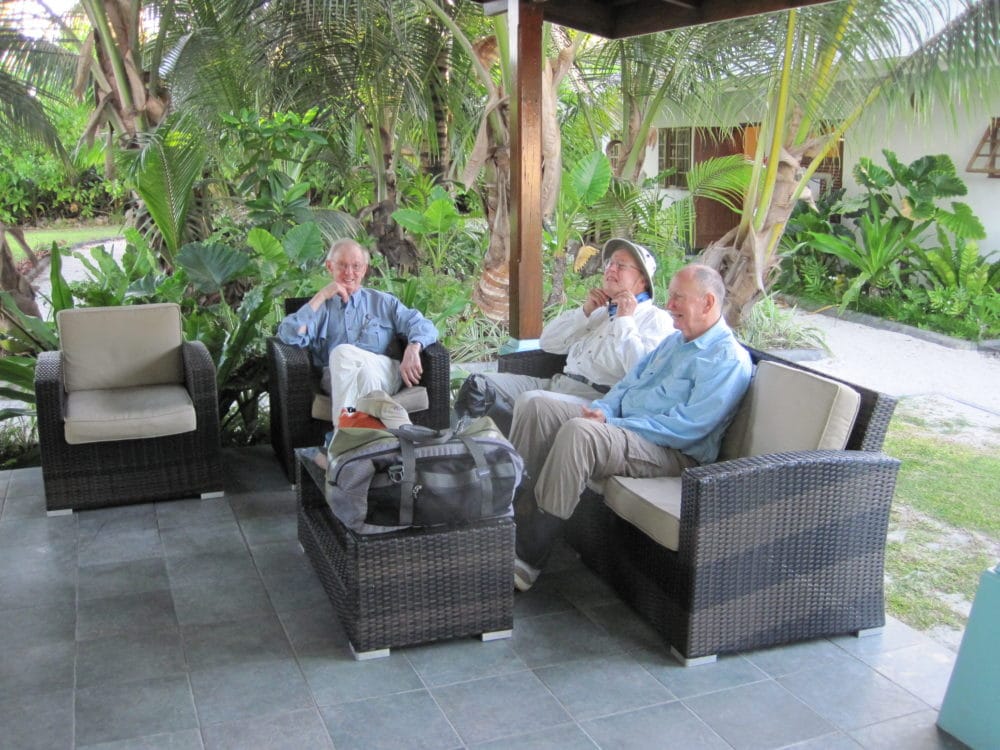 Sunday morning saw all at breakfast keen and early and it wasn't long before the buggy made its first early morning pickup of the week as I collected Keith. We enjoyed watching the slightly unsteady progress of a bicycle or two on the way up to the now very smart fishing office and our first chance to rummage around in the fly box, seeing what new offerings the guides have tied over the closed season (or more probably, the night before). They always say it is the small things that you notice and the new BIG rota board for the week was a joy to see; I could read without my glasses which were, as always and unhelpfully, still sat next to my book … by my bed. 

The wind was up but the skies were clear as we set off on 'St Francois' for St Francois and our first transfer to the skiffs was not without a bit of nail biting concern, including fancy footwork from Tim and some very pithy comments from his Foreign Legion boat partner about his suitability as a fishing partner for the week.  Eventually we were all loaded, safely briefed and off with Brandon at the helm for our first day back on the flats with anticipation.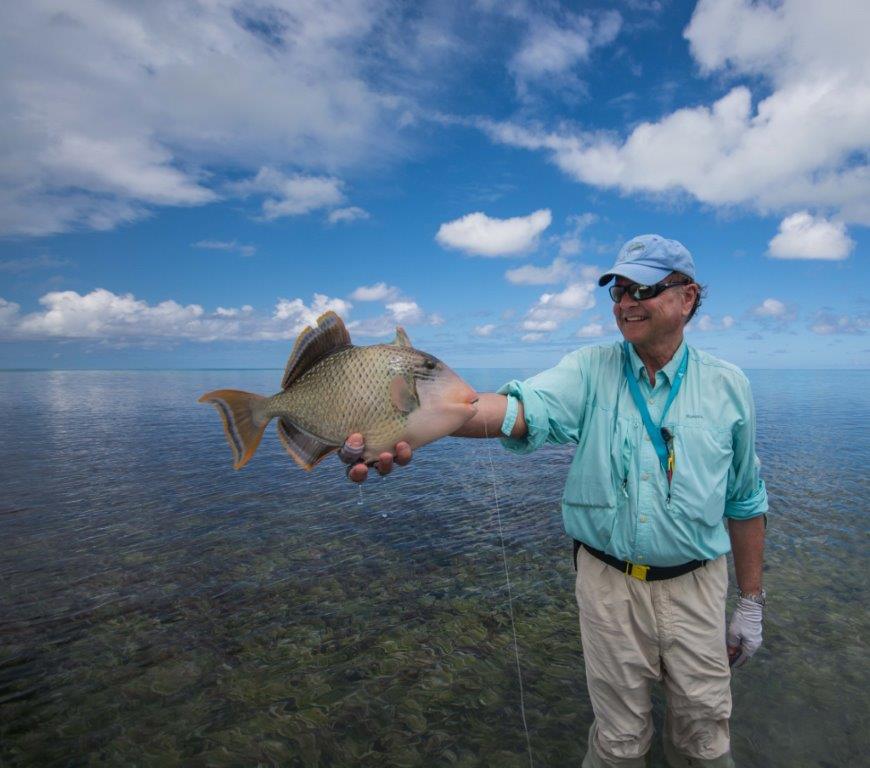 There are no two ways about it; it was windy. We had good sun and blocks of cloud but the wind chop on the water didn't make it easy to spot fish and it takes a while to get your fish eyes back. Russ and I warmed up on some bones, Brandon asked if we had any preference as to how we'd like to spend out day. We conferred briefly and said that whenever tide and conditions allowed, triggerfish and permit were our preferred targets but that we were keen to keep an eye out for feeding milkfish, GTs and the bigger bonefish who patrol the flats in ones and twos. With a raised eyebrow, Brandon laughed and pointed out that it was a pretty versatile wish list. As it turned out, our natural inclination was to pursue the two least co-operative species on these flats, triggerfish and permit. By the time we returned to the mothership, we had landed neither, had decent shots at both, filled our boots with bonefish and had a brilliant day out. Despite the wind, all had had a great day and Tim and Mike (who alone in the group had never fished in saltwater before) both joined the 20+ bonefish club which included a nice fat 7 lbs fish …. what a great way to start your first saltwater trip.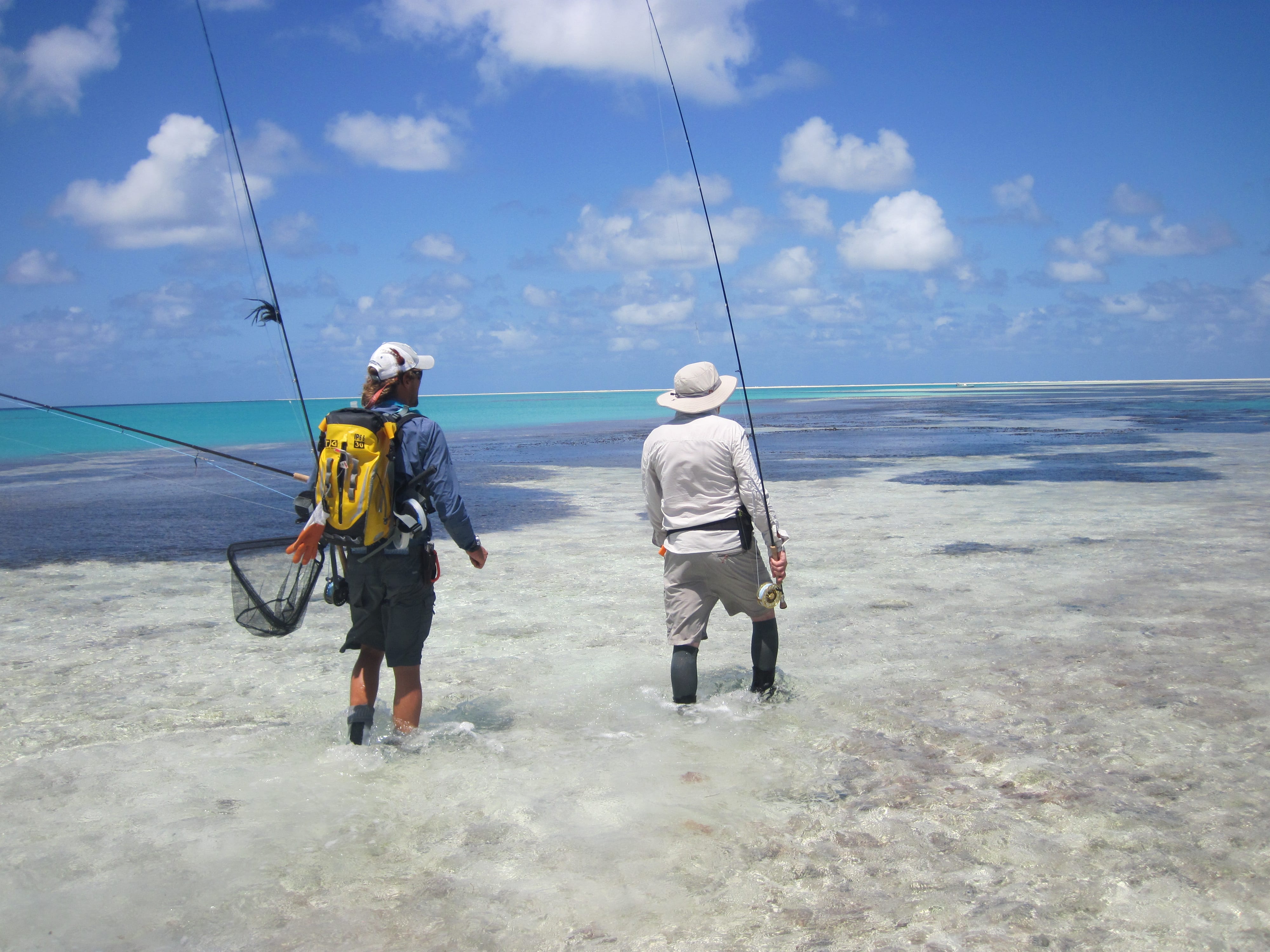 That really set the tone for the whole week and the flats of St Francois lived up to their reputation as one of the best bonefisheries there is. Everyone landed their fair share of these beautiful fish; sometimes to hard to see until the last moment when a fast and accurate cast is needed. Regardless of whether they are smaller fish in enormous schools of a hundred fish or bigger specimens travelling in small groups, who can resist putting a fly out. Waiting for the turn and the follow and BANG, fish on and line running. Double ups are not a rarity on Alphonse and on several occasions Russell and I had to do some fancy footwork to avoid knitting our lines together as our fish crossed paths.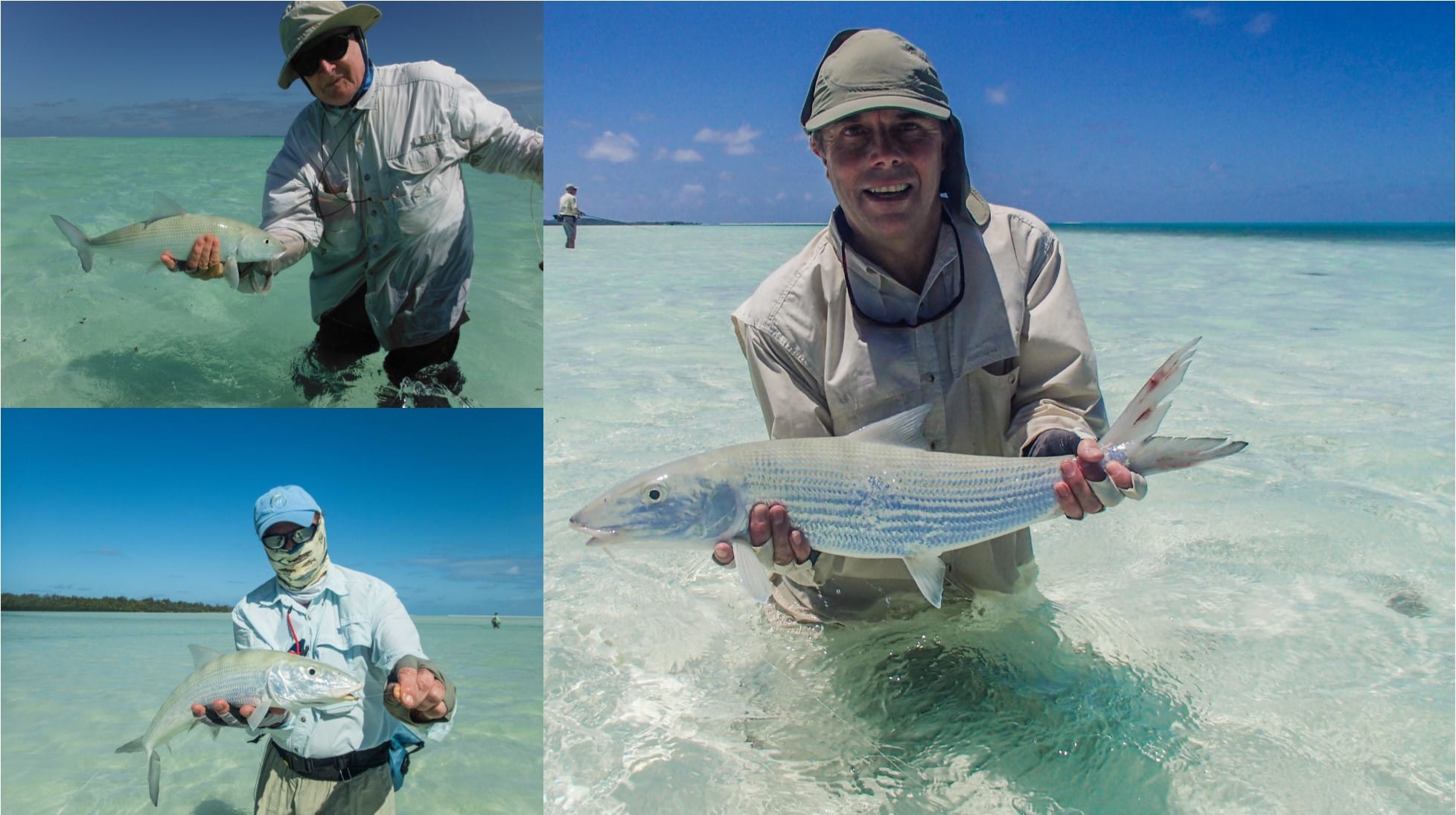 The days flashed by as they always do and there are always notable fish and great stories of those landed and those lost. Occasionally a total lack of respect for the difficulty of what one is actually trying to achieve creeps in. In hot pursuit of triggerfish with Wayne at the helm, we had a morning of refused flies but undiminished belief that it would come right. At some point. A broken tippet courtesy of a very big yellow lipped emperor had Wayne and I on the sidelines when we hear Russell's reel go and looked across to see a beautifully bent rod and Russell shouting "no idea what it is but its running hard". "It" turned out to be a beautiful yellowmargin triggerfish which Russell wasn't giving an inch to and in very short order, Wayne had it firmly tailed and we could all breath once more. During the course of the week, triggerfish were pursued, landed and lost on many occasions but therein lies the challenge … they are tricky, picky and utterly addictive as a species to pursue.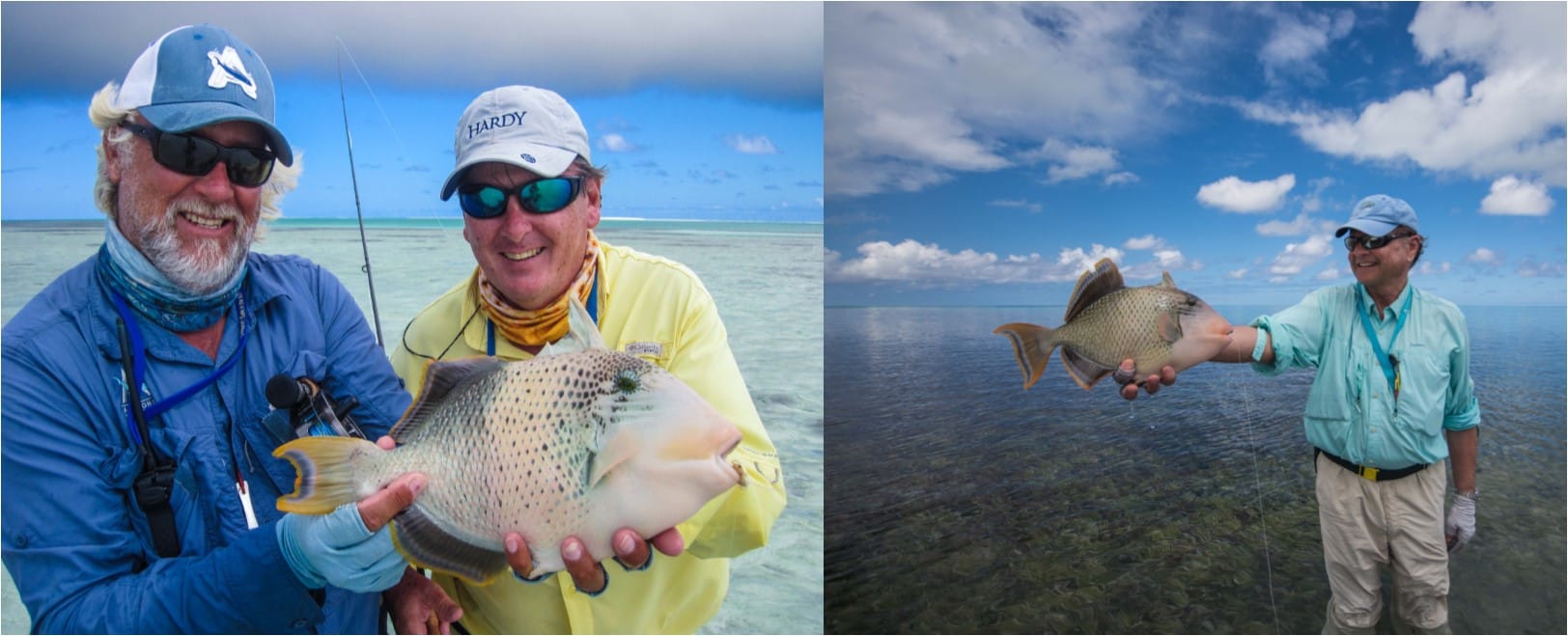 The weather gods didn't give us a perfect window for milkfish, either to encourage them up to the surface to feed or for us to be able to get out and look for them. Tim rose to the challenge of a small pod of milkfish feeding on the flats and brought this shiny beauty in for Tommy to safely tail.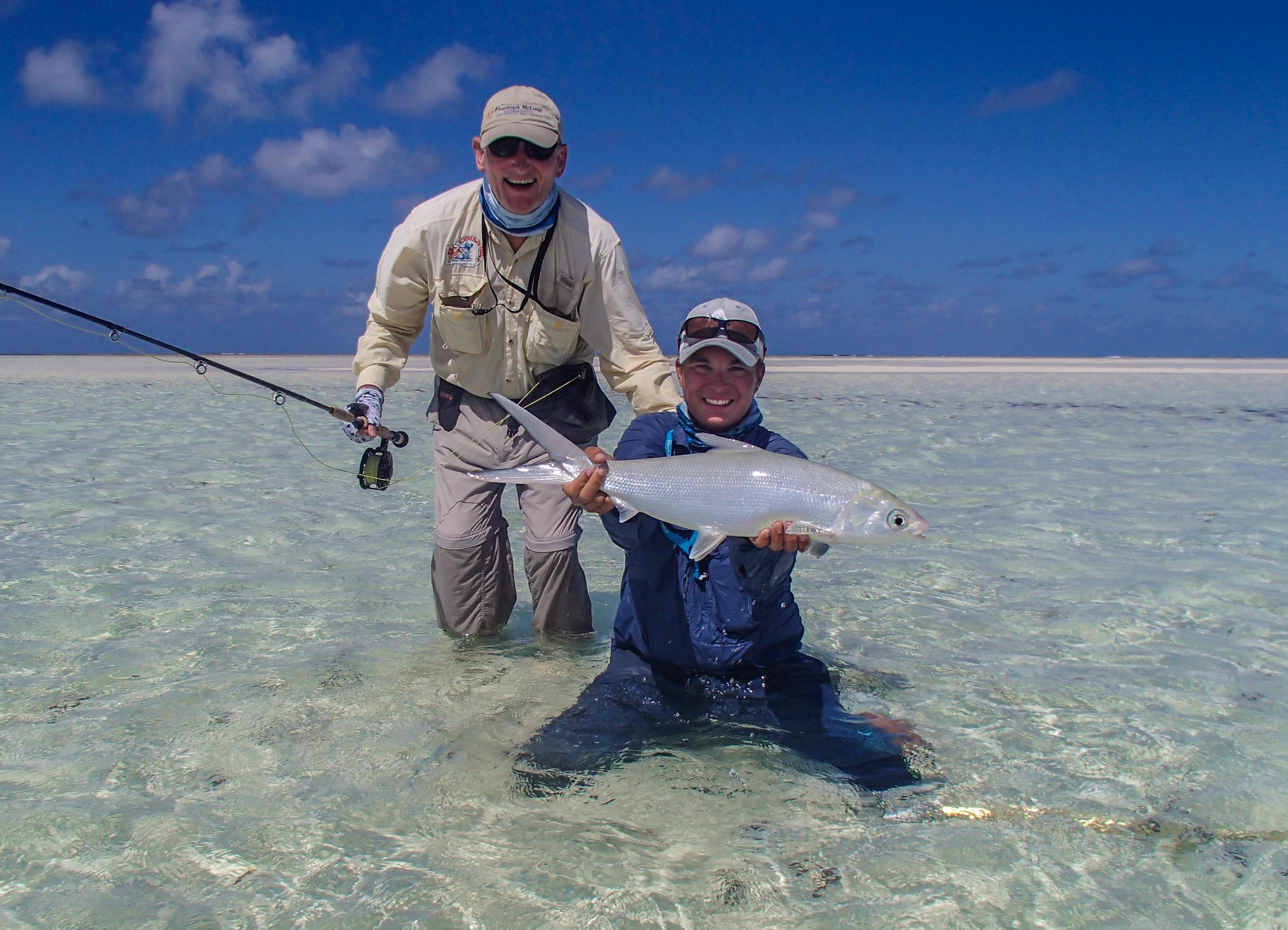 No trip to Alphonse is complete without a GT or two. Although there were a fair number of GTs spotted during the week it was to Mike's (the third of the name in the week) fly that they succumbed with two super fish landed the same day. A little later in the week, a very nice brassy trevally opted to snack on my bus ticket and with some deft maneuvering around the coral bommies to avoid snags, it was with no small relief that it came to the boat and Stu's tight grip.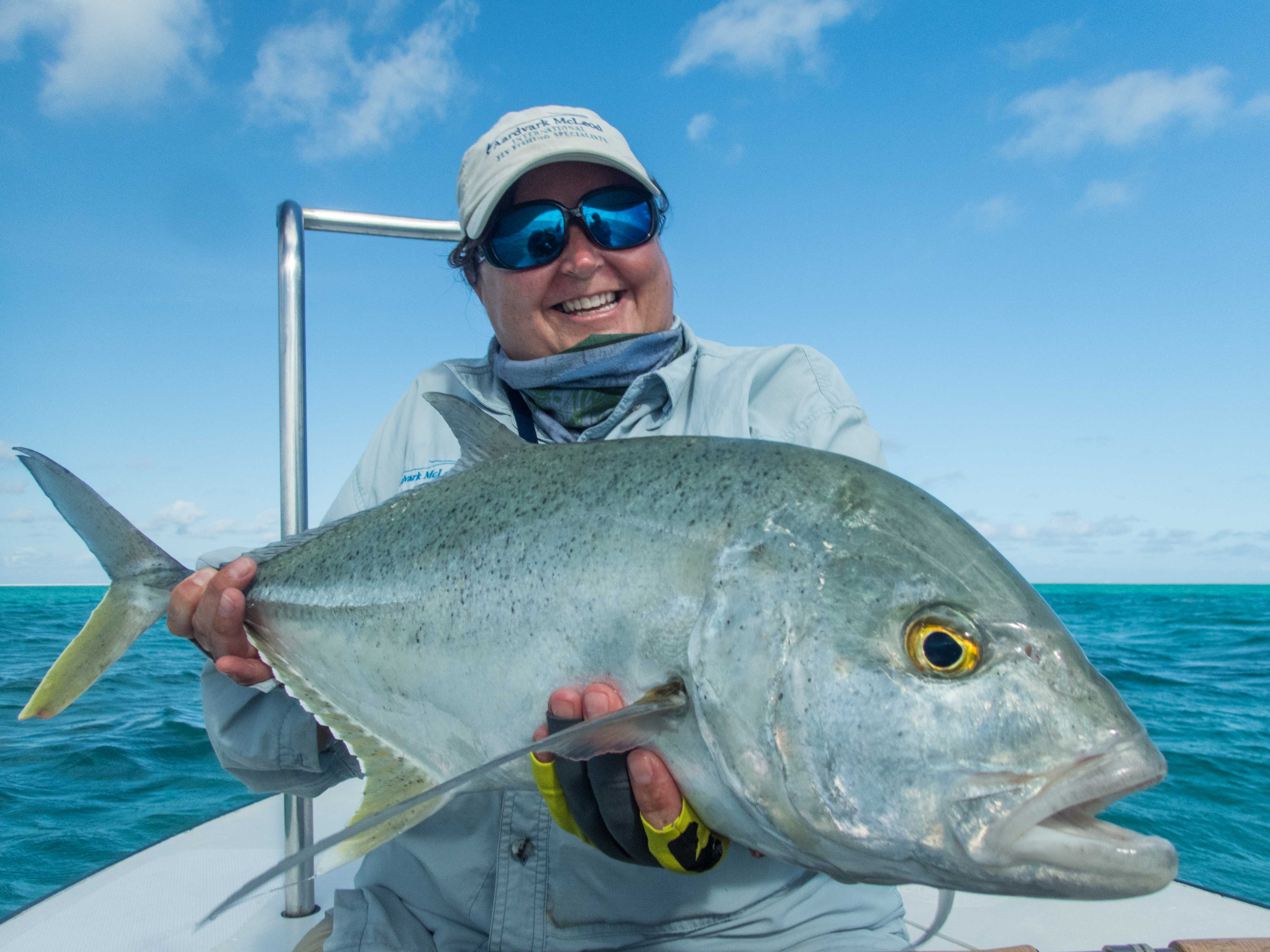 It is not just about the big boys or the glory fish here. Alphonse is one of the most varied saltwater fisheries there is. We caught yellow lipped emperors, blue spangled emperors, needle fish, groupers of all shapes and colours including the beautiful lyre tailed grouper. Tiny Picasso triggerfish are as likely to steal your fly from in front of a bonefish as a wave garrett or a bluefin trevally. Huge schools of mullet (yes they will take a fly) cruise the flats and cause confusion.


Not content with landing a milkfish on the flats, which is no mean feat in its own right, Tim also landed this stunning permit. For the remainder of the week he was heard muttering that size didn't matter, much to the bemusement of a couple of the group who hadn't actually seen the photo and had absolutely no idea what Tim was on about.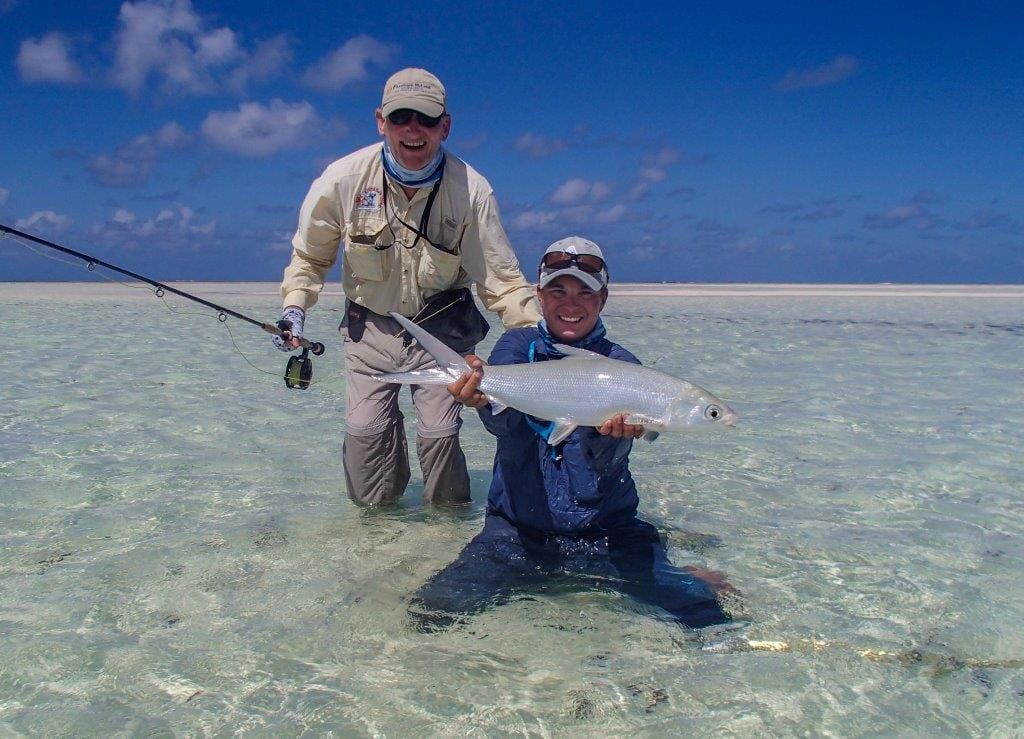 As much a part of the week as the days spent out on the flats, so too are the evenings spent talking about the triumphs and failures of the day. It was with much mirth that we gathered at Room 17, as is our tradition on this week, to brave the stiff hand of Keith's G&T and then to try and keep everyone in the buggy for the short journey to the bar. We did also manage to make it up to the runway to see the stars; lying down to get the best view wasn't an issue but the same can't be said for getting back up. When I saw Tony using the buggy as a brace, I realised I hadn't put the brake on and had visions of he and buggy shooting off backwards. That would have taken some explaining.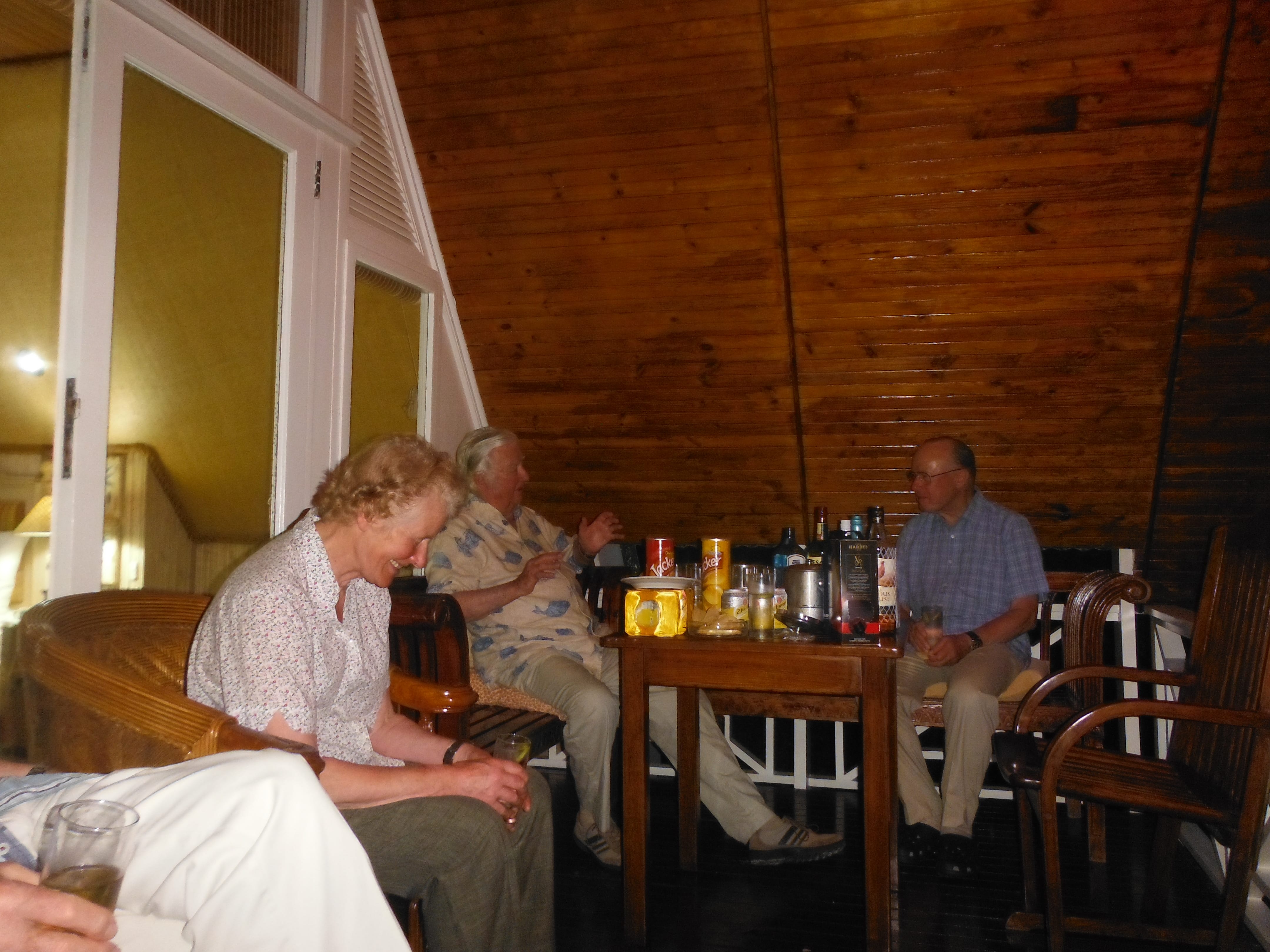 A part of the pleasure of returning to Alphonse is seeing what's new and what has changed. Out on the flats I had expressed my concern that there were fewer turtles than normal; that lasted two days and then they were everywhere, raising and dashing hopes in milliseconds as they appeared, disappeared and spooked fish as they shot off across the flats. What was fantastic to see was more sea cucumbers; I remember on my first trip that they were like a carpet in Cosmic lagoon but that changed and it was super to see so many more on this trip.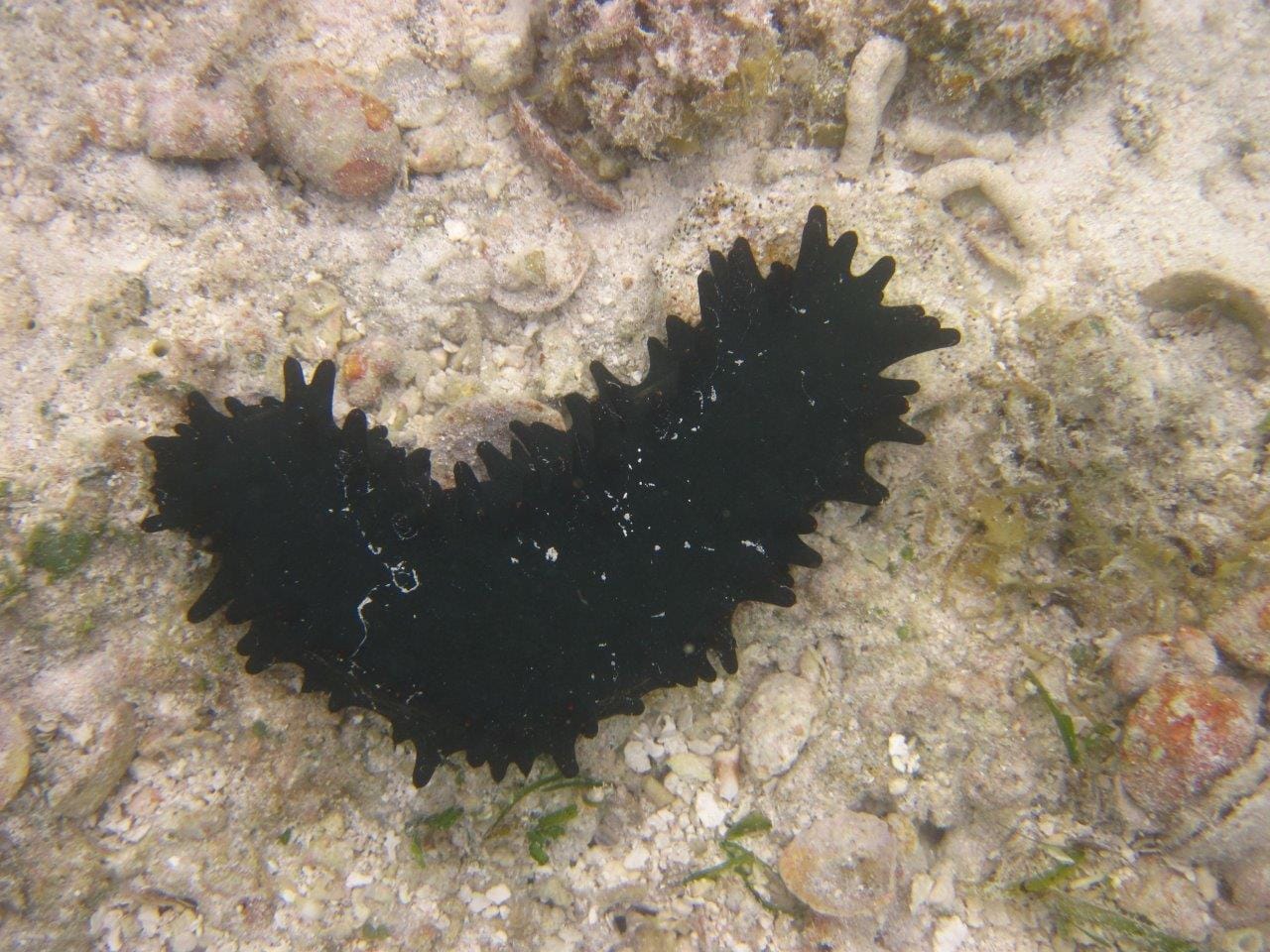 Last year Russell had an epic day out on the bluewater boat, landing three sails in one session. Abandoning our skiff for the morning, we headed out with Sean, Yousef and Geoff for a half day in the hope that we would raise a sailfish or two. It wasn't to be as although we raised a couple of sails, they came up once only and then retreated, leaving us waiting with baited breath and poised to get the fly out there. The wahoo however weren't shy and both Russell and I had good shots. Both missed a couple of fish before Russell made contact with a very big fish which made him work hard. Almost at the boat, Russell's wahoo dived once more and all we could hear was "no, no, no, not again". It surfaced not long after that, rising to take a rest rather than having been mastered and in short order Sean and Yousef had a firm hold and Russell had his wahoo. Several photos and some strange sound effects later, the fish went back and swam off leaving the delighted Russell happy, if less than clean.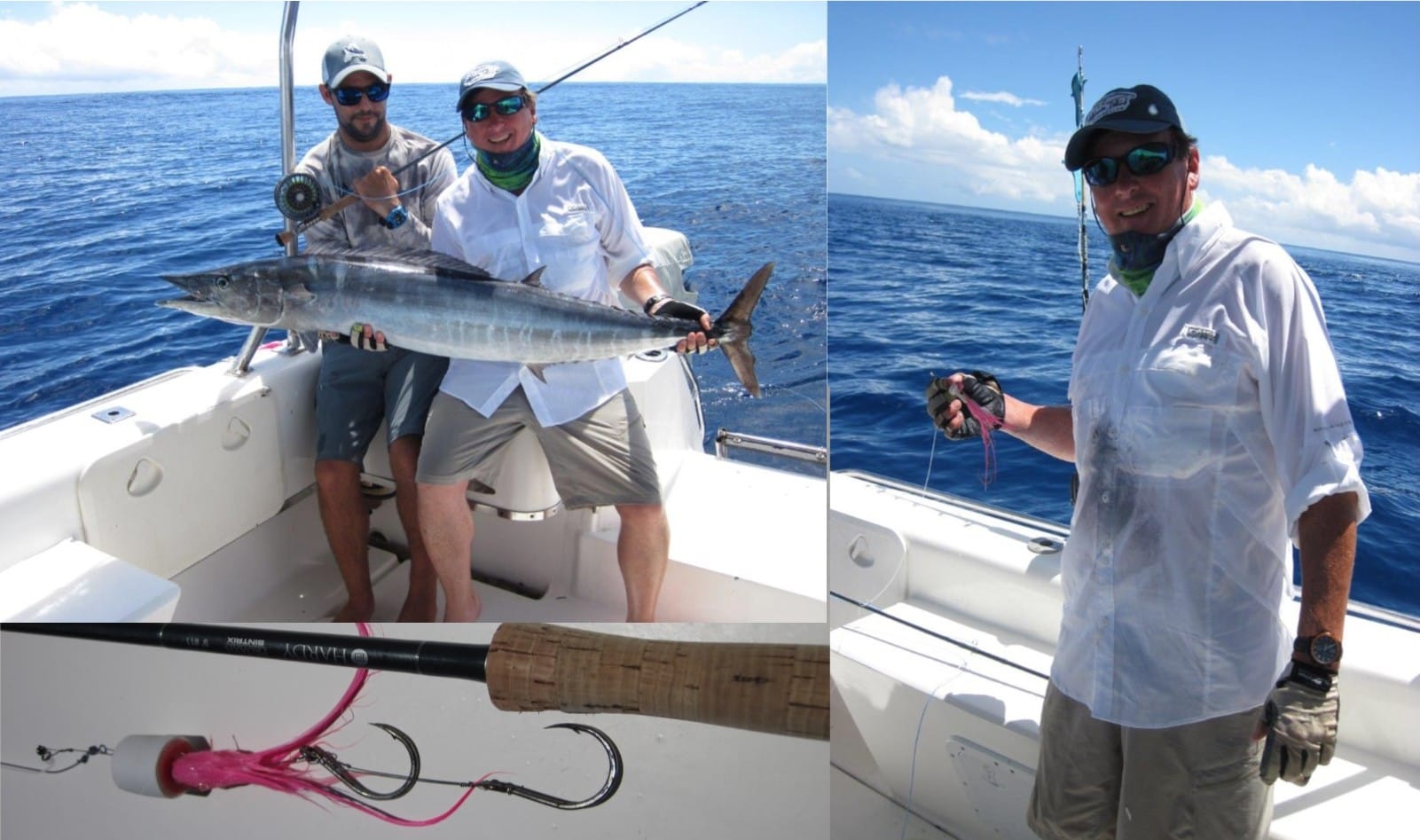 Not long after that, I had a fish on that very quickly became a fish off and while I was still huffing about it but before I could bring my line in, a second wahoo hit the fly and this time the hook set. I have to admit to being grateful it wasn't as big a beast as Russell's as it made me work and when the fish came alongside the boat, it slipped from Sean's grasp and Yousef was left hanging onto the tail. As it thrashed around poor Yousef was thrown around too, hanging on grimly as he was shaken from side to side. Trying to get into a position to help, Sean shouted to Yousef to hang on and inbetween judders, all we could hear was Yousef saying "I'm hanging, I'm hanging".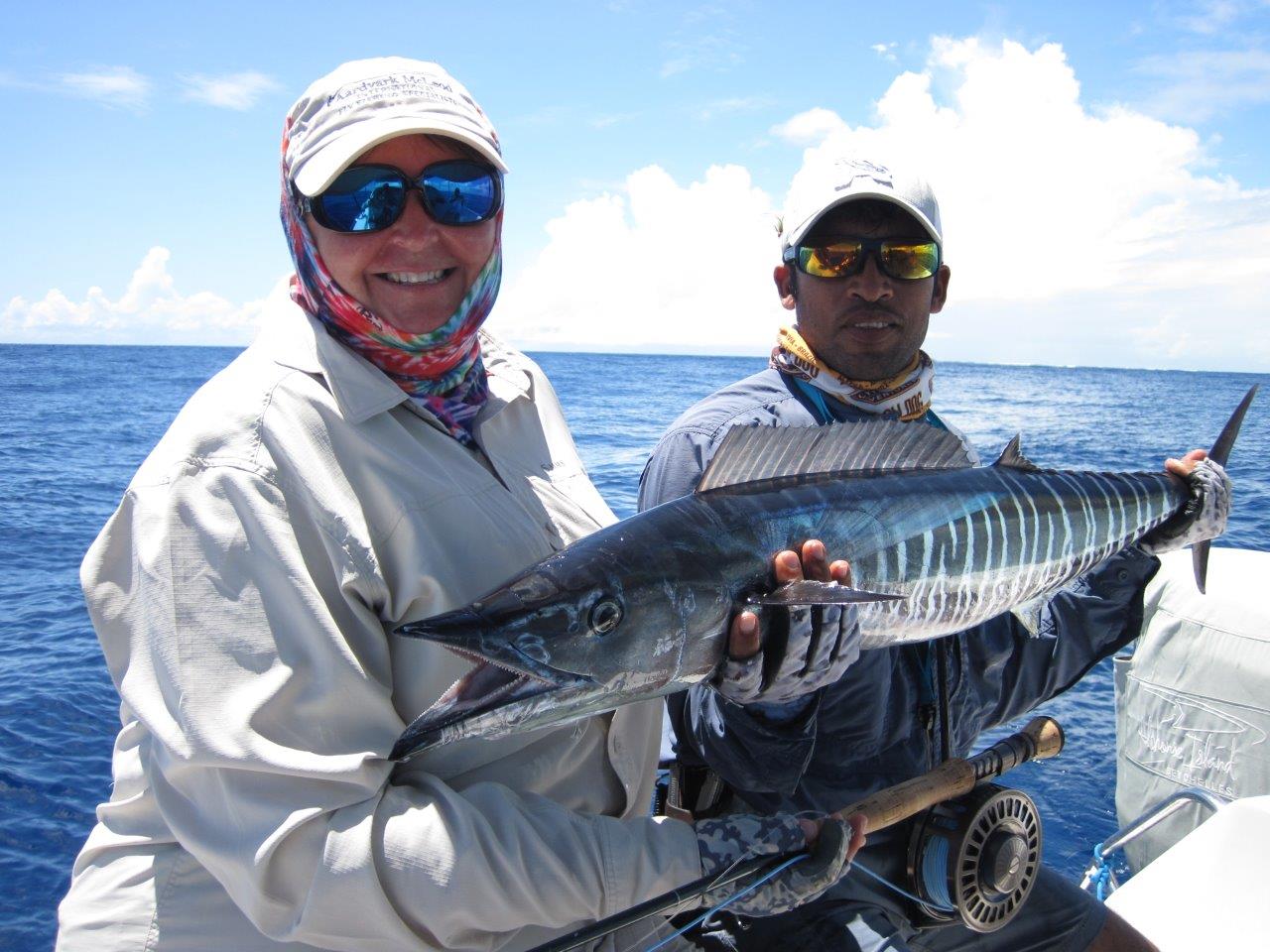 On the island itself, being able to spot what's new or been done is always a challenge as on the surface very little appears to have changed but huge amounts of work have been done. New roads put in, foliage cleared and this time, new rooms have been added and retaining walls built. From Desroches the gun bus has appeared, probably bought over to reduce the amount of guests who go off-piste and don't make it to dinner after sundowners. The new bus certainly made it easy to get to and from the end of the runway and what a great spot it is to enjoy a pimms and try island produced biltong while watching a beautiful sunset.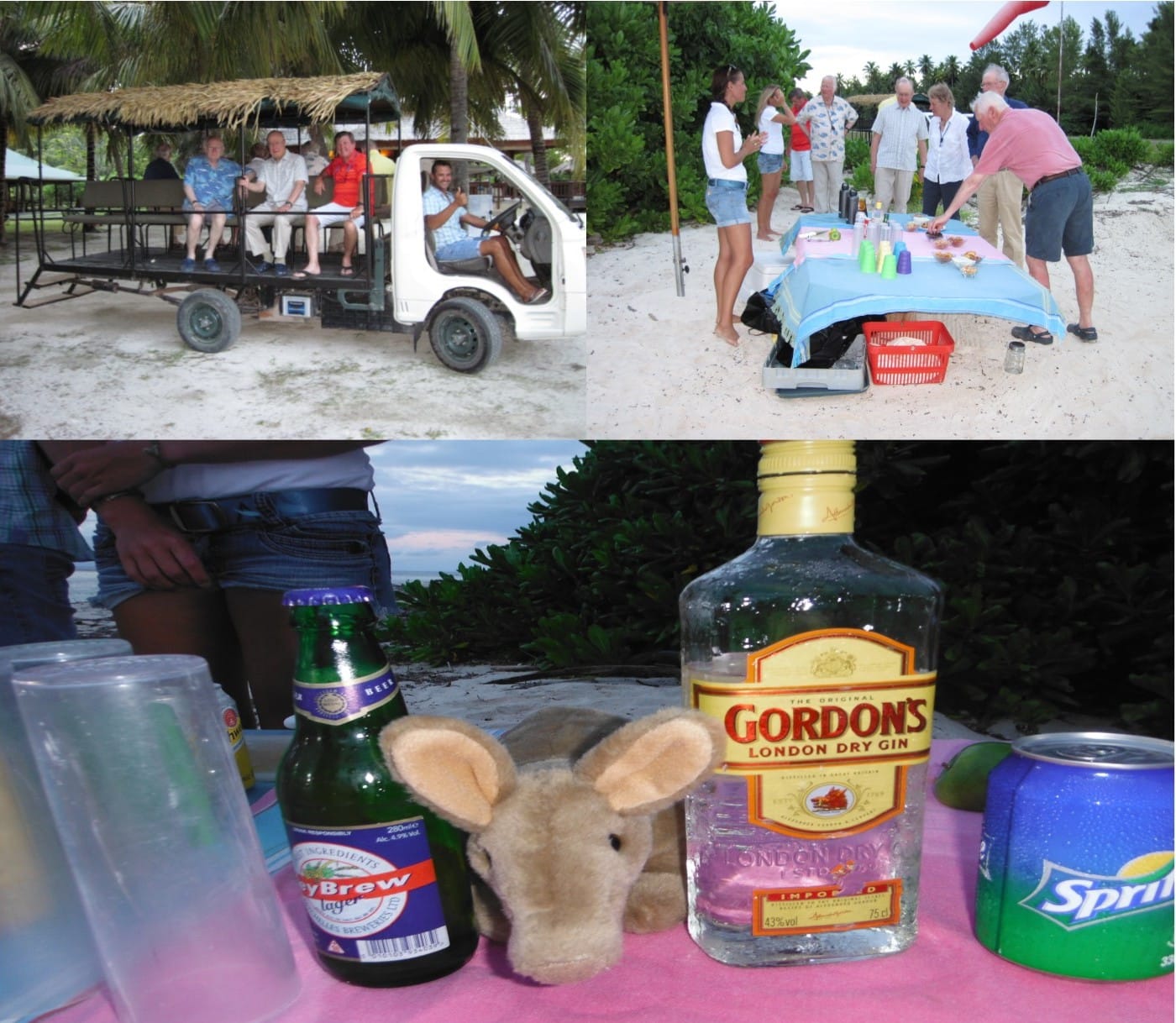 All of a sudden our time was over and it was time to pack away the rods and get ready to head home. The tradition of last night photos continued; it was a little like herding cats but we made it eventually, getting all the guides and ladies in one place.
Comparing the guides photo below to ones of the past, there has been a noticeable increase in the number of shaven chins and pressed shirts …. ladies influence methinks?  And as for us, what a great week, what fantastic company and I can't wait to do it all again later this year when we head back for a rematch on the flats of Alphonse and St Francois.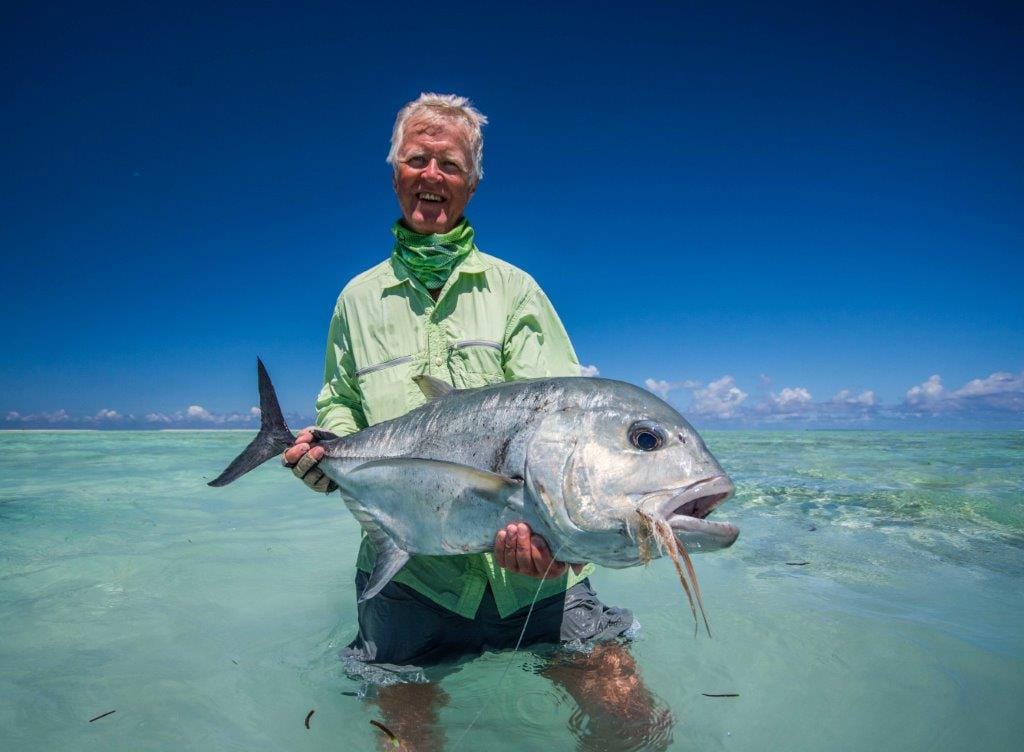 If you would like to join Charlotte she will be returning to Alphonse 12-19 March 2016 and has a few rods remaining. For more details about fishing on Alphonse please contact Charlotte Chilcott or call the office on ++44 1980 847389.