Heading to the Seychelles for his trip to the Indian Ocean, Alex Jardine left the office followed by cries of 'catch something big'.    He did.  He landed the first "Bills & Bones" slam of the season on Alphonse, had his first (and second) GTs on the fly, his first taster of the power of the milkfish and had a fantastic week.  Alex's blog report will be up in full separately but below is the weekly report from Alphonse. Enjoy the read.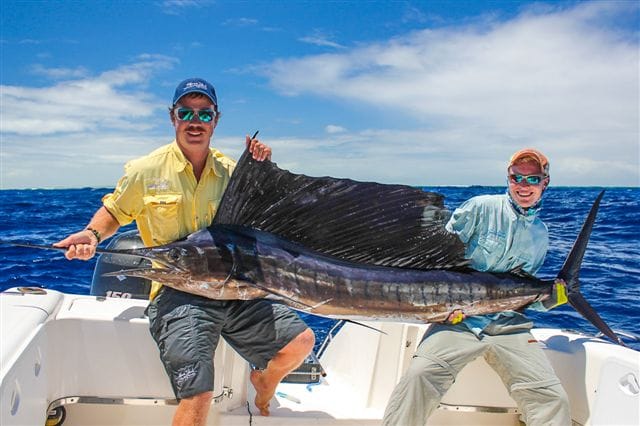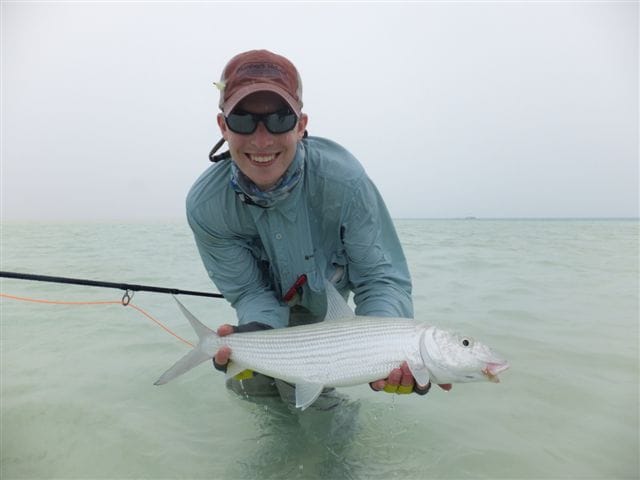 It's been another great weeks fishing, even though we had some questionable weather that was coupled with significant rain during the first 3 days. Compliments have to be given to the team as they persevered through the difficult conditions to hook a number of Milkfish and land 3, all before the weather cleared up.
John Wolstenholme landed 2 Milkfish, one inside the lagoon, which jumped 6 times and smashed his 10-weight fly rod, and the other in the West, which took 2 hours to land despite John's extreme pulling power.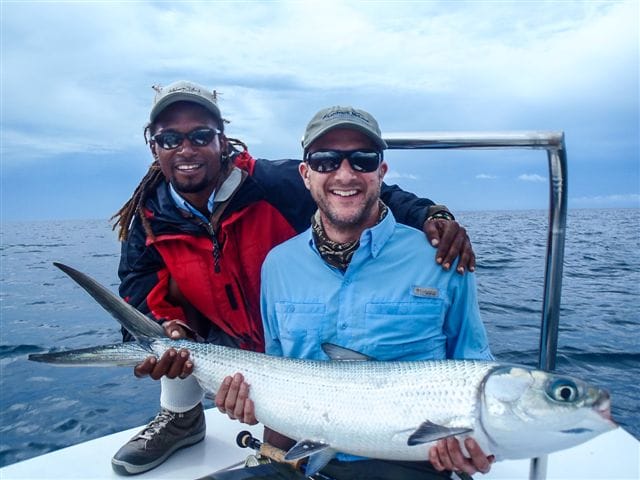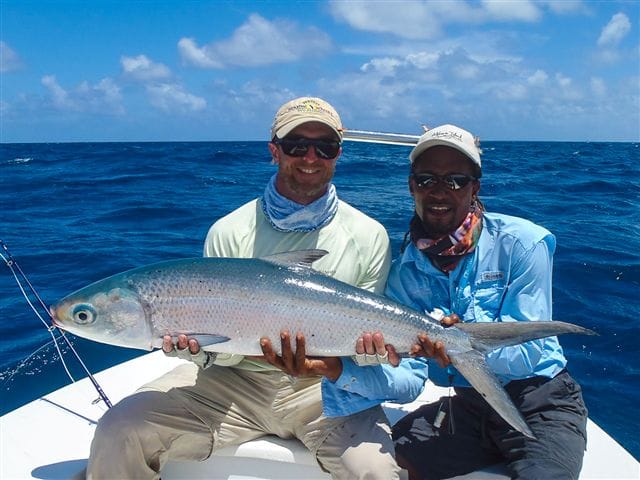 Phil Mellor and Tim White JNR both landed nice Milkfish during the difficult weather and various other anglers unfortunately lost their bounty for various reasons.  A Milk was played for 40 minutes before cutting the angle off on coral.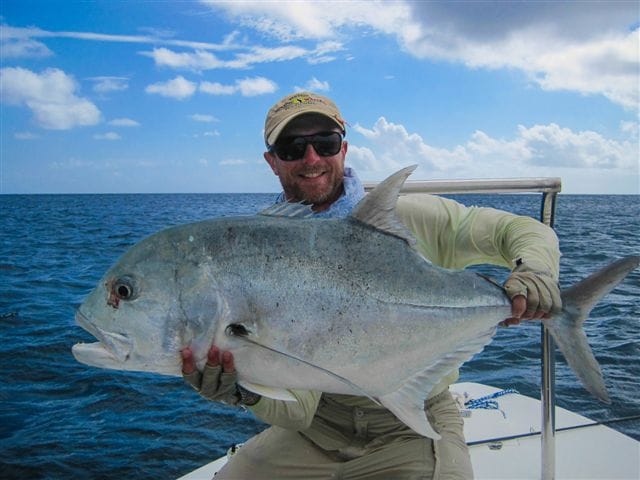 The GT fishing has been consistently good with some very nice fish taken both on the flats, in the channels and along the surf line. The normal bout of tackle failure occurred as numerous anglers lost fly lines to these unforgiving characters. There were however multiple victories as Alex Jardine landed 2 GT's on 2 consecutive days while fishing the flats with a NYAP.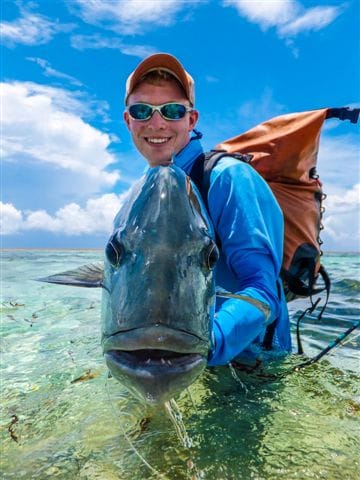 Uwe Holzkamp also landed a brace of GT's, one in the surf line and the other in the channel. Tim White JNR and Ceamus McDermotte teamed up together to do a surf walk and both caught nice GT's. Their guide, Serge Samson had to run for the skiff as the Ceamus's fish almost spooled him before he managed to catch up.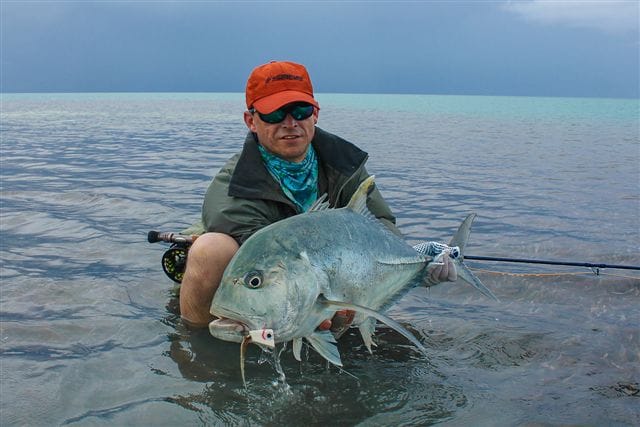 The variety on offer continues to impress as Bill Potter landed a nice Permit, Hakan Undin completed the first "Trigger Slam" of the season by landing a Yellow Margin, Giant and Picasso Triggerfish all in one day and guided by Brandon King.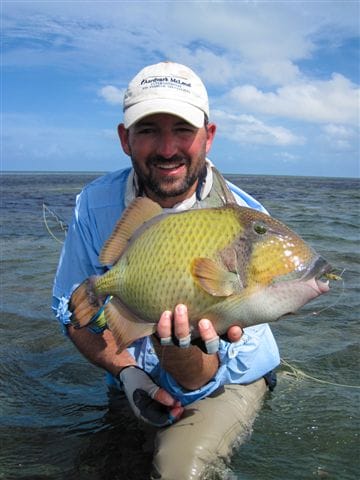 Alex Jardine completed the first "Bills and Bones Slam" of the season by landing a Sailfish and a Bonefish in one day and added to the experience by catching a fantastic 60 lb Dogtooth Tuna.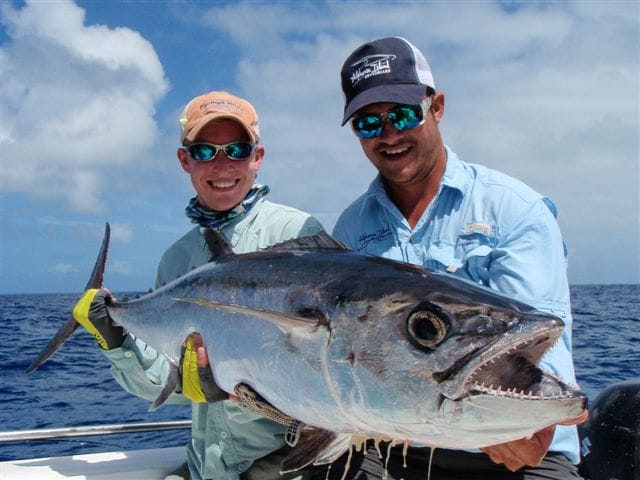 This is what our guests had to say: James Anderson,"I have never fished with better guides". Phil Mellor & Tim White, "Fantastic". Ceamus McDermott, "Quite simply the best guide staff I have ever had the pleasure to fish with.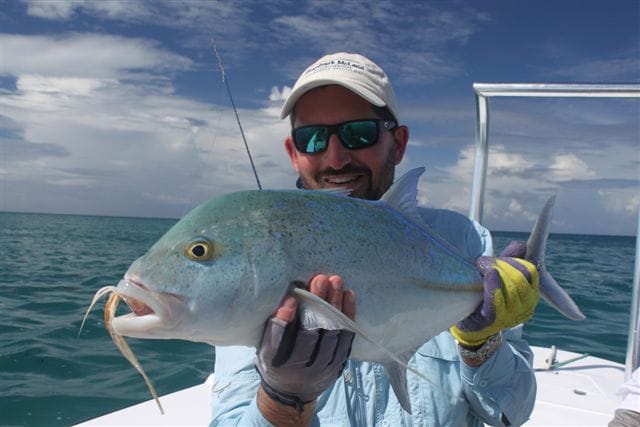 Tight lines from the Alphonse team!
If you would like more information on Alphonse Island or to hold space, please contact Charlotte Chilcott or call us on 01980 847389.