I was on the finger flats, visibility was perfect. I saw the trigger fish hone in on my fly and follow it.  With pounding heart I saw its head go down and … I felt an elbow poking me in the vicinity of my ribs.
I wasn't going to be easily distracted but the elbow was persistent and with a begrudging sigh I focused on its owner.  Quiz night and I had just been busted daydreaming about trigger fish on Alphonse!  At that point, there were only a couple of weeks to go before heading back and I was spending more and more time thinking about triggers on the finger flats and looking forward to blowing the cobwebs off my 9# Hardy Proaxis.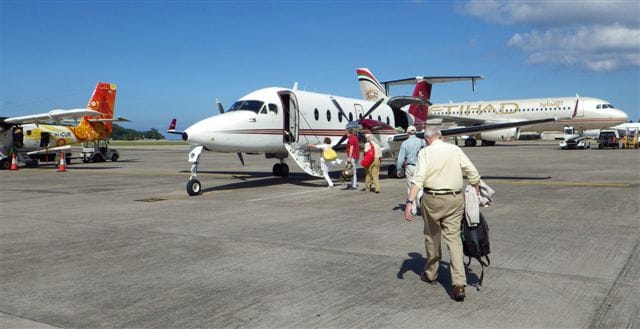 A group of 12 plus me and including two non fishers, we were travelling to Mahe from all over the UK and France with some arriving a day early, others arriving the same day we were heading out to Alphonse.  Personally, I prefer to arrive a  day before as the extra time on the ground lets me catch up with myself before heading out to Alphonse – and with only one flight to Alphonse it is nice to be on Mahe the day before! Meeting new faces and seeing old friends once again is a wonderful part of hosting a trip.  Ian and Julian (two eminent surgeons), Bas, Peter and Jacquie, Katy and Michael had their first visit ahead of them while Bruce, Graham, Tim, Geoff and Robin were returning to settle some unfinished business on the flats of St Francois.
The hot island air hit us as the door opened and the excitement level rose as we piled out on to the runway.  Waiting to greet us all off the plane were the resort managers, Ann and Chris Leslie and Devan van der Merwe, the fishing manager.  It was lovely to see other clients and have a quick catch up before they headed home.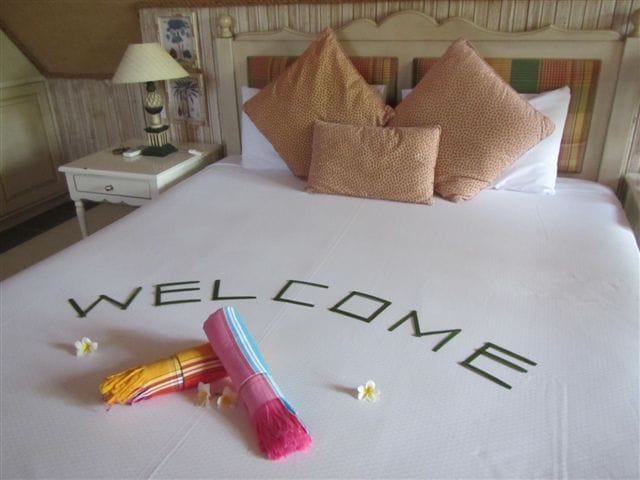 Swiftly taken over to the bar for a welcome cool towel and drink, it was wonderful to see Jemma, Yousef and the ever smiling Miriam.  Forms signed, talk given and rooms assigned we were all dropped off and the rush to find the tackle for setup was underway.  Having once not paid attention to what I had used as packing (I turned around once to see an unsuspecting guide uncover a reel from a pair of knickers and no, it really wasn't funny), I try to take time to make sure I have all that I need.  Being somewhat clumsy, with a gimpy leg, the possibilities for disaster around me are endless. I nearly started the week by falling off my bike in front of the fishing centre while waving a reel in the air.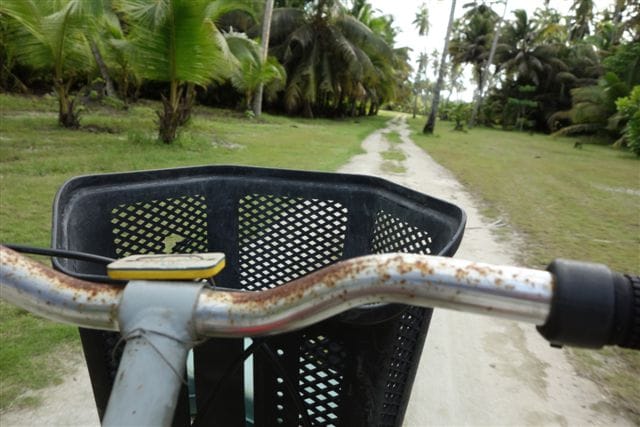 I love the hustle and bustle off setup;  the debate between guides and guests about lines, leaders and why one fly is better than another.  After a flurry of assembling and checking it is done and it is time to head back for a shower before heading to the bar to relax and unwind.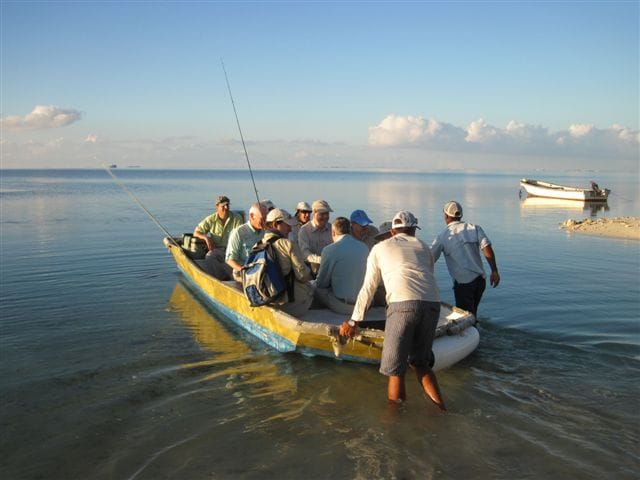 Dawn comes far too soon on Alphonse but conditions were ideal. Paired with Geoff, and rods (eventually) identified, we had our safety briefing and spent some time initially looking for GTs and milks before heading off in search of bonefish. Where else in the world can you work out the kinks in your casting arm, get your eye in and still absolutely fill your boots with bonefish? I hope I never tire of watching these ghosts of the flats turn and follow my fly. Of that adrenaline rush when the fish takes and the line screams out.  I heard Geoff laugh when his line went tight for the first time.  It was wonderful to hear – the sheer joy of being out on the flats, with a hard fighting fish on.  I have retired my 8# for a 7# and it wasn't long before my reel too was screaming time and time again.  It was a bonefish bonanza for both of us, mostly in the 3 lbs range and I added to my species list by landing a rather surprised little marble grouper.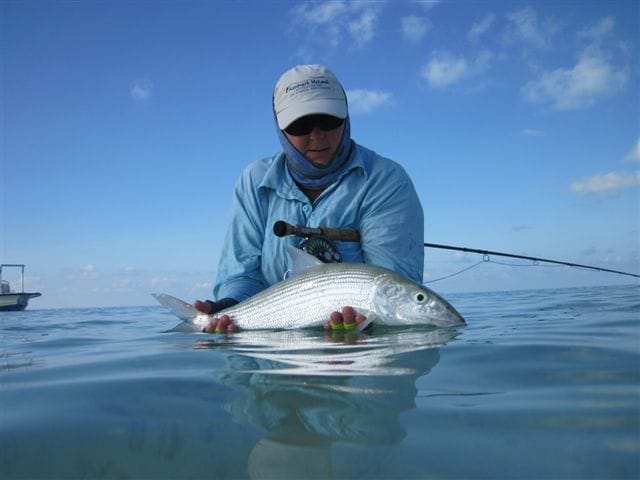 The boat was full of the excited chatter of returning anglers as we all tried to catch up with one another at the same time. There had been some serious action elsewhere on the flats and the general consensus was that the day belonged to those experiencing these flats for the first time. On their first visit and on their first day Peter and Bas (our intrepid journalist) landed their first GTs and not to be outdone by them, Bruce landed a permit.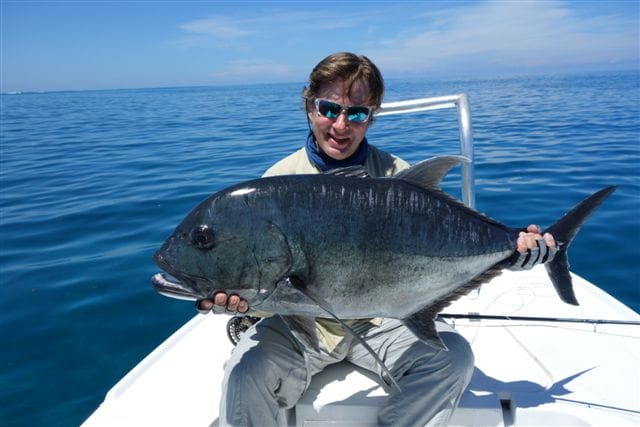 Smiling quietly and saying frustratingly little, inside he must have been doing the fandango!   It wasn't all back slapping sadly as on his very first cast of the day, Tim hooked and lost a GT and Bas returned to the boat covered in blood having cut his finger. I still don't think that the proud beam was just directed at the GT;  having a hero wound added to it – I think using your own blood to attract GTs is OTT.  Much to my own surprise, I hadn't yet managed to fall in or fall out of the skiff or rip anything but the week was still young …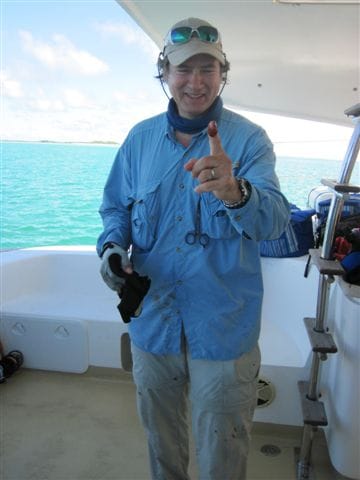 Monday dawned equally clear as Robin and I headed off to see what the St Francois menu had to offer in the way of permit and triggers.  We shared a boat two years ago and with the memory of that particular permit hunt in mind we were primed. Visibility was great and we spent some quality time warming up on bonefish – it wasn't that often that our rods didn't have a bend in them and again, most fish were in the 3 – 3 1/2 lbs range. As conditions changed, we headed off to hunt for triggers – my passion for them seems to grow rather than diminish and while they can be totally infuriating there is, for me, something magical about seeing a trigger tail beckoning on the flats.  Taking turns, we both had plenty of shots at triggers but obviously nothing we presented was enticing enough.  I was up, walking up the left hand side of the finger flat when a lump of coral morphed into a very chunky yellow margin trigger.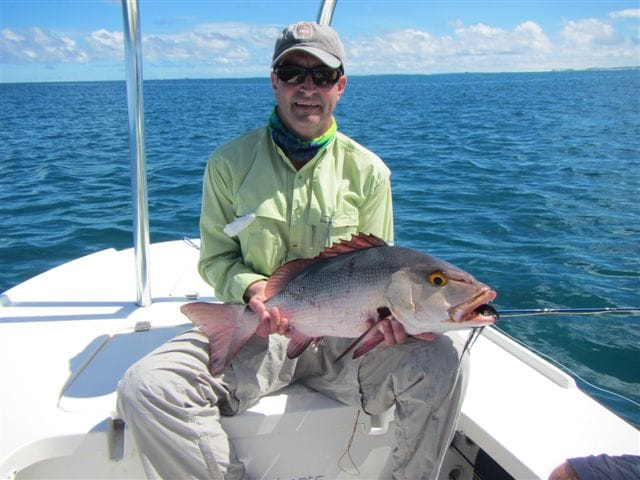 Heart pounding, we snuck quietly up on it (actualy Ryan did, I just tried not to fall over) and I cast up and past, letting the current move my mesh crab ever closer. A look.  A twitch.  Nothing more.  Carefully lift, cast, let it swing in.  Another look.  Another twitch.  Again no follow.   One more try with the same of result and we changed the fly.  We changed the angle of the cast.  We changed everything. The infuriating fish did nothing more than have a peek.  Once it teased me – pretending to follow for a split second before returning to its holding position.  I realised I was muttering 'take it take it take it' when it casually flipped its fins at me and swam off.  Frustrated and irritated, I received a consoling pat on the shoulder and we carried on up the flat.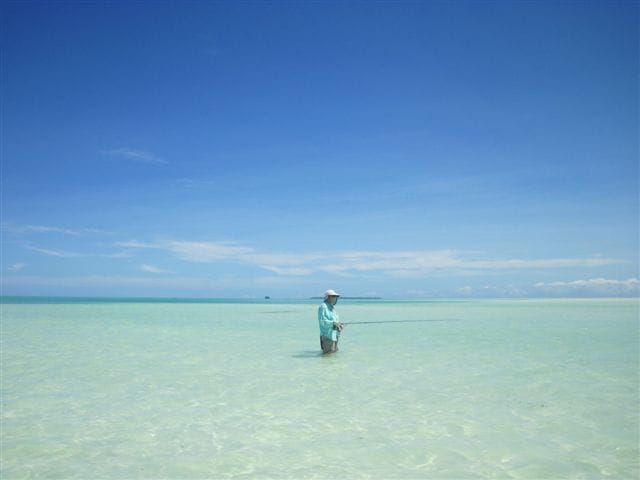 Permit.  I don't know who shouted first but that flash of yellow and silver was unmistakable.  A group of about ten fish were casually working their way across the upper end of the flat and were in no hurry.   Robin was up and while not spooky, the fish just weren't interested.  Time and time again he cast, had a little interest and again they moved on.  He has the same passion for permit that I have for triggers so I told him to carry on – the permit were moving left to right up the flat with us in their wake.  Trying to be quiet, and trying not fall over, we stopped for a minute and just as Ryan turned to indicate we move on, my leg gave way and down I went.  Inelegant but quiet and the permit were still there, feeding in front of us.  Robin was oblivious or if he wasn't was too much of a gentlemen to comment.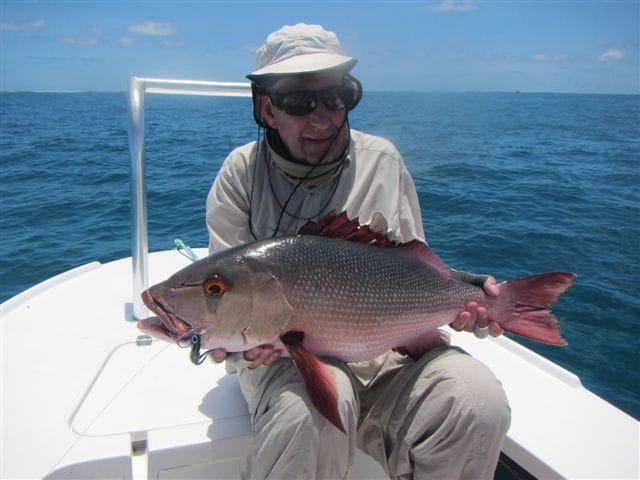 We soon ran out of flat and with much frustration watched them swim off into deeper water.  We spent the rest of the day trying to over our failures and consoled ourselves by landing a healthy variety of species including a stunning blue spangled emperor for Robin.  On our return to St Francois at days end, we were met with what seemed like a tale of GT after GT.  Once again, it was the first timers to Alphonse who had taken the GT crowns with Ian landing his first GT and not to be outdone, Bas landed not one, but two GTs, 30 lbs and 50 lbs respectively. However, the bonefish crown for the day (and ultimately for the week) went to Michael with a very chunky 6½ lbs specimen bonefish.   Thankfully no more blood … at this point.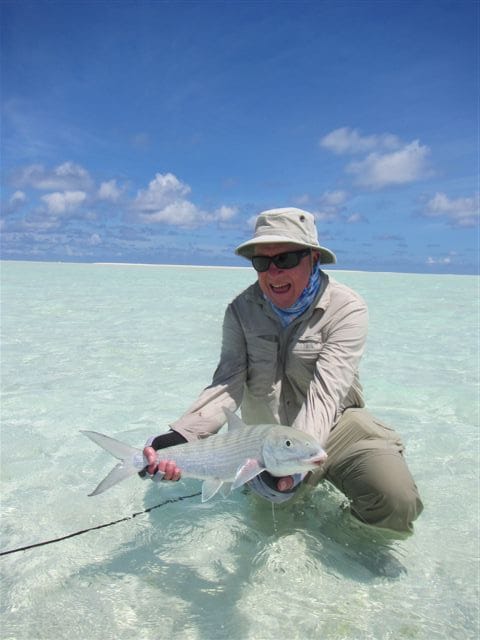 As we were an odd number, I really wanted everyone to be able to have the chance to fish a single boat so Tuesday saw me stay on Alphonse meaning we had two single boats with Tim and Graham heading out on their own.  I missed the excitement of the trip out and the happy, exhausted feeling on the boat on the way back but it was another beautiful day, less wind than the day before and amongst the great takes of the day were a 6 lbs bonefish and a 10 lbs bluefin trevally for Peter. Between them, Geoff and Peter had some very nice boha snapper, both big specimens – I love seeing that telltale red flash coming up behind my fly. Michael landed another nice big bonefish and Graham's species tally for the day included a memorable blue fin trevally, stunningly patterned peacock grouper, green job fish, blue spangled emperor and a lyre tailed grouper.   Tuesday belonged to Geoff – he blew up his 12# … and still didn't stop smiling.  I on the other hand, had a brilliant day on Alphonse which included lunching with Jacquie and Katy in the shade and envying their quiet time by the pool. Quite a change to the normal hurried lunch with rod close to hand. All too soon, the day was gone …. again.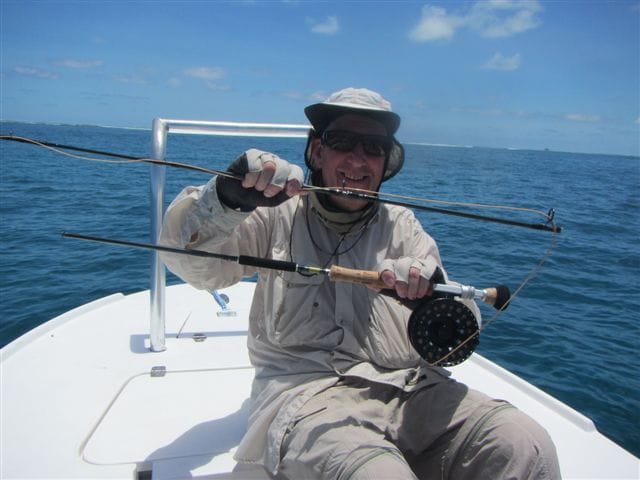 I can't remember whether it was Monday or Tuesday night that saw heavy rain and rattling roofs but whichever it was, we couldn't have asked for better weather during the day and Wednesday was no exception to that.  Staying on Alphonse with Katy for the day, Bruce came out to retrieve a rod before returning to the island and we set off once more for St Francois. I was out with Graham, with Scott at the helm and who knew, on that calm and peaceful morning, quite what a brilliant day we would have.  We started off well and very sensibly – both landing some nice bonefish in the 3 lbs – 4 ½ lbs region although with Graham's rod being bent quite so often, I did wonder if he wasn't actually standing on the line and having a rest!  The light was tricky first thing and in a particularly murky period I saw what I thought was a pouter bream and, in the temporary absence of bonefish, thought I'd see if it fancied a slightly ragged Pillow Talk.  As my fly landed, I realised I had another reminder that those prescription sun glasses would have been a good idea.  It was a picasso trigger.   Heart once again in mouth, I tweaked my fly.  It turned and followed, nibbled and exited stage left at light speed.  To my surprise, it slowed down and turned back. I picked up, cast again. Twitched.  Second time round, it all worked beautifully and I think Scott was slightly surprised by the sheer volume of my cry of joy.  Honestly, I have never seen one before to cast to.  I have had small picassos chase down my fly before when targeting giant triggers or yellow margin triggers but never deliberately.  By picasso standards, it was a bit of beast.  Immediately forgetting the gnashing of teeth the day before, this little beauty was very welcome.  While all of this was going on, Graham was calmly continuing to land bonefish after bonefish.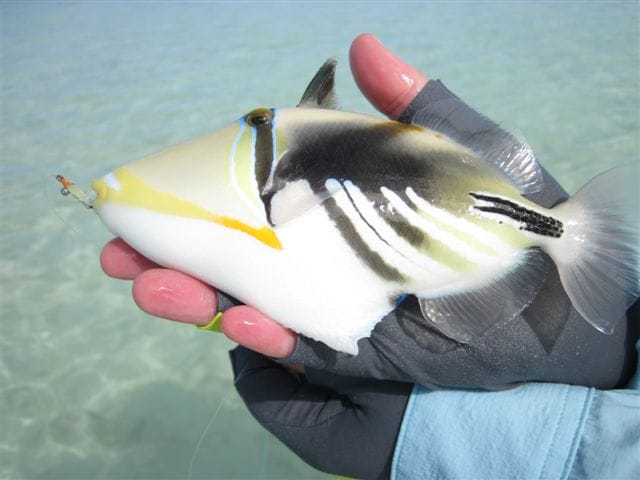 We eventually moved outside to see what was lurking behind Baghdad. The answer was plenty of big fish and after a nice boha for Graham we had to retire his rod as the line was twisted badly and I handed over my 11# Proaxis so he could carry on.   Having taken the rod, had a few casts, Graham loudly announced that he couldn't use it as it was right hand wind not left.  Dismissing the concern with a nonchalant wave, I told him to get something on first and worry about that afterwards.  Spotting birds, we headed over to see what big predators were lurking under the bait ball.  The answer was quick in coming, two casts and some fast stripping and Graham had on what we thought was a tuna.  Wrong – change that to wahoo.  It worked him hard, right hand wind also giving him some crushed knuckles but he got it to the boat quite quickly for Scott to tail and bring in.  Outstanding! One happy angler back in the seat and we were off again to see what else was about.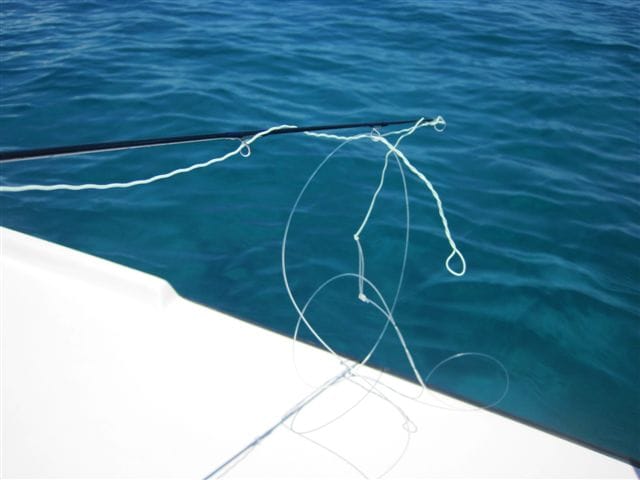 The answer came quickly.  Up the front I watched a boha snapper follow my fly, hit it but move off.  Fly retrieved and out again, I saw the glint of blue and bang, I was attached to a beauty of a bluefin.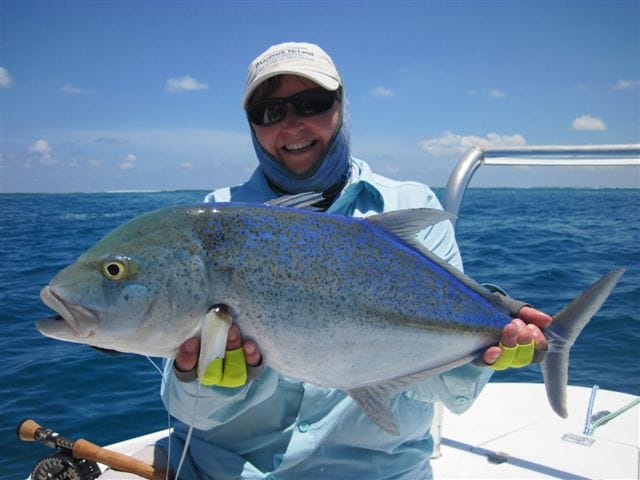 It was a pure action filled, adrenalin pumping couple of hours.  Graham then landed another nice sized boha snapper, and I watched an enormous barracuda porpoise out of the water and make off with my fly. I couldn't see what hit my replacement purple streamer shortly after that but it fought hard and Scott hollered that I had a 'cuda on.  A decent size and great fight later, we had it to the boat. Scott had the leader and was just about to tail the fish when the leader snagged on a tooth and poof – that was it, it was off and gone … along with another purple streamer.  Last streamer in place and a big dark shadow was following my fly. I thought it was the pesky big 'cuda again and but Scott's voice went up an octave as he shouted 'GEET! GEET! GEET!' from behind me.  What a take!  What a punch! What a fight!  The line had just come back onto the reel when the bugger corralled me.   Arrrghh .. what a loss!  GT and purple streamer headed off in a flurry of two fins, not to be seen again.  Graham was back up the front – or not as was nearly the case. One minute he was up, and the next he was down and heading fast towards a deep water dunking before I realised what was happening.  By the time I grabbed him, he was already hanging on to the leaning bar with a very impressive grip and a very big grin!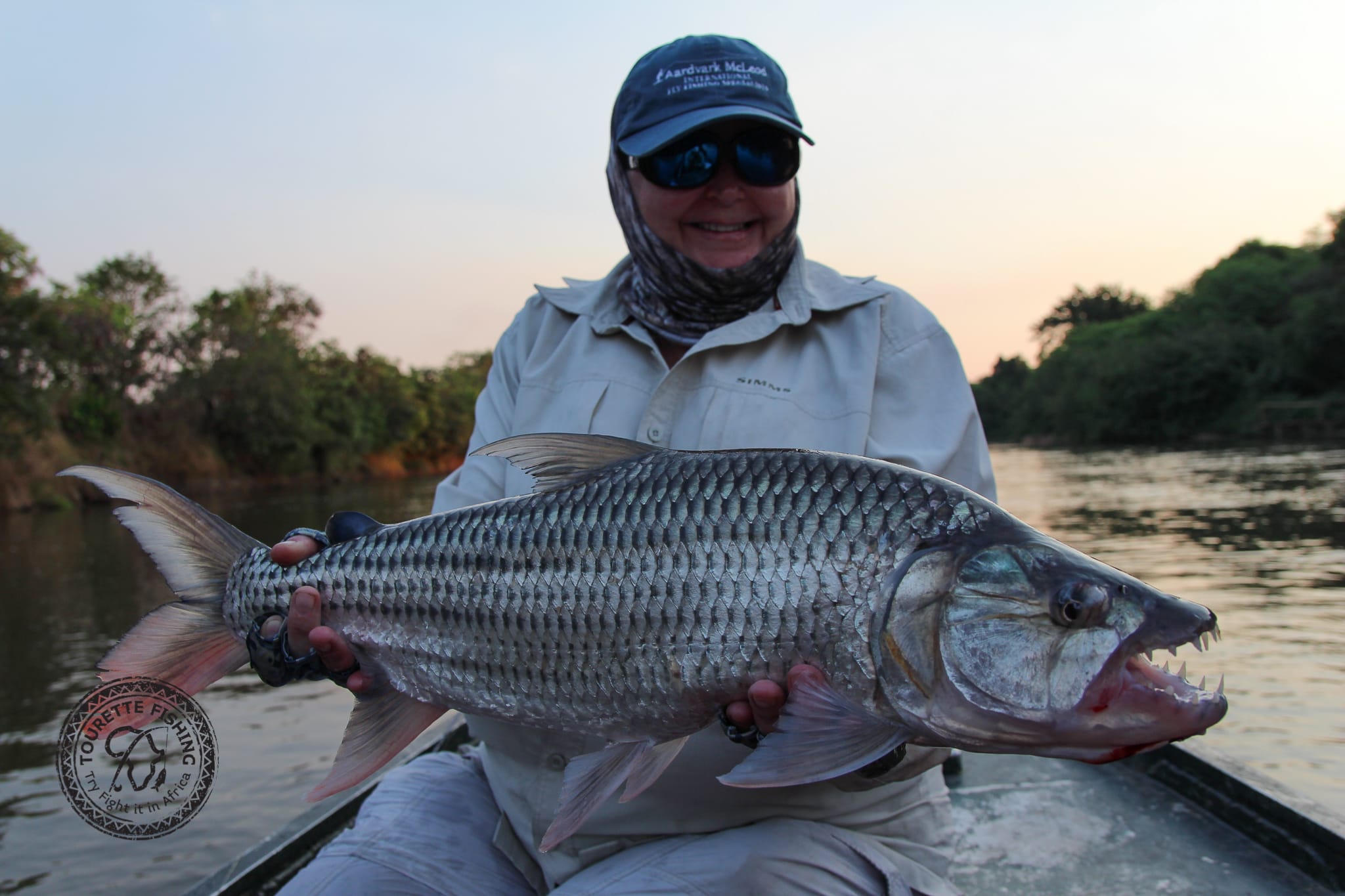 Back on St Francois, I had to laugh at Ian's recounting of his lemon shark incident.  He had decided to 'have a go', the shark took his fly and feeling quite happy with proceedings about five minutes after he had hooked it, commented that he had it under control.  His guide was heard to remark that the shark hadn't realised it was hooked. It did not long after that, ramped up the gears and left him standing.   Team Toes (well, they are both eminent podiatrists) was definitely on top of the species leader board with 17 species at this point including a jumping milkfish.  Geoff was shattered after being worked hard all day by Serge in a single boat.  The remains Julian's wahoo provided visual proof back on Alphonse of the sheer speed and power of GTs as we watched them decimate the remains in very short order.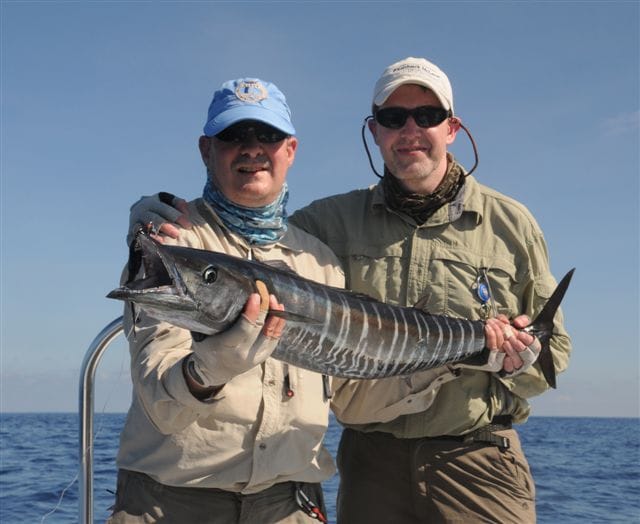 Back for a quick shower and change before cycling up to the point for sundowners. Cycling back through the palms in the dark with one torch to four was an experience most of us had not had before – great fun!   It was a truly lovely end to the day.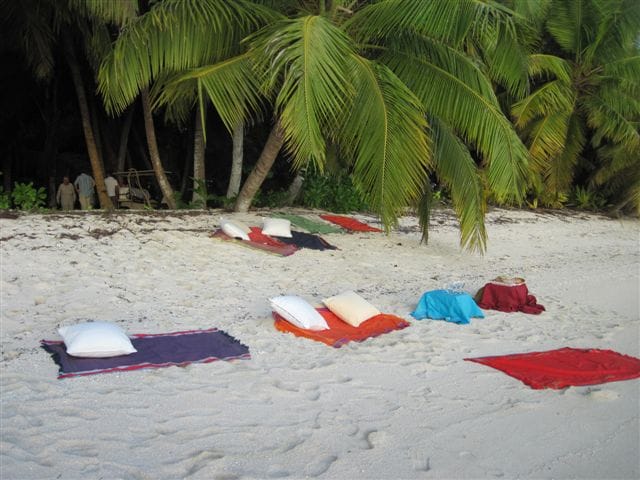 Thursdays are pressure days I think.  The penultimate fishing day, it always feels like the day when 'it' has to happen because if 'it' doesn't, there is only one day left in which to make anything happen.  Trying to make sure everyone got a chance at a single boat, I opted to fish on Alphonse for the day and waved them off, knowing that Peter was going to be worked hard by Serge!  It was a hot and pretty still day on Alphonse and I was hoping that they had a bit more of a breeze out on St Francois.  No such luck and they returned, visibly wilting but again, with some stunning catches to report.  Bas had a beauty of a GT, about 40 lbs, Bruce landed another permit and a big bluefin, Michael landed another big bluefin and a lyre tail grouper and Geoff came up trumps with a green jobfish, another big boha snapper and a cuda.  Keeping up the pressure on Bas, Tim landed two big bluefin trevally and an impressive lyre tail grouper .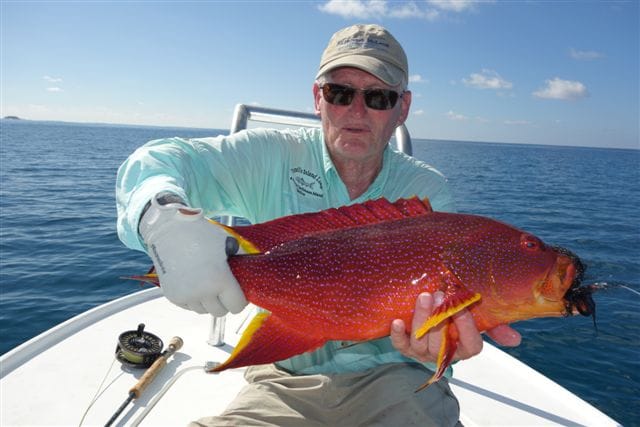 Friday always seems to come around far too soon. Robin was in the single boat hot seat with Wayne and Geoff and I were together again hoping for more chances to try for triggers.  It was the only day of the week when the weather wasn't great – overcast for much of the morning it did make spotting fish more difficult but it didn't stop any of us catching fish and rounding off our amazing week with a stunning total tally.  I lost count of my species but Ian and Julian landed 26 species during the course of the week – testament to the variety of both species and environments on St Francois.
Courtesy of Scott, the main tally for the week reads something like this …. 571 bonefish (biggest 6 ½ lbs), 6 GT's (to 50 lbs), 1 monster Picasso trigger fish (the biggest ever landed there I'm sure – ever – by anyone), 45 bluefin trevally (to 15 lbs), 39 green jobfish (to 14 lbs), 26 bohar snapper (to 20 lbs), 2 dogtooth tuna (to 13 lbs), 2 permit (to 11 lbs), 1 sailfish (40 lbs), 3 wahoo (to 20 lbs), 2 cuda (to 20 lbs).  What was more impressive was that the guides logged 119 GTs seen in the week and I saw more permit on this trip than I have on any of the other trips added together.  It is without doubt a healthy and productive fishery and a very special place to boot.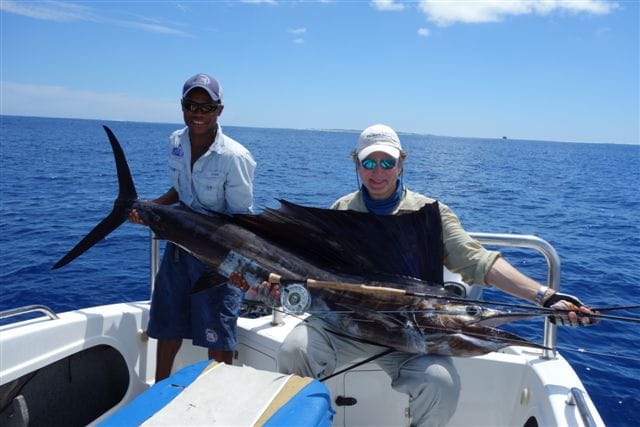 It really was a week of firsts (not all of them quite what we expected) for both those on their first visit to Alphonse and those returning …. Bas, Peter, Ian and Bruce landed GTs, Bruce landed two stunning permit, Ian got bitten by a needlefish, I was beaten to the bar every evening by Bruce and Katy, I got a monster picasso trigger fish, Geoff destroyed his 12#, we had three wahoo on the fly courtesy of Graham, Ian and Julian, Katy went bonefishing with Yousef (we are hoping she will convert in time).  Bas got up close and chatting to the nice giant tortoise (as opposed to the slightly smaller and definitely techy one that hisses a lot) and Jacquie enjoyed the tranquillity of the island.  Most importantly for me, the GTs didn't manage to eat the GoPro when I filmed them being fed the remains of a tuna.  Oh, and we rescued baby turtles.
My thanks to everyone for such a great week, we had fantastic company and great fishing.  Chris and Ann were wonderful hosts and the food was amazing – we even managed to avoid the Braai night curse of rain. The guides did a sterling job as usual and it was a truly memorable week.
We have two hosted weeks next season (30 November – 7 December 2013 and 15 – 22 March 2014) so please do contact me if you would like to join us – Geoff is already working on new and irrisistible trigger flies so next time, we will triumph ….. we hope.