Four rods have become available in 10-17 February 2018 so please contact us if you are interested. As the remainder of the season is full, these rods won't hang around for long.
If you would like more information please contact Peter McLeod or Charlotte Chilcott.

Alphonse Island Fishing News 2 – 9 December 2017 – 420 Bonefish
Sunny skies welcomed a variety of nationalities to St. Francois this week who quickly focused on the variety of species on offer. Hans Joachim and Horst Siegert, the dynamic brothers from Germany were the bonefish champions of the week by managing to land 144 during their six days on the flats. The GTs were around in good numbers with seven landed between the team and numerous other shots, some at pairs. Jan Borghais was the first to hook up on a nice GT, shortly after Jeremy Stuart managed to cast and hook the following GT completing a fantastic GT double-up. Graham Birkett caught the biggest of the week with a 94 cm GT that engulfed a popper. The hero of the week was without doubt Dominique Roga, who finished with a tally of three GTs, a pile of bonefish, a "flats slam" and a milkfish, which he managed to land after an hour and forty-five minutes fight.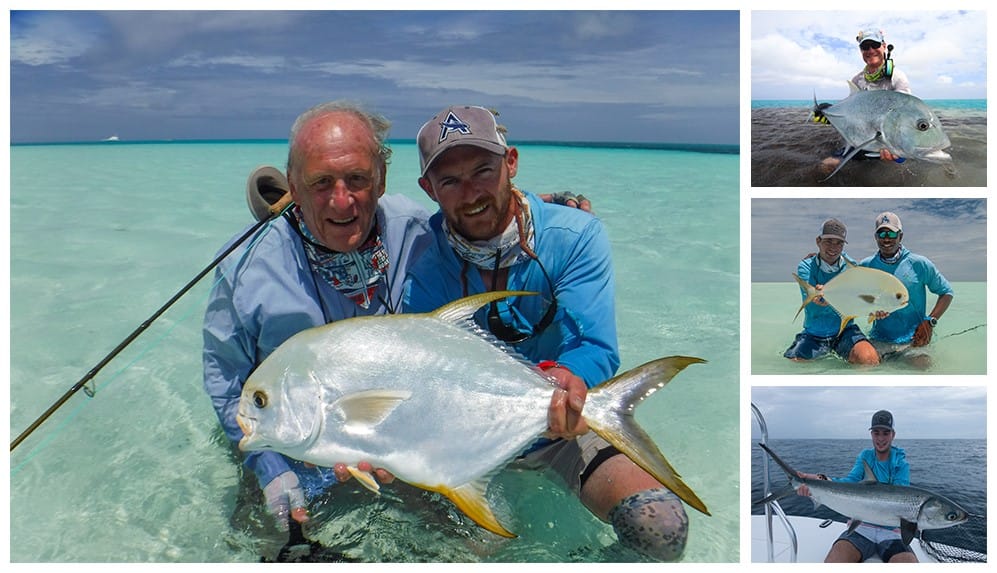 Alphonse Island Fishing News 16 – 23 December 2017 – 3 Permit and 4 Milks
The new moon falling in the middle of the week brought on significant tidal movements with a flooding incoming tide. Unfortunately the weather did not cooperate with strong winds, rain and low light overshadowing this great tide cycle which made for a challenging week of fishing. The unsettled weather did however seem to get the permit feeding and three exceptional anglers Dave Hall, Tommy Hradecky and Mike Garbutt overcame the hook-pulls and break-offs and landed what is undoubtedly one of the prettiest gamefish species and so rightly so called the "Holy Grail" of saltwater fly fishing. Big GT's were around in reasonable numbers and despite the tough weather conditions the team subdued nine between the group of seven anglers. The milkfish were up feeding on the more settled weather days and with stories of long fights, bent hooks, leader breaks, the team landed four, one of which was landed by Tommy on the flats on an eight weight rod with 15lbs leader! The sailfish seemed to not to be playing a fair game and were rather despondent to the fly. Over 20 sailfish were raised during three half day trips, with six hooked and two landed. A 1.6m dogtooth tuna, estimated at 60kgs, put up a good fight against Dave Hall who eventually landed the beast with high-fives all round.
Bonefish: 145, Giant Trevally: 9, Bluefin Trevally: 4, Milkfish: 4, Indo-Pacific Permit: 3, Moustache Triggerfish: 1, Sailfish: 2
If you would like more information please contact Peter McLeod or Charlotte Chilcott or call on ++44 1980 847389. Alternatively click HERE if you would like us to contact you.
For more reports, click HERE for Astove and click HERE for Cosmoledo.