This week saw a start to the return of the milkfish schools after they disappeared on their mid season spawning migration to "who knows where". Although they are back in large numbers, their feeding has become erratic and is currently concentrated on the flats which makes them hard to target. The guides are keeping their eyes peeled as they know another milkfish bonanza is in the offing. A change back to South-Easterly winds or a stretch of stable weather will trigger these fish to feed in their droves both offshore or in the various deeper channels throughout St François.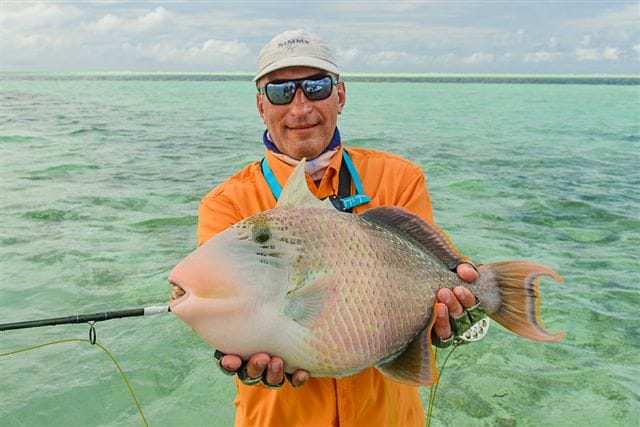 This week was to be remembered by the variety of big trevally species that were encountered in really good numbers. Earlier in the week Scott Keller took his Puerto Rican fishing buddies Tony and Paco on an offshore stint, which saw them each land a trophy GT.  The excitement was echoed through the lodge when the "memorable fish catch bell" was rung by both anglers that evening. As the week progressed Oleg, Tony, Paco and Wesley were also lucky enough to land some sizable GT's which added to the weeks excitement. The real trophy being a 115 cm which was landed by Wesley while being guided by Serge Samson.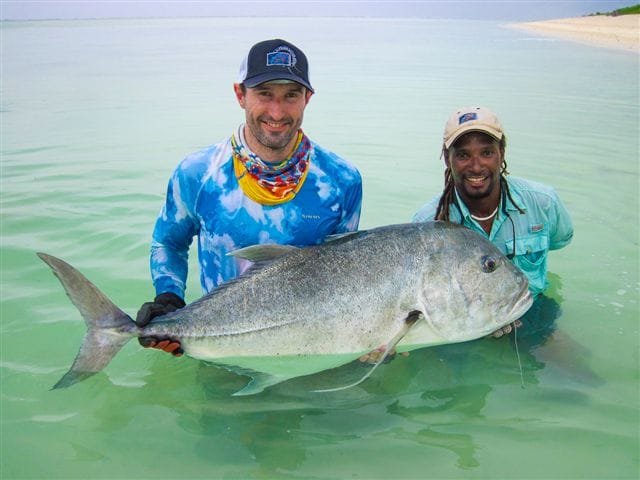 "It was the last full day, known as "GT Friday", which had me paired with Wesley. My objective was a big GT and as I had a good caster it was definitely achievable.  We walked a few spots whilst waiting for the perfect tide to fish the shore edge at a spot called "The Moon".  Soon into our walk we spotted the big blue GT as it slowly followed the shoreline hoping to trap some unsuspecting mullet. We had time to prepare for the cast, which was made perfectly ahead of the fish.  The shape reacted immediately to follow the fast stripped brush fly. An explosion erupted as the fish ate only a few meters from us and the shore, before turning and heading off into the distance.  We were running short of line so the skiff was a necessity in making sure we don't lose the battle. After a lengthy, powerful fight we landed Wesley's magnificent 75 lbs trophy GT. I'm not sure who was more tired, me, Wesley or the GT," enthused Serge.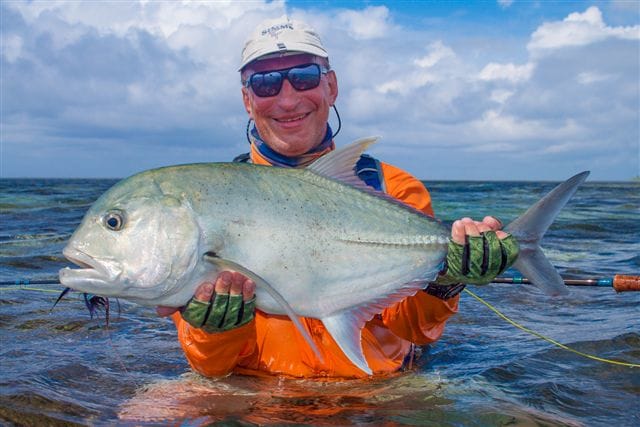 The permit fishing was really good and although only one small fish was landed the various teams did have a considerable amount of really good shots.  The triggerfish were hungry as numerous were landed by lucky anglers, Oleg, Ginnaddii and Wesley. There were also some other magnificent catches made like Oleg's yellow spotted trevally, Brian's really large bohar snapper and Davis fantastic green jobfish.