It's been action packed on the flats around Alphonse, Cosmoledo, Farquhar and Astove. There have been plenty of hard-fighting fish, some epic catches and only the fourth Golden Grand Slam in Alphonse history. Here's the early April fishing news from the Seychelles.
The stars aligned perfectly for some anglers this week on Alphonse whereas others boarded the charter flight with a whole lot of could've, should've, and would've. Every fishing trip has its ups and downs, but for one angler it was all ups as he banged out the fourth Golden Grand Slam in Alphonse history. The second of the season and an impressive one at that, all fish being on the better side of average.
Daniel Factor of Xfactor Angling and guide, Kyle Simpson, went out to St. Francois with high expectations, Dan having already spent a week tormenting the GTs of Farquhar. Little did he know that he was about to become only the fourth angler to complete the coveted Golden Grand Slam, landing a milkfish, GT, permit, trigger and bonefish in one day.
The morning started with a run around the east of St. Francois to look for milks outside Lollipop Wreck. Dan hooked up on his first cast but broke off on the set. In amongst the shoal and with no time to make a new leader, Dan quickly tied a milky dream onto his 15lb bonefish leader and almost immediately went tight again. The fight lasted for over an hour with a couple of close calls with the resident taxman, but eventually, the fish was landed and measured at just over 100cm.
A short run to the backline just outside of King's Cut and Dan was on again, this time with an 85cm GT. Kyle spotted three nice fish in the deep water cruising on the surface, Dan made the shot, and the rest all went according to plan. From there Kyle headed straight to the hallowed permit grounds, confidence understandably flying high. Cutting the motor and drifting onto the flat, the first permit was spotted within a few minutes. A group of fish then pushed up from the lagoon and started making their way towards a nearby high-spot, every now and then stopping to feed. Fishing from the boat with Kyle on the pole, Dan made shots at the fish every time they paused. Seven shots later and Dan had his mitts on a
60cm permit.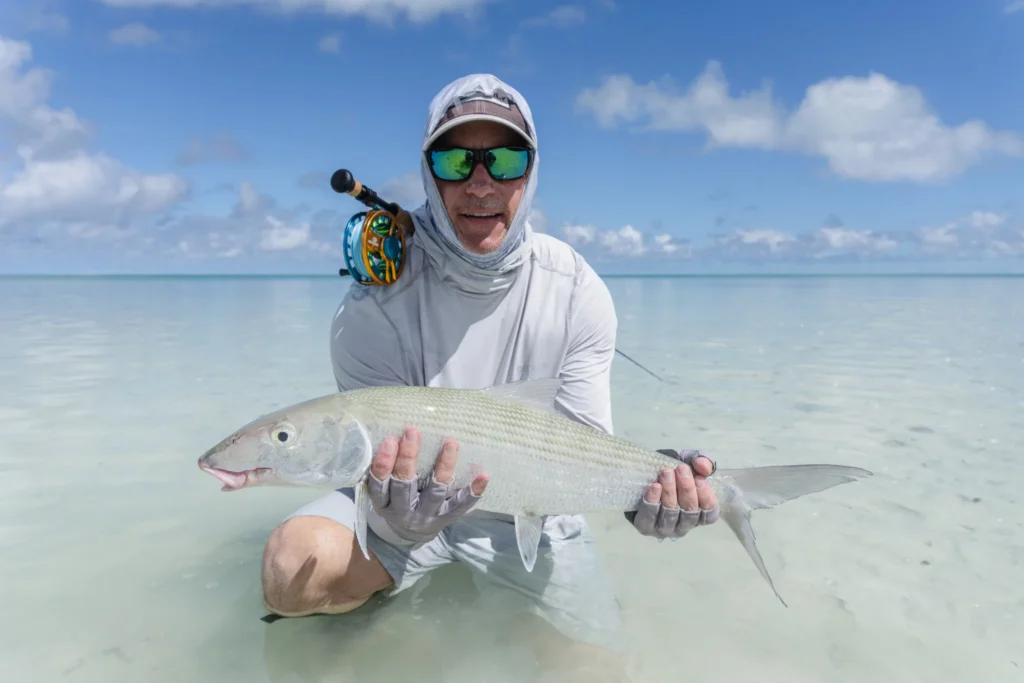 Having crossed off three of the five with only one more fussy fish on the list, the Golden Grand Slam started to take shape. Kyle and Dan managed to stick a small trigger on Milky Way coral finger and then seal the deal with an average-sized bone shortly after. Epic stuff.
If you would like more information and availability on Alphonse Island, please contact Charlotte Chilcott or Peter McLeod or call us on +44 1980 847389. Alternatively click HERE if you would like us to contact you.
---
This last week on Cosmoledo was a special one for the guests and even more so for the guides and the rest of the team here on Cosmoledo who are pushing hard to end off the Cosmo season. The incredible energy and attitude that was brought along with this group made for an awesome week.
The week started off patrolling the white sand flats in the search of giant trevally within the lagoon. The turtle grass flats seemed to hold good numbers of fish which were predominantly on rays in very skinny water. Really good light conditions for most of the week aided in spotting the fish on the turtle grass.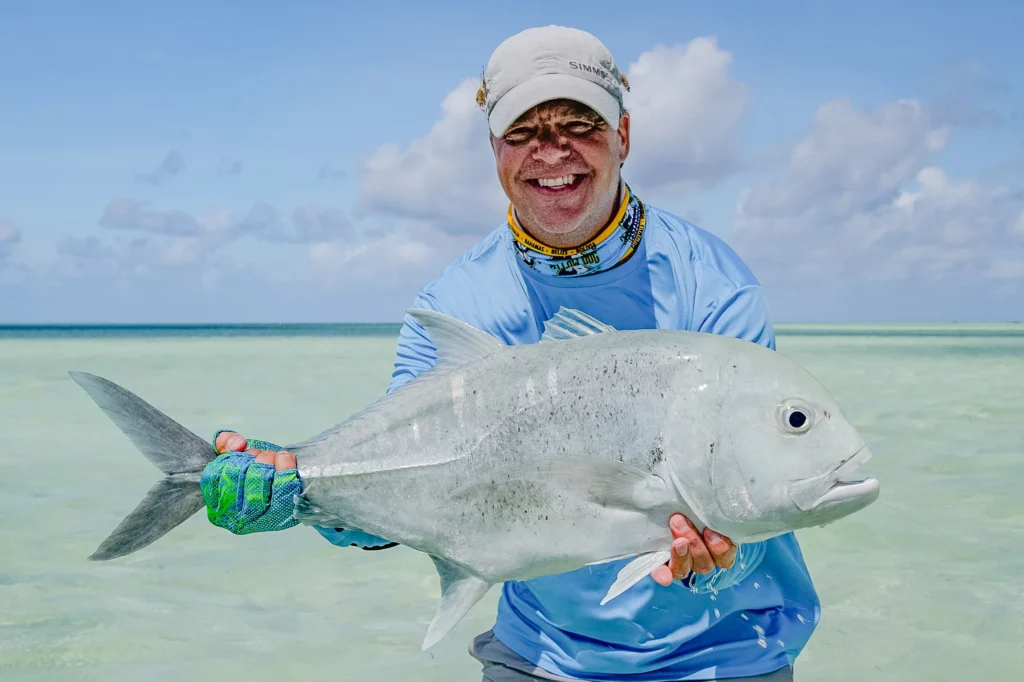 Triggerfish were seen in really good numbers both within the lagoon and in the surf later on in the week. Some very large moustache triggers were taken from the surf at the end of the week. Which was a great way to end off a good week of tricky trigger fishing.
Fairly large amounts of bonefish were seen on the drop and the push coming up from the Horseshoe and up to Menai. Most of the guys were able to get a couple of Cosmo's big bonefish during the week.
Eric Yonke and Eric Mayor were two of the very lucky gentlemen who were able to outsmart some very large triggerfish at the end of the week on the perfect tides for them. Eric Yonke was able to catch his first moustache triggerfish measuring in at a whopping 53cm. The trigger pulled hard and right into the backing before being netted and celebrated by both angler and the guide! Eric Mayor was also fortunate enough to land himself a moustache triggerfish which measured 52cm. The trigger followed the fly out of a deep pothole in the surf, into ankle-deep water to eventually eat the fly on his side, an epic experience.
Corey Gammill, Scott Nichols, Daniel Keller and Chris Dodd all managed to catch their first giant trevally – a phenomenal fish to tick off of the bucket list. your bucket lists.
A huge thank you to everyone who was able to join us here on Cosmoledo for a very special week. We all hope to see you back here in the near future for some more fun-filled fly fishing action!
If you would like more information and availability on Cosmoledo, please contact Charlotte Chilcott or Peter McLeod or call us on +44 1980 847389. Alternatively click HERE if you would like us to contact you.
---
Fantastic weather with very little wind and a fantastic spring tide made for an excited nine anglers at the start of the week on Farquhar.
Holding nothing back, the week was off to a cracking start with Daniel Factor landing a solid 103cm GT. Bruce, Jess, Marius, Theo and Steve all landed their first bonefish. Igor was lucky enough to land two nicely sized napos and Graham landed the biggest GT of the week measuring a whopping 123cm.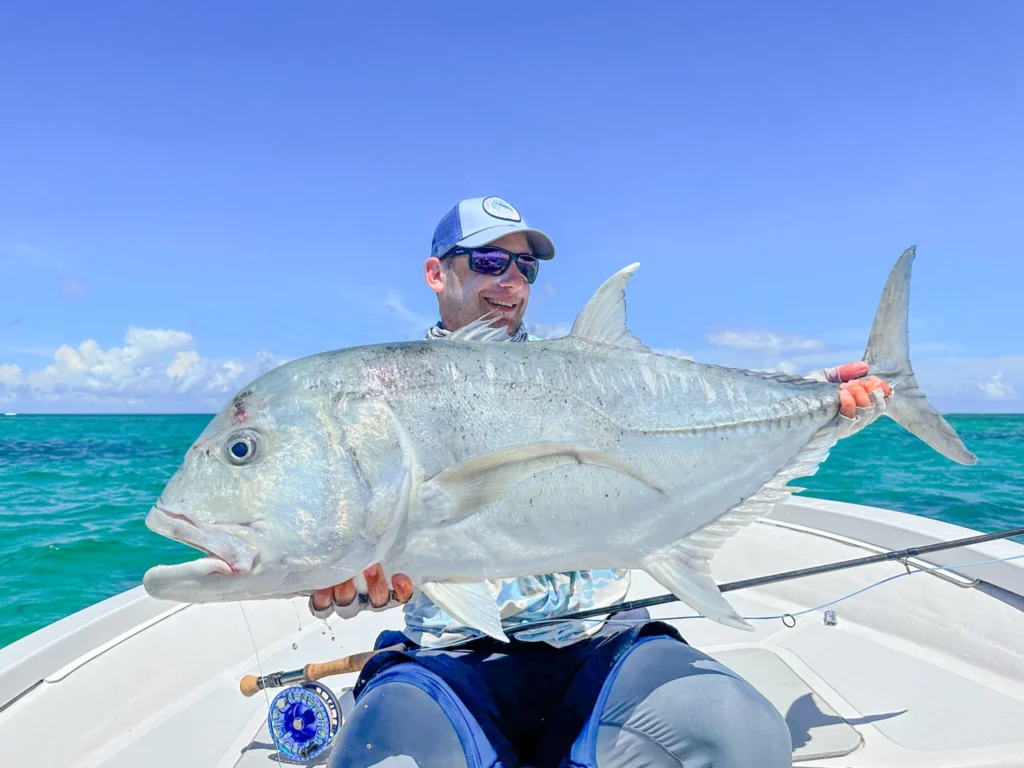 Jess managed to land three geets for day two and Dan did well, adding to the growing list of over-the-meter-mark fish, with a 117cm GT. Dan also landed three napoleon wrasse, with the biggest measuring
91cm. Igor topped the day off with a monster 101cm napo and Bruce landed the first bumpy of the week.
Midweek Igor, Dan and Bruce all landed napos and Graham landed another nice GT measuring 97cm. Theo landed his very first GT measuring 105cm. Sandro landed the biggest African marble grouper of the season measuring 91cm and Bruce landed another impressive 84cm napo.
Winding the week down, it was time for the fish that Farquhar is so well-known for! It was bumpy day with Bruce and Jess both landing a bumpies that matched at 109cm each!
The last fishing day of the week saw plenty of action sending all the anglers home with massive smiles on their faces. Graham landed another GT and Marius worked very hard to slide in one more monster at the last minute, he landed a fantastic 103cm GT to round off the week.
If you would like more information and availability on Farquhar, please contact Charlotte Chilcott or Peter McLeod or call us on +44 1980 847389. Alternatively click HERE if you would like us to contact you.
---
The change in weather and water conditions made for a tough week's fishing, but this did not stop the anglers from bringing in some exciting catches.
Although the wind was relatively strong, water conditions were fishable. The first day out was good, with bonefish for everyone and a couple of bluefin off the backs of rays. Martinus quickly grew an itch for triggerfish after catching a moustache trigger while Jim, Dale and Ricky brought in bones and bluefin throughout the day while poling the surf.
The following day, Dale went on to catch some big bonefish; and Ricky managed to land two moustache triggerfish between the fun of broken hooks, parting leaders and crazy amounts of coral. Martinus caught a 78cm GT on his 9wt in the lagoon. Ricky and Martinus collected a good amount of bones in the lagoon before heading back.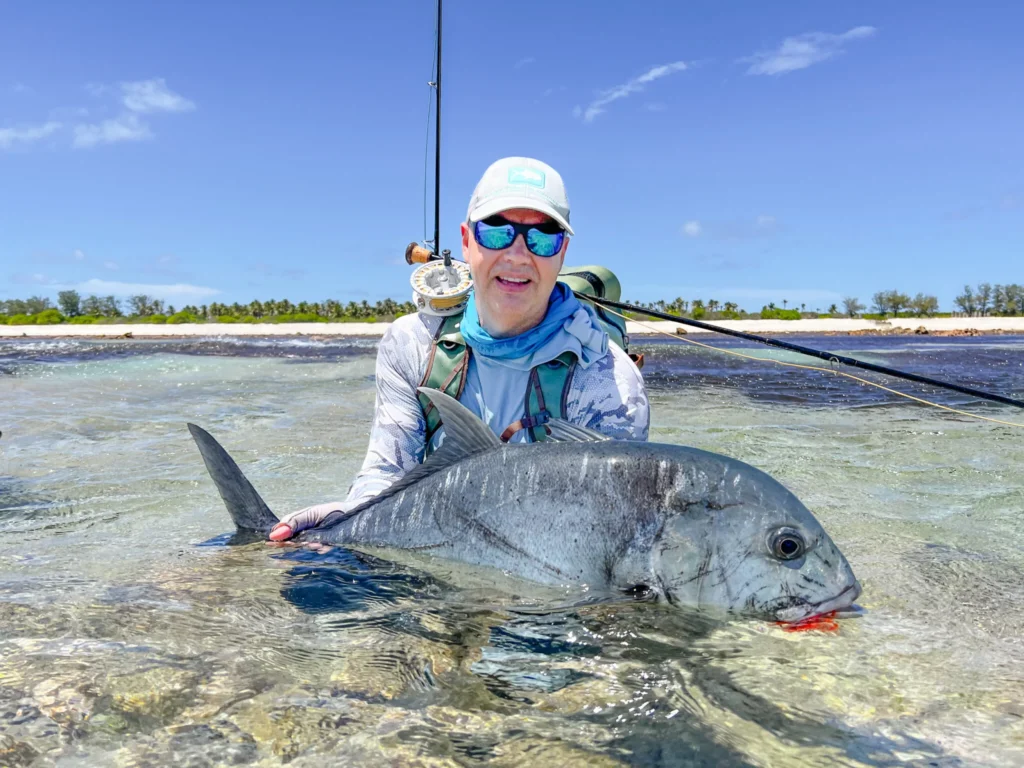 Mid-morning brought on much excitement, with Dale catching a rare blue triggerfish directly in front of the lodge. This triggerfish was, without doubt, a highlight, as they live in deep waters. After lunch, a surf walk brought in some big bonefish.
Due to windy conditions midweek, Martinus and Jim started in the lagoon on foot, proving worth the walk with a good number of permit spotted and Martinus hooking and landing one shortly after landing a few small GTs. Jim managed to convince a moustache that his flexo crab was the one. Ricky got an 80cm GT on the wall drop-off after the pressure was on to land him.
A boat day was in place for the final day of fishing due to overcast conditions. Jim started off dredging, landing a nice bluefin. He landed four bluefins around the 60cm region. Dale also managed a nice bluefin on the dredge before losing half his fly line to an unknown creature.
The anglers ended the week with an exciting amount of longtooth jobfish and grouper caught.
If you would like more information and availability on Astove, please contact Charlotte Chilcott or Peter McLeod or call us on +44 1980 847389. Alternatively click HERE if you would like us to contact you.