Best week so far at EMB La Villa, floating and intermediate lines with small flies were the best, salmon flies size 10 were the best flies.also green machine, emb worked very good.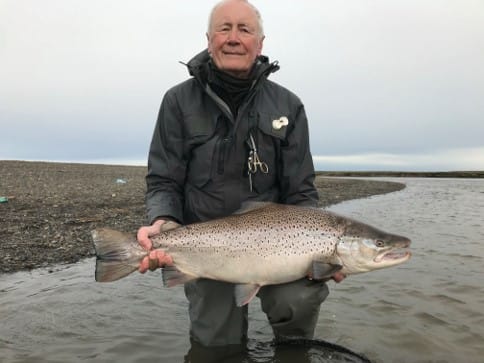 river still with great level of water. 108 fish were landed,  20 fish over 15 pounds, 2 over 20,  Average weight 9 pounds.
Doug salyer got the biggest fish 21  pounds.
Water Conditions at EMB La Villa
Water color and visibility: Very clear water.
Water temperature: 10 c to 17 c.
Water level: still in great shape.
Weather Conditions at EMB La Villa
Wind speed ranges through the week:the wind blows northwest ,it wasn't strong all week.
Air temperature ranges through the week: 8 c to 22 c .
Wheather observations (sun, rain, fog, etc.):good weather all week.
Fishing Conditions at EMB La Villa
Flies that are working the best:salmon flies size 10 and 12,emb, green machine, sunray shadow. Big flies for the last hour: big tube flies, leeches, intruders.
Fly lines (tips, heads, lengths, densities, etc) that are producing the best: Skagit heads with different lengths of T-17,14, 11.
Intermediate  lines were the best, using salmon flies, green machine, sun ray shadows .most of the time drifting. We striping some flies.
Length and strength of tippet and leaders: 7 to 14 feet. 15 to 20 pounds.
We start getting more fish in the upper part of the river, lower part still the best.
we start getting some dark fish.
If you would like more information about EMB La Villa then please do not hesitate to contact Steffan Jones or call our office on +44(0)1980 847 389.