Another week just ended at EMB La Villa, the fishing was slow, the weather didn't help much, the wind was strong and blow even stronger than 100 km.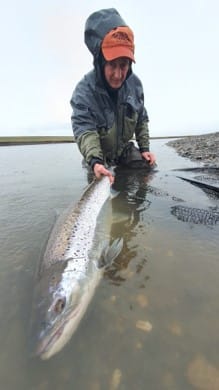 Really strong rain on Tuesday, river rose on Thursday.
Water Conditions
Water colour and visibility: Very clear water until Thursday.
Water temperature: 9 c to 14 c.
Water level: the entire river is in a perfect level of water, even the upper part.
Weather Conditions
Wind speed ranges through the week:the wind blows northwest ,it was strong all week.
Air temperature ranges through the week: 6 c to 16 c .
Weather observations (sun, rain, fog, etc.):strong rain on Tuesday and strong wind on Thursday.
Fishing Conditions
Flies that are working the best: emb, bitch creek, green machine, sunray shadow. Big flies for the last hour: big tube flies, leeches, intruders.
Fly lines (tips, heads, lengths, densities, etc) that are producing the best: Skagit heads with different lengths of T-17,14, 11.
Sinking lines were the best.
Floating and intermediate lines were very good.
Length and strength of tippet and leaders: 7 to 14 feet. 15 to 20 pounds.
Dead drifting nymph was very good, stripping sunray shadow work good.
Most of the fish were in the lower and middle part of the river, upper part is getting better.
We start getting some dark fish.
About La Villa Estancia Maria Behety – EMB
La Villa de Estancia Maria Behety was once regarded as among the most beautiful ranch mansions in all of South America. After painstaking restoration by local craftsmen and the addition of every modern convenience, the Menendez Family Home is once again welcoming angling guests and is still one of the prettiest places in South America.
If you would like more information about EMB La Villa then please do not hesitate to contact Steffan Jones or call our office on +44(0)1980 847 389.