For trout anglers who seek trophy fish, the is no place like Estancia Laguna Verde. Estancia Laguna Verde gives access to Lago Strobel, otherwise known as Jurassic Lake. The lake holds some of the worlds largest wild rainbow trout that have grown fat and strong on a diet of freshwater shrimp. These giant rainbows feed hard and can be sight fished to on floating lines using everything from streamers and nymphs, skating big foam flies and mouse patterns.
Strategically located, the lodge has exclusive access to more than fourteen kilometres of Strobel Lake, over ten kilometres of the Barrancoso river and a further ten kilometres of the recently discovered Moro Creek. In addition to what is already vast expanse of stunning water, the lodge also can fish a myriad of smaller lakes and lagoons chained together by the Moro Creek.
The incredible Barrancoso River is the only tributary of Strobel Lake. This beautiful freestone river runs for more than ten kilometres through the Estancia, allowing anglers access to some incredible river fishing. Massive rainbows run the river and can be targeted in the pools, riffles and runs they occupy. Hook one here, and you will have a severe battle on your hands.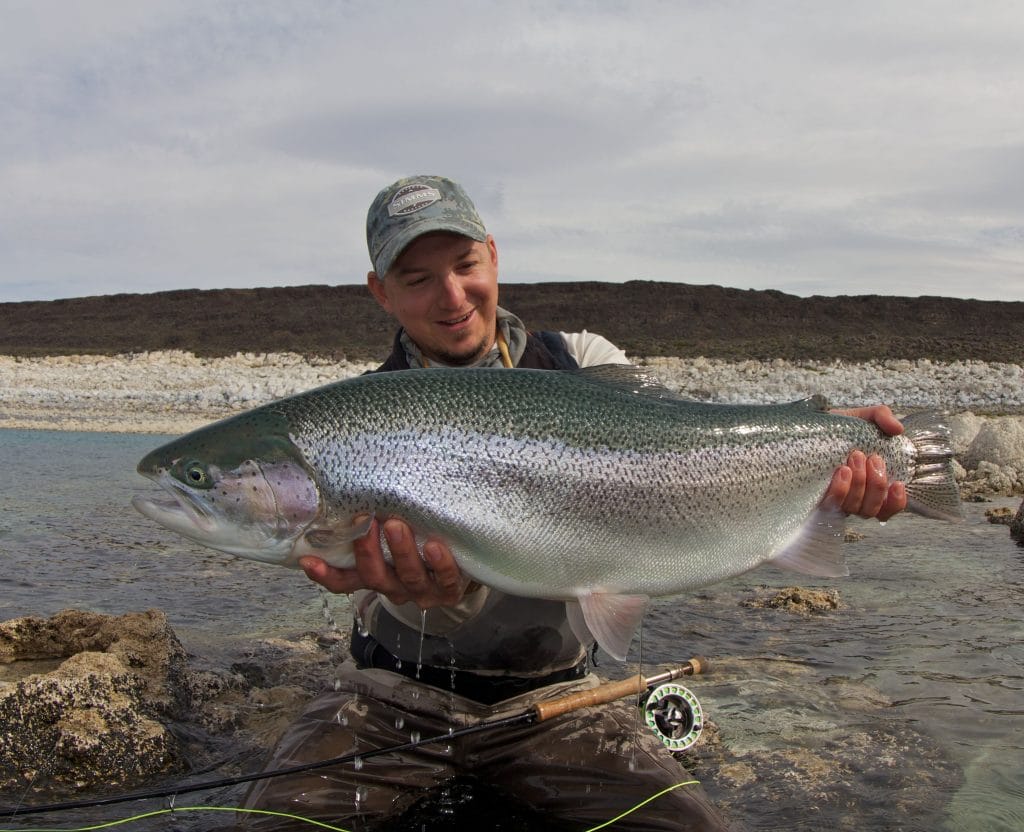 The Lodge
The lodge is located on the shores of the beautiful "Laguna Verde" (Green Lake) and within easy access to all the fishing programs. The main lodge is a typical "estancia house" accommodating up to ten anglers per week. It has seven double en suite bedrooms, each with two single beds. (Single room lodging and guiding can be provided for an additional cost).
The staff at the lodge offer friendly and professional attention to create a cosy and hassle-free atmosphere to guarantee you have a truly unforgettable experience. Their enthusiasm, coupled with delicious food cooked in the traditional Argentine style, will ensure that Estancia Laguna Verde will become your home from home.

Estancia Laguna Verde 2022 & 2022 Availability & Rates
2022 Availability
January 15th – 22nd
January 29th – 5th February
April 9th – 16th
2023 Availability
January 14th to 21st
October 22nd – 29th
US$5,950 per rod for seven nights six full days fishing. Five nights and four days is US$4,650 per rod and four nights with three days US$3,850. This is on a single room and shared guide basis (two rods per guide). Please also note that this includes the transfers to / from the lodge.
For more information lease take a look at the following brochure, which gives fantastic insight into Estancia Laguna Verde.
For more information please contact Olly Thompson or phone 01980 847 389