A February 2016 round up of some of the finest golden dorado lodges in Argentina.
Pira Lodge:
February started with the best week of the season so far. Water in the marsh was at a perfect level and dorado are concentrated in island side-channels and deep pools near Camalotes.
Floating lines with small dark deceiver-style streamers were by far and away the best tactic but great success was also had using mouse patterns on the surface in the marsh. The Corriente River, on the other hand, continues to produce good numbers of sizeable dorado for anglers who like to swing streamers and bang the banks with big flies.
During one session, guest Jeff S. landed seven dorado from 5 to 7 lbs. Jeff, a great fly tyer, found his custom streamers were the ticket. Michael "Mickey" D. focused on fishing mouse patterns in the Ibera backcountry, and was rewarded for his efforts with an 11 lbs rodent-muncher. Guest Jeff B. tangled with a 15 lbs dorado in the headwaters of Corriente River. And those are just a few of the many highlights of the week.
Overall conditions remain great, with a few storms around and just enough cloudy days to give relief from the hot sun. In addition to fishing, wildlife watching is always great this time of year. Cayman and capybara populations are healthy, they have also spotted swamp deer, and migratory birds are out in force.
Alto Parana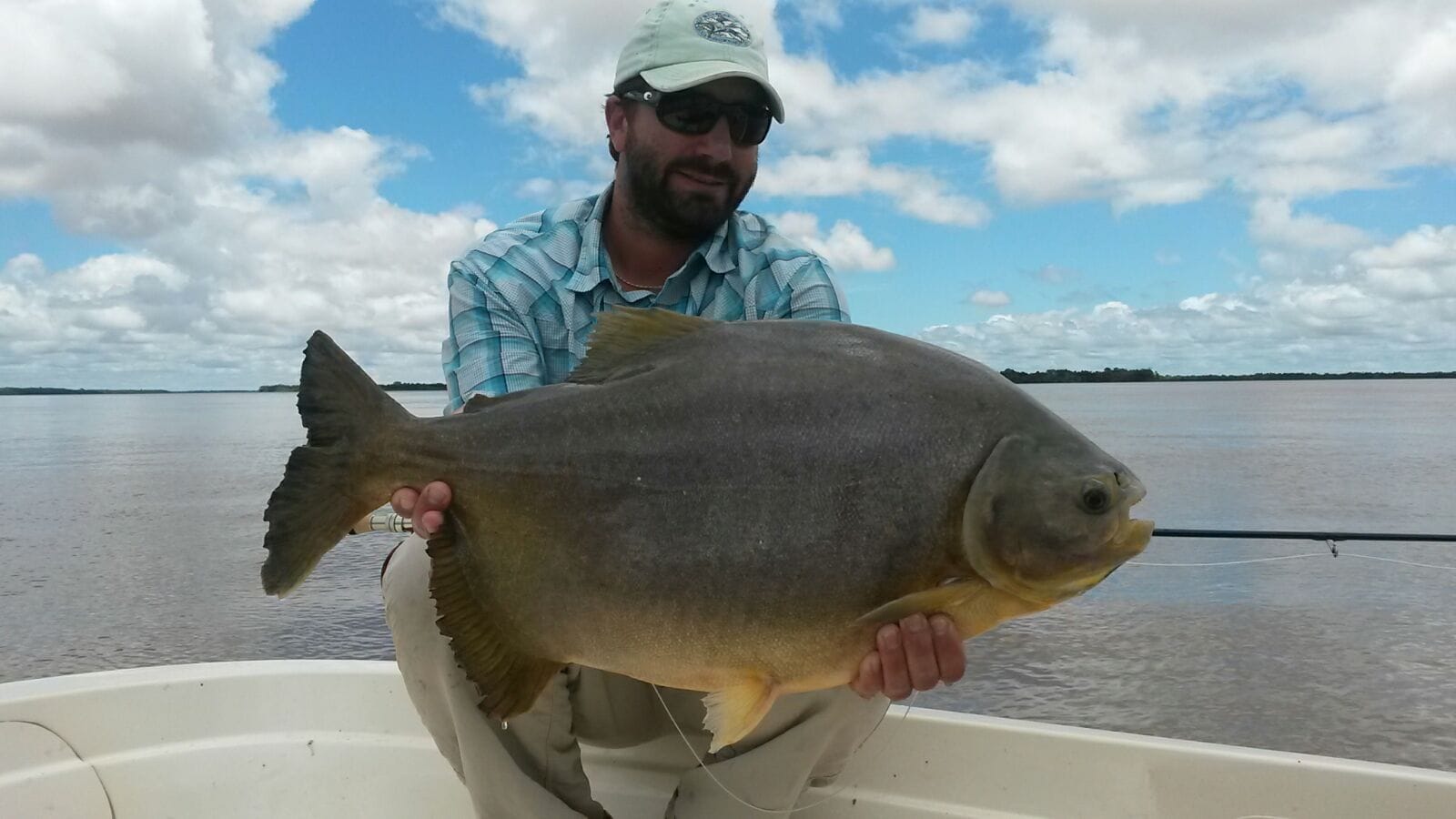 The Parana River was much higher than usual at the start of the season due to heavy rains in Brazil and north-eastern Argentina, but it has been dropping into form and conditions are improving.
Migrating schools of dorado have been pushing baitfish upstream, moving quickly along the banks and attacking wayward sabalo. They have had success tracking their movements and targeting the feeding frenzies throughout the day.
Pira pita fishing has been fantastic on mouse patterns, Chernobyl ants, and other large dry fly imitations and fish size is better than it has ever been. Pacu fishing has been more difficult, on the other hand, but as river flows stabilise we expect the action to improve, especially when the fruit starts falling more frequently providing more opportunity for pacu to feed on the top.
In addition to the species mentioned above they have already landed four chafalotes this season—an amazing (and rare) freshwater predator to catch on the fly!
Delta Lodge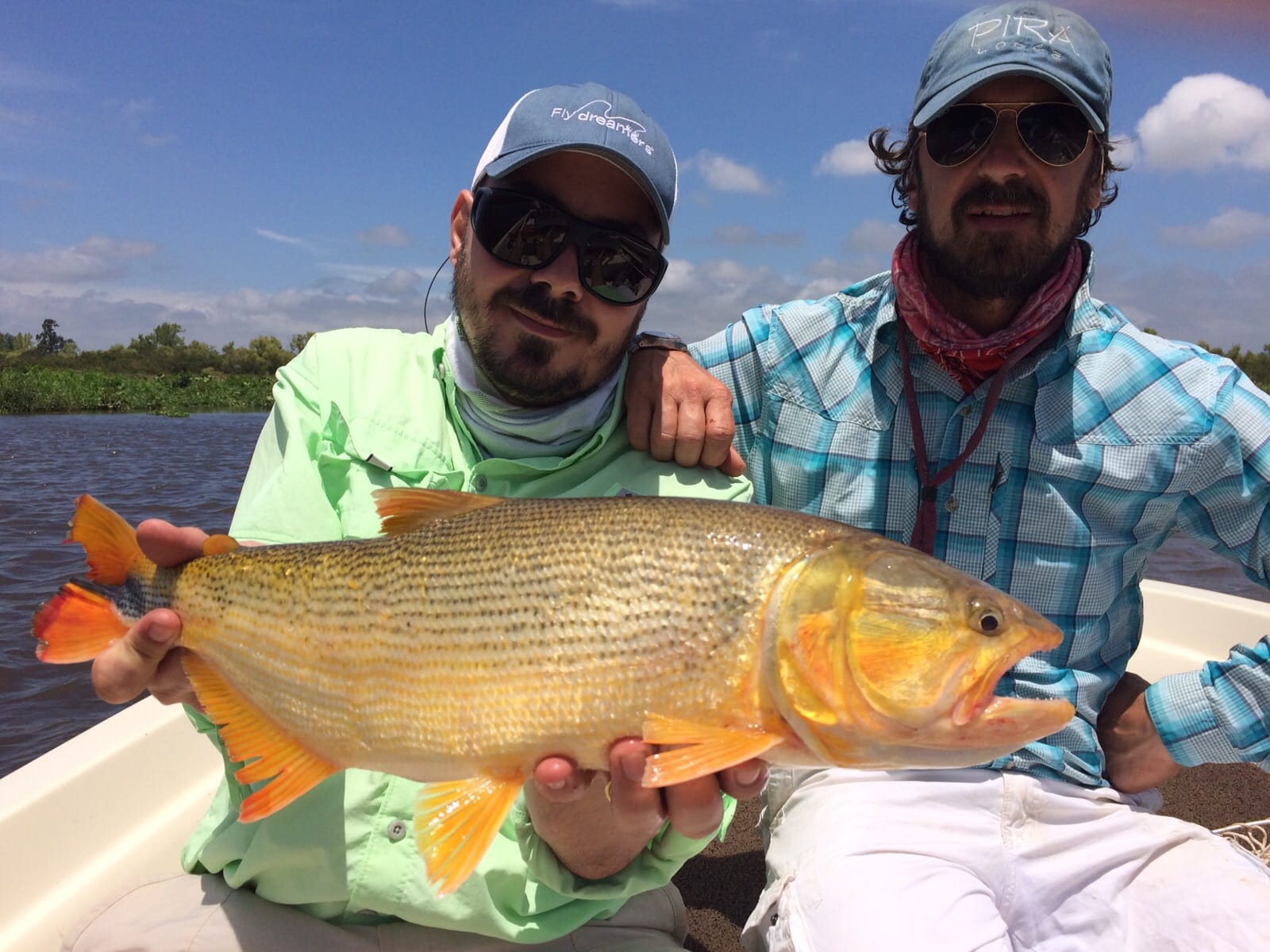 After an up-and-down season for dorado and tararira due to flooding in the north, they are finally seeing some stability and promising fishing. In late January, they hooked the biggest dorado they have ever seen in the Delta. Unfortunately, he spit the fly during one of several stratospheric jumps. It was estimated to be 16 lbs plus. That is a great dorado anywhere, but especially this close to Buenos Aires.
In addition to some great dorado fishing, there was some excellent tararira activity… followed by no activity at all.
High waters in the northern end of the basin pushed plenty of baitfish into this zone, much more than in previous years. The volume of juvenile pira pita has also been impressive. If they stick around until the end of the season, it will be a blast to fish for them on light tackle and with dry flies.
At this point, we are expecting an awesome late season as long as current conditions persist. And it will be an even more interesting next season.
For more information on golden dorado fishing please contact Steffan Jones or call our office on +44(0)1980 847389.