The Golden Dorado River Cruiser is the one and only mothership fishing programme in all of Argentina. With world-class lodging in its fully upgraded liveaboard, adapted to the modern angler, looking to find comfort, while accessing the most exclusive and off the beaten paths of other boats and anglers. This amazing programme features all the ingredients to make a trip of a lifetime, chasing the hard fighting golden Dorado, as well as other fantastic game fish in the huge upper delta of the Paraná River system; one of the longest rivers in the world.
Another important characteristic of the Golden Dorado River Cruiser is the short distance from Buenos Aires City and Rosario City. If you are in Rosario, you can get to the Marina in 45 minutes. And, if you are coming from Buenos Aires, the Marina is only 2.5 hours away! No additional flights and no overnight buses to contend with. Indeed, you can be transferred directly from your arrival at the international airport.
The area and the fishing
The Paraná River is born in the south of Brazil and, on its way south, as it enters Argentina it receives water from several smaller rivers and tributaries. As it enters the provinces of Entre Ríos and Santa Fe, forms one of the largest deltas in the world, as the famous Uruguay river joins in, finishing at La Plata River near the city of Buenos Aires, before going into the Atlantic Ocean.
This large river system is the second biggest in South America, after the Amazon, with a total length of over 1,500 miles, with hundreds of tributaries, deltas, marshlands, lagoons, side channels, full of fantastic flora and fauna, providing the most exciting adventure in this unique part of Argentina.
Each day you will be fishing new waters, working different locations in its various forms, like runs, inlet/outlets of lagoons, small side channels, tributaries bringing bait fish, and on and on.
Golden Dorado are extraordinary hunters. They are always in search of an easy prey that happens to go by their holding spot (even a smaller Dorado!). They like moving water, and most times stalk close to river structure.
Fishing is done from brand new boats, specially designed for fly fishing, with two casting platforms that allow comfortable casting and fishing of two anglers at the same time, with remote operated electrical engine done by the guide.
Besides targeting Golden Dorado, there is also the added bonus of fishing other exciting fish too like Pacu, Pira Pita, Tararira, Surubi, Chafalote, and other freshwater species, which provide fantastic sport.
Fishing with both spinner and fly is permitted.
The accommodation
Lodging is provided aboard a comfortable two engine Mothership, which features 4 double bedrooms with en-suite bathrooms, each provided with A/C for added comfort.
Telephone, flat screen TV with films and TV, and Internet are available at the Cruiser, too.
Meals are prepared by our exclusive Chef and matched with distinguished and high-class wines of Argentina, personally selected by the owners, who take pride in this selection.
The Golden Dorado River Cruiser moves according to fishing and also to provide a new outstanding location in each day of the trip, enjoying the Paraná scenery beauty to the fullest.
For added adventure and enjoyment, according to weather conditions, several lunches or dinners may be served at land with full comfort, at a special sand bar, a nice forest, or a lonely small island, depending on where the river takes us.
2019 / 2020 season prices & availability
The Golden Dorado River Cruiser has total flexibility in terms of length of stay and also arrival/departure days. The varying costs based on length of stay is as follows:
3 nights (3 nights, 2.5 fishing days: U$S2,200
HALF WEEK (4 nights, 3.5 fishing days): U$S2,900
5 nights (5 nights,4.5 fishing days): U$S3,500
6 nights (6 nights, 5.5 fishing days): U$S4,150
FULL WEEK (7 nights, 6.5 fishing days): U$S4,800
This cost includes transfers to / from Buenos Aires or Rosario, fishing licences, all meals and drinks.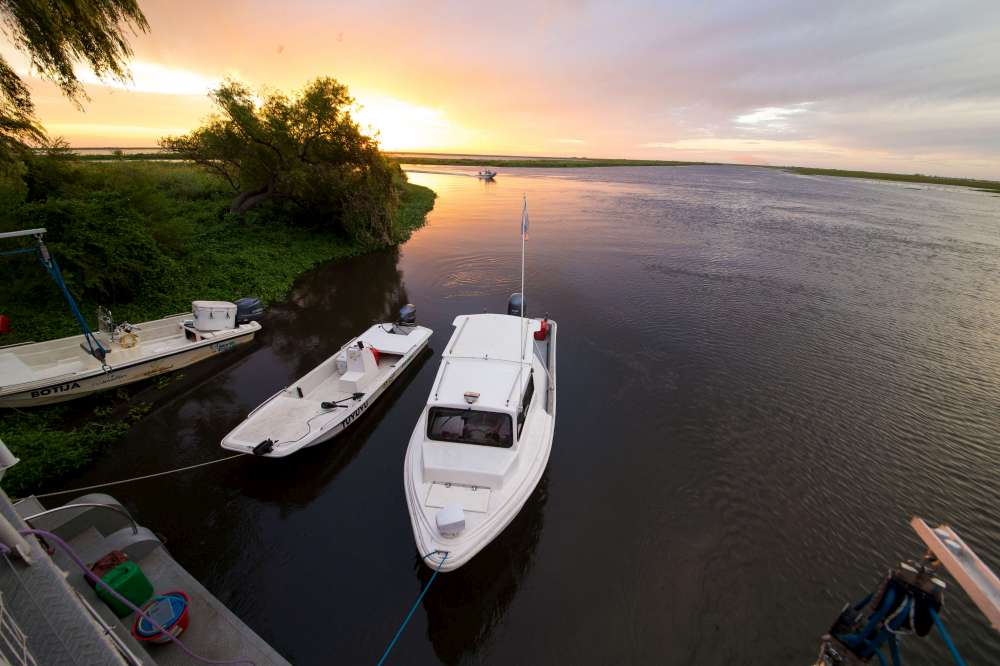 If you would like more information then please do not hesitate to contact Steffan Jones or call our office on +44(0)1980 847 389.