The opening week of this season at Kau Tapen Lodge. Needless to say, we were all pretty excited to get the ball rolling, welcome our first week's guests, and kickstart our fishing year 2020!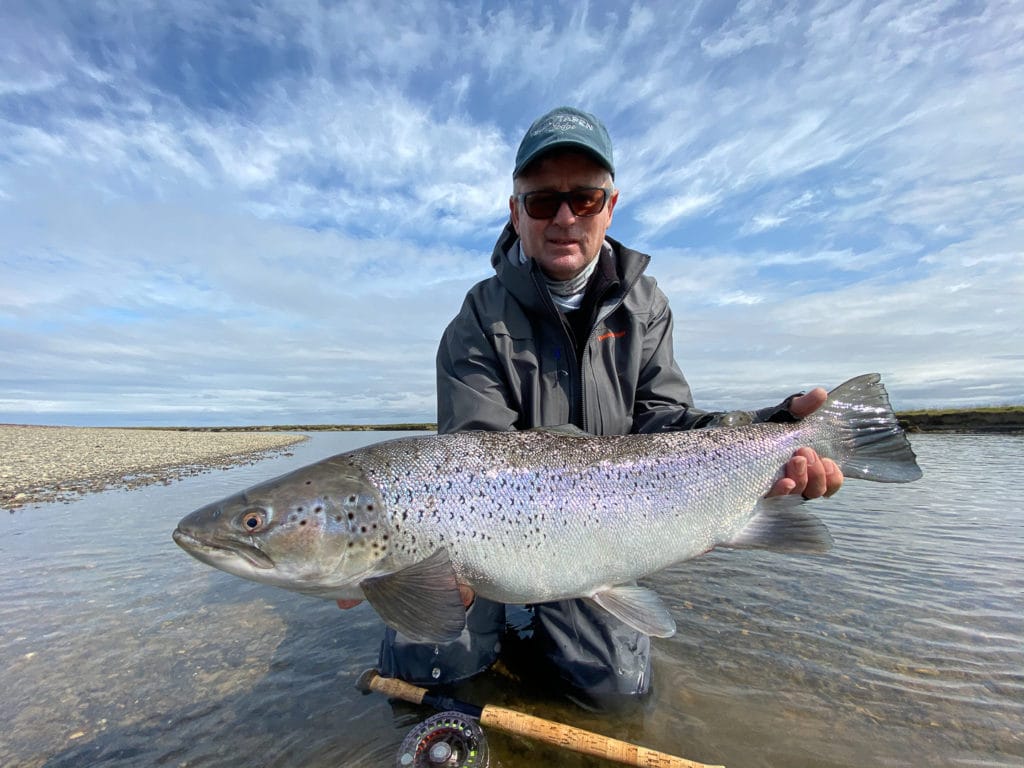 We could not have asked for a better bunch of anglers for this first week, an amazingly homogenous group, a lot of familiar faces, as well as some new members to the Kau Tapen family: Timo and Iver, our long-time friends together with their buddies Lars and Ian; Mike who has been with us for the past three years brought his good fishing friends Jim and Woody along, who we dearly got to know and hope to be welcoming soon again. And last but not least David, also here for his third time together with his mate Peter, who unfortunately could only get a taste of this place, staying just 2,5 days. All in all, we had five nationalities gathered around our dinner table, but the common language everyone spoke was "fishing".
Starting into this week, the water conditions were near to perfect. A comfortable water level of +10 cm rendered almost every pool fishable from top to bottom and temperatures stayed stable between 10-13 °C (50-55 °F) along the week. Although the wind would come from all imaginable directions over the course of the week, it blew rather mellow, allowing us to efficiently cover most of our pools. While the water and weather conditions were on our side, it was still a hit-and-miss kind of fishery in some beats that did not follow a clear pattern, yet. With this season being rather late, it seemed that the bigger fresh fish were just starting to enter the freshwater in the estuary in the beginning of the week and although it is fair to say that all pools are already holding fish, the main run of fish has yet to arrive.
Luckily, all of our anglers were keen fisherman and handy with a spey rod. Those, who fished for sea trout for the first time picked it up incredibly quickly which made our job as guides much easier, allowing us to focus on finding fish and cover the water very quickly and efficiently. Already in our short warm-up session on Saturday evening, the first fish were hooked and landed – a promising start into the week. By midweek, we had already racked up numbers much higher than expected considering this year's delay of the run. And although we were still hoping for the main run of big fish to enter our beats in better numbers, we saw more and more silver bright fish in that 6-12 lbs range and every group member had already landed fish. These midsized fish were in perfect condition and thanks to ideal water temperatures, were fighting incredibly hard, putting angler and equipment to the test.
Finally, we received the big news from Villa Maria that the first big and spanking fresh fish were caught on Tuesday evening and sure enough, after a full day of rain that pushed the water level up a couple of inches, these fish reached our waters on Thursday. And although during these last two days it was still about finding the running fish in the right place, we saw significantly more large fish being hooked and landed: an incredible fresh 18 lbs chromer for Jim, a two 17 lbs rockets for David, an angry kyped-up 16 pounder for Mike, and a mean-fighting 15 lbs freight train for Woody, amongst other great fish.
An incredibly fun week comes to an end, and although the fishing did not seem easy with lots of casting and pool-hopping, searching to find the right pieces of water that were working, we are very happy with this week's final results. Despite of the fishing, we could not have asked for a more pleasant and joyful week to start into our 2020 season. It was great to see our old friends again, and to make new friends along the week – we surely hope we can welcome everyone (ideally in this same constellation) next year again!
The good water level that we have now at Kau Tapen, the feeling of more and more consistency in most pools, and the fact that the big full moon will push up the tides in the beginning of next week to hopefully drive in a major run of fresh fish into the river give us great confidence about the coming week(s). Stay tuned for more – as always, you will get our weekly updates about the course of the season here in our River Diaries!
If you would like more information then please do not hesitate to contact Steffan Jones or call our office on +44(0)1980 847389.