We are now entering what has always been considered the very prime part of the season on the mighty Rio Grande. Despite the water level being lower than usual for this time of the season there are good numbers of fish spread throughout the system and all of the lodge have been recording some wonderful catches. It has been especially encouraging to read about some fantastic fish in the mid to high twenty pound range being caught.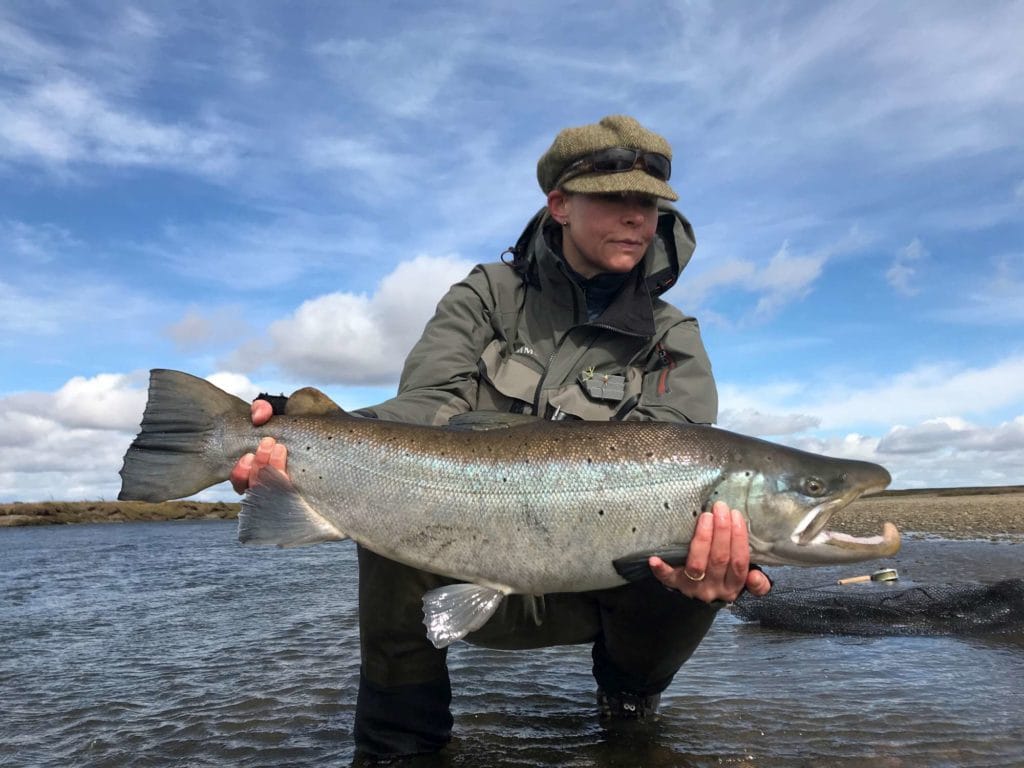 Estancia Maria Behety January 28 – 4 February
Despite the low water, the river is in excellent condition and holding steady. We didn't expect significant changes this week as there have been no dramatic changes to the conditions over the past few weeks. We hope for some rain next week and stable weather after that.
Fresh fish are spread throughout the system, and while we have seen good fish in all the main pools on the lower and middle reaches of the Rio Grande, the lower beats have been fishing the best. The clear water has made for some wonderful technical fishing and has certainly made both anglers and guides think carefully about their approach to pools. As usual we have approached pools with long leaders and light tips on the first pass through and gradually getting deeper if there is no action.
The usual fly patterns have been working best EMB nymphs, red butt, prince nymph, Aurelia prince, wonder bug, yuk bug, girdle bug, green machines. Big black tube flies and intruders are working as always for the last part of the day.
Water color and visibility: Clear
Water temperature: 8º C to 14ºC
Weather Conditions
Air temperatures: 6º to 22ºC
Wind speed ranges from 10 to 77 km/h
Rain during the week: 6 mm
Total Catch 121
Fish over 15lb 23
Largest fish 27lb
La Villa (Estancia Maria Behety) 2023 Prime Availability
4 – 11 March, 2 rods Cost: US$9,500
11 – 18 March, 2 rods Cost: US$8,500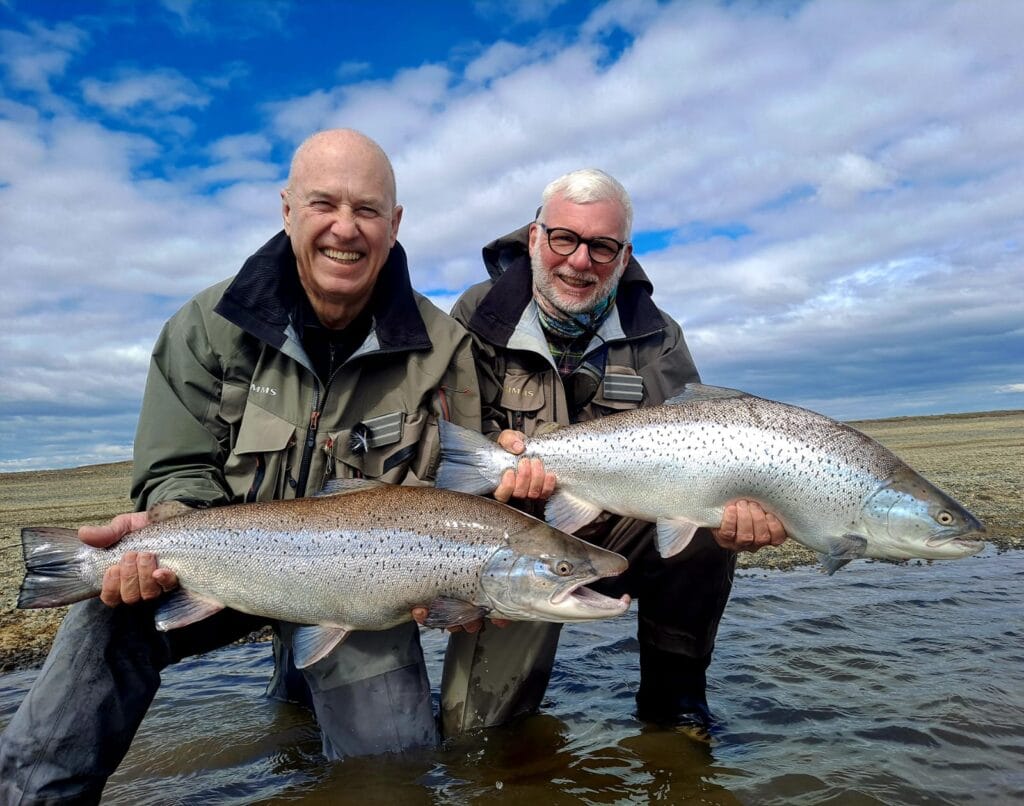 Villa Maria January 27 – 4 February
In trend with the season, the weather last week proved a significant factor in the fishing. Much of this is because the water level has been relatively low this year, making fish more susceptible to changes in weather conditions than usual. During the week, we started morning fishing with water temperatures of 7C degrees. By mid-afternoon, it was already around 17-18 C. Of course, this didn't happen every day, but it was very noteworthy when it did.

This week we had mostly cloudy days with suitable ambient temperatures, and thanks to those conditions, we're happy to say that the fishing was excellent. We had a diverse group of anglers with mixed experience of the Rio Grande. Bruno and Gerald visit us from Switzerland and Austria every year and have fished for over 20 weeks at Villa Maria. For some rods like Ed and Irwin, it was their first trip to the river. By no means was this a problem, as Ed landed eight fish over 13 lbs in the week. Another angler worth talking about is Maurice, who visited us a decade ago and managed to catch six fish over 15 pounds, with the largest being 21 lbs. We finished the week with an average weight of 11.3 lbs per fish.

As the conditions of the river remain unchanged, the equipment we use remains similar to that used in the previous week. Rods ranged between 11 and 13 feet in length. Floating lines paired with relatively light sinking tips – between 5 and 10 feet were most effective. The selection of flies to be used was relatively similar to the week before, erring on the smaller side. The general rule for the week was to keep choosing small flies for the brighter hours and increasing the size when the sun began to disappear on the horizon. We expect light rains next week, so we will see how they influence the river and, obviously, the fishing.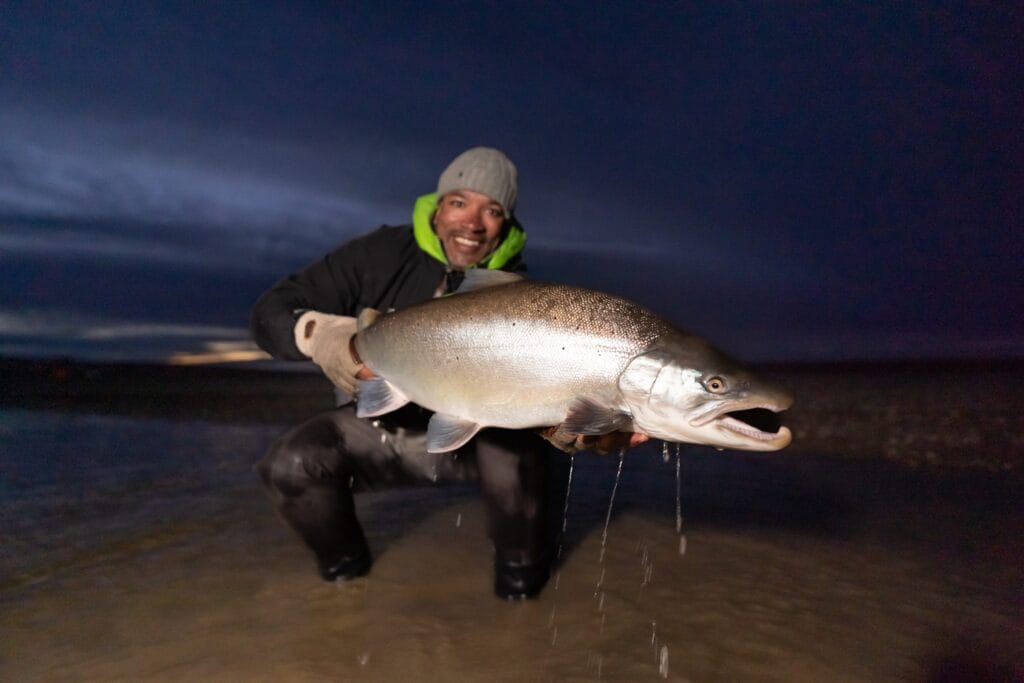 Kau Tapen January 21 – 28
The weather and conditions for the week were challenging, as the water in Rio Grande and Menendez dropped to low levels. On the first day, a slight 2 cm rise brought good fishing for a few sessions, but last week's rain was not enough, and both rivers steadily dropped throughout the week. Low water tactics were employed by the guide team, targeting concentrations of fish in their prime lies with extreme stealth.
Temperatures were cool compared to last week's, especially at night, which led to cold water during the morning session. We found that fish became more active later in the day. Large temperature swings often mean we were using a variety of flies and tips to produce takes and fish.
Throughout the beginning of the week, many fish were seen moving in and between all beats, but this activity seemed to stall for the final few days. It rained heavily for a few hours on the final evening by the lodge and in the mountains above, which is encouraging.
The quality of the fish cannot be understated this week, and some truly stunning sea trout need to be mentioned. First was Morten's 24 lb male. Morton worked hard all day, and eventually, the fish of dreams found his fly, and after a lengthy fight, all went well for the angler before the fish was returned after a couple of pictures.
Also noted was Calix's 23 lb fresh male sea trout guided by Colo, which displayed incredible girth and put up a similar fight. Any week we land one of these larger fish is considered a success, but two fish of this size class within a few days is phenomenal.
Despite low water and challenging fishing conditions, it was a great week among persevering anglers who managed to keep the rods bent with a smile. There was a significant increase in the number of fish hooked during the same week last year by this group as well. Hopefully, the rain on the final day was enough to bring a rise to the Grande and Menendez for the next group, although historically, this takes around a day or two to arrive, which should be right on time.
For prime 2023 Rio Grande Availability click HERE.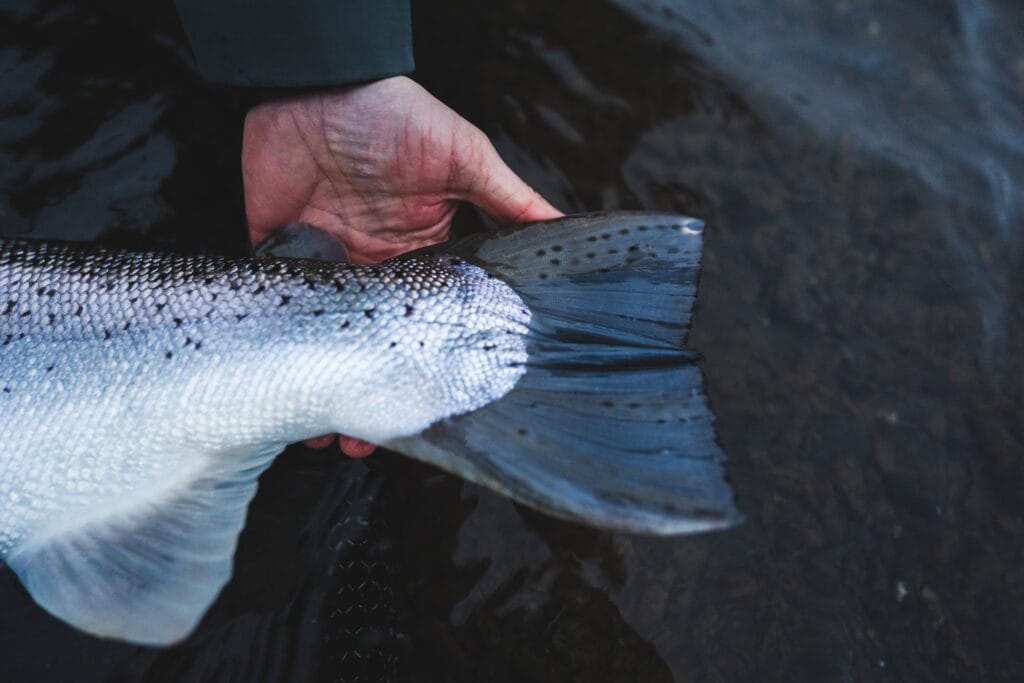 If you would like more information then please do not hesitate to contact Olly Thompson or call our office on +44(0)1980 847389.