Fishing Kau Tapen Rio Grande Argentina sea trout
ARGENTINA, TDF, KAU TAPEN; 2017 SEASON FISHING REPORTS FROM THE RIO GRANDE.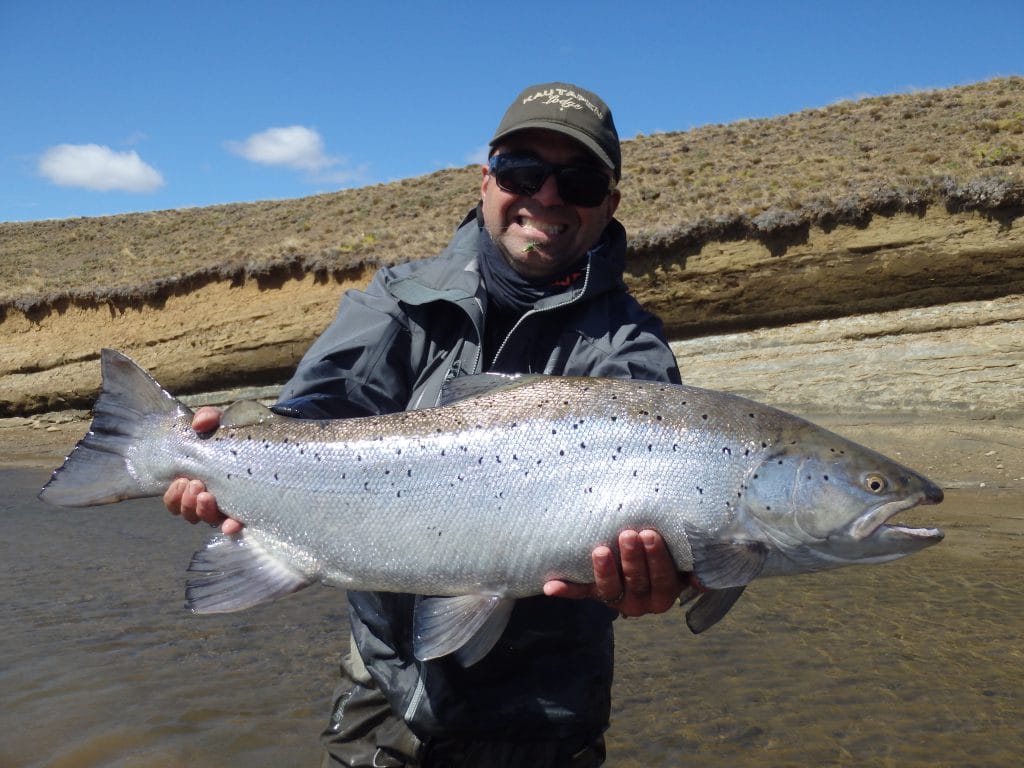 WEEK 7-14 JANUARY
Kau Tapen Lodge on the Rio Grande kicks off its 34th season this year. Over the years the river has changed somewhat, with the meandering stream cutting through the valley's soft gravel, pools the currents are often changing. New lies for the fish constantly opening up; others magically disappearing. Having said that, the 2016 winter in Terra Del Fuego was a soft one. It left us with a similar system to last year, but certainly the odd new spot. With very little snow in the headwaters, run-off has been next to nil and the river is currently low and clear. Regardless, we've been finding fresh, aggressive fish. If anything, the low water has channeled them up allowing us to cover them with ease.
The fish arrived in good numbers about two days before the first group arrived. While the guides were scouting the river checking old pools and looking for anything new, they relayed these reports. Sure enough, we saw good results throughout Week 1.
Guests included experienced sea-trout anglers and a few first-timers. Everyone caught fish. Bill was our top rod of the week, an experienced fisherman with good knowledge of Kau Tapen's water. Larry's first day began with any fisherman's dream…. He was in Dead Guanaco with our head guide, Gaston. Second cast Larry hooked into a fresh hen weighing in at 18 lbs. The fish put on a circus-like show, cartwheeling down the pool. After a few minuets the fish was safely in the net. Of course after a quick picture and the release Larry proceeded back to the same spot to continue on the fishing the pool. One cast later the line went tight and the reel began to sing for the second time, another great fresh fish weighing in at 15 lbs. A flying start to the week so well done by Larry.
The majority of the fish this week were all caught on floating lines with sinking or intermediate tips. And heavier tips are unnecessary due to the low-water conditions and warmer water. In other words, fish will move to take the fly. We've had a couple nice fish already caught on full floating lines. Air temps have also been tolerable, reaching up to 15 degrees C. and rarely dropping below 10 degrees. We started the week off with very strong winds, gusting up to 75 km. The guests did exceptionally will to stick at it and they were ultimately rewarded for their efforts.
The average size fish for the week was 9.8 lbs. In addition to landing a good number of fish we also had plenty of hook-ups that sadly didn't make it to the net. Heaviest sea-run brown of the week was David's fresh 19 pounder, a beautiful pepper-spotted bar of silver.
Thanks to everyone who attended. It was a fun team and we had some excellent fishing! So far conditions look good for the upcoming week.
WEEK 14-21 JANUARY
Our second week at Kau Tapen has come to an end and I'm pretty safe in saying the week was a success. We had a mixed group of guests from around the globe—nationalities included the U.S., Denmark, Sweden, Kazakhstan, and Australia—and everyone got along famously.
Fishing continued to be steady, with no obvious incline or decline of fish caught throughout the six-day period. And we seemed to be averaging several hook-ups per rod per day. Of those hook-ups, the quality of fish caught this week was outstanding! We landed two fish weighing more than 20 pounds and a good number in the high teens. Yulkin from Kazakhstan while fishing the lower beat landed his first 20-pounder. A thick, fresh sea-run brown that took seemingly endless runs up and down the pool… and also up and into the air!
Cheryl had the pleasure of landing our first 20+ pounder of the season. I'm told she fought the fish like a pro. Word is the 4-pounders she'd caught moments before took longer to land than her double-digit sea-run. Congrats, Cheryl, on your epic fish, which buckled our scale at 22 pounds!
We continued to catch fish on a range of different sized flies this week. Of note, these fresh fish have been aggressively eating larger flies despite the low-water conditions. Floating lines with slightly heavier sinking tips have also been working well.
We had a few short, sharp showers at the beginning of the week that brought the river up a few centimeters. But it very quickly dropped back off again. We're currently seeing huge numbers of fish and with a little more water the fishing could become extremely exciting. Let's hope we can continue to catch this quantity and quality of fish through next week, as well.
WEEK 21-28 JANUARY
Another week down at Kau Tapen Lodge as we continue onward with (mostly) good conditions and excellent results. Water temperatures have been perfect and we had light winds during the first few days. Even better, the river held plenty of fish and our guests were able to take advantage. Unfortunately, the wind shifted from west to north and picked up some muscle, resulting in a three-day period of tough fishing and some off-coloured water. But our brave guests persevered, and fishing began to pick up again near the tail-end of their trip.
There was no magic bullet and all fish this week were caught using a variety of techniques: upstream nymphs, leeches, green machines… you name it. All sizes and shapes were used at different depths, dictated by the characteristics of each run. Experimentation was key.
Hans landed our biggest fish in Lucy's pool on Beat 9. He started there in the morning and was greeted by huge push of fresh, finicky fish. After much thought and discussion over fly selection, Hans and his guide settled on a small blue-and-black conehead pattern. Sure enough, halfway down the pool, he hooked a monster. After a 15-minute battle they beached, photographed, and safely released the 23-pound fish. Trond, Hans' fishing partner, followed that up with a beautiful 17-pounder in Lucy's pool just before lunch. An excellent morning for both fishermen!
I had the pleasure of fishing with Alan on his birthday, who managed to catch a brilliant 15-pounder on a copper-coloured Sunray Shadow. It was a present he won't soon forget. Off the water, life in camp was a blast and everyone made full use of Kau Tapen's amazing facilities. The Jacuzzi got plenty of use by this lovely group of people. Everyone left with a smile and we hope to see them again next year.
Looking ahead, water levels are steady and the wind has twisted back to the west—which is a good sign. Hopefully we can continue to catch high numbers next week. There's certainly no shortage of fish in the river.
WEEK 28 JANUARY – 4 FEBRUARY
Week four was made memorable by another awesome bunch of anglers at the lodge. Guests varied from experienced to first timers. Six members of the team caught their first ever sea-run brown trout and a couple caught their first ever fish! Weather was good: very little wind and good cloud cover all week. Fish were caught during the mornings, afternoons, and evenings—there was no obvious 'best time to fish'.
Max caught the fish of the week, a bright 21-pounder from Fernando's. It was caught on a small nymph in shallow water. We had fun running after it down the pool. After a half-dozen huge jumps it began to tire and we managed to get the beautiful hen in the shallows and into the net. Congrats, Max!
Hubert and Jean, our father and son duo, also had a session of note. They landed four fish on Wednesday afternoon: 18lbs, 17lbs, 17lbs, and 13lbs… an amazing four hours' worth of fishing.
The weather forecast is for some rain next week, which would be fantastic. The river is still low but full of fish. We're looking forward to getting another week started.
Many years I've guided on the Rio Grande and many good-sized fish have given me many beautiful memories. But this week fishing with Jeremy was extra special.
Jeremy lives with Parkinson's disease. He moves slowly into the river, but covers every inch of water. My first morning with him was fantastic, not only because in an hour we landed three fish between 14 and 16 pounds, but also because I learned an important life lesson. The small moments I experienced with Jeremy became more than about just catching fish. And in fact, the fish were just an excuse to share time on the water with a great person.
WEEK 4-11 FEBRUARY
Our fifth week at Kau Tapen lodge has come to an end. This time clients from Austria, the U.S. and England experienced some highly variable conditions: three hot, windless days followed by a torrential fourth day, with a ferocious upstream wind. As you can imagine, the river went from very low and clear to high and extremely muddy.
Changing conditions prompted us to switch up tactics—often. Everyday we experimented with an array of flies and lines and tips and strategies. And I guess we did something right, considering the astounding numbers our guests put up.
As weather and river conditions changed so too did the moods of our sea-run browns. Some days were slow, others were fast and furious. Ginny and Mark experienced the latter during a short morning session when they landed four fish between 20 and 26 pounds. Brothers Peter and Barnum, on the other hand, were quick studies when it came to spey-casting techniques and had an unforgettable week. Finally, 81-year-old Jerry was brought to tears by his outstanding 24-pounder, which he dedicated to his friend who couldn't make the trip.
For now the river continues changing, giving us variety of different stories, challenges, and moments of satisfaction.
WEEK 11-18 FEBRUARY
It's safe to say this has been our most prolific week of the season, so far. And we can back up that claim with an outstanding number of incredible fish brought to hand.
Toward the end of last week rain caused the river to blowout and rise with about a foot. By Tuesday the water had started to clear and was looking perfect. Sure enough, we managed to find plenty of the running fish. The quality of fish this week was outstanding. The majority were fresh bars of sliver and the average weight was more than 10 pounds.
John had a fantastic week, landing 5 fish weighing over 20 pounds as well as numerous others in the high teens. Pretty sure we'll be seeing him again next year…. Ivan had a great morning in Lucy's midway through the week, hooking three fish all over 15lbs in a matter of 30 minutes. David, however, had an afternoon session that was out of this world. On the last evening he was in Caroline's with his father just before dark. And standing in the same spot he hit three consecutive fish: 22, 22, and 25 pounds. David's father, Kjell, who was fishing the pool below managed to catch an 18-pounder and came marching up the river thinking he would be top rod for sure, soon to find out he was far behind his son.
Overall, it was truly an unforgettable week with some outstanding stories and fantastic fish. We hope to see you all again next year. The river has dropped off slightly toward the end of the week. But as of his writing it's been raining hard again. I'm sure we will get another push soon.
WEEK 18-25th FEBRUARY
This past week ushered in some variable weather, with light wind to start followed by a nuclear easterly that packed plenty of rain. River levels bounced up and down, which can make for some challenging fishing. However, our guests persevered.
Daryl and James had 12 fish to hand by the end of the first day, all in the teens. James' fortune continued when he landed a beautiful 21-pounder out at Dc. Rocks. All told, the first three days produced three 20+ pound fish—some fantastic Rio Grande specimens!
Toward the end of the week, 40 mph upstream winds gave us less reason to celebrate. But we chipped away and still managed a few fish per session. Overall numbers were slightly lower than pervious weeks, but the quality of fish remains high. The river is now on the rise. If it stabilizes at a decent level we could be in for an epic week ahead. Keeping our fingers crossed!
Water Temp: 13 degrees C
Biggest fish: 21lbs, David
Number of Fish over 15lbs: 17
Average weight of fish: 8.9lbs
Fishing Kau Tapen Rio Grande Argentina sea trout
For more information please contact Steffan Jones or phone 01980 847 389.