ARGENTINA, TDF, KAU TAPEN; 2018 SEASON FISHING REPORTS FROM THE RIO GRANDE.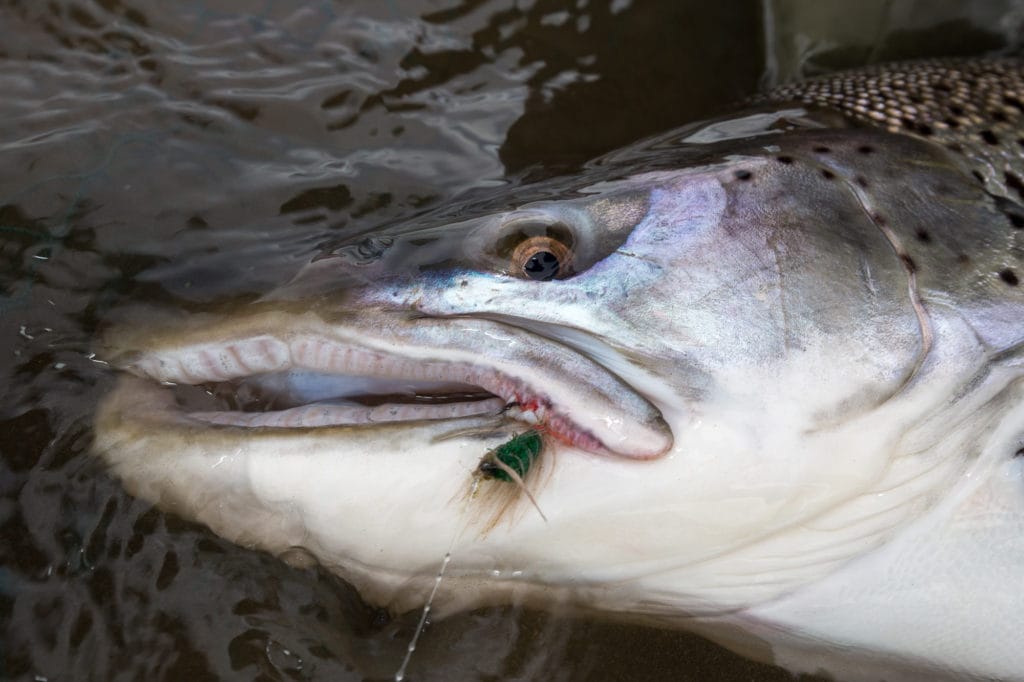 Week 1; 6-13th January 2018
Upon the arrival of the guide's team in late December, the river looked fantastic, meandering through the vast grasslands of Tierra del Fuego in its gleaming charm. Water level and clarity were perfect to check back on all pools and to scout, which parts of the river had changed in structure and flow over the past winter. Despite of these supposedly great conditions, the fishing turned out to be quite tough and only very few fish showed themselves moving. It just seemed that not a whole lot of fish had entered the system yet, but that should change quite soon. Half way into the guide's week, the super moon, that made for the biggest tidal difference of the year, combined with a couple of rainy days that made the river swell up a few inches, came like a blessing in the sky. Fish were entering the river in the mouth in good numbers, while higher water paved their way up here into Kau Tapen waters. Just when our first group of clients arrived, the river started dropping. Everyone was stoked for the week to come, clients and team alike.
Upon arrival, the nice and warm welcome speech by house managers Guy and Ivonne was followed by a quick warm-up session. It was indeed a nice surprise for most and despite tiredness and exhaustion form the long journey, most members of the group were excited to wet a quick line before the first dinner. It is always a great way to get accustomed with the double handed rod, find the right setup and get that first satisfaction of a proper swing.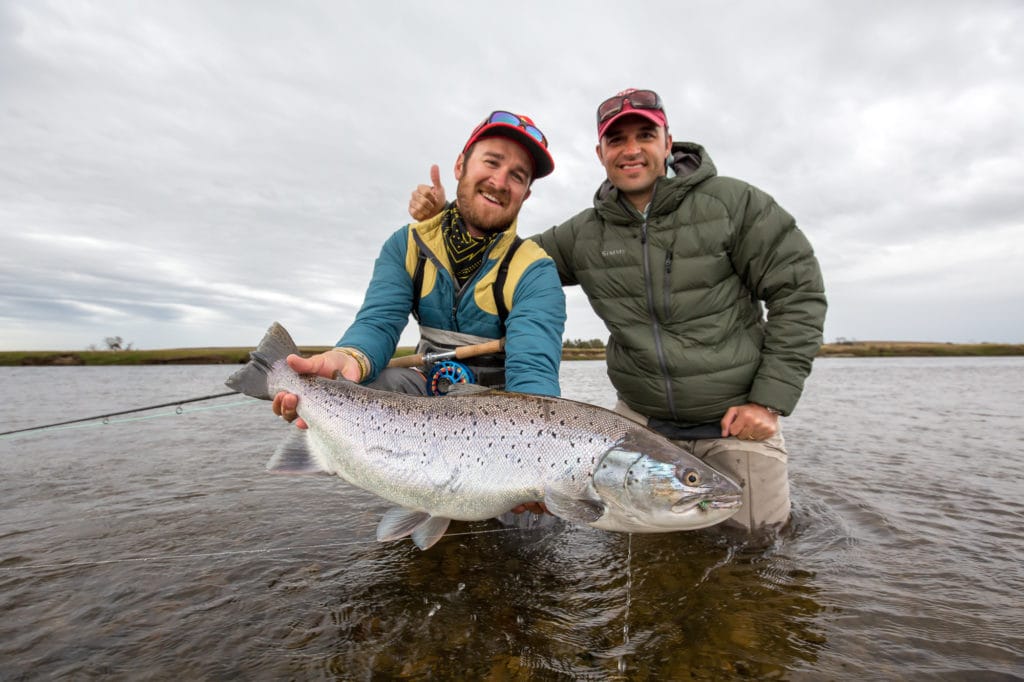 On the first fishing day, the water was still quite cloudy and an unlucky strong north-west wind made it tough to cover most of our pools properly. It was a rough start for this group, as the daunting task of casting your fly into the unforgiving wind, just to see it land somewhere next to you seems quite discouraging, especially since everybody was a Rio Grande first-timer. Nonetheless, we managed to land the first fresh silver fish and especially the late hours brought a ray of hope, with a perfect silver 15 lbs hen for Dan, who managed to land the fish in spite of getting it wrapped around a submerged piece of cutbank halfway into the fight.
Strong winds where followed by no wind and bright sunshine on the second day – a combination that made the water temperature rise from 13 to 18 °C in just 4 hours. All of us put our hopes into the evening session. But the rapid change of water conditions over these past days just seemed to render the fish listless. Nonetheless would Abaco Lodge Manager Christiaan managed to bring in an angry looking, colored kype of 15 lbs, a fish that guide Paulo had caught only a few days earlier during the guide's week.
It wasn't until Tuesday that the fishing started to really pick up. For the first time in the season, we started to see more fish moving in the pools and the number of hook-ups and fish landed just went along. The water was significantly clearing up and falling, wind was moderately blowing from the "right" direction, and for the first time in this week we started catching fish on the green machine again. Black and chartreuse leeches and smaller rubberleg zonkers were producing fish as well. It really seemed like the fishing was getting more and more consistent and by the end of the day, we were all happy to credit for a solid number of 10+ lbs fish landed on that day with the biggest being a beautiful 15 lbs colored hen, landed by Dick in "homepool". Susan, who had brought her sons Jack and Jamie, seemed to have stocked up on her green-machine-karma, landing three nice fish, her first of the week. It was a pity to see Jack, the youngster of the group and spey-rod first-timer, lost a cracking silver bright fish, that jumped him in Big Horn Pool, but he should redeem himself soon enough.
It would not be long until Jack had his second chance on the fish of his trip, not letting it slip this time. A perfect 18 lbs silver bright fish that would stay the biggest of the week. A memory, he will take home to Canada to treasure for a long time to come. His older brother Jamie did get his shots as well, finally bringing his first couple of nice fish into the net. Everybody had officially lost their Rio Grande virginity by mid-week. But the best day was yet to come.
Steady conditions seemed to fuel the activity of the fish. The water level was still high enough for fish, to push through from the sea without any greater obstacles or bottlenecks. That would be quickly proven on Thursday night, when our Frenchmen, Laurent and Mikael were celebrating their own chromer-party in "Boca Beat", landing 8 fish in the evening session alone. Fish were landed in every rotation that day until the very last minute, when Canadian Musky-Legend Mike could land an incredible 15 lb cockfish on the last cast of the day (10:59 p.m.). Slowly but surely it started raining and the rain should not fall silent until the early morning hours.
The long rain, strong south-east wind and a very cold night made for a sudden decline in water temperature from 15 °C down to 11 °C. Fish activity started to slow down until the later evening hours with a few more fresh fish landed, one of them another perfect 15-pounder for Mike. What a fish to end the week!
We here at Kau Tapen couldn't be happier about our first group. It seemed like the dynamics within the group could not have been more balanced. Lots of laughs were shared and many fond memories were made. As this was the first time here for each and everyone in the group, we are especially happy with the great performance and the steep improvement of those, who had never touched a spey-rod before. It seems like it was not the last time to see these kind faces around here, to chase dreams and the fish of a lifetime in the hallowed waters of the Rio Grande.
Week 2; 13-20th January
"Unusual conditions" is what would describe the past week's fishing. The rains that had poured down during the last days of the previous fishing week have had their impact on the water: slightly high and cloudy. Already throughout Saturday, the water had started to clear up again and the color of the water had changed into that one of a light tea. Standing up on the hill, glancing down on the Rio Grande reflecting the dark blue sky while the sun is setting somewhere behind the Andes puts everything to peace for me. We would have a great week ahead of us!
For this week, we were welcoming a colorful bunch of anglers from around the world. David and Peter from Australia, Tim, Ian and James from England, Jamie (James) from Schottland, Curtis Jr, Curtis Sr., Scott and John from the United States, and of course our dear regulars Cheryll and Peter from the US as well.
But despite the seemingly good water conditions, the weather gave us all quite the rough start. Our first fishing day was coined by gusty winds of 80 km/h and more, that would not allow anyone to get into a proper casting rhythm. Not quite the start that our speycasting-beginners might had hoped for. On the up-side, it made the casting on any of the following days seem so much easier. Tough conditions to start with made for only a few fish for day one, one of them a cracking 19 pounder for Curtis Sr. – what a fish to start the week.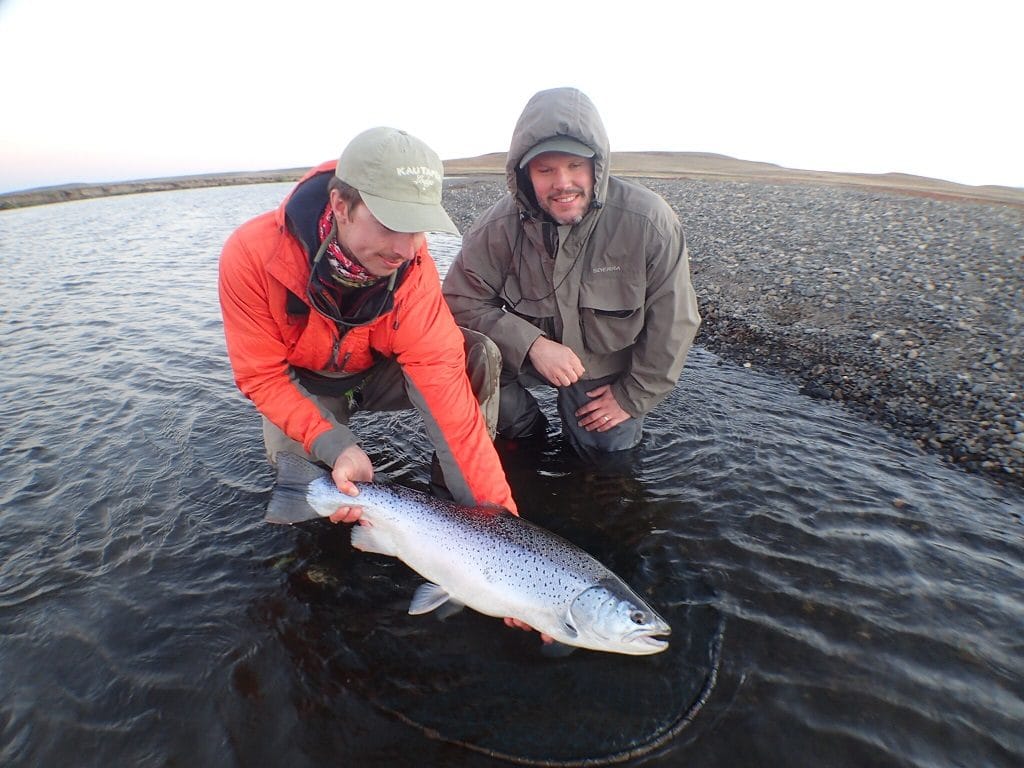 While the water was continuously dropping throughout the whole week, clear skies and sun on most days, and cold nights with the occasional morning rain made for highly fluctuating water temperatures during the day. When it was 10-12 °C in the morning, the water had warmed up to 16-17° in the evening. Looking back into the catchbook, it becomes obvious that most fish were landed in the late evening hours, when the sun had disappeared and the sky had turned into a beautiful pastel painting of blue, purple, orange and everything in between.
As the week continued, the wind was back to normal, coming from the usual west. But although the water looked great, it seemed that fresh, running fish were not spread in the system yet, but rather concentrated on a certain few pools. When at times you would see a lot of fish moving in some pools, others seemed to be quite calm. Our approach to these unusual conditions was to work a lot of water in the time being, in order to find the running fish. Although not every beat produced fish every session, we were able to land 15+ lbs fish on every day. While the fishing still seemed quite slow in the beginning, it would pick up towards the end of the week. The turning point was the moment, when David would claim the first 20+ pound fish on Wednesday out of Cylindro Pool.
Ian and James were working their pools as consistent as can be, managing to bring in fish on every single day of the week.
Cheryll and Peter, who we had the pleasure to host for over a decade now, were working the waters with vigor. Peter managed to bring in a splendid 16 pounder amongst other fish on Monday, while Cheryll would manage to get a silver bright 15 pounder out of the lower Rio Menendez on Thursday.
Scott and John, both who had never spey-fished before, hooked and landed their first fresh sea-run browns, each leaving their mark in the catchbook with double-digit fish as well.
Curtis Sr. and Curtis Jr. were consistently connecting to fish during this week, both landing multiple great fish over 15 lbs.
Our Aussies David and Peter, both fantastic fishermen but also new to the spey-game, put up quite the learning curve throughout the week. David ended his with 8 fish landed only on the last day, two of those being an unbelievable 22 lbs each. Meaning David finished the week with three amazing fish over 20 lbs.
Finally Tim and Jamie, both grinding the pools with such relentlessness in any kind of weather, connected to quite a few fish. While Tim would recall Wednesday being one of his best days fishing to date, landing a cracking fresh 14- and 17-pounder, Tim had a run of bad luck, losing most of his fish unfortunately. But he would also finish the week on a happy note, breaking his curse on the very last day.
What would seem like a very tough week in the beginning, with unusually fluctuating water temperatures and fast running fish, that were quite hard to locate, ended up to be a really successful one in the sum. All of our dear guests had landed chrome and the loud chatter on the dinner table had us rest assured, that everybody was having an outstanding time – on and off the water. We are looking forward to seeing some of these bright faces again next season.
Week 3; 20-27th January
For the first time this season, the water did not change much before the arrival of our new group. The river had been dropping at a constant pace and had cleared up to the point, where you could start fishing EMBs on floating line, without worrying that the fish wouldn't see the fly. Short: The river looked fantastic and the entire team was stoked about these (now) more consistent conditions.
This week, we were happy to welcome a mixed bunch from all corners of the world, old and young alike. Team Kazakh (from Kazakhstan) with Yerkin, Yerlan, Talgat and Daniel (from NY); Ted and Glenda from North Carolina; our German-speaking fishing machines and long-time Rio Grande anglers Jörg from Schwitzerland and Heinz out of Austria; Frank, Patrick and Hannah from NYC and Jim from New Zealand.
It is always so refreshing to see such seemingly different people get together, united under the same banner of fishing and connected by their drive for adventure, no matter the origin, language or age. Suited and booted for a quick warm-up session on Saturday evening and the week was on!
Not only did the river look great upon the new group's arrival, the weather should also be quite consistent throughout the entire week. Few rain showers, fairly cold nights and mostly overcast skies allowed for very constant water levels and only little changes in water temperature (mostly between 10-13 °C). Only that well-known Southern-Patagonian wind, that will grind on you and get down to your bones would make it tough to cast at times, especially for our spey-casting beginners. But already on day one, these guys were filling up the catchbook, amongst the first fish, a nice 16-punder for Jörg and a perfect, bright 17-pounder for Talgat to start the week. Monday continued to be quite prolific, with a mean-looking, colored 19 lbs kype and new personal best fish for Jim, as well as a terrific fresh 17 lbs fish for spey-casting beginner Patrick. It was a good sign to see a lot of these 7-12 lbs fresh fish moving in the pools and being caught especially in our lower beats. A great indication that there were a lot more fresh fish entering our waters now. Another fresh 17 lbs hen for Jerkin continued the good trend on Tuesday.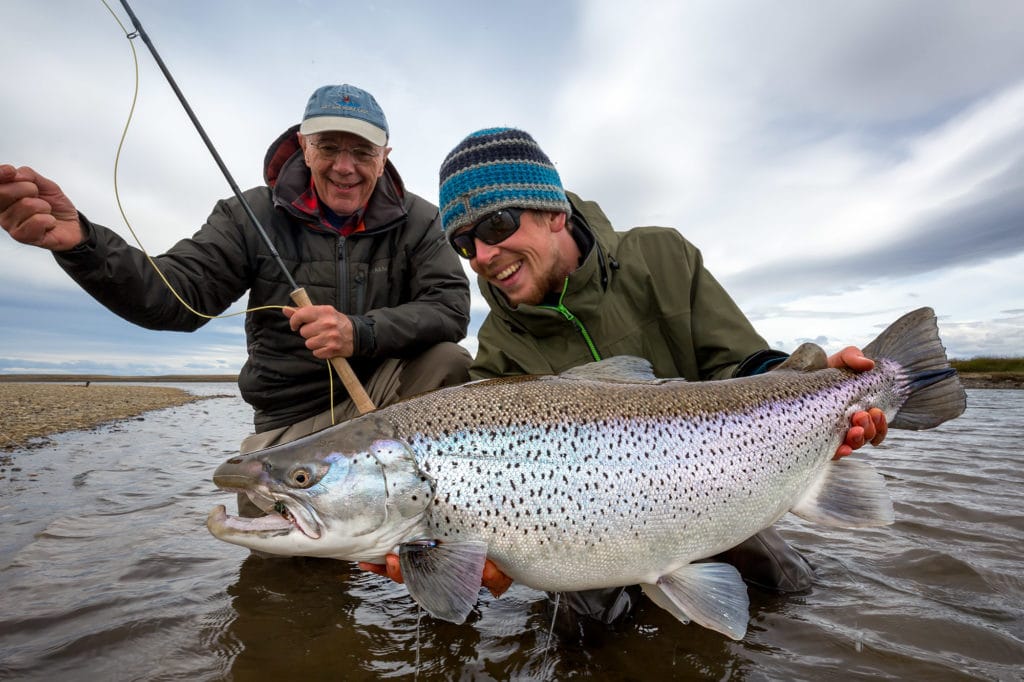 Just like the past week, fishing picked up towards the evening hours, when the sun had disappeared and the last light of the day would make it hard to see your fly land close to the other bank. Sometimes it would be the last 15 minutes of the evening-session, that the fish started to really get active, in some cases producing bites on almost every cast during these last minutes.
Wednesday would be Glenda's lucky day, when she managed to pull out an outstanding 19-pound fish out of Polo-Pool, earning her the lucky hat at the dinner table for the biggest fish of the session, next to quite a few 14, 15, and 16 pound fish being landed on that same day. However, the week was not over yet and the combination of good conditions and eager anglers produced more double figure fish, with a cracking 18,5-pound chrome fish for Daniel, another perfect 18 pound kype for Patrick and a cracking 14-pounder for Ted on Thursday.
The cool, oxygenated water enabled the fish to run up river, without getting too exhausted, and almost every fish that was hooked, gave us a pretty exhilarating fight, even these smaller, but extremely buff 4-8 lbs fish. Next to the usual green machine game during the day, and leeching at night, smaller nymphs, EMBs and smaller Girdle Bugs produced bites in increased numbers.
I think I am speaking on behalf of everyone if I say, that this week could not have ended on a better note. Perfect conditions on the last day, many fresh fish moving in almost every pool and landed fish for every single one of the 12 rods fishing. Amongst these fish a splendid and fresh 14-pound fish for Hannah and the first sea-run brown for Frank, who had not been fishing much throughout the week.
In retrospective, this was the perfect course of a week. Catch-numbers improved every day, not only because more fish were entering the water, but mainly because every angler more and more found his/her casting- and fishing-rhythm. The pressure was off already at an early stage and by mid-week, everyone seemed to be quite comfortable and confident in their way of fishing. But in the sum, it is not only about catching, it is much more about everything around that. And seeing these bright smiles and the sparkle in everybody's eyes at Friday night's Dinner, I am sure I will see many of these kind faces again next season, maybe even in that same constellation.
Week 4; 27th January – 3rd February 2018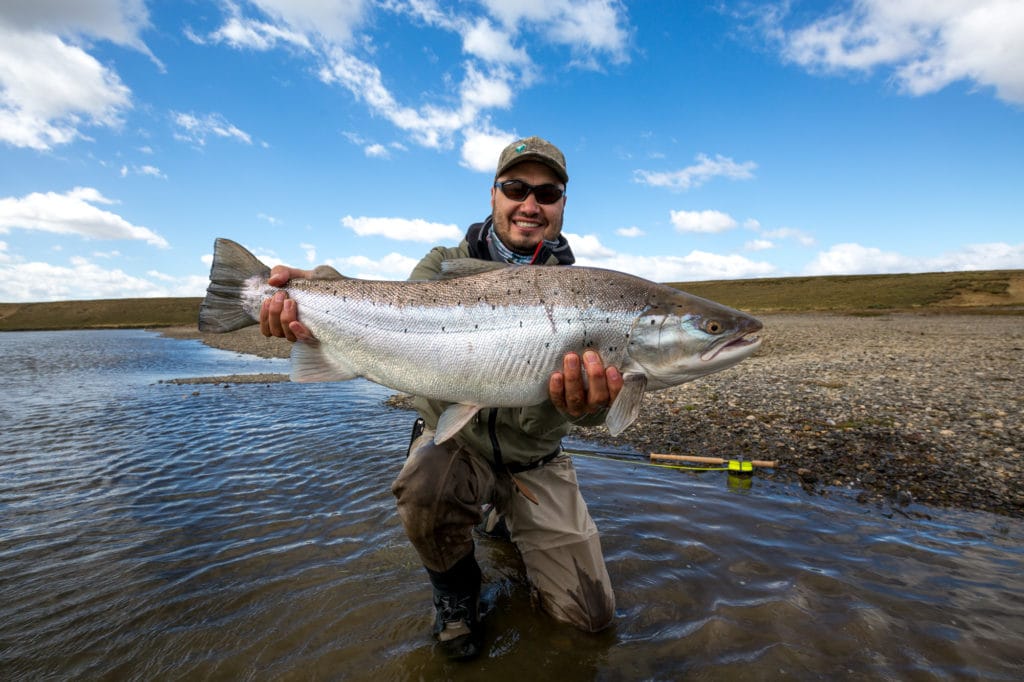 Another week is in the books and the fishing has been a rollercoaster ride indeed. While conditions were almost perfect and stable during the previous week, this week has provided us – once again – with a lot of weather changes.
For over two decades now, client and dear friend Jon has been coming to Kau Tapen Lodge now and this week once again being a great joy to all of us here. Alongside with him his friends Jeremy, Jeffrey, Chris and Hubert with son Jean-Hubert, some who we had the pleasure to host before, some who would spend their first week with us. To complete this week's group, we were happy to welcome Alexey and Sonia from Russia for their debut here at our Lodge.
For some strange reason, the first day of each week has always been a tough one, and that should be the case this week as well. Proper Patagonian winds of up to 65 km/h made it tough to acquire any kind of casting rhythm or get a feeling for the double handed rod. Especially a rough start for our speycasting beginners. On top of the winds, warm temperature and sun did not help the fishing either. Towards the evening, the wind died down though and the later hours brought the first nice fish of the week, including a perfect 18-pound fish for Jon!
But whoever though the wind would not get stronger got proven wrong on day two. With gusts up to 80-90 km/h, all of us had a hard time standing straight in the river, not to speak about bringing the fly across in a proper angle. While the wind died down again towards the night, the fishing picked up significantly at dusk and besides a buff 17 lbs fish for Jean, we were able to add a few more double digit fish to the catchbook after the session.
After two tough days, fishing finally picked up on Tuesday. Cold nights had cooled down the water, the wind was back to normal (strong, but not too gusty) and a slight overcast made for a promising day. After no fish for Jeremy up to this point, all of us were even happier, when he ended the day with a 14 and a 17-pounder landed out of the Rio Menendez.
With every day that passes now, it seems like the Rio Menendez is getting more and more productive. A lot of the time during the past two weeks, the smaller Tributary of the Rio Grande was rather a desired beat to go to than a back-up plan for "just in case". The smaller, more condensed pools are quick to cover and most of the pools in the lower section consistently hold fish now.
While Alexey and Sonia decided to do a Heli round-trip to Ushuaia to do some sight-seeing on Wednesday, that day would provide us with perfect conditions and the most prolific fishing for the entire week. Already early in the morning session, everybody had connected to and landed fish. Cloudy with a light rain drizzle here and there, a little wind and water temperatures around 12 °C – only fishermen could get excited about weathers like this and all of us surely did. Next to a whole bunch of fish between 10- and 16-pound, Jon would end his day with an 18-pounder, Jeff with a cracking 19-pounder and Jeremy with two splendid fresh fish, one 17- and 18-pounders, amongst others. Jeremy would recall this as one of his best fishing days so far and it made us happy to be at his side on this fantastic day.
Wednesday was followed by a really warm night and on Thursday, air temperatures would sky-rocket to up to 23 °C. With a lot of sun that would warm up the water from 12 to 16°C, fishing was extremely tough on that day. Even the evening hours did not turn the game around. Sudden changes in conditions (especially water temperatures) always seem to trouble the fishing and although the water temperature did not go down towards Friday, we ended the week on a pretty good note, landing fish on all rods. Amongst these, two splendid 16-pounders for Hubert and Alexey.
Throughout the week, the river had continued to slowly drop. The rain on Wednesday had no noticeable effect on the water level. With these kinds of conditions (low and clear water), our focus shifted more and more towards fishing small EMBs, smaller nymphs (e.g. Copper John or Prince Nymph) and smaller green machines on lighter tips (mostly S3). Towards the dusk hours, bigger rubberleg pattern (Yuck Bug, Girdle Bug), as well as Sunrays and Leeches produced great results. Although the good flow in most pools will still enable us to fish sink tips up to 6-8 inch/s, the water conditions allow us to fish even more delicate tips or even floating lines now.
It is good to see fish moving – jumping, rolling and splashing – in almost every pool now and all of us here are even more excited for the weeks to come.
Week 5; 3rd – 10th February 2018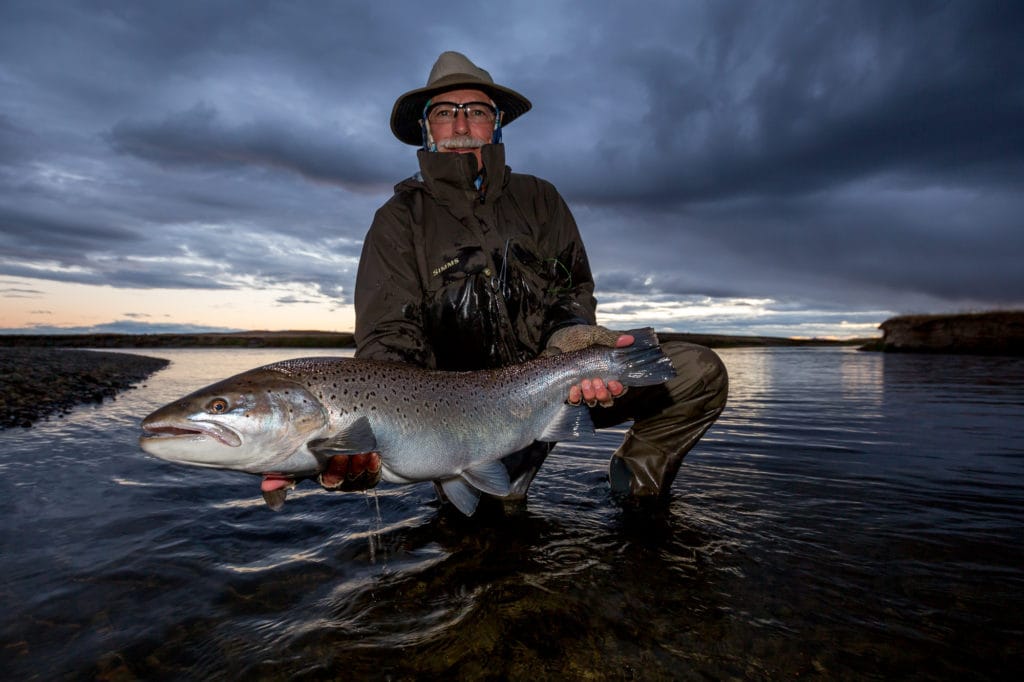 It's Saturday and that means switchover day. It's an exciting day for all of us here at Kau Tapen. Relief about last week's success and excitement about what the new week will bring renders every Saturday special, plus our staff gets a bit of time off and the guides can wet their lines for a few hours themselves as well.
This week we were happy to welcome a lot of new faces. Jim and son Chris, Jeff, Gary and Rick from the US, who have been going on fishing trips in this constellation for over a decade. Dave and his two sons Aaron and Seth (also from the US), who brought their friend Aaron from Canada, and last but not least our friend Gerald from Austria, who came to visit us for his fifth time. A great bunch of anglers combined with great fishing conditions – pretty much our last week in a nutshell.
Other than any other past week of this season so far, this week has kicked off with a "bang". The water level had been stable, air and water temperature hadn't change a lot and most of the pools were holding a good number of fish. Already after the first morning session on Saturday, every rod had connected. Gerald, who had been with us for the last 4 years, kicked off his week with a perfect, fresh 17 lbs fish and Rick, who was just learning how to spey cast landed a cracking 21 lb cock fish amongst others. The amount of double digit fish landed on that very first day was incredible and you could tell that the pressure was off for all group members already after the first two sessions.
Warm nights and cloudy days made for consistent conditions for the next couple of days, most importantly considering the water temperature. Similarly to the first day, fishing seemed easy, consistent and somewhat predictable, delivering more double digit fish for all rods, alongside a fresh 18 lber for Chris, another nice 17 lbs fish for Gerald and yet another perfect 21 lbs fish for Rick, just a few meters above from where he had landed his first fish of equal size on day one. Aaron, who had just arrived on Tuesday morning and had never spey cast before would already hook into four fish during his first, shortened morning session. It was nice to see everyone being relaxed and happy already by midweek, especially as the water temperatures would drop significantly during the night to Wednesday.
The collapse of water temperature troubled the fishing immensely and Wednesday would mark our first day of tough conditions during this week. Nonetheless, Rick kept on bearing his "big fish karma", landing a splendid 18 lber on that evening. While the wind had changed from west to south, the air temperatures remained cold, even during the day, keeping the water fairly cold and stable, so that the fishing started to pick up again on Thursday morning. Jeff would land a fresh 17 lb fish and Seth a 19 lber that day. Also Gerald kept performing consistently, managing to pull out a cracking 19 lber that same evening.
Southerly wind kept pushing over cold air from the Antarctica. While air temperatures dropped down to freezing overnight, we measured only 7 degrees in the water the next morning. Bigger flies and slower retrieve were the key to success on this week's final day. Although the fishing had slowed down and only very few fish showed activity during both, morning and evening session alike, the loud laughter and vivid conversations during Tapas Night showed us, that this week had been a full success for everyone.
From a guide's point of view, you can't wish for a better group of clients. Great attitude towards the whole experience, eager to learn and to listen and most importantly all about the good times. I personally dearly hope to see all of these great gents again along the way, whether it may be next year here at Kau Tapen (I truly hope so) or somewhere along the way in some other, far-away place on the water.
Weeks 6 &7; 10-17th & 17-24th February 2018
Kau Tapen is all about the good times. The fishing is just the cherry on top, at least this is what we want it to be. The world's largest sea trout is just the perfect excuse to escape everyday working life and dive into a world of great company with like-minded people, fine cuisine and a lot of laughs. Switch off your brains and enjoy the untamed charm of Tierra del Fuego.
The past two weeks were again an example of that special charm. Guests from all over the globe travelled down here not only to catch large sea-runs, but to experience a completely different world from the one back home.
Fishing during the past two weeks had been a bit inconsistent – outstanding on some days, while the fish were shut down on others due to rapidly changing weather conditions.
As the water was dropping constantly over the past weeks, all of us had desperately hoped for rain to push more fresh fish into the system and get some new movement in the pools… And half way into the past week there came the rain. Along with it some bone-crushing gusts of wind and more rain in the mountains, that turned the water from gin clear to murky with only a foot of visibility within one session. A tough day to be out fishing, but our house manager, Guy, kept the mood up, bringing hot wine down to the river. Up to that point fishing had felt a bit weird, as all of us found it hard to see a clear pattern. Although the catch numbers looked great on the paper, the fishing was inconsistent and felt tough. But a lot of smaller fish were pushing in and stirred up the pools, providing for more consistent fishing as the water started to drop and clear up again. With more stable water levels, the weather started to be more consistent as well. Milder nights and overcast days. The fishing picked up significantly and the river started to look really promising. Now we are looking at a good water level with perfect clarity. A great starting point to receive our new group.
From a guide's point of view, it is always great to have accomplished sea-trout anglers like Magnus and Hans from two weeks ago or Anders from last week, as it makes our job a lot easier. Consistency definitely pays off and you do see it in the numbers after a hard week of fishing. On the other hand, it is always amazing to see absolute spey-casting beginners hook into monstrous fish. And if fills us with joy, seeing their first reactions, when they connect to their first proper fish. Just like Travis, who had just picked up the double handed rod for the first time during warm-up session and could already account for an 18 lbs fish before his first lunch here. Good casting will help you, no doubt about that, but coming here without any preconceptions is really a good thing. It happens time and time again, that beginners end up hooking more fish, just because they seem to listen more to the tips we (the guides) provide them. Being able to adjust your fishing to the current conditions is an important aspect and that starts by listening to the advice that your guide gives to you. It was especially refreshing to see Natalia from Ukraine, who had started fly fishing just last year and had never touched a spey rod before, land a 19 pound fish on day one. All of our coaching was in sign language or on a white board – Natalia did perfectly fine and ended up catching the fish of the week – a 21-pound fresh male – on her last day of past week. It was the week of the women indeed. Along with Natalia, Ginny from the US had the hot hand, with a 20 and two 19 lbs fish in just the last three days. They were handing over the lucky hat between them at the dinner table like a baton during a relay.
But just like we enjoy watching beginners connect to fish, it fills us with joy welcoming old faces time and time again. Especially Gianni, our good friend from Italy who had come to visit us here for his 31st time now. Evidently, the pressure was off for him – you could tell that he had caught enough big sea trout in his time – and it is nice to see his enjoyment for the outdoors, the time he spends with us on the water and the laughs we share. That he is an incredible fisherman and outstanding caster with his proud 81 years of age is just a bliss on the side.
And whether it's with you family, old fishing buddies or newly acquired friends, it is important to share these experiences with others to be able to really cherish them. Just like Kjell, his son Dave and their friend Jim, who we had the pleasure to host for a few years now. They truly know how to spend their vacations and have a good time – Kau Tapen was just one stop for them along the way and we dearly wish them a great journey. Or Dan, Travis and Dale who had been waiting for go on this trip for a such long time, filling up boxes and boxes of self-tied flies and watching spey-casting videos. It was truly encouraging to see their excitement and eagerness. Ginny, her son Seth and old friend David, who have shared fishing trips for years and will hopefully for years to come, so incredibly open and eager to learn something new every day, despite being such accomplished anglers and having been here a few times already. Nigel, Peter and Andrew, who took the sea-runs as a good excuse to experience Argentina and TDF and ended up having a hard time leaving this place. Or like Frank, Eliot and Anders, who had come on this trip by themselves but ended up making many new friends during their week.
It fills all of us with such joy to see all guest click at some point, swapping seats at the dinner table or even fishing partners between sessions. All of these different people united under the same banner of fly fishing, in a remote place far away from home – pretty special if you ask me. No photograph in the world is capable of capturing the emotions you feel, collect and share with your fishing partners out on the water. They will only be the catalyst to revive the memories you make along the way and we dearly hope you're making the best ones while here with us!
For more information please contact Steffan Jones or phone 01980 847 389.