On Christmas Eve, I had an inkling that I would be heading deep south to Argentina in the new year. It was just a tiny chance. A whisper saying little more than "maybe." On the 4th of January, I knew I was going, and by the 8th, I was flying. Lack of time had not offered me the opportunity to fill my boxes with freshly tied flies, but I was able to find a few patterns that I had tied years ago while guiding at Kau Tapen. Two green machines, four nymphs, a few six-inch leeches and a handful of sunrays. A skeleton crew of the necessities for the Rio Grande.
The thought of leaving the short days and dark nights was a comforting one. This is always a grim time of year at home, and time away does a wonderful job of breaking up winter's long clasp. I am generally not one for sleeping on flights, but this time it was different. I had a handful of hotels to view in Buenos Aires before my flight to Rio Grande that same evening, so it seemed prudent to sleep while I could.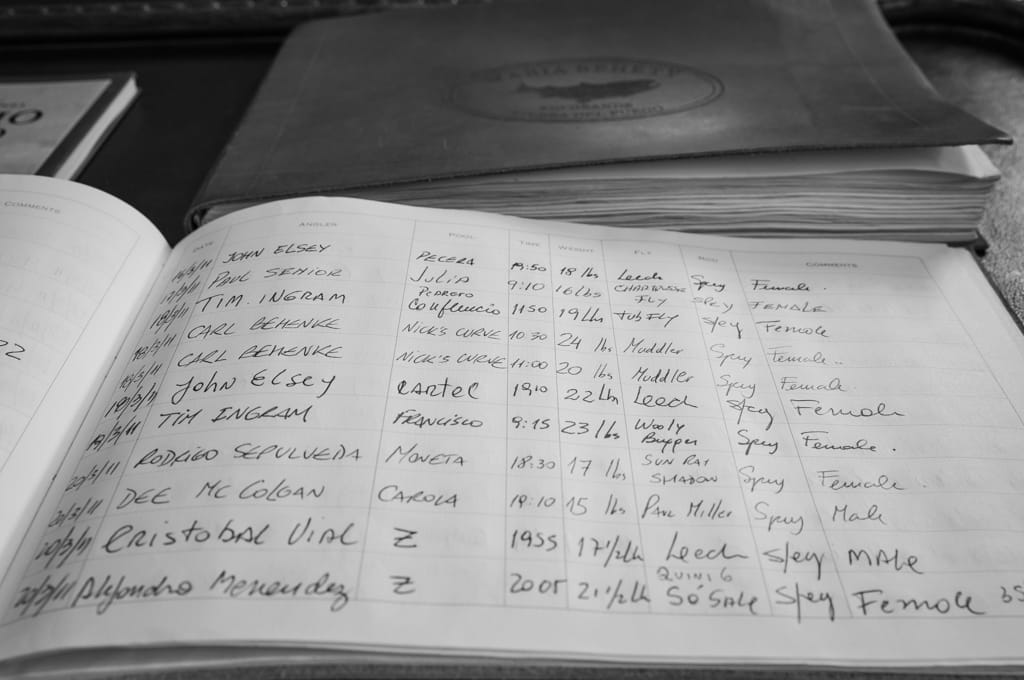 My entry into Argentina was hassle-free. Mainly helped by booking the fast track service through immigration. The funny thing about travelling in these odd times is that once you have waded through the initial paperwork and faff, it could hardly be easier as airports are not nearly as busy. On the other side of immigration, I was met by Gaia, a representative of the ground handlers we use for our Argentine bookings. She was all smiles and straight away spoke at a rate of knots. I hit the ground running and had a lot to fit in before travelling south to sea trout mecca. Straight away, it was clear that Gaia could organise anything and knew the city in a way that I never could. Her energy and boundless enthusiasm were infectious, and soon the tiredness brought from a long flight began to fade. We bounced from hotel to hotel, some grand and some boutique. All were in Recoleta or Palermo. Not far from the domestic airport and in the heart of the happening part of the city. Had I stayed the night in either area, I would have been tempted by the many great places to eat and drink. Instead, Gaia ordered a few boxes of empanadas. One with melted cheese and the other with beef. As with much Argentine food, far from healthy, but delicious, and welcome after plane food.
From Recoleta, it took less than fifteen minutes to drive to Jorge Newbury, the domestic airport. From there, I would fly south to Rio Grande, the town that marks the entrance to the river that offers opportunities unlike any other. My flight arrived just past midnight, and with bleary eyes, I ordered a taxi to The Grande Hotel a few hundred metres up the road.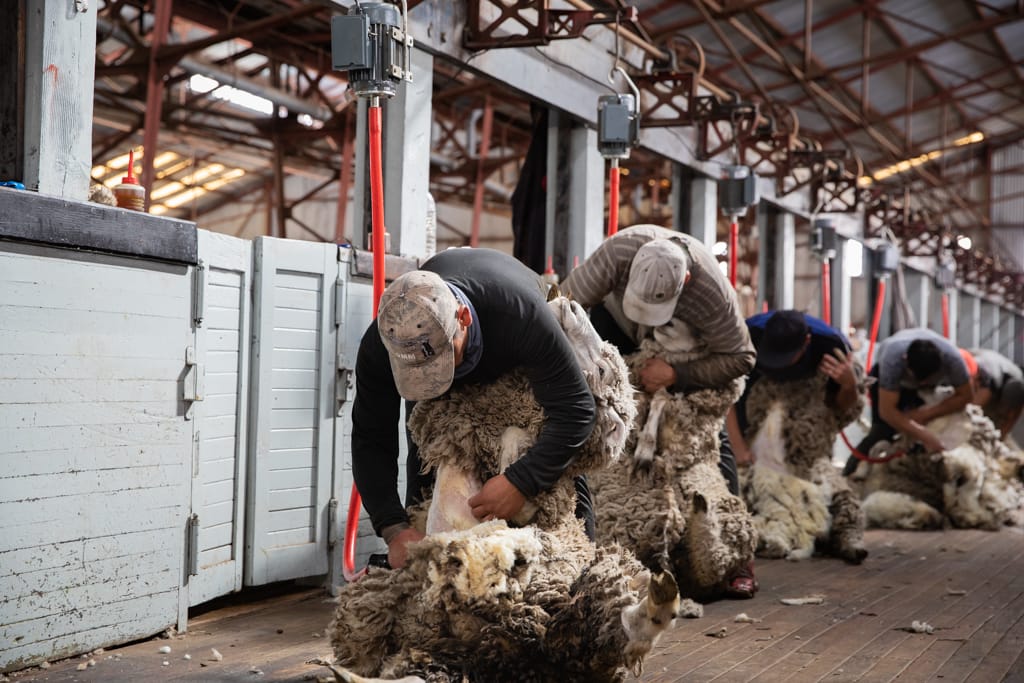 In the morning, any feeling of malaise was kept at bay by nervous excitement. The excitement that came with the knowledge that I would be casting a line on the windswept waters of the Rio Grande for the first time in years. Ropo, who manages the fishing at Estancia Maria Behety, was waiting outside. His family own the estancia, and their roots in the area run deep. Although he was keen to show me their water, he wanted me to see more than just a surface view and wanted me to understand some of history of the estancia. This was clear when we visited the shearing shed before driving upstream. It was not the first time I had seen sheep sheared. I have numerous times before. But it was the first time that I had seen shearing on this kind of scale. The shearing shed at Estancia Maria Behety is the largest in the world. It holds up to seven thousand sheep and forty shearers at one time. The estancia has over forty thousand sheep to shear, which takes weeks even with forty skilled shearers working from dawn to dusk. It is an extraordinary sight.
The shearers are spaced two metres apart and stand in a line. Stooped over and with bent backs, they wrestle the sheep one by one from the pens on their right. The sheep seem to know that fighting is futile, so lie there quietly. All forty are young, for it is hard graft that your back would not thank you for. Each of the electric shears dangles from the mainline above like the tentacles of an octopus. Now everything is electric and quiet, but the diesel engine, a level below, was the heart that provided the power not so long ago. I am told that the noise was deafening. The wool is then graded and compressed to reduce the bulk for transport. I will not name the machine that did the compressing, but it was made in Liverpool and was all iron and bulk. Ropo said it had been used for generations.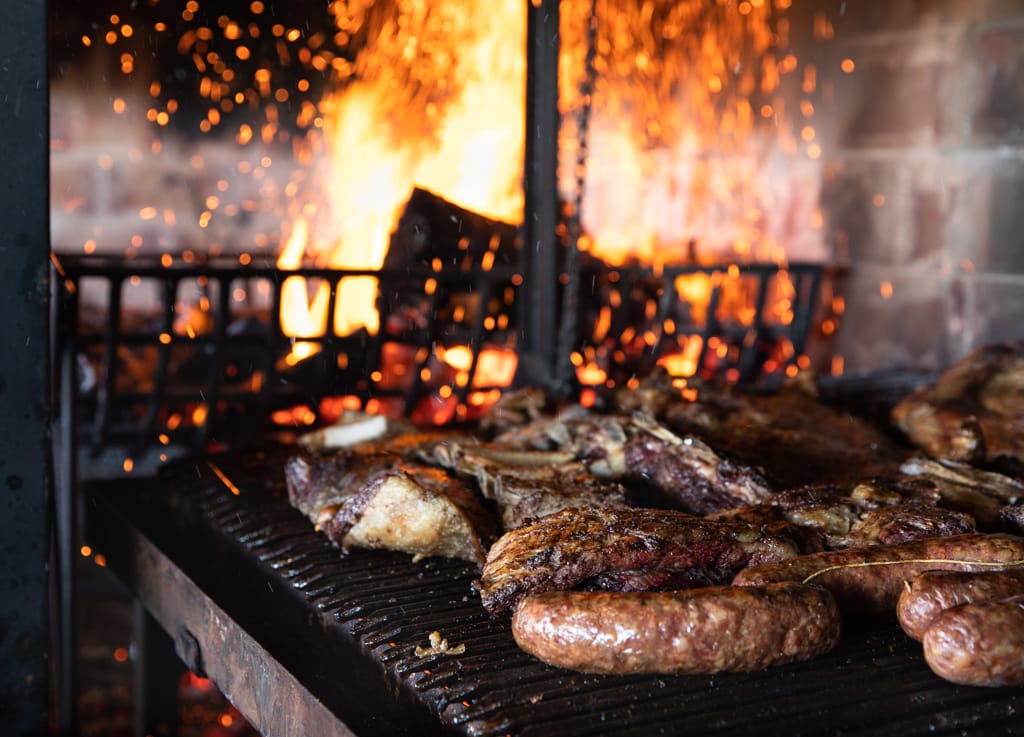 I had eaten little since arriving other than a few snacks and a simple breakfast in Rio Grande, so it was welcome news that it was an asado for lunch. From my time guiding at Kau Tapen, I recognised the outline of EMB Lodge but not the asado hut in front. This was a new addition to the lodge designed in recent years by Ropo's daughter, an architect. The glass-fronted lunch hut is perched high just below the main lodge. You have spectacular panoramic views as far up and downstream as the eye can see from inside. The smell of Argentine beef greets me like an old friend as I open the glass door. The guests have already found their first glass of Malbec and reminisce on the morning's work. The bright sun has made for challenging conditions, but most have had fish, and all seem contented and happy. Happy in the knowledge that lunch will be delicious. The mix of beef from the estancia, chorizo, chimichurri, and a token lettuce leaf does not disappoint. But those who have had a proper asado before will know that it rarely does.
Despite being tired, I struggle to sleep after lunch for more than a few minutes. I am rarely good at daytime sleeping, and it usually takes some time for me to settle into the routine of siestas. Rather than sleep, I tiptoe around the lodge to explore, trying not to wake anyone from their slumber. The lodge is comfortable and homely, a proper fishing lodge with a proper bar to tell stories that embellish the size of lost fish. It is the kind of place that is effortlessly comfortable and welcoming without being pretentious.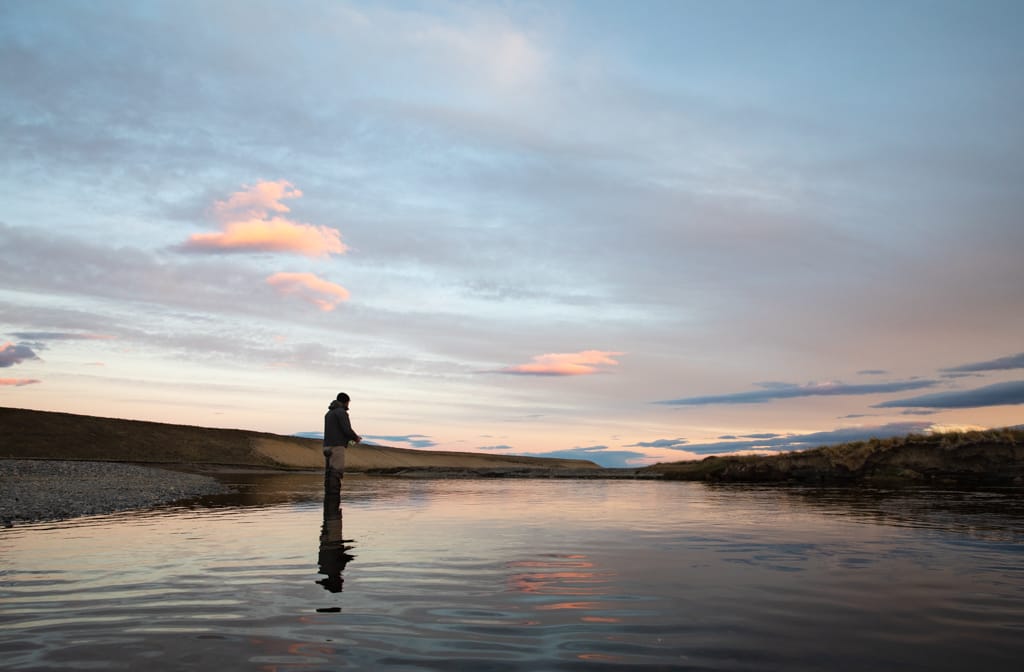 Ropo and I leave just past six to drive upstream and away from any clients. The sun is still bright and is now shining directly downstream. I look upriver and into the white light, knowing that little will happen until the light begins to fall and the magic hour approaches. Dusk is, without a doubt, special on the Rio Grande. A pool that may have seemed dead hours earlier can come alive with fish rolling and porpoising on the surface.
We cross the river at the tail before the sky gets too dark. We are now in water that feels close to home as I have fished and guided here before. It's Nirvana. A pool that I had mixed feelings about when at Kau Tapen. Back then, Nirvana would either be crickets or firing on all cylinders. Some of my most memorable sessions came from that pool. Either we filled our boots, or we bled hard. I could never fathom why this was the case. But I came with renewed hope knowing that the pools in the Rio Grande change each season because of the bed of shingle. I find my distance before it gets too dark and ease the line out until the fly tickles the far bank. This is helpful in the day but not as important when the lights drop as fish tend to move closer to the middle of the river. It takes until half-light for my arm to be wretched forward by a solid take. After a spirited fight, a coin silver and shoulder thick eight pounder comes into the shallows. By no means a big fish for a river known to produce monsters but a very welcome sight and a crack through the ice. Other than the one fish we had seen little, and now we were wrapped in a cloak of darkness, it was time to return to the lodge and uncork a bottle of Malbec.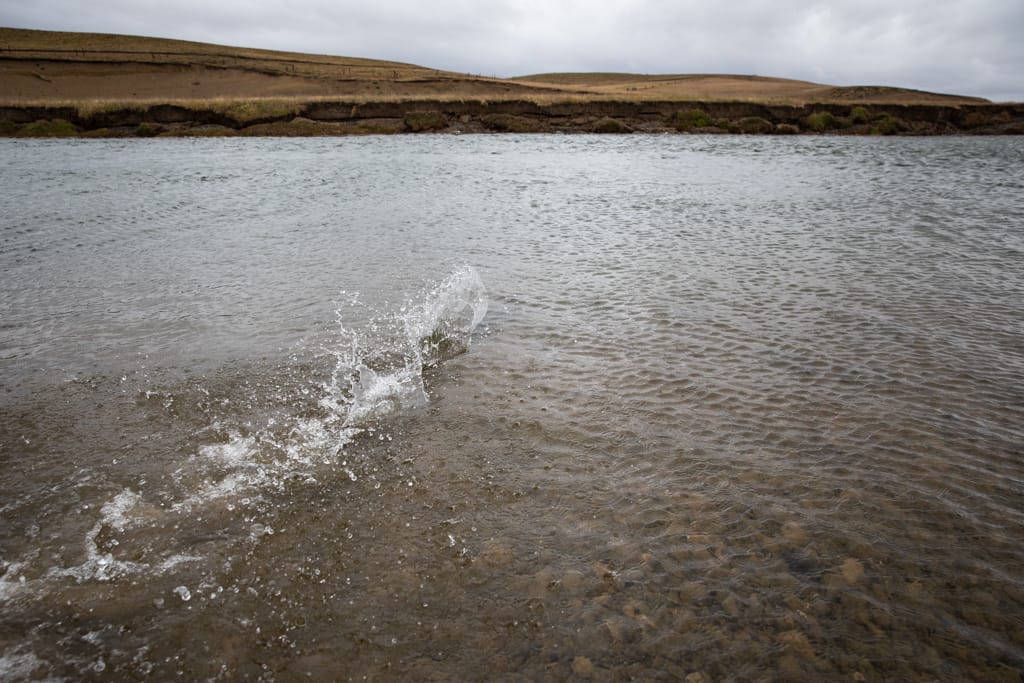 The others had also had a tough time which was not surprising given the conditions. The cloudless sky meant that not only was the sun shining brightly downriver, but also it did not start getting dark until the session was almost over. For me, one fish was enough. In this river, it was small but would have been a seasons best back home.
The following day was a Saturday and changeover day. Although no clients would fish the river, some locals could have a cast by fly only. This is an agreement Ropo has made that keeps all parties happy. Very few of the locals fish as fly fishing equipment is especially dear in Argentina and most who live in Rio Grande are of limited resources. However, Saturdays offer EMB and La Villa guides a weekly opportunity to wet their lines. Having a few hours to cast a line and possibly catch a fish does wonders for your guiding. I can attest to this first-hand. Not only does it keep you sane, but it also allows you to experiment more than you could when fishing with clients.
That morning Ropo was tied up with a mix of work related to fishing and the estancia, so I joined Lautaro, who was venturing downriver to beats 25 and 26. I had never been to this part of the river and had only seen it from a distance as a small shining ribbon of water from the gravel road on the far side.
The wind that is ever-present on the Rio Grande had returned. This is rarely bad as it allows the sea trout, an ordinarily shy creature, to freely take the fly. Usually, the wind blows down river from the Andes. But not today. It was a strong southerly, cold and directly in our face. Casting was going to be a challenge. We started Barrancas Allem, an unusual pool with a high sandy cliff on the far side, a fast run at the head and a more featured bed than many pools on the river. This was not the time for long lines and a delicate approach. I used my skagit. A rather clumpy line which I rarely use except for the Rio Grande. On this river, it certainly has its place.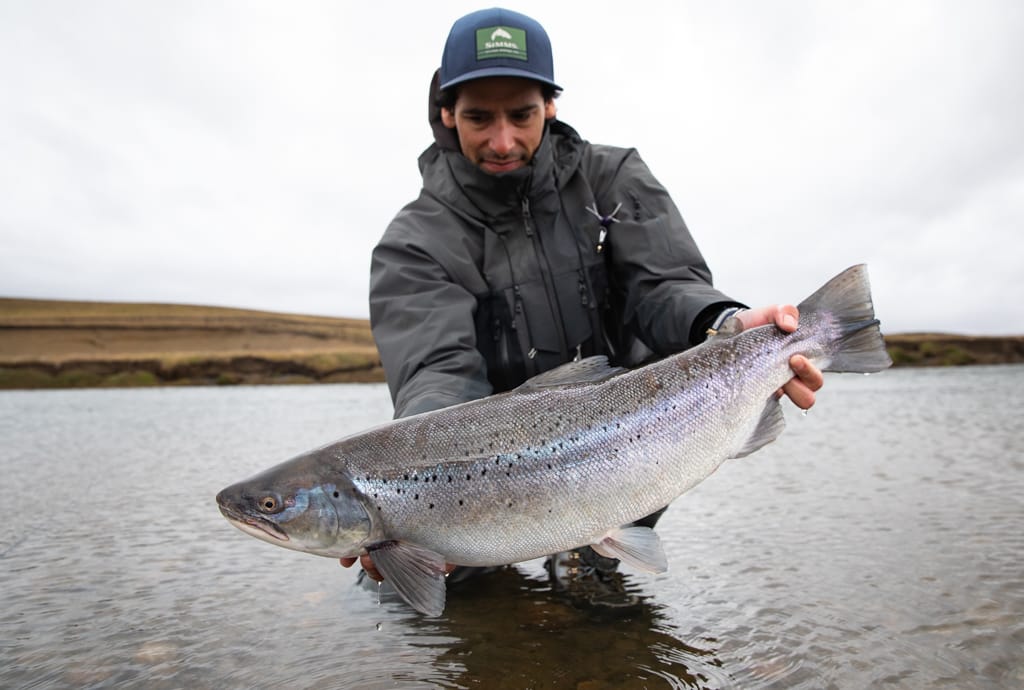 Our efforts produced little in the way of fruit, so we marched upstream on tufted grass to Alejandro's, the pool above. Alejandro's was a classic style of pool for this river. A high bank standing a meter proud of the water and an obvious deep pocket forty meters downriver of the head. The fast current pushed against the high bank before circling into an eddy and smoothing out further downstream. I tied on an EMB nymph in size 12. Not overly inventive, but heavy with a 4mm tungsten bead. Nothing took in the head of the pool, so I continued my plod towards the eddy. The fly plopped close to the far bank and mid-swing as I tugged the line a fish took. It was not an aggressive take like it had been the evening before but was far more subtle and almost salmon-like. The fish stayed on for long enough for me to know it was more than a few pounds but soon spat the hook. A quick check showed the hook was fine.
A few casts later, the line tugged once more. Just a pluck like before. A small sniff. I lifted and once again felt the weight of a good fish. My suspicions were confirmed when it catapulted out of the water like a gymnast off a springboard. I bowed the tip. Once it landed, I started turning the handle to maintain contact, keep a good bend, and retrieve the line. The fish jumped a second time. The acrobatics on round two matched the first. Lautaro was now sprinting from the pool above after seeing the splashes from over fifty metres away. The fish jumped another six times before I could get it close to the shallows. I would not like to place a figure on its weight, but I will tell you that it was the largest sea trout I have hooked. I can tell you this because it could have chewed my shoelaces on its final jump. Lautaro was now at my side and smiling. 'Nice fish' was all he said. I was now on dry stone, and the fish was no more than thirty feet away. I began walking it into the shallows as I have done with many fish before. As it begins to turn on its side, it has one final shake of its head. The hook pulls, and the line goes slack. In these moments, I am rarely one for great outbursts. I usually reserve my tantrums for when I know I have truly screwed up. I didn't feel that was the case and knew I had enough time on the water to make amends. Lautaro followed through the pool and hooked a solid fourteen-pound hen. It was another great fight, as is often the case this early in the season. We took photos before releasing the fish in a mass of spray and splash.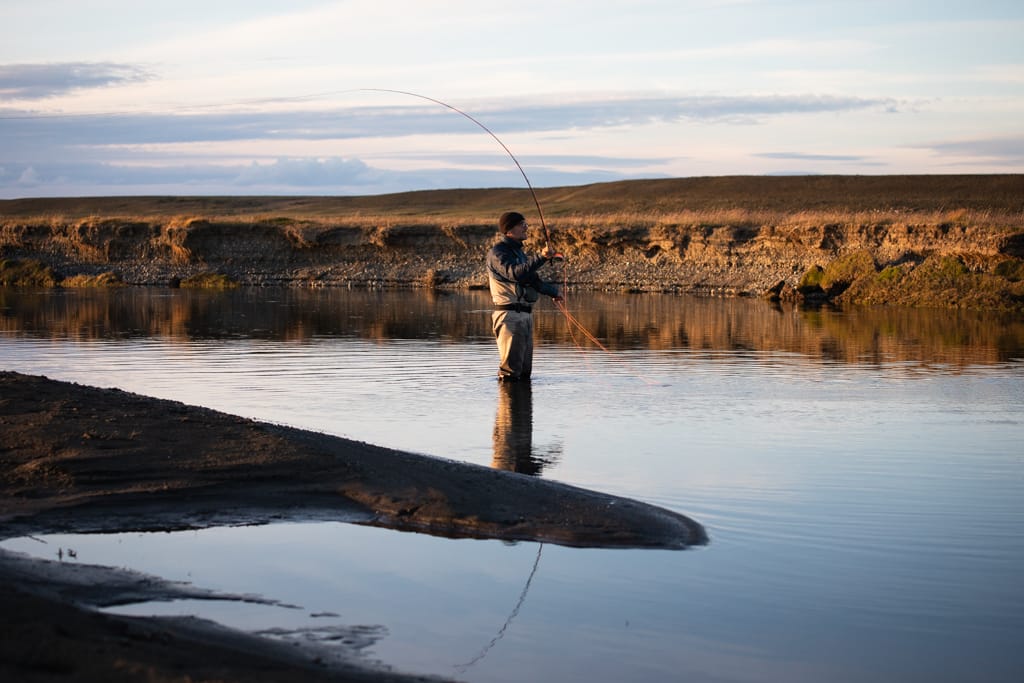 That evening Ropo and I returned to the same water. Unlike in the morning, Alejandro's was very quiet. It reminded me that the pools in this river and these fish can turn on and off like a light switch. It was close to dark when we met with Fredrico, the head guide at EMB at Barrancas Allem. He had seen fish move into the pool and had caught a couple on small soft hackle nymphs. Ropo hooked and landed a good fish in front of me, and soon after, my line tightened. The fish jumped once and then tore downstream. I could tell something was not right, and after a fifteen-minute tussle, my fears were confirmed. The fish was foul hooked. It was a huge shame given that it was a sixteen-pound hen, bright silver, and without a blemish. The hook was stuck in its side just behind the gill plate, which suggested it had at least gone for the fly. I expected this might be the case as I was not fishing deep. Another stunning sea trout, close to ten pounds, was a consolation prize for my efforts.
Before departing upstream, I visited La Villa, the downstream lodge of the two at the estancia. I had seen photos and heard a lot but had not been. La Villa had a different feel to EMB. Although grander, it is smaller and seemed ideal for smaller parties. It feels like a rather smart country house but in a very Argentine way. Lunch was another affair of delicious wine and meat, and it was great to see a few friendly faces who I had either guided before or spoken with on the phone. It seemed fitting end to a memorable few days at La Villa and Estancia Maria Behety. 
To avoid the long-winded drive around to Kau Tapen that afternoon, I met Gaston, the head guide at Kau Tapen at Boca, the lowest of their pools. With waders, the crossing was easy, even with a belly full of Malbec and lamb and carrying a monstrous banana coloured bag.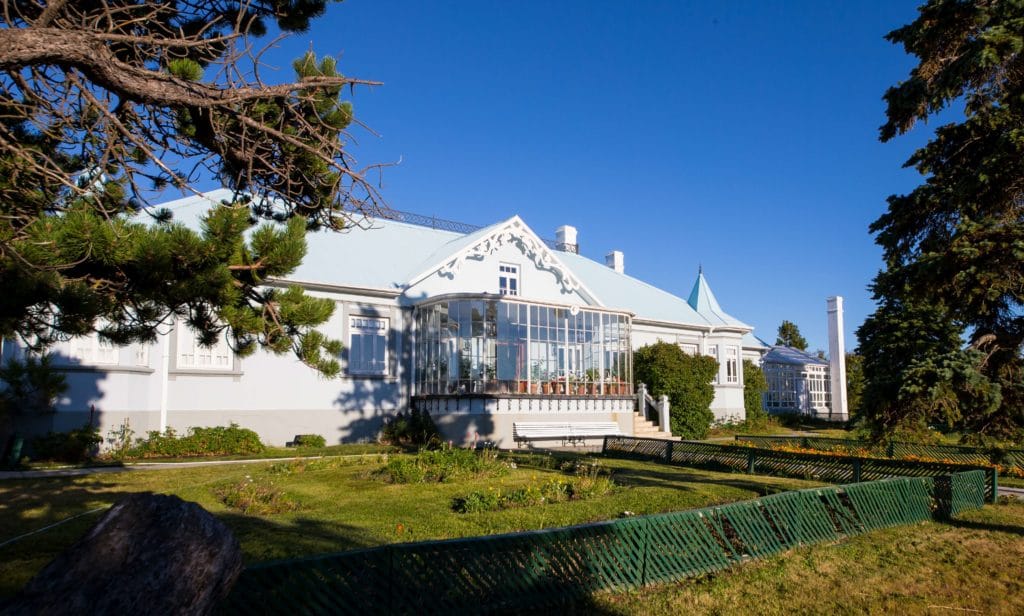 Click HERE for our availability on the Rio Grande.
For more information please contact Olly Thompson or phone 01980 847 389.
For more information please contact Olly Thompson or phone 01980 847 389.