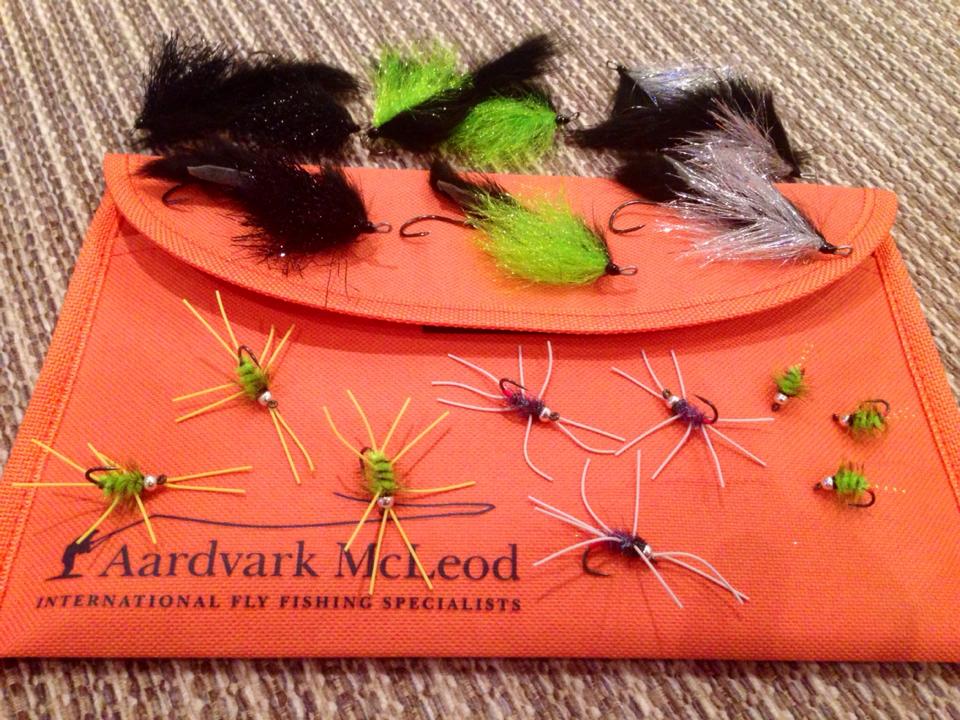 A return trip to the Rio Grande on Tierra Del Fuego is something I always look forward to. I look forward to every element of the trip…except the flight home, perhaps. The tying that takes place weeks and months before the trip in preparation through to the buying of 'criticial' tackle items, that of course, are not critical at all, but nice to have nonetheless.
There was always one part of the trip that I dreaded; the flight down to Rio Grande from Buenos Aires, which departed at some ungodly hour – certainly not what one wanted following overindulgence in malbec the night before. However, the 2013/14 winter shone a favourable light in favour of the malbec in the form of an afternoon flight to Rio Grande. The morning flight still existed, but the afternoon flight made for a more pleasurable start to the week. The Aardvark team comprised of some familiar faces along with some new recruits, all eager to do battle with southern silver. The week was perfect on paper; a great time to be on the Grande for both numbers and also fresh fish. With the new moon building towards the end of the week that should also bring in some tide bright sea trout regardless of water level. Nothing was left to chance and every advantage that could be utilised was exploited.
With our constant quest to be at the forefront of the industry, allowing us to fully advise our clients on the packages we offer and also offer the best array possible rather than a one fits all set-up I departed for Rio Grande a couple of days before the rest of the party were due to arrive. During this time I paid Aurelia lodge a visit. Aurelia is situated immediately above Kau Tapen – they are neighbours. Indeed, for those that remember Toon-Ken Lodge, Aurelia fish these waters and more. At US$4,890 per week it's excellent value for money, so I was intrigued and keen to learn more.
Aurelia has a charming lady as its manager and front of house. Venesa has been at the lodge for a few seasons now and runs a tight ship. She was ready to greet me at the airport and after a quick stop at the fly shop transferred me to the lodge, which took around 90 minutes. The lodge at Aurelia has soul. This may seem like an odd statement for a building, but the lodge felt more like a welcoming home than a soulless lodge. It is not as refined as some of the newer, high-end lodges, but that didn't really matter. It had everything you needed and most important of all it was clean, comfortable and welcoming. The beds and bedrooms were really comfortable and the staff could not have been more accommodating and attentive – always a service with a smile. The food was delicious, hearty and filling with the wine being free-flowing, unfortunately…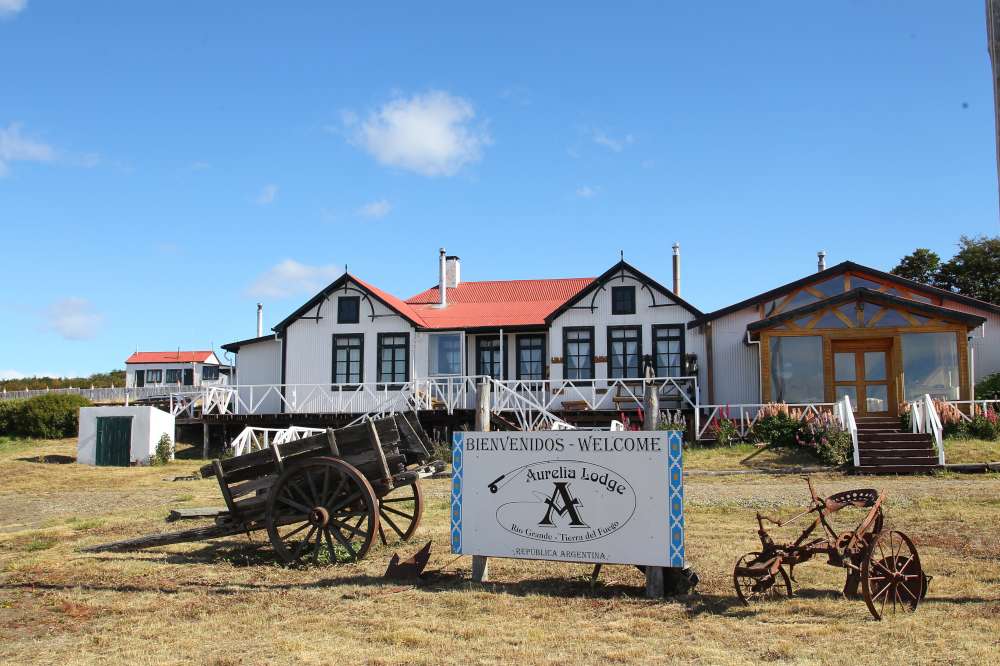 The Rio Grande here is virtually the same as what's experienced at Kau Tapen as they are neighbours. There are also no major tributaries entering the Kau Tapen reaches that increase its size. There is good holding water and a nice mixture of water from runs, glides and pools. There is plenty of water at the lodge's disposal but a full lodge may suffer given low water, as the amount of larger holding pools is limited. This would be something to take into consideration but certainly nothing to put you off visiting. The afternoon session before I arrived produced some 18 sea trout to three rods, which largely reflected the quality of the fishing possible here even in low water. I, however, turned up on one of the windiest days of the season thus far – what a greeting! This, unfortunately, dislodged a lot of algae and didymo, which caught the fly on almost every cast. However, opting for a surface pattern addressed the problem and produced some fantastic sport with many fish bow waving or launching themselves after the offering. A few fish were landed and the guides worked well and proved their worth.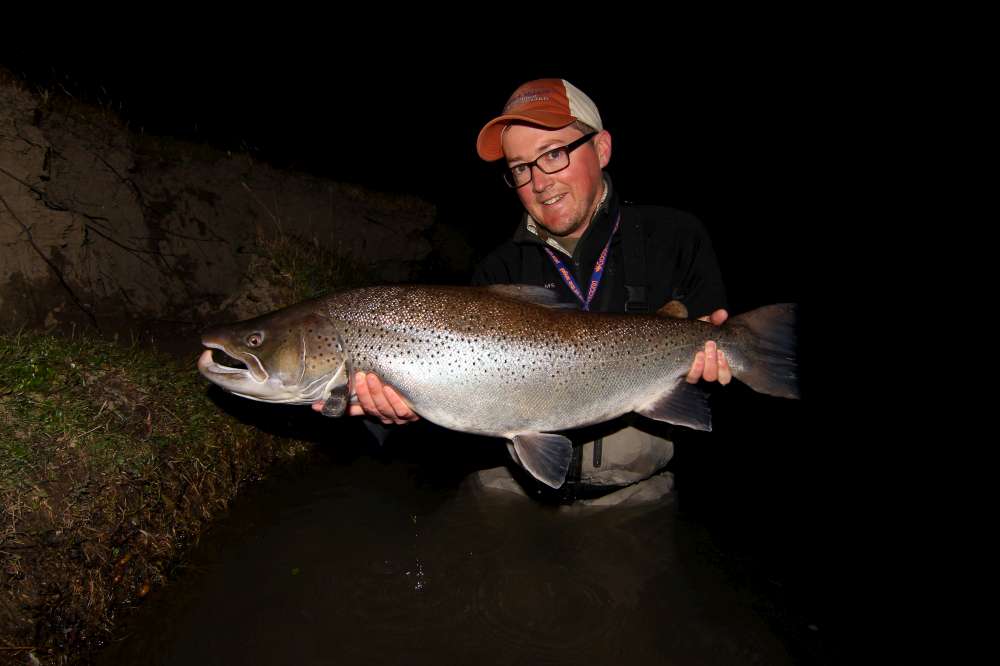 Lunch is served back at the lodge with the guides carrying plenty of drinks and snacks on the riverside between meals should you want some – unlikely given the amount of food you're offered at breakfast, lunch and dinner.
Soon it was time to return to Rio Grande airport and greet the Kau Tapen party off the plane. The Kau Tapen guides were already present, eagerly awaiting the arrivals with their vehicles at the ready to transfer to the lodge. The guides really are fantastic from start to finish – I do not know how they keep their enthusiasm and spirits so high, but they make each and every week and person feel special, without question. No doom and gloom here, you should have been here last week etc. they are professional to the end and will work for a fish as if their lives counted on it. They are a credit to the lodge and the river.
The airport in Rio Grande is small, but fairly modern and certainly easy enough to navigate. Soon enough the crew started to work through from baggage collection and join the Kau Tapen corner of the foyer. The Aardvark crew consisted of Allan Phillips, which every sea trout in the Rio Grande has learnt to fear, Uncle Tim, who made sure there was never a dull moment and whose fishing modesty was only rivalled by his humour, Dan Gazzard, who brought enough enthusiasm and flies to keep the whole lodge going, and then Lynda and Trevor Fagg, a husband and wife fishing team who brought a final fantastic and interesting element to the team and certainly plenty of humour, especially when Lynda outfished Trevor, which was the case more often than not (sorry Trevor)!
The transfer to Kau Tapen lodge takes little over an hour. Just enough time to interrogate the guides on conditions, flies, pools, lines, retrieve speed, pools depths, stone size, strike method, wind speed, wind direction, angle of the cast etc. indeed, I'm surprised that the guides weren't shattered due to the guiding session given during the transfer alone.

Upon arrival at the lodge it's professionalism from the first step. Forget about your bags, they somehow find their way to the correct room as you get introduced to the whole team – and it's quite the team; nothing is left to chance with every part of your stay covered. Following being shown to your room you are then given an orientation of the lodge, programme and schedule by the fishing and lodge manager. The fishing manager this year is a young gent from Ireland, Matthew Solon. Old head on young shoulders is certainly a fair way to describe Matthew. The way he conducted himself and relayed the vital information was exemplary. Everything was covered in a relaxed and informal manner and everyone was soon made to feel at home, welcomed by drinks and snacks.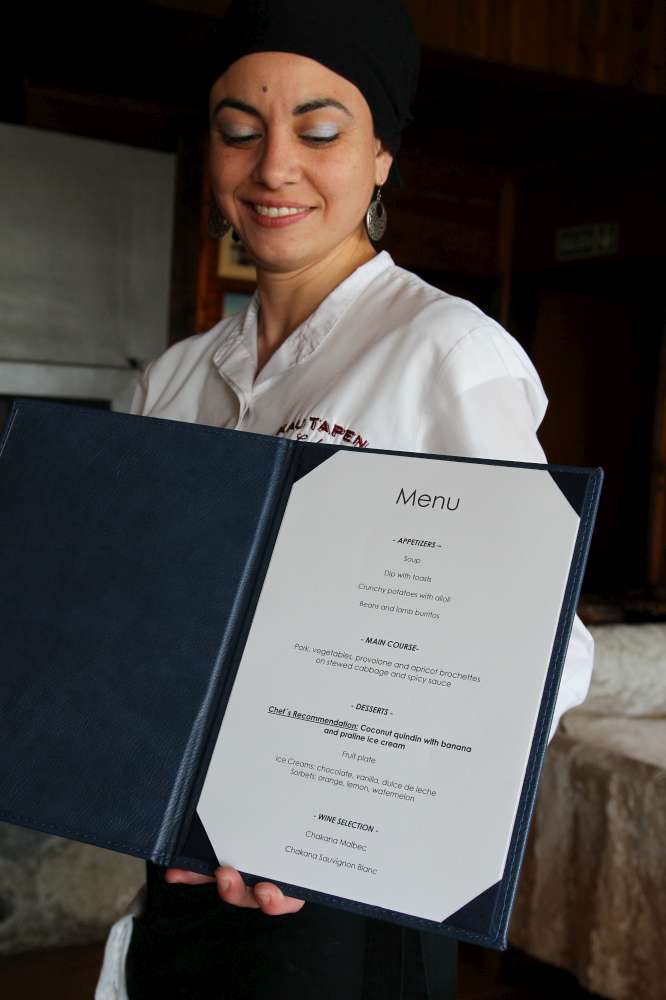 Kau Tapen normally offer a 'warm up' session on the evening of arrival. This is a really nice extra as it allows you to see the river and prepare for the week ahead. It also allows the guides to go through your kit and make sure that you have everything you need – if you do not, then they will invariably have it to hand. Indeed, you could turn up without waders and tackle and soon be kitted out with the latest gear at the lodge – a very nice touch for those wishing to travel light. The lodge has ample supply of the flies you will need and the guides spend time each evening constructing the latest killers for the following day – I really do not know how they find the energy after a long day on the river. The first evening ended well with some fish caught and plenty seen – certainly boding well for the week ahead.
The evening meal at the lodge is not what one would expect in such an environment. The quality is fantastic and not only that but you also have a menu to choose from for your main and dessert – this is usually presented to you at lunchtime, giving the kitchen ample time to prepare for the evening. The wine, beer and soft drinks are free-flowing and included in the cost. You will be served it over the dinner table but you are welcome to help yourself at other times.
There's a fantastic wi-fi service at the lodge, which made connecting with loved ones back home or downloading work emails a simple affair. Again, hard to believe when you think of where the lodge is located.
The vast amount of water owned by Kau Tapen is split into two sections; upper and lower. Beyond that, these sections then comprise of several beats, through which you rotate over different sessions, allowing everyone to have a chance to see and fish all beats throughout the week. There's a huge amount of water on each beat – certainly not a case of one pool per session and you will do well to see let alone fish your entire beat. Your rods are left assembled and the smooth operation behind closed doors will see your rods transferred between vehicles and guides as you progress through the week, each guide bringing a different experience to your stay.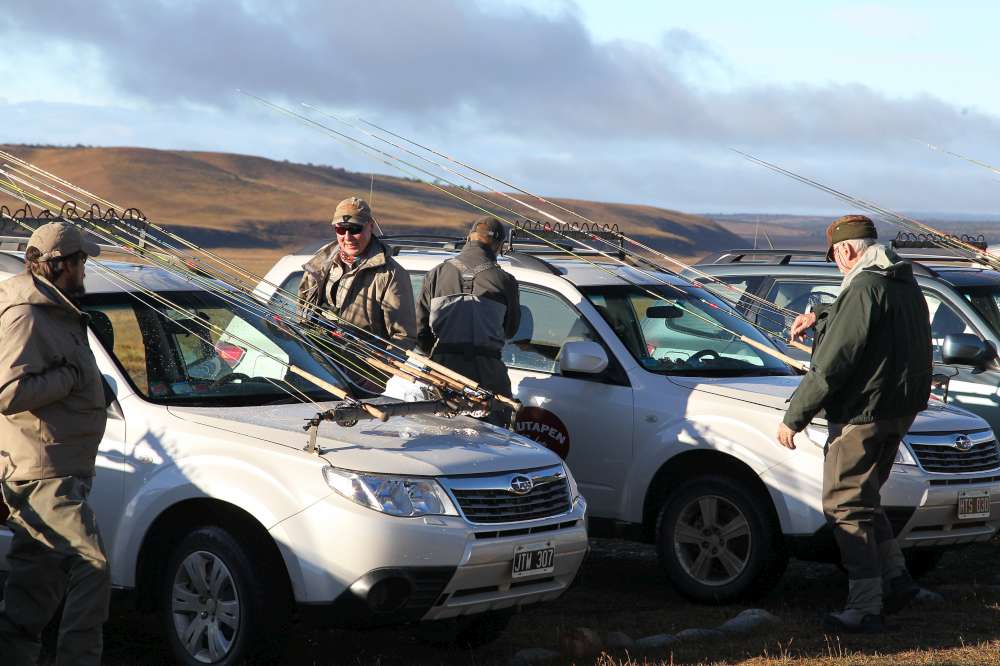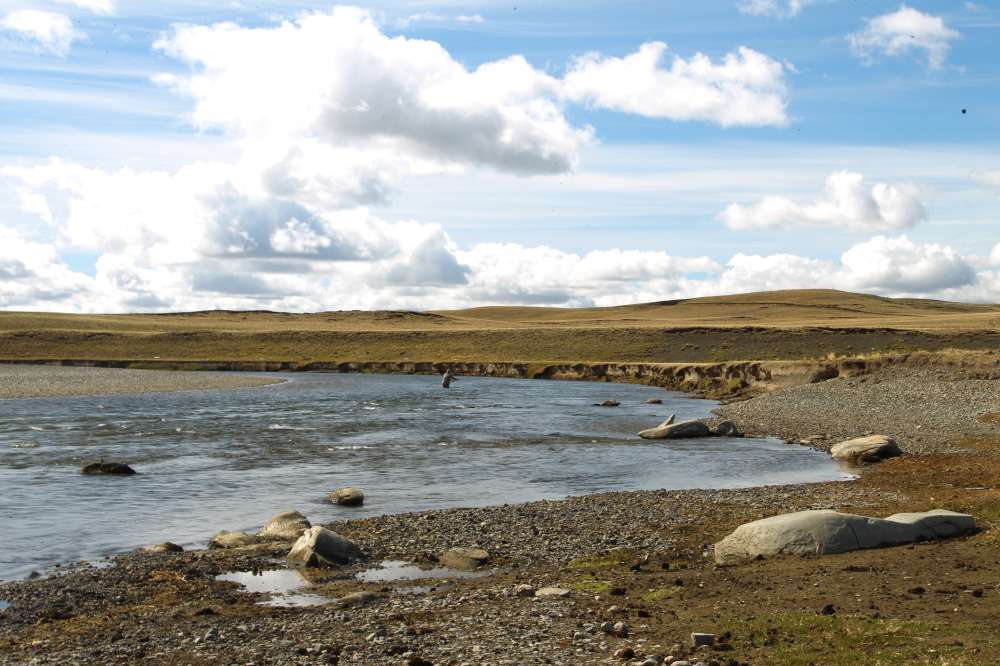 The week brought a special element in the form of a 30 year anniversary for the lodge – quite something and a true testament to what it offers, certainly lasting the test of time. Indeed, throughout the week there were celebrations to highlight this feat, which were a pleasure to be part of and it was great to reflect on this history and what they had achieved over these years.
The fishing over the week was good. Some days certainly stronger than others, but all days provided ample sport to keep us interested. This fishing is not easy and no it is not as prolific as it was e.g. 10 years ago when there was less fishing pressure. However, it is still the best sea trout fishery in the world when both numbers and size are taken into account. Indeed, over the course of the week all first-timers smashed their personal best, with most doubling it and beating it a few times more as the week progressed. Arrive with reasonable expectations of a fish in the 13-18 lbs bracket and you will rarely be disappointed. What was encouraging to witness during the week was the amount of small fish in the system, which is fantastic news for the future given the repeat spawning nature of sea trout. However, let me put small into perspective; these fish are 3-8 lbs! I guess this is where the Rio Grande is largely a victim of its own success as anglers become quite blasé to such fish where at home they would be overjoyed. Like all fishing it is key to manage expectations; enjoy every fish, as each one is as wild as they come and do not come with the notion that every fish will be double figure with a 20 lbs + fish over the course of a week being a given as you may be disappointed. Keep covering the water and listen to your guide and chances are it will happen, but the 20 lbs + fish can be more luck than judgement. Of course, Rio Grande is the one place where you have the chance of even a 30 lbs + fish and there is no reason why one may not take hold during your stay. Set your sight on a 15 lb'er and then count yourself blessed if you get something larger.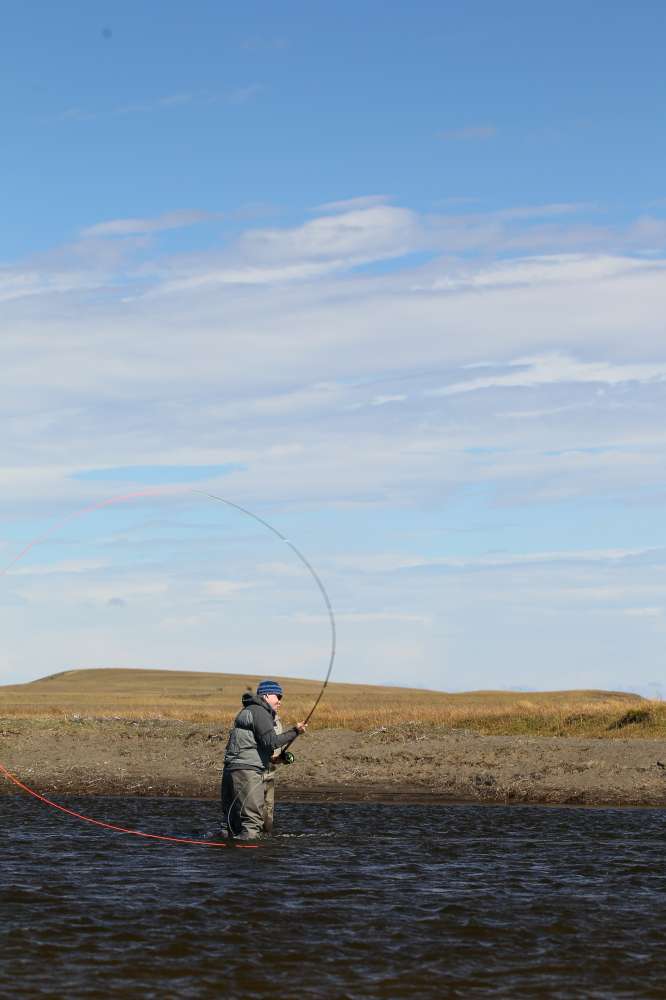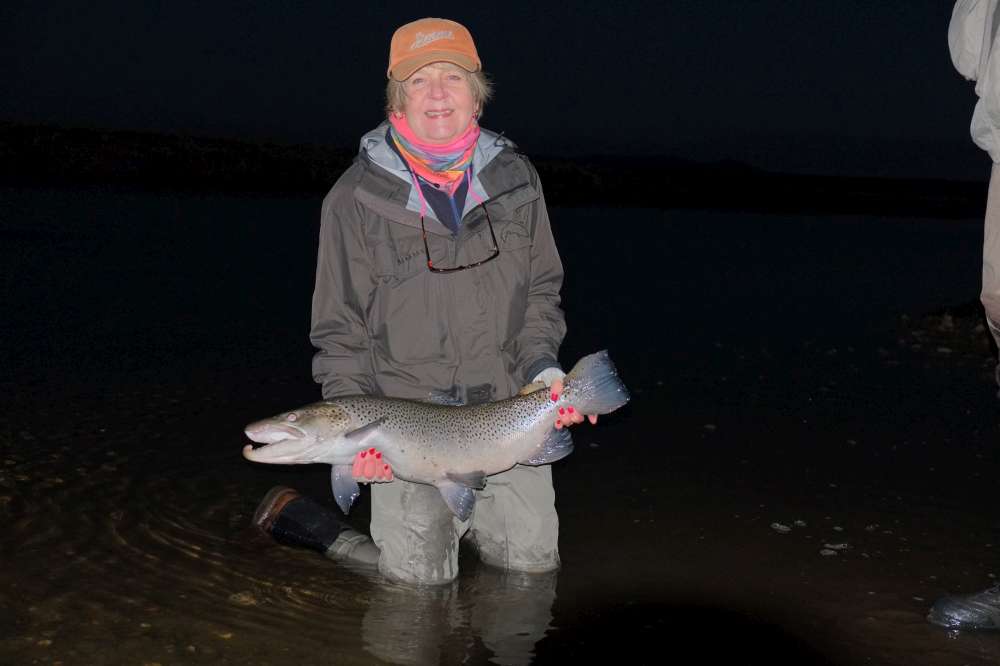 As the new moon built towards the end of the week – something that the week was booked around for a few reasons – more fresh fish started showing up. These added to the sport, being more aggressive, but also stirred up those that had been in the system for longer and brought a few more on the take. Some cold fronts pushed through in the first half of the week, which also slowed the fishing, but as things stabilised and the nights became frost free the fishing really transformed with some notable catches.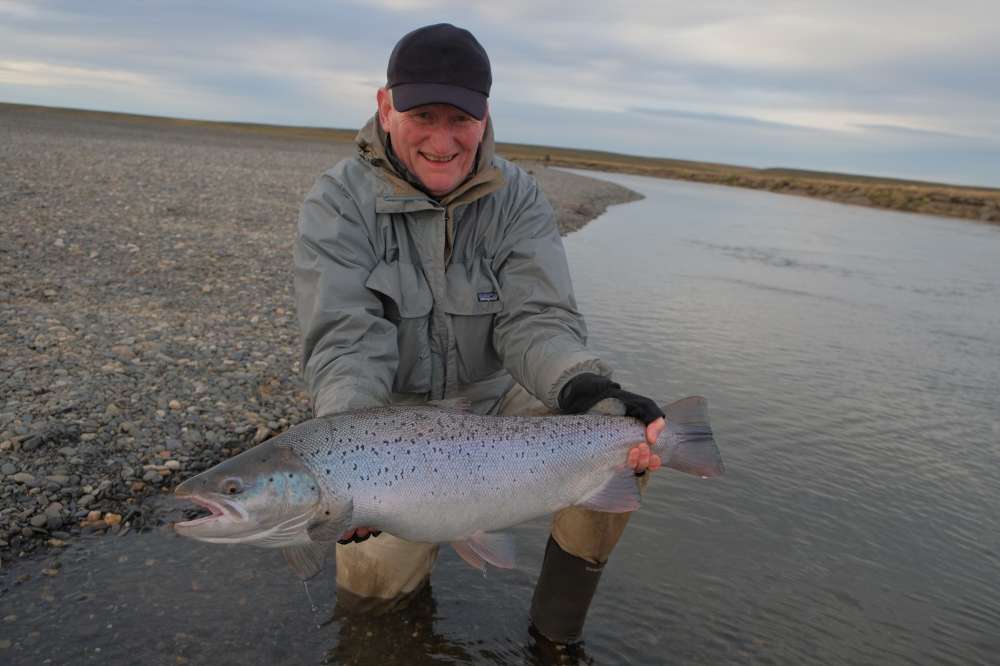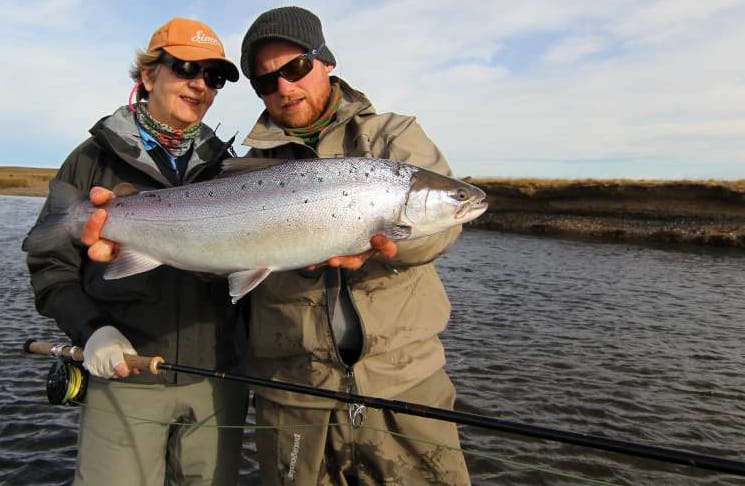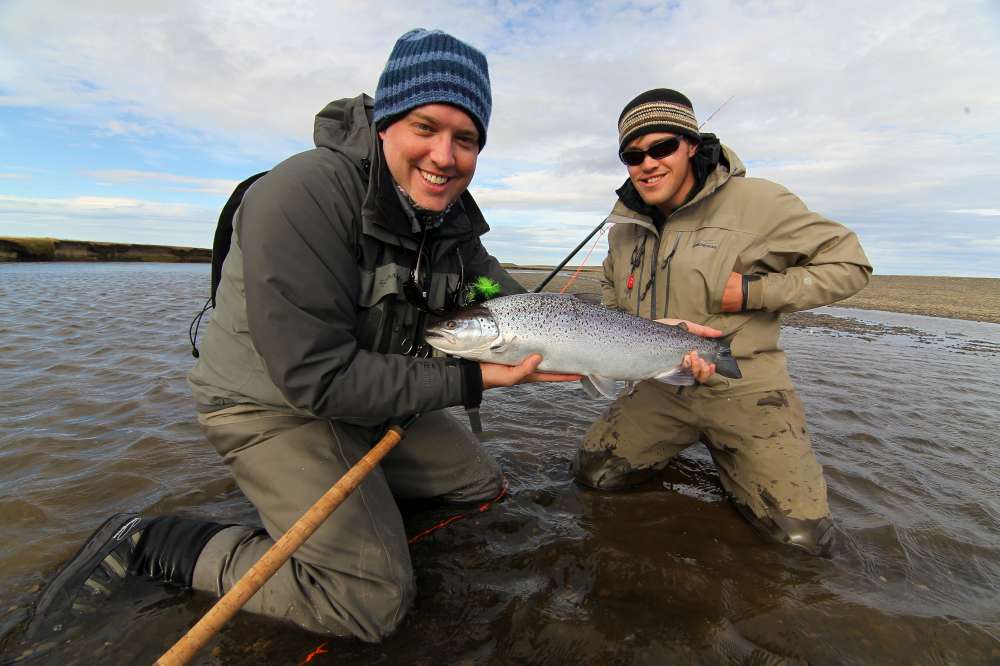 Whereas most time is spent on the main river, Kau Tapen also has access to miles of the Menendez River – probably the most notable and most important tributary of the Rio Grande, flowing into the Rio Grande immediately where Kau Tapen waters end. Indeed, it's amazing to note how many sea trout exit the system here and the average size in this tributary is larger than the main river. It's a sizeable tributary and adds a fair amount of water to the main river when they converge. The river itself is around 10-20 metres wide and best covered with a single hander. For those that fished the Irigoyen you will love the Menendez. It's a must visit, a technical river and a joy to fish. You need to work each pocket with heavy nymphs and should you crack the code then you're soon in for some awesome fishing. Definitely worth visiting as part of your stay, so do remember to note this to the guides at the start of your week as they will choose a suitable day or half day for you accordingly. It's also nice to fish with single handers for a while, giving your shoulders a rest from the larger rods.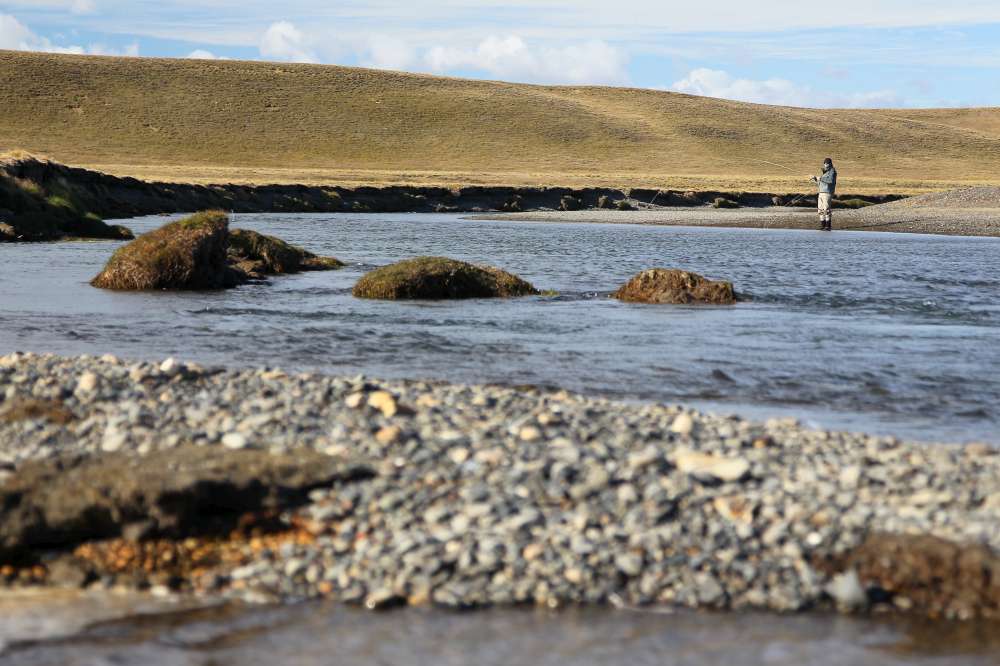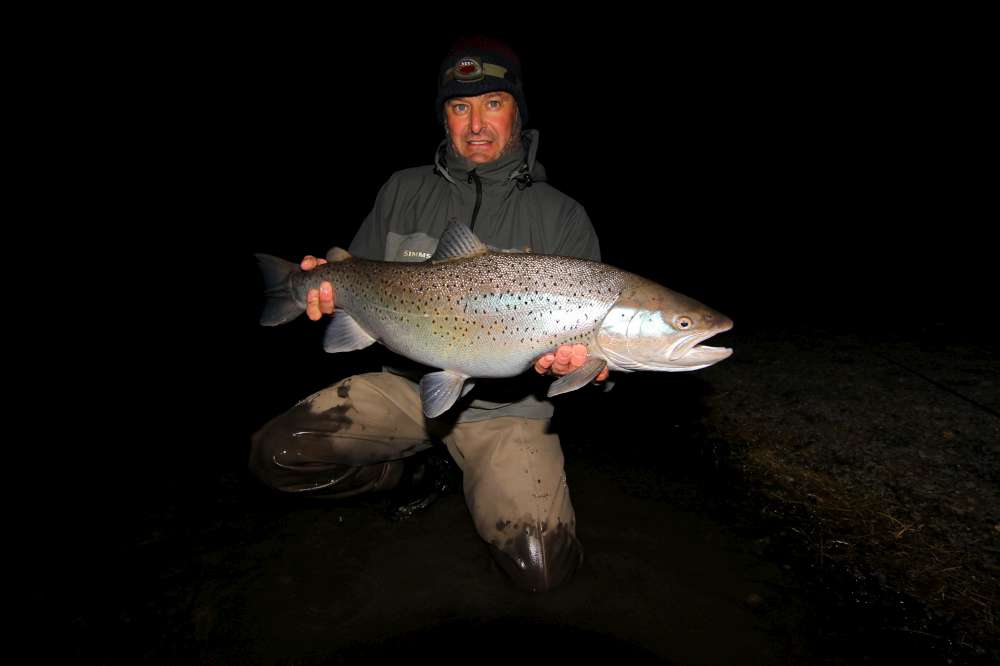 Virtually all fish taken during the week were taken on intermediate or slow sink tips. No need for dredging techniques, which made for very pleasant fishing. Indeed, for the main part small flies were the go-to killers with the usual green machines, small wets or rubber legs producing the goods. Beyond that, sunray shadows and collie dogs were a must and worked really well in places. Come twilight it was the time of the leech and this is probably when the most prolific and consistent fishing was experienced. The take at dusk is like no other, especially as your sense of vision is lost and the take is also exacerbated as a result.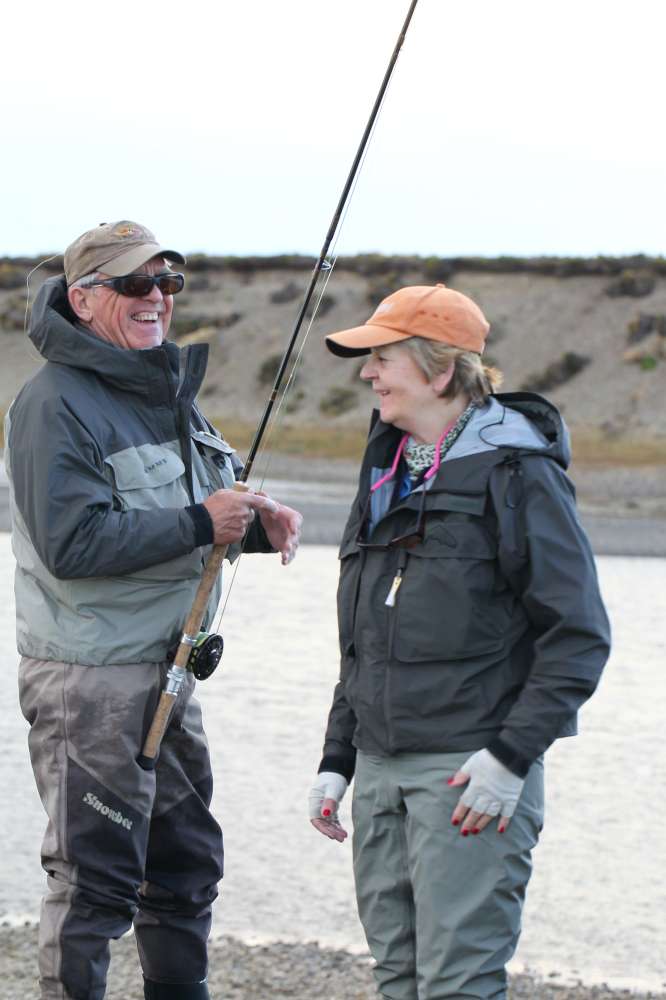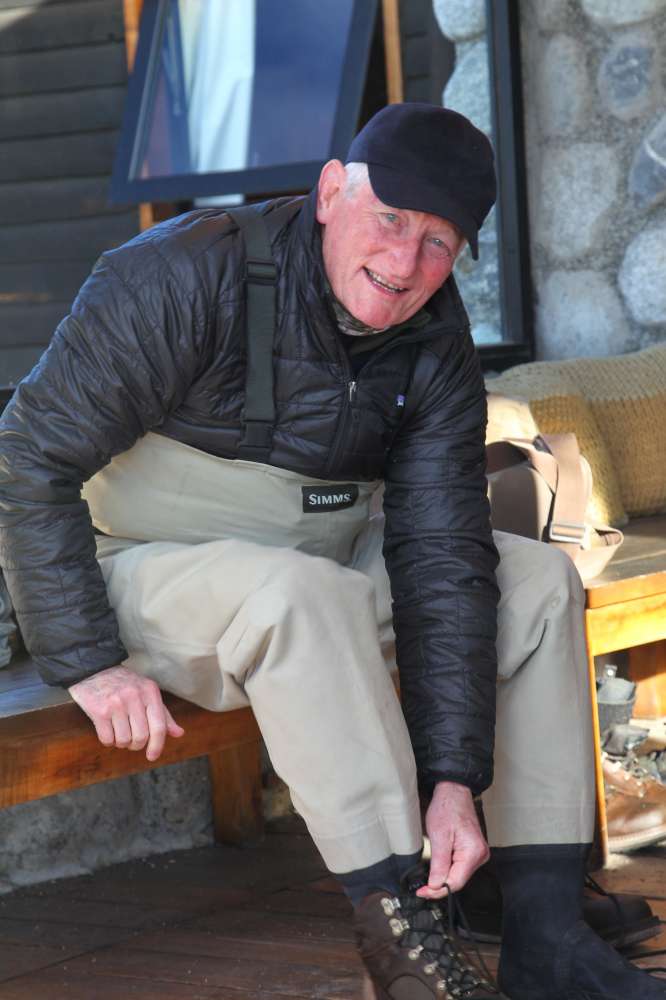 Tim managed to winkle out two beauties one evening using such tactics; one of 13 lbs and one of 16 lbs. Dan also scored well, doubling his previous best with a magnificent fish of 17 lbs. Allan was never far behind, getting some good fish but always consistent with the numbers – indeed, this shone through at the end of the week earning him the top rod for the week and a new sage rod as a reward. Lynda and Trevor constantly jostled for position throughout the week with Lynda coming out on top with some magnificent fish – not surprising having watched her fish, she certainly put most anglers to shame. Indeed, this did not go unnoticed and she was awarded a great book on fishing in Patagonia on the final night of the trip from the guides.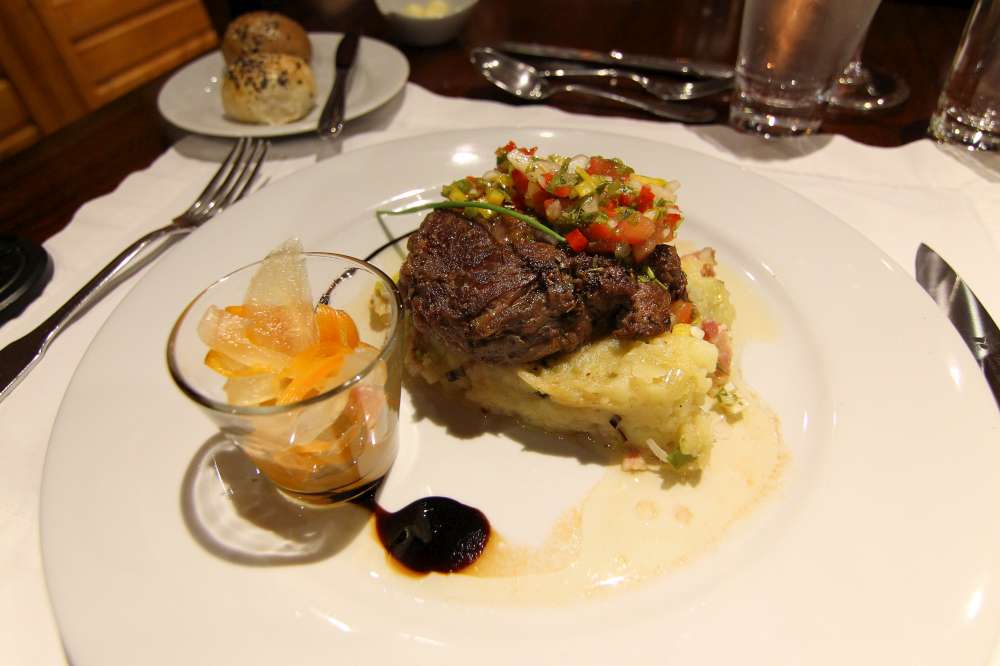 A short video of the week, kindly filmed and supplied by Dan Gazzard:
The week really did fly with this being testament to the fun that was had along the way that certainly made every day a joy. The majority of the team were to head back to Buenos Aires on the Saturday but Tim and I had other plans. Our journey was to continue with some fishing in the Central Patagonia region of Chubut – trout fishing at its finest.
Our journey was to begin in Bariloche – as beautiful a place as you would ever care to visit, very similar to New Zealand. There are many fine lodges to be found in this area, however, our visit was to take us a lot further south to the Esquel area. This is a road journey of some 3-4 hours, but there are direct flights from Buenos Aires to Esquel if you are travelling from the north. Greeting us at the airport was Ricardo Williams, someone who I had met many years ago when I first visited the area. He is now the fishing manager at a new lodge named Sendero, located near Trevelin on the banks of the Futaleufu. Ricardo transferred us to the lodge and fishing chat made the journey fly.
Sendero is a well situated lodge with an enviable frontage overlooking a beautiful pool on the Futaleufu River. The lodge is of a very high standard with rooms being spacious and modern. The rooms also have a balcony area, where you can sit, relax and watch the river flowing by on its journey towards Chile, which is just some two miles down the road.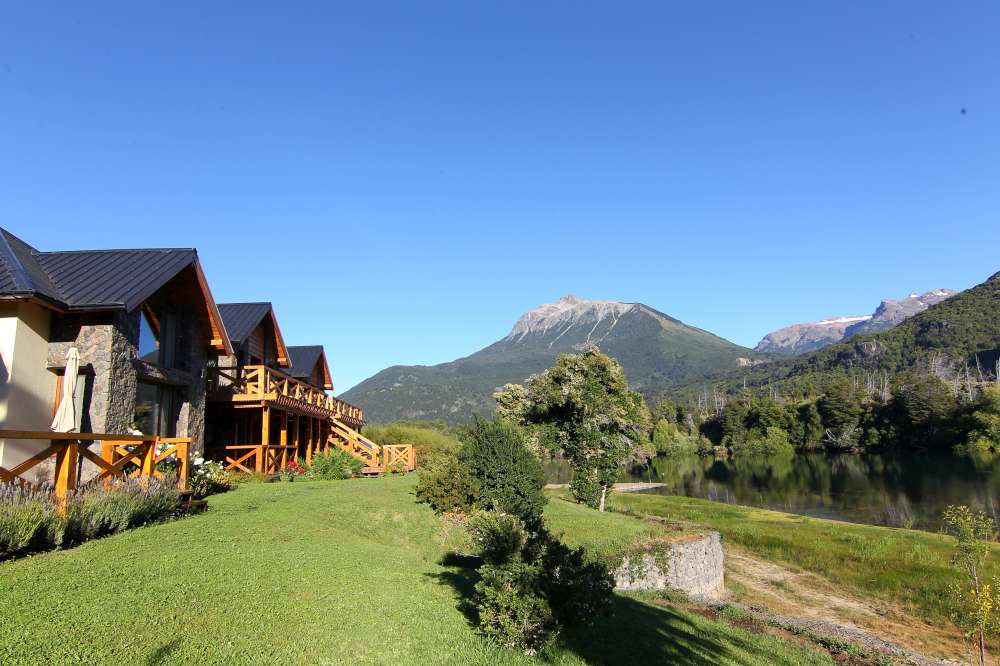 From the lodge many rivers and lakes are accessible, aside from the Futaleufu that you could literally cast to from the lawn. The area is rich in fishing opportunities and we were keen to explore these over the following days.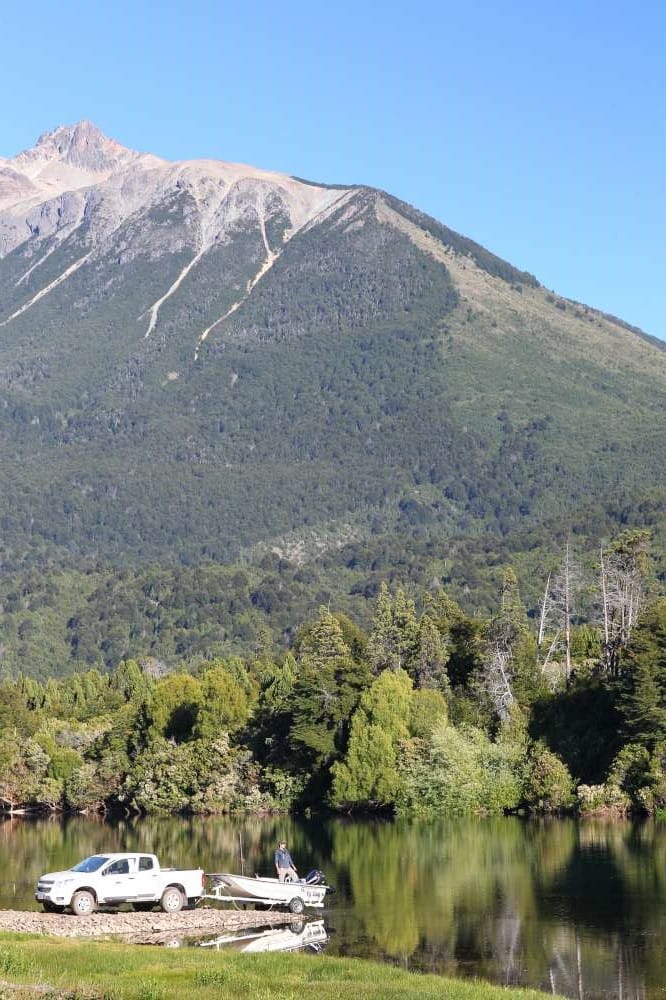 Tim was to spend the week at the lodge whereas I had the opportunity to see one other lodge during my stay. As such, Ricardo thought it best to show us the diversity of the Futaleufu on two days of my stay and then fish the final day on a mountain stream. The Futaleufu is a big river. You need a boat to access the best spots and then you can either fish from the boat or wade fish. The wading is easy with nice gravelly runs with the water being crystal clear making fish spotting relatively easy. There are also some channels leading off the main river, that are definitely worth a look and some superb sport was had in these.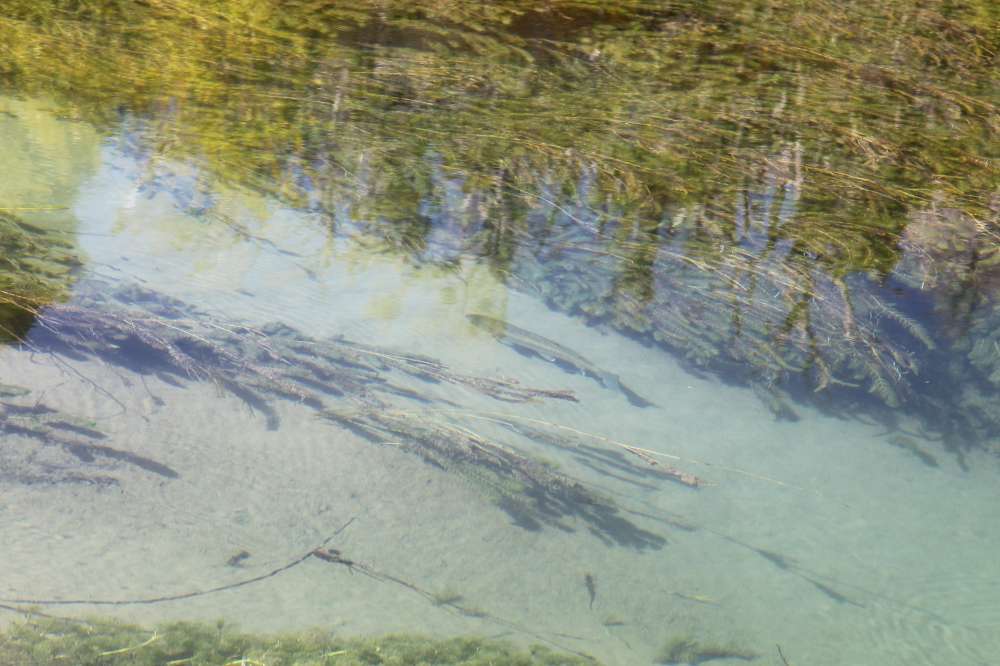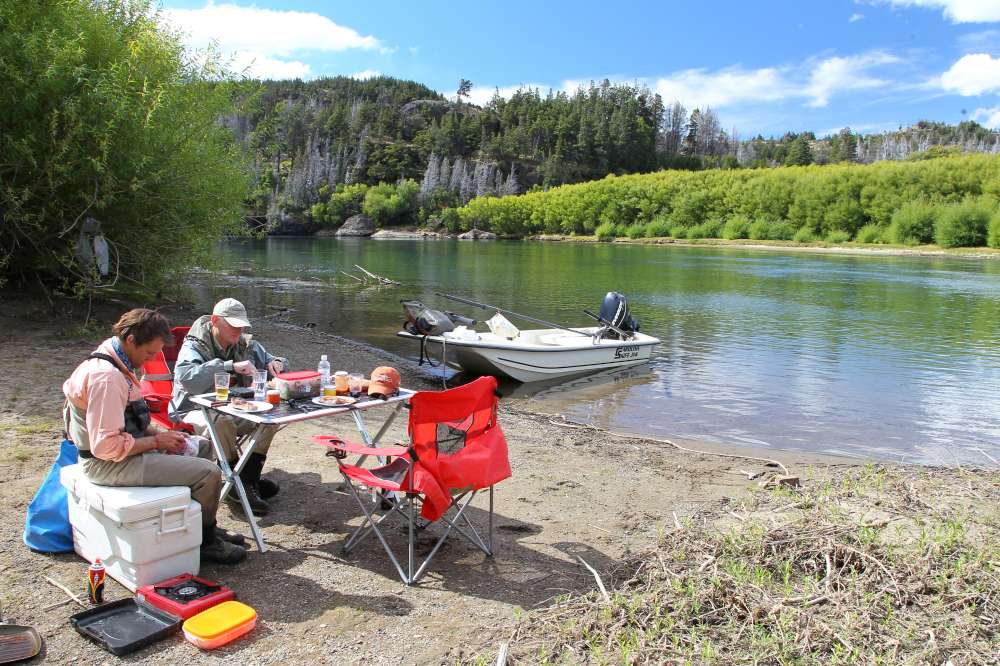 The Futaleufu has some great hatches of upwings and sedges with the fish being ever obliging to such offerings, especially if the wind didn't make an appearance. The day would usually start with some sight fishing with nymphs before the main hatch started and then it was a shift to dries and great fishing would continue almost into darkness. When the wind did kick up then Ricardo would introduce other techniques, which included fishing with streamers in the deeper pools. This was the way of tempting the big brown trout to make an appearance and sure enough it worked with three fish in the 5-7 lbs bracket being boated in quick succession.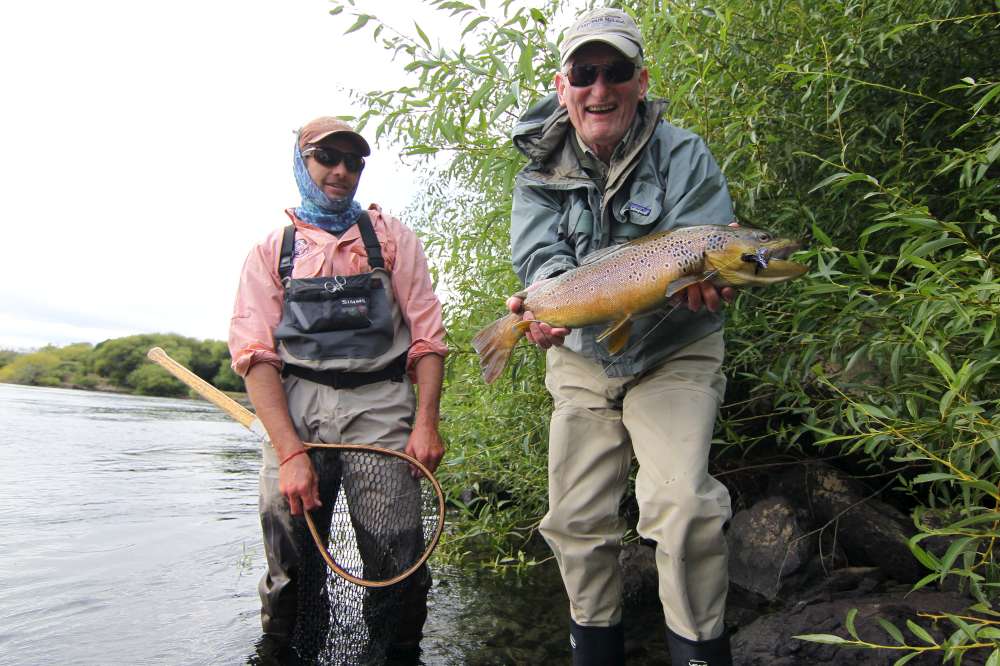 Other rivers and streams in the area provided similar action. However, there had not been rain for a few weeks so they were quite low. Superb action was had entirely on dries – sometimes sight fished but more often than not just cast to likely spots. The grasshoppers were still present in numbers and made a large food item for the fish, which they really could not resist – whether they were 8 inches or 22 inches long. Fish were found in every pool and working your way through the valley made for an interesting day. These streams were quite tree lined too, which made them an attractive proposal on windier day where the Futaleufu would be less inviting.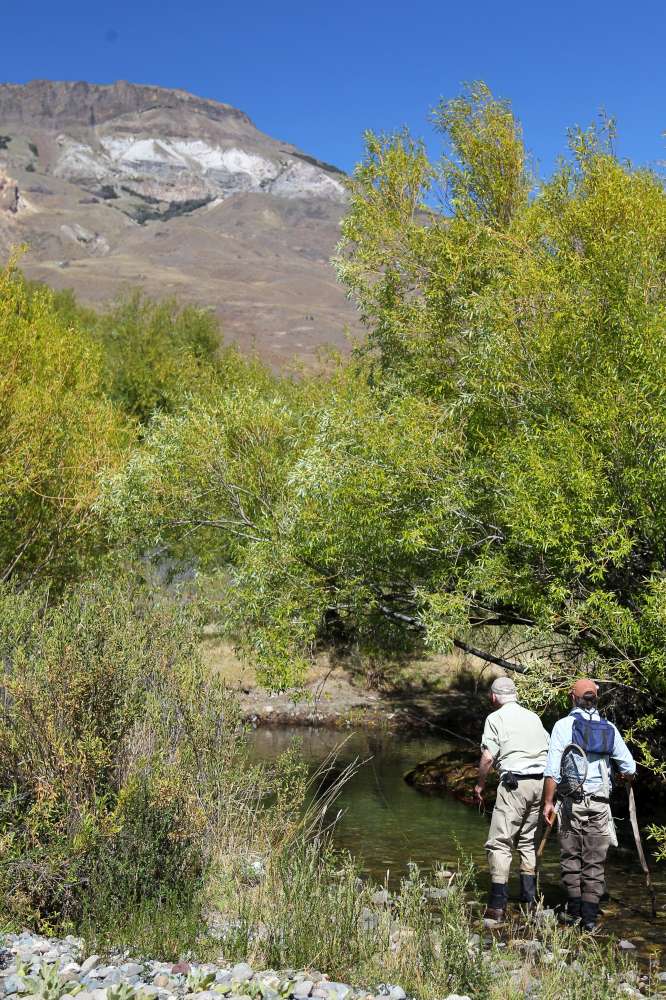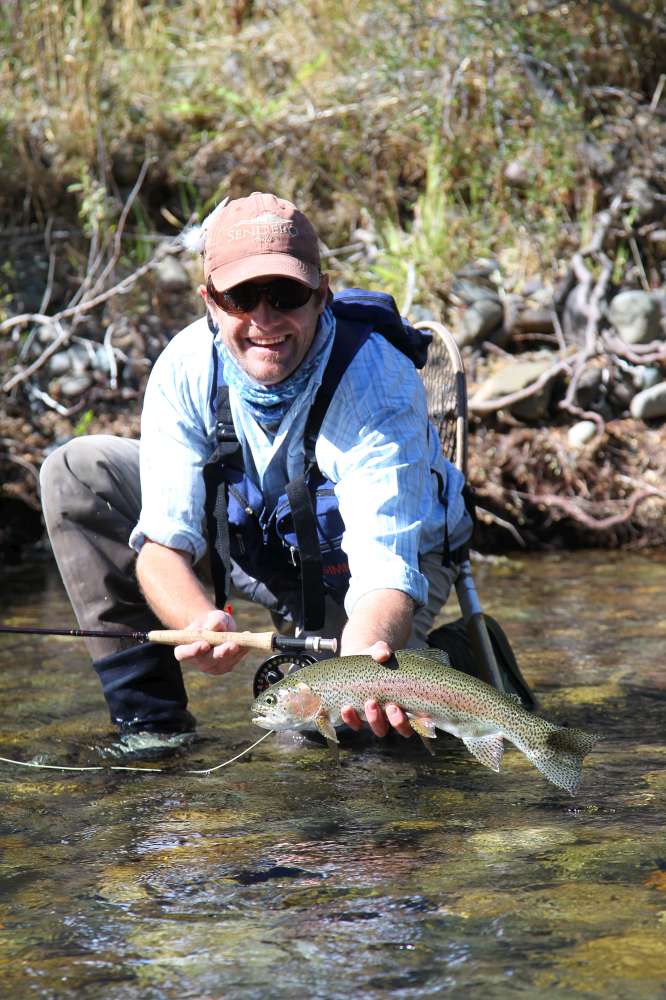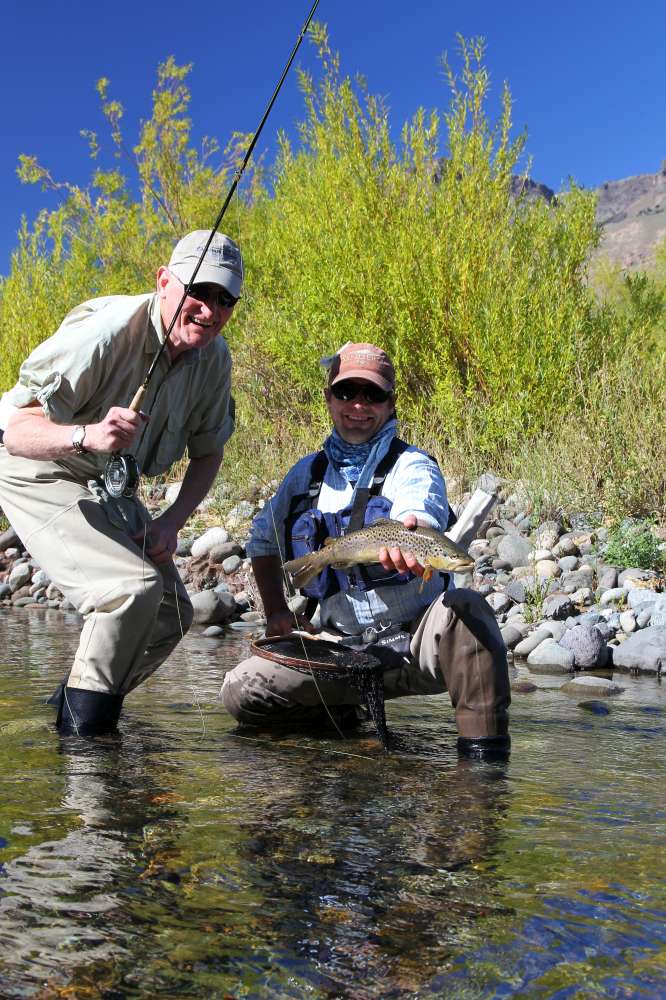 I left Tim with Ricardo to fish some stunning spring creeks over the next couple of days as I made my journey yet further south towards the Rio Pico and Tres Valles Lodge (TVL). TVL is an operation that we have supported for many seasons and with good reason. It's located in a truly wild and inviting place with a large array of rivers and lakes at its disposal. The lodge is stunningly set with a heavenly vista overlooking a prolific, private fishing lake with the mountains in the background. A great place to visit whether you're an angler or not.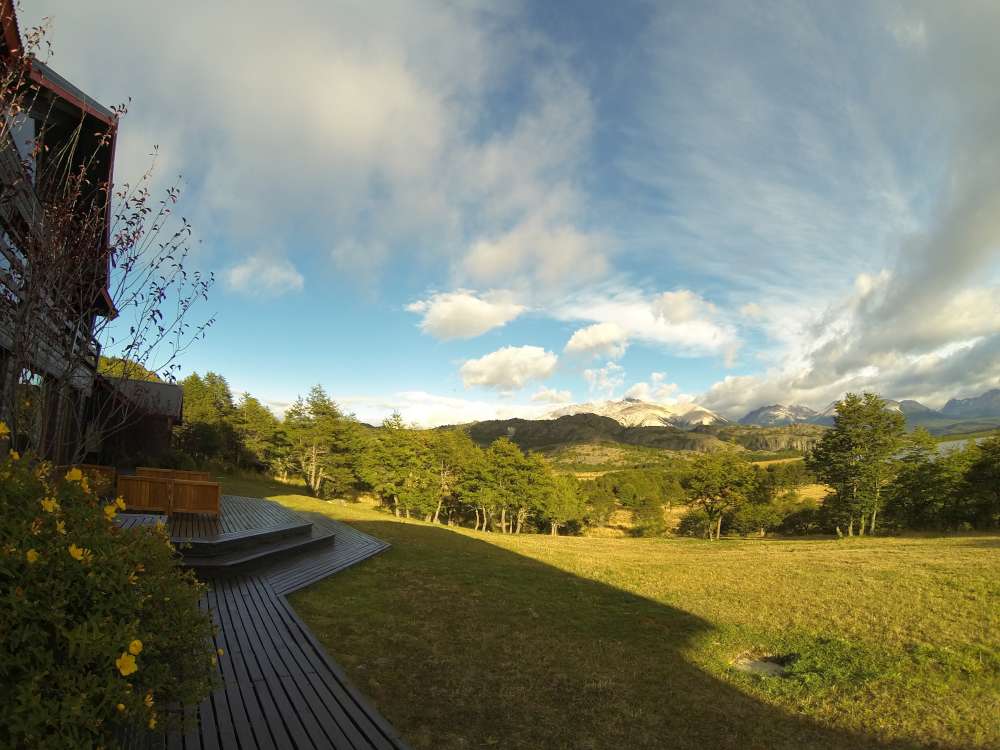 The great thing about TVL is that it's almost entirely wade fishing based on small to medium sized rivers. Indeed, some being so small that they can hardly be called streams; a ditch would be more appropriate. However, out of these 'ditches' you rarely catch anything under 14 inches, with fish around the 3 lbs mark being commonplace. Head to the Rio Pico and its tributaries and you will be faced with hard fighting and beautifully marked rainbows and browns with the majority being in the 14-22 inch bracket. The waters are clear with great sight fishing and dry fly fishing opportunities, conditions allowing and dictating.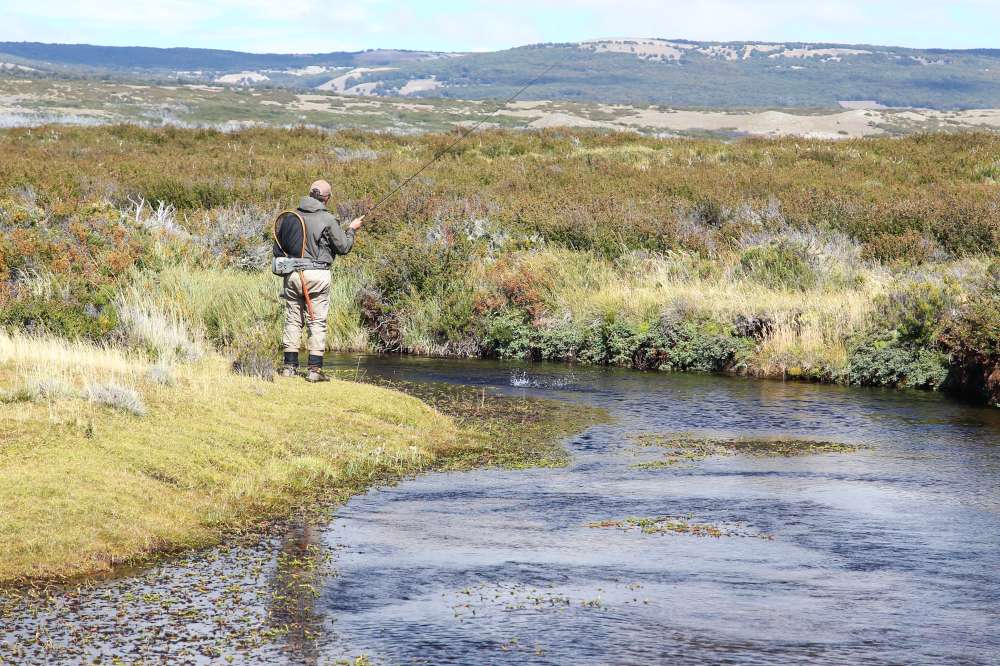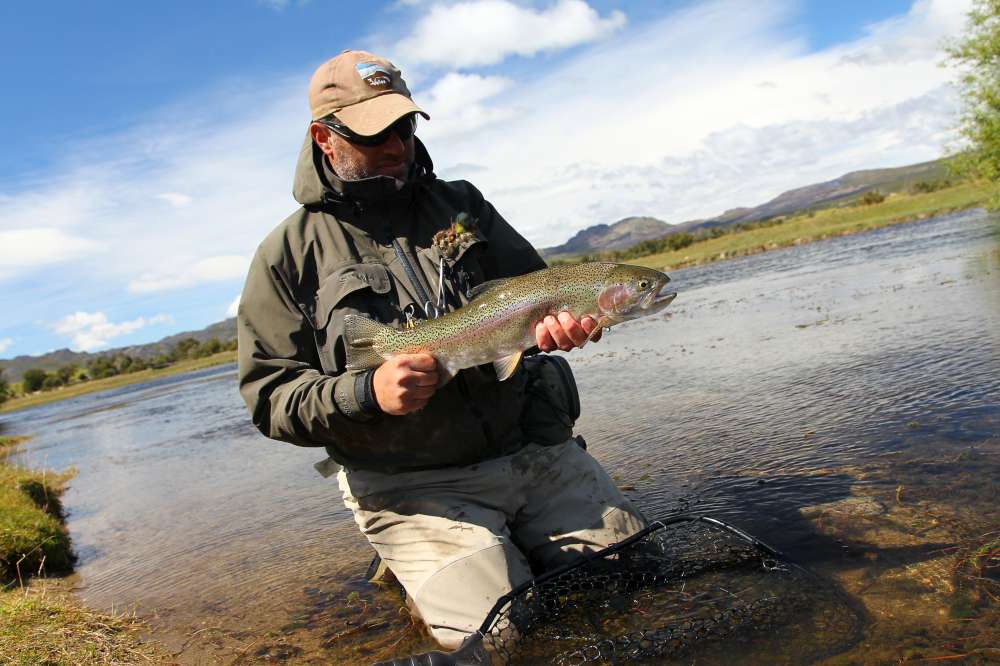 The lodge is fantastic and superbly run. I really could not fault the operation and would really urge any serious trout angler to pay it a visit; if you enjoy New Zealand and/or the American West then you will love this place. The guides are superb and really know their waters well. The transfers to the waters vary from the lake in front of the lodge through to private reaches some one hour's drive away – very much worth the effort though, even though the roads are very much dirt tracks.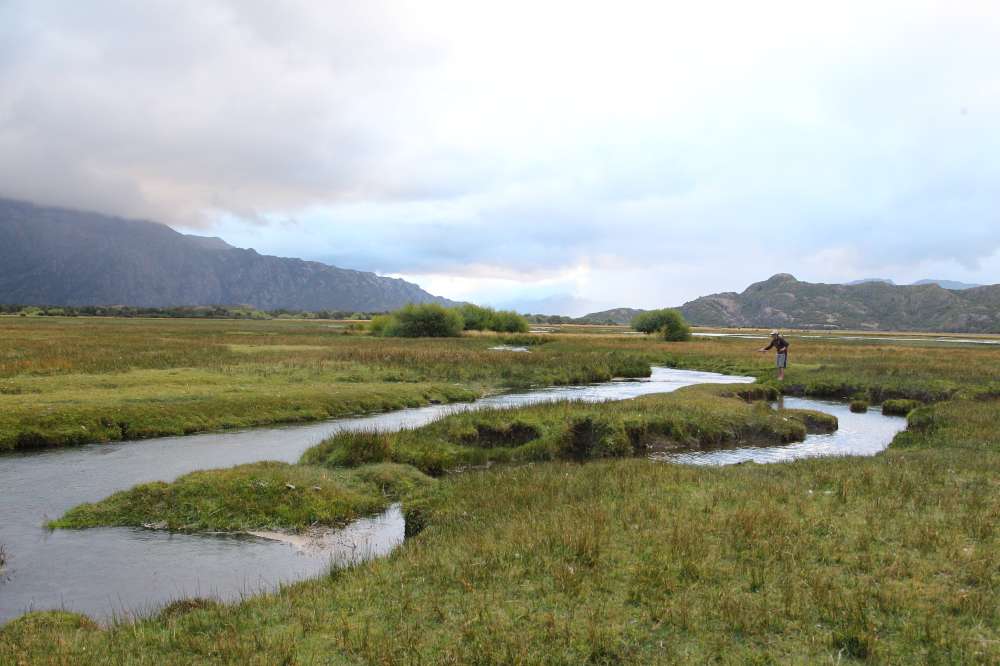 To give me a good impression of what the area can offer TVL tried to cram in as much fishing as possible over my stay – music to my ears. Indeed, I got to experience the majority of what they could offer. One of the strongest memories I have of this part of the trip was the strength of a wild rainbow and how we often view rainbows with slight disdain because of their presence in the UK i.e. in stocked fisheries. However, a wild rainbow is not only a beautiful fish but also an extremely powerful one – fish leaders of less than 6 lbs at your peril; my 7x (3 lbs) leaders was laughed at by the guides…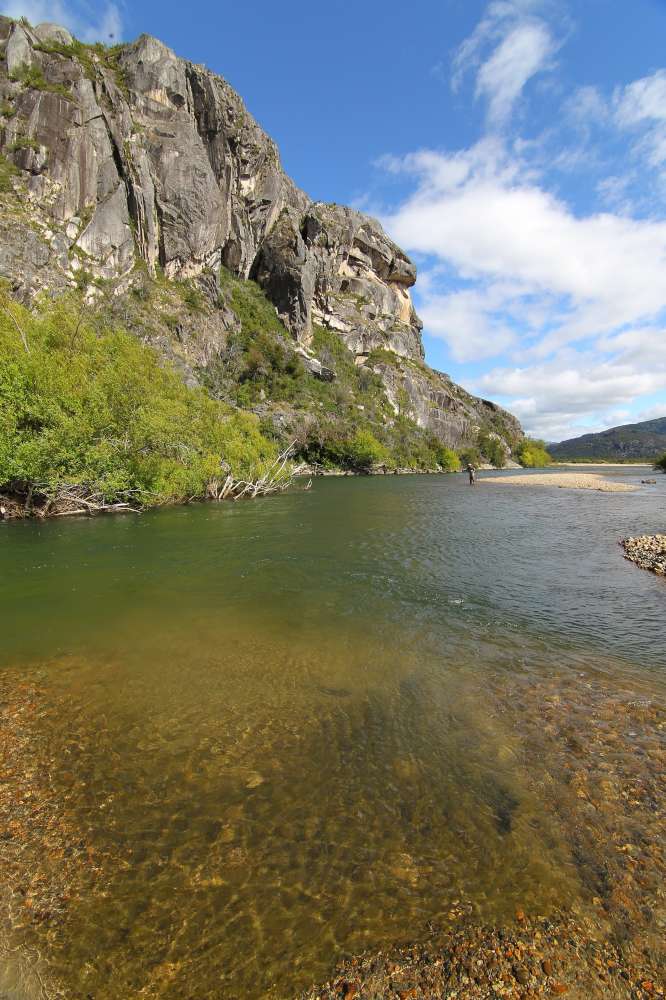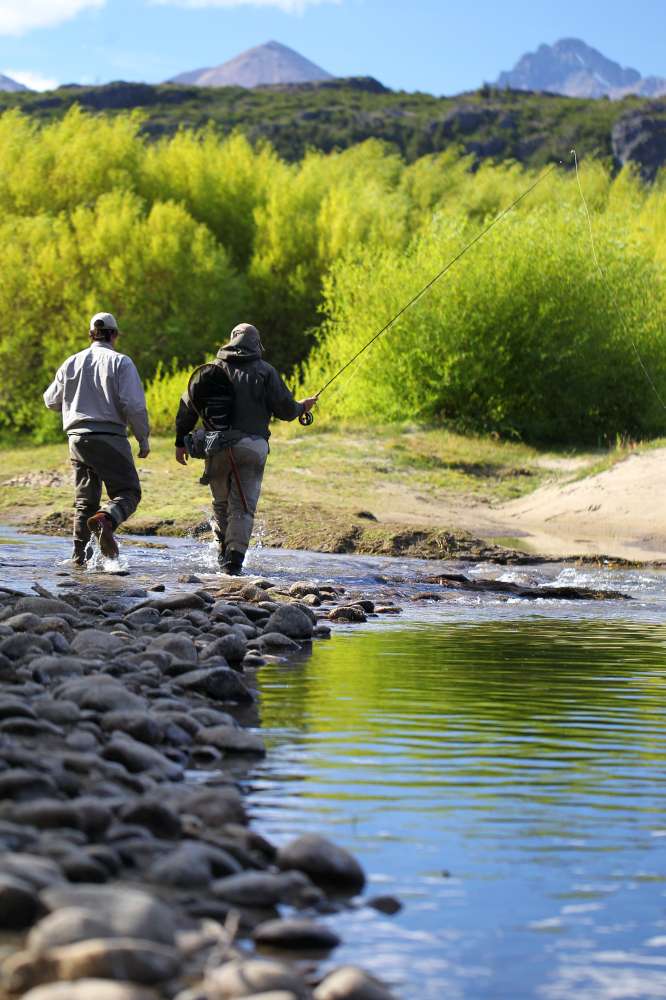 The majority of the lodges in this area also offer non-angling activities, again, making them perfect for a family break with some fishing thrown in. Indeed, I think TVL ticks a lot of these boxes, especially if you're looking for something remote and unspoilt yet still having plenty of creature comforts.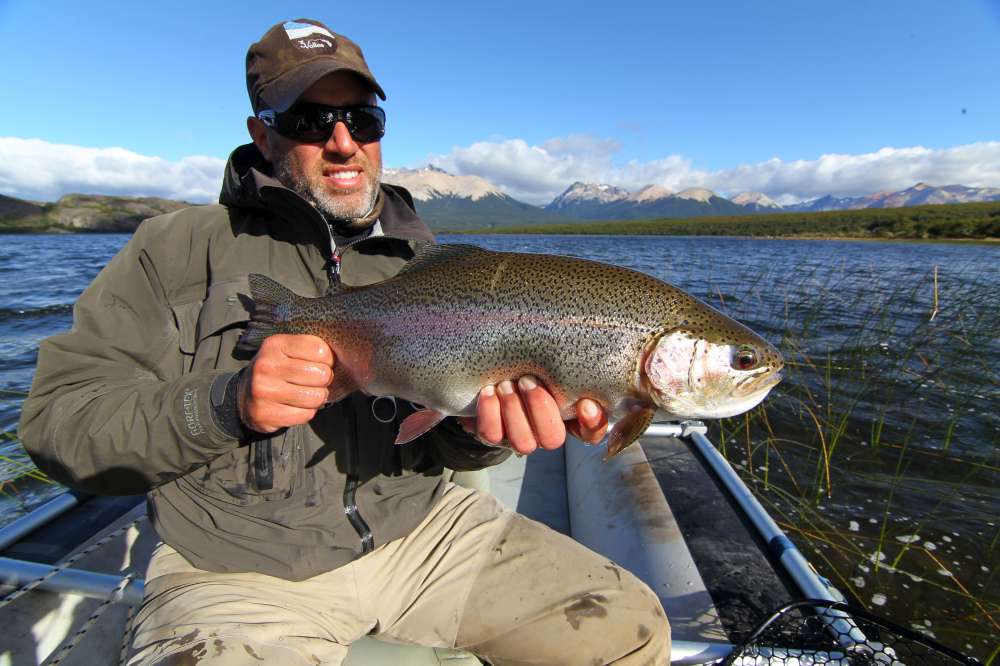 Soon enough my visit came to an end and it was time to return to Esquel to meet up with Tim and learn of his exploits over the last few days. He had scored well with his one weight rod and had yet more fond memories to return with. However, his journey was to continue as he headed further north in Argentina to chase some dove shooting. My journey, however, drew to a close so I bid him farewell and headed for Buenos Aires for one more night. This night was to be spent meeting up with Noel Pollack, who I would rate as the most knowledgeable golden dorado angler in the world and an all-round great guy. He introduced me to a new cocktail bar, but less said about that the better! There was also plenty of fishing talk, I think, including some great insight into his new fishing programme based out of Buenos Aires. If you're stuck in Buenos Aires for a day then I would urge you to head out with Noel dorado fishing in the Delta. You will not be sorry and seeing Buenos Aires from this angle will really open your eyes; it's literally 45 minutes from the city.
I have been fortunate to travel to Argentina many times now and always try and see something new every time I visit. This is the amazing thing about Argentina, when you think you begin to know it it throws another surprise at you with this trip being no different. My advice; try and tag on a few extra days the next time you visit to explore a new area and create a new experience – you will not regret it and it will help you understand what this magical country has to offer both anglers and non-anglers alike.