The 2020 Rio Grande season is officially over at Villa Maria Lodge, and although cut a bit short, it was certainly a season to be remembered!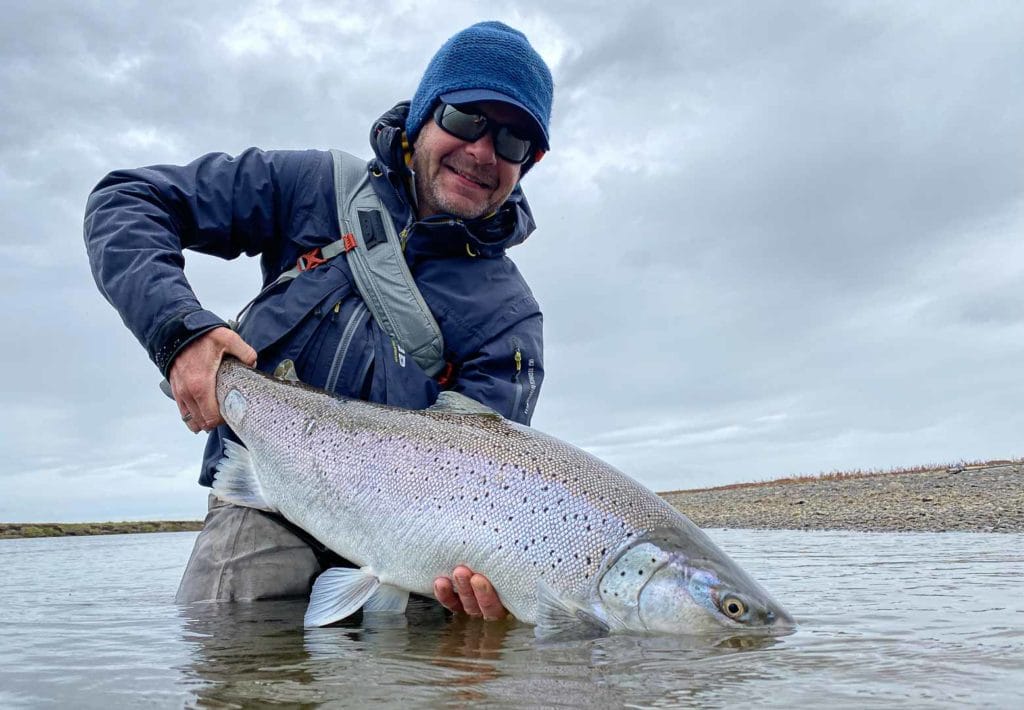 We can say, with confidence, that this has been a very special season at Villa Maria. Especially when we compare this year's river flows to the previous season.
December was a very wet month and this January was the wettest on record in the past 30 years. This doesn't mean that the river was flooded over its banks, but instead, we found a river flowing at a near-perfect level, that allowed us to fish every pool from top to bottom, and made it possible to wade safely as long as you knew where and how to make the crossing.
Lucky for us these river conditions remained nearly all season, except for one week in February when the river was "low" but it only lasted a few days.
Another factor that impacted our season was the unstable level of the river. I described its level previously as "higher than usual" but it was never stable. Every other day at Villa Maria it seemed the river would drop a few inches, and then quickly rise another few inches, often happening during the same day. Our water temperatures were also volatile, for instance, one day we were measuring it at 13C and the day after it was in the 7-9 C range throughout the day. The same was happening with the water clarity. It was clear and nice one day, and cloudy with a good amount of didymo floating down the next.
All this didn't affect the general shape of the river and was not especially noticeable to the untrained eye, but it affected the behavior of the fish. We all know that the fish don't care if the water is cool or warm, or has some color to it. But, we did find out that they are very sensitive to unstable and constantly shifting conditions.
Higher than usual water means that the fish are more spread out in the pools. This made them less aggressive and less to take flies territorially, as opposed to when they are piled up in deeper pockets. The faster and deeper water also made it difficult to present the fly correctly and at the right depth, if you did not have our guides helping you out along the way.
Together, these factors made the season a very challenging one at Villa Maria.
Speaking exclusively about Villa Maria Lodge water, we can say it was a fantastic year for those who came to Villa Maria to enjoy swinging flies and fish more traditionally. We were forced to use new techniques like nymphing when the water level and flows dropped, but these techniques were used sparingly and in specific opportunities.
Due to the previously described conditions at Villa Maria, we had to go back to bigger double-handed rods between 13 to 14ft. These larger and heavier rods were more versatile when we had to take the angler's skills into account as we had to use heavier line and sink tip combinations.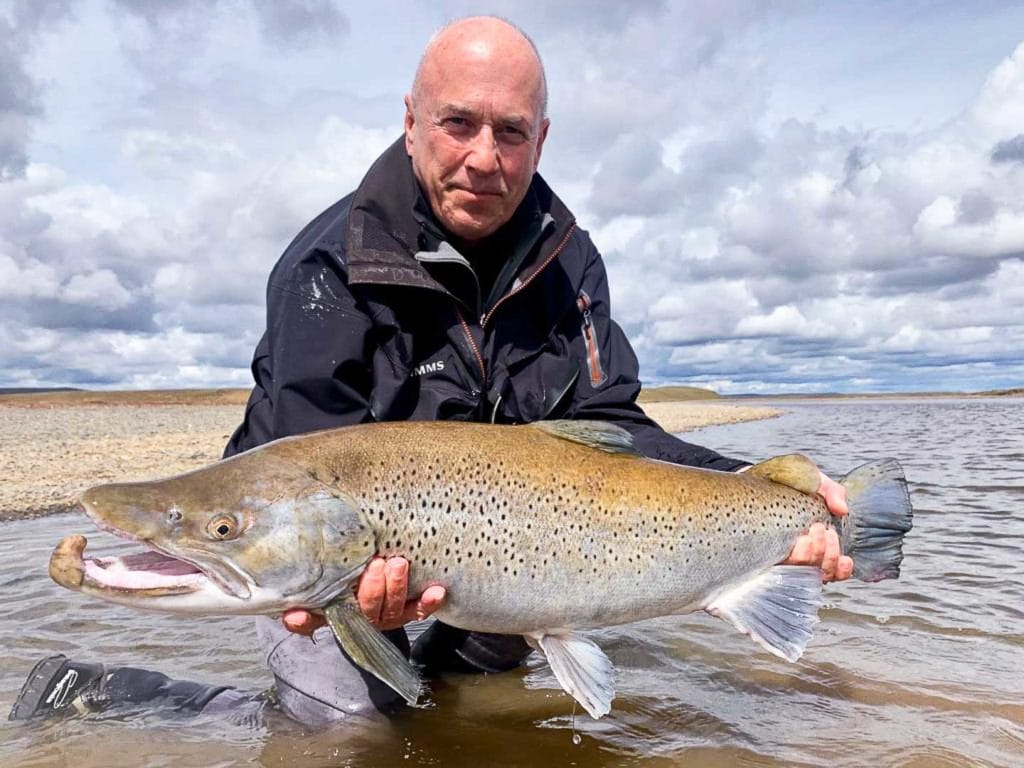 This season's tackle selection:
This season our go-to rod was a Loop 7X 13'2'' 8 weight. It proved to be a very reliable tool, able to handle a wide variety of weather conditions (especially wind!) and was strong enough to handle super heavy line/tip combinations in those moments when we needed them.
Regarding lines, Skagit heads were the most popular option as they are highly adaptive and useful in different fishing situations found along our stretch of water. Aside from the traditional full floating heads, we used, with very good success, sinking Skagit lines like Rio's GameChangers. They proved to be of great help if we needed to fish flies deeper and keep the length of the sinking tip at a controllable length, or when we wanted to have a slower drift on those windy days where you feel the wind is pushing the floating fly line much faster than needed. Full sinking shooting heads were also used, but only in moments or pools where a much longer sinking head/belly allowed a proper drift & swing. The selection of sinking tips is always very important. Choosing the right length and sinking rate is usually a difficult task and you need a lot of trial and error. But, we can safely say that for most of the places we fished a 12ft T14 or T17 tip worked perfectly. Of course, we used longer or lighter tips but here but those tips worked the best across the board.
A nice surprise our guiding team at Villa Maria found came in the form of Loop's synchro Skagit tips. They are also T tips (tungsten) but they are mildly tapered and offer a loop-to-loop connection from the factory and feature proper labelling on the loops themselves. They only come in 12 ft segments, but I strongly recommend them, as they are a nice addition to our tackle bag, and are much easier to cast with clean presentations than the traditional T tips.
I have been always a fan of Rio's Versitips. They are tapered, color-coded, come in 15ft segments. My favorite feature is the little wallet you can fit all you need to skate a bomber on the surface, fish a sunray shadow just under the surface with a clear intermediate tip or fish a sexy black leech deep. Personally, I like the intermediate and the sinking 8 tips. Both are extremely useful and both fished well.
2020's Fly Selection:
Let's talk about flies at Villa Maria. Sea trout in the Rio Grande can take a wide variety of flies, from the tiniest of patterns to very large ones if you fish them in the right place, at the right moment and in the right way. But this year was, again, very different. I have never fished so much with articulated leeches. It didn't matter if the water was very clear or warm or if the sun was shining, a leech was always the solution. Of course, we kept using the more traditional approach with rubber legs and green machines, but leeches were up there in productivity. Colors? Black & silver, chartreuse, and black & purple all took spots atop our top-3 podium. Tubes flies, especially unweighted, like Sunrays were also very productive.
The flies that didn't work as good as previous years were smaller nymphs -like the almighty Prince Nymph- and intruders. Of course, intruders were a very good fly on some cold evenings or when the water was murkier, but they were not as reliable as they used to be.
Regarding nymphs, the explanation can be easier as they are much more difficult to fish correctly when the pools are big, deep and fast. These factors are probably why our leeches were so productive.
In conclusion, we were sad to not be able to fish the last 2 weeks of Villa Maria Lodge's season. The quick spread of COVID-19 and the fast response from governments around the globe, made us suspend those 2 last weeks, to protect the health of our guests and our staff, as we knew they were going to be safer at home, than half the planet away from their families.
We all hope this will be solved in the short term and that we will see all of you next year, on the shore of the Grande enjoying a good laugh and some fantastic fishing!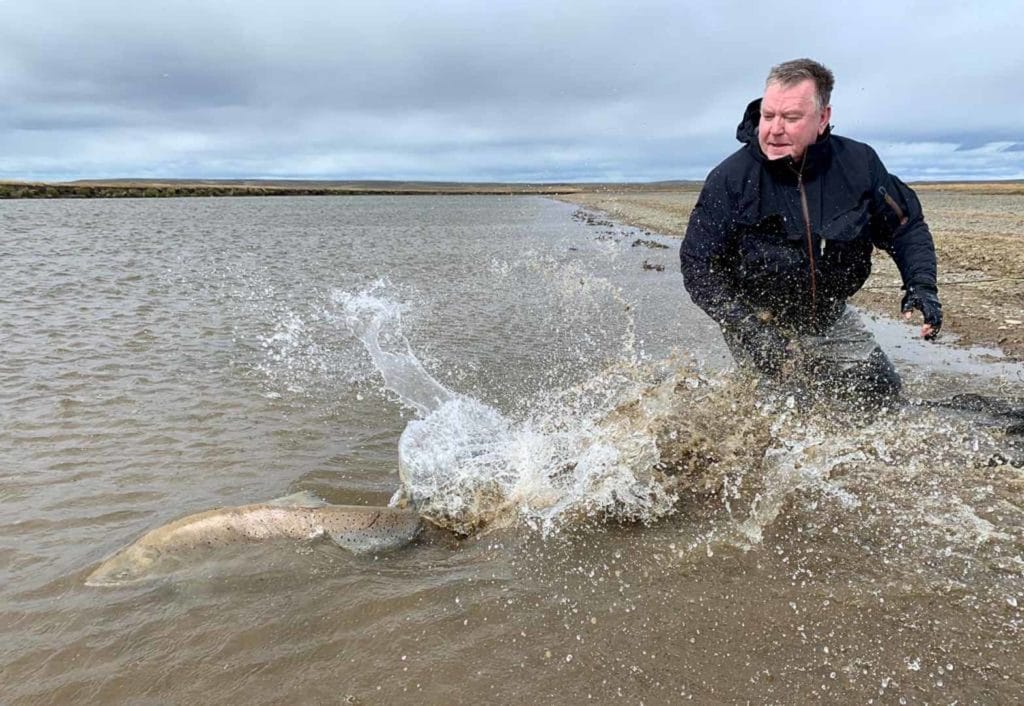 If you would like more information then please do not hesitate to contact Steffan Jones or call our office on +44(0)1980 847389.